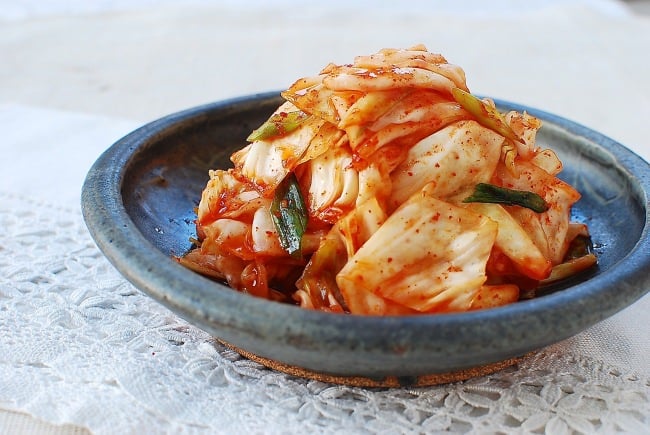 This is an easy summer kimchi. In the summer, when traditional napa cabbages are not in their prime season, green cabbages come in handy for making kimchi. Considering the origin of the green cabbage, Koreans call it yangbaechu, which means "Western cabbage". They are naturally sweet and crunchy, which makes it a good source for kimchi.
Unlike napa cabbage, which requires hours and hours of salting, green cabbage does not need to be salted for very long. All you need is about 2 hours to soften the cabbage and bring out the flavors.
This is one of my mother's favorite summer kimchi varieties, so we grew up eating it a lot.I mentioned to my mother the other day that I was going to make yangbaechu kimchi. She told me not to use a lot of seasoning because this kimchi should be light and refreshing. No matter how many years I've been cooking, she never misses a teachable moment. But, I know I am very blessed that she's still around to do that.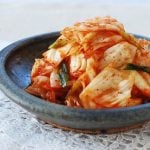 Yangbaechu Kimchi (Green Cabbage Kimchi)
2016-08-07 02:27:32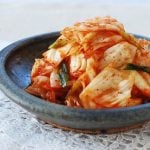 An easy kimchi made with green cabbage!
Ingredients
1 head green cabbage (about 2.5 pounds)
4 tablespoons coarse sea salt (less if using table salt)
3 scallions, roughly chopped
1/4 cup Korean red chili pepper flakes (gochugaru)
2 tablespoons saeujeot (salted shrimp), finely chopped, (or fish sauce)
1 tablespoon minced garlic
1/2 teaspoon grated ginger
Instructions
Using a kitchen glove, mix everything well by hand until the cabbage pieces are well coated with the gochugaru mix. Place in an airtight container or a jar, pressing down hard to remove air pockets. Leave it out in room temperature for half a day or so. Then, refrigerate.

Korean Bapsang https://www.koreanbapsang.com/