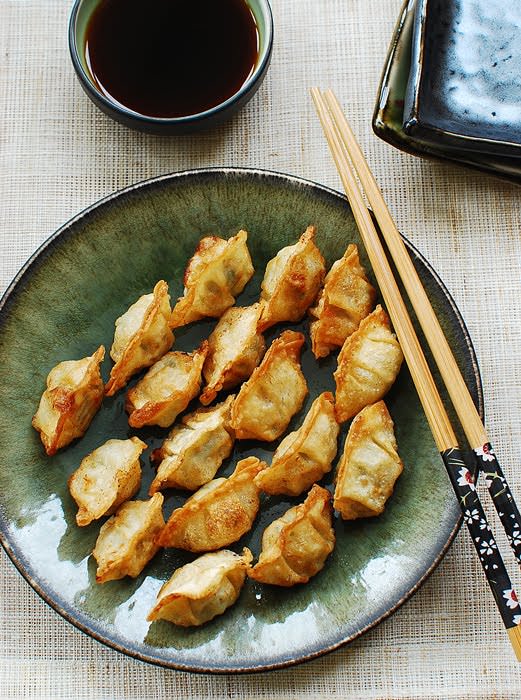 A few weeks ago, a representative from CJ Foods contacted me asking if I would be interested in sharing about CJ's Korean dumplings with my readers. CJ Foods is a U.S. subsidiary of CJ Corp., one of the largest food production companies in Korea. At first, the idea of commercially made dumplings didn't appear to fit my blog's home-cooking theme. The reality is that we don't always have time for homemade dumplings, and sometimes all of us can use quick and convenient alternatives. So, I decided to give them a try.

The first thing I liked about these Chicken and Cilantro Mini Wontons was that they are made with all natural ingredients and no trans fat. The filling is made with chicken, cabbage, cilantro, bean thread noodles, green onion, garlic and various seasonings. The dough is wheat flour. They come in fully cooked. The package says these wontons are "inspired by a Korean dumpling called mandu".

The package shows how to pan fry, use in a soup, microwave, and boil the wontons. For my taste testing, I pan fried, boiled, microwaved and deep fried. They cooked up nicely in all cases. The skins of these little dumplings were surprisingly resilient. My favorite was the deep-fried version. They were crispy and tasty. The filling had a good texture – smooth and firm with the vegetables, meat and noodles still distinguishable. The flavor of the cilantro was very subtle, which I didn't think was necessarily a bad thing for a Korean taste because cilantro is not a traditional Korean flavor. The filling was well seasoned and tasted pretty good. But, I personally thought each bite would have given a more satisfying feel if they were a little bigger. Those who are used to traditional Korean mandu made with pork, beef, shrimp and/or kimchi might find the chicken version a little bit bland. If that's you, definitely use a dipping sauce or even deep fry to add more flavors.
The dipping sauce recipe provided in the back of the package is for 4 servings (16 dumplings) and involves 7 tablespoons of liquid (soy sauce, water, and vinegar). This is way too much sauce for 16 little dumplings. When my husband and I shared 16 dumplings, we didn't even use up 1 tablespoon of the sauce each of us had.
The package serving size is 4 pieces, and servings per a 2-pound package are about 24, although I strongly doubt anyone can stop eating after 4 of these little bites. These little precooked dumplings are very versatile. In addition to the package serving suggestions, these will be a great addition to a bowl of instant ramyeon/ramen and even to kimchi jjigae. Or, you can pan fry and mix them in to tteokbokki (spicy stir-fried rice cakes). There are plenty in the package to experiment with different preparations.
Overall, we thought these mini dumplings tasted pretty good. They are definitely cute, kid-friendly, and versatile. I am not going to tell you to stop making dumplings at home. But, if you are looking for something convenient (and economical) in your freezer for a quick snack or meal, this is a great option for you. You should try them.
These are available in 2-pound bags at Costco for $6.99. According to the CJ rep, they are available in different parts of the country at Costco and will soon be in national grocery and health stores. She said that this line of dumplings is specifically for the U.S. Market, so they are only available in the U.S. See their Facebook page for ongoing updates on distribution, news, and more (
www.facebook.com/cjfoods
).
Giveaway:
To enter the giveaway, simply leave a comment on this page stating how you are following this blog (e.g., via Google friend connect, Feedburner, Facebook) and your favorite Korean food. Unfortunately, the giveaway is only open to readers in the U.S. (including Hawaii and Alaska). It will be open until midnight (Eastern Standard time) Sunday, October 16, 2011. Each of the two lucky winners will receive two packages of CJ Chicken and Cilantro Mini Wontons shipped from CJ Foods.
(Note: I have not received any compensation for this review other than the samples to try out for this review.)