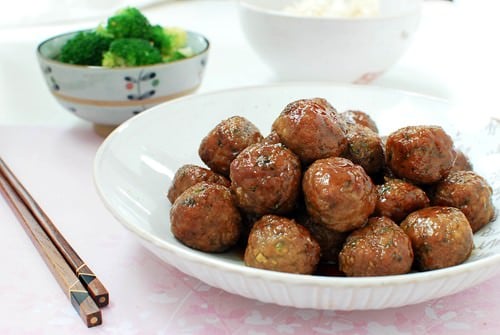 Today's post is very special! A few weeks ago, I was invited to join a group of amazing bloggers, from around the world, for a blogging cultural exchange – World on a plate! It's truly an honor for me to be part of the exchange. On the last Sunday of the month, each blogger will produce a wonderful recipe, from his/her home country, featuring the dish chosen for the month. For the inaugural event, the group is featuring meatballs this month! Please visit every blog participating and learn about each culture's rendition of the meatballs.
Now, are you all ready for Korean meatballs? Meatballs are called gogi wanja in Korea. Traditionally, meatballs are pan-fried and either used in soups or hotpots or served as is (sometimes with a sauce). They were an essential ingredient in Korean Royal Court dishes such as sinsello, an elaborate Royal Court hotpot. A popular version of Korean meatballs are egg-battered and pan-fried. They are called wanjajeon and commonly served on holidays and special occasions. As a child growing up in Korea, I loved these little egg-battered meatballs. We called them by their funny nickname – dongeurangddeng, meaning "a round thing". I know it's hard to pronounce, but it is one of those words that makes you smile when said or heard. They were a favorite for packing in the school lunch boxes. Meat was a luxury in Korea back then, so it was always a special treat to have a few of these meatballs with a meal. Another popular way to eat meatballs is to glaze them with some sort of sauce. There are many variations of sauce.
Here, I braised the meatballs in a soy based sweet and savory sauce (jorim jang) commonly used in Korean cooking. For the meatballs, I like to use a mixture of beef and pork. Of course, you can use all beef or all pork depending on your preference. Typically, Korean meatballs include tofu, mushrooms, carrots, onions and/or scallions as well. I used mushrooms, onions and scallions in this recipe. They add a lot to the flavor and texture of the meatballs without being overpowering. Whatever you use, take extra time to finely chop the ingredients for a smoother texture. Then, your children will never know there are mushrooms and onions in the meatballs. These meatballs are very tender and packed with lots of great flavors! I hope you try this recipe and experience meatballs the Korean way!

Makes about 30 – 32 meatballs (1 1/4-inch)

Ingredients:
For the meatballs:
1/2 pound ground beef
1/2 pound ground pork
5 – 6 fresh shiitake (or any) mushroom caps, finely chopped
1/2 medium onion, finely chopped
2 scallions, finely chopped
1 egg yolk
2 tablespoons corn starch (more for dredging)
1 tablespoon soy sauce
2 teaspoons minced garlic
1 teaspoon finely grated ginger
salt (about 1/4 teaspoon) and pepper to taste
For the sauce (jorim jang):
3 tablespoons soy sauce
1 tablespoon sugar
2 tablespoons corn syrup
3 tablespoons rice wine (or mirin)
3 tablespoons water
2 garlic cloves, thinly sliced
2 pieces thinly sliced ginger
Optional garnish:
chopped peanuts or pine nuts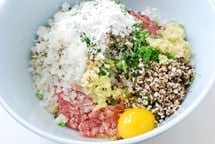 Finely chop the mushrooms, onion, and scallions. Combine all the meatball ingredients well by hand until evenly blended.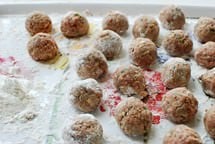 Shape the mixture into about 1 1/4-inch balls. Dredge the meatballs in the cornstarch or flour to lightly coat.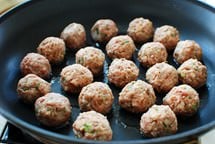 Heat a tablespoon of oil in a pan over medium heat. Add half of the meatballs to the pan. Turning as necessary, fry until all sides are golden brown but not cooked through, 5 – 7 minutes. The meatballs will finish cooking in the sauce. Remove from the pan and repeat with the remaining meatballs.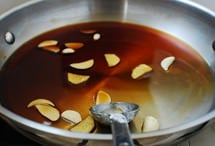 Add all the sauce ingredients to another pan. Boil over medium heat until the sauce is slightly thickened, about 3 – 4 minutes.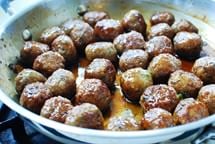 Add the meatballs to the sauce and simmer until the sauce becomes a thick glaze, turning to coat evenly, about 5 minutes. Sprinkle with the optional garnish. Serve warm with your choice of vegetables.