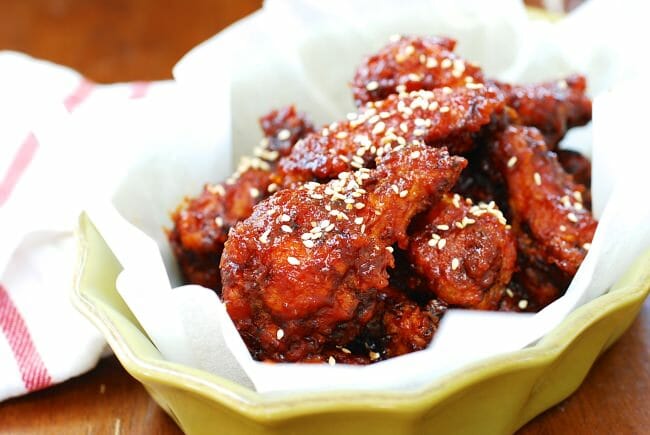 Yangneyom chicken (양념치킨) is deep-fried chicken smothered in a sticky, spicy red sauce. It literally translates to seasoned chicken, and along with dakgangjeong, it's one of many variations of chicken dishes that are made popular by fast food chains in Korea. Its popularity also seems to grow fast outside Korea. In the U.S., Korean fried chicken is called "the other KFC" by some people. If you like deep-fried chicken, you should really give this recipe a try, especially if you haven't tried "the other KFC". The thin crust is extra crispy from double frying, and the sauce is simply amazing!
I used chicken wings here, but any cut of chicken will work. I marinated the chicken with a little bit of salt, pepper and ginger, and then lightly coated with the potato starch. This gives it the nice thin crust. You can also use deep-frying mix to coat the chicken if you want. To deep fry wings nice and crispy, the Korean technique usually calls for frying them at relatively low temperature and then fry them again at a high temperature. The first frying can be done ahead of time.
The red sauce's main ingredients typically include gochujang (Korean red chili pepper paste), ketchup, garlic, and corn syrup. Gochujang and ketchup pair very well – like a match made in heaven! In this recipe, I used Heinz chili sauce instead of ketchup. The chili sauce has more spice, so it gives extra bite and depth to the sauce. I also used Frank's hot sauce for its unique acidic flavor and heat. The sauce can be easily modified with the ingredients you have in your pantry or fridge. You can also use the sauce to coat other fried food or as a dipping sauce.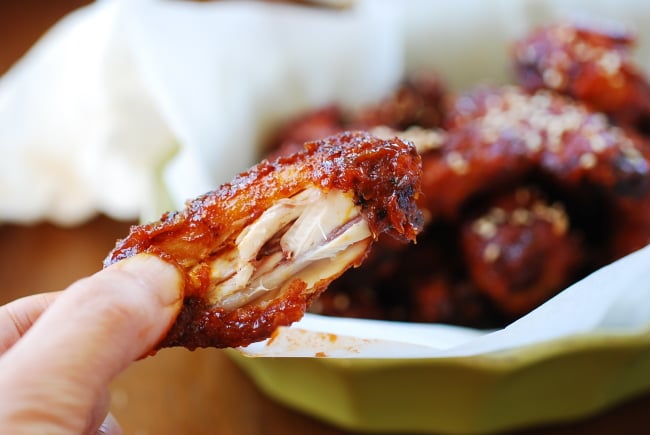 Yangnyeom Chicken
2015-02-01 17:26:00
finger-licking Korean fried chicken (KFC) in a sticky, sweet and spicy sauce
For the chicken
2 pounds chicken (about 16 drumettes and wingettes)
1 teaspoon salt
pinch black pepper
1/2 teaspoon grated ginger
1/2 cup potato (or corn) starch (or deep-frying mix)
oil for frying (about 5 to 6 cups)
For the sauce
2 tablespoons grated onion
1 tablespoon minced garlic
1 teaspoon finely grated ginger
1 tablespoon soy sauce
4 tablespoons rice wine (or mirin)
2 - 3 tablespoons hot sauce (I used Frank's Original)
4 tablespoons chili sauce or ketchup (I used Heinz chili sauce)
2 tablespoons gochujang, Korean red chili pepper paste
2 tablespoons corn syrup or honey
1 tablespoon sugar (or more to taste)
1/2 teaspoon honey dijon mustard - optional
1 teaspoon sesame oil
For the Garnish
1/2 teaspoon sesame seeds
Instructions
Heat a pan over medium low heat. Add 1 tablespoon of cooking oil and then the onion, garlic, and ginger. Stir for a minute until fragrant. Add all other sauce ingredients, and stir well. Simmer until it thickens slightly, about 4 to 5 minutes. Turn the heat off.

Notes
Add 1 teaspoon gochugaru (Korean red chili pepper flakes), preferably fine grounds, to the sauce ingredients, if you like it very spicy. You can grind coarse gochugaru in a spice grinder if you don't have fine grounds.
If you let the oil temperature go up too high, turn the heat off until it cools down to the desired temperature.
Korean Bapsang https://www.koreanbapsang.com/