Gamjajeon (감자전) is a variety of Korean savory pancake (jeon) made with grated or ground potatoes (감자). It's a humble dish that can simply be made with potatoes. It's also very common to add other vegetables such as garlic chives, scallions, chili peppers, zucchinis, etc. This recipe is a very basic one, inspired by a simple potato pancake I had as an appetizer, at a restaurant specializing in noodle soup, in Samcheong-dong neighborhood of Seoul. It reminded me of the potato pancakes I enjoyed during our high school field trip to Seorak Mountain, Gangwon-do, the province that is known for their delicious potatoes.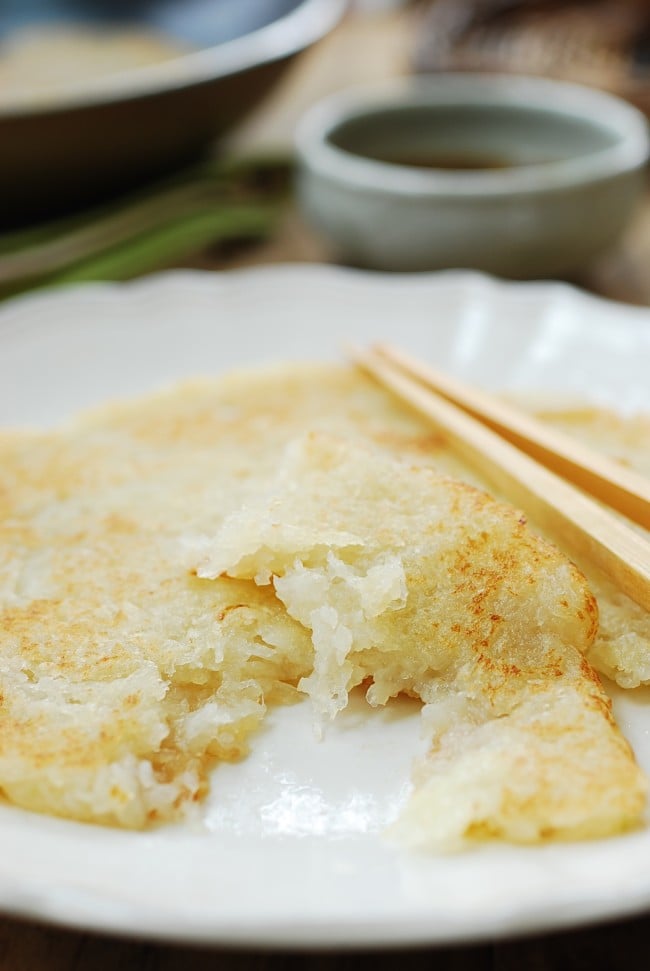 All you need is a couple of potatoes, but a little bit of onion helps prevent discoloring of the potatoes without overpowering the flavor of the potatoes. Make sure to grate the onion first so you can mix with the potato as soon as it's grated.
You can grate the potatoes on a grater or grind them in a blender or a food processor. I like to grate them on a grater for a coarse texture. Whichever method you use, you need to remove some water content from the grated potatoes, or it will be too watery for a pancake batter. Do not throw away the drained water since it contains valuable starch. Let the starch water sit for a while until the starch sinks to the bottom and forms a dense, white layer. Carefully pour out the water, and use the starch in the batter. This is the traditional way to make a potato pancake batter without adding flour or powder starch.
Gamjajeon (Potato Pancake)
2015-04-20 03:19:53
Serves 2
a simple Korean potato pancake
Ingredients
1/4 medium onion
1-1/2 pounds potatoes (2 large or 3 medium)
1/4 teaspoon salt
oil for pan frying
Diping Sauce
1 tablespoon soy sauce
1 teaspoon vinegar
1 tablespoon water
1/2 teaspoon sugar
pinch of black pepper
Instructions
Peel and grate the onion (about 2 to 3 tablespoons). Place in a large bowl. Peel and grate the potatoes, capturing the liquid. If using a blender or food processor, grind the onion and potatoes together.

Korean Bapsang https://www.koreanbapsang.com/