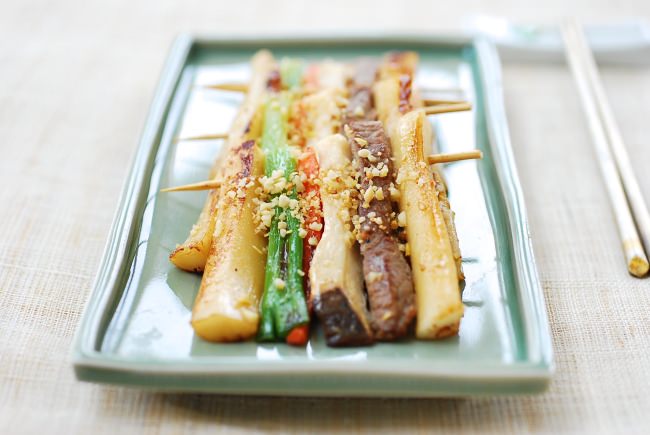 Sanjeok is a variety of jeok – skewered meat and vegetables. Unlike some other jeok varieties, sanjeok is not flour- or egg-battered. The ingredients are skewered and then grilled or pan-fried. Tteok (rice cake) sanjeok is made with garaetteok, which is unsweetened rice cake that's shaped like a long cylinder.
Garaetteok is abundant this time of year because it's cut into oval slices and used to make tteokguk (soup made with rice cakes), a must-have New Year dish. I used regular size garaetteok in this recipe, which I cut into short strips. Day old rice cakes will be best for cutting. You can use thinner ones that are made for tteokbokki (spicy stir-fried rice cakes) instead if you'd like. Beef, mushrooms and scallions are traditional accompaniments, but you can use any meat or vegetables of your choice.
This colorful, nutritionally well-balanced skewers will be a great addition to your Lunar New Year table!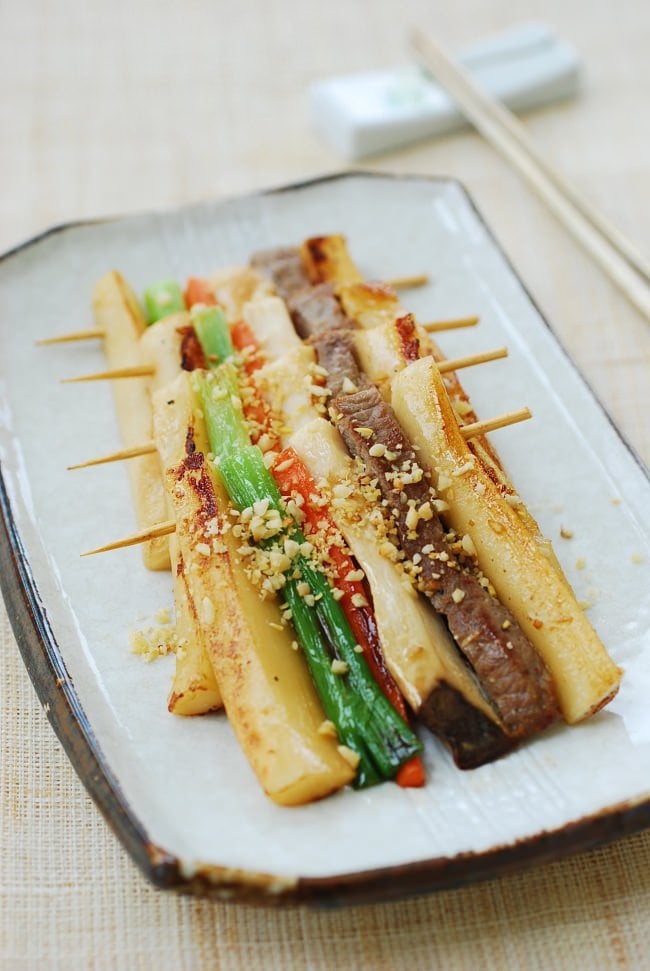 Tteok Sanjeok (Skewered Rice Cake and Vegetables)
2016-02-08 04:57:47
Serves 4
A traditional holiday dish - skewered rice cake with beef and vegetables
For the rice cake
2 pieces garaetteok (sufficient for 4 7-centimeter long pieces)
1 tablespoon soy sauce
2 teaspoons sugar
1 teaspoon sesame oil
For the beef
4 ounces lean beef (tenderloin, sirloin, eye round)
1 tablespoon soy sauce
2 teaspoons sugar
1 teaspoon sesame oil
1 teaspoon rice wine
1 teaspoon minced garlic
pinch pepper
For the vegetables
4 king trumpet mushrooms (saesongi beoseot)
2 small carrots
4 scallions
salt and pepper
oil for pan frying
sesame seeds or chopped pine nuts for garnish - optional
8 skewers (about 4-inch long)
Instructions
Cut each rice cake crosswise into about 3-inch long pieces. Then cut each piece into quarters. (Day old rice cake is best for cutting.) Boil the rice cake in a small pot of boiling water until softened. Drain, and mix with the soy sauce, sugar and sesame oil, and let sit for about 30 minutes.

Korean Bapsang https://www.koreanbapsang.com/