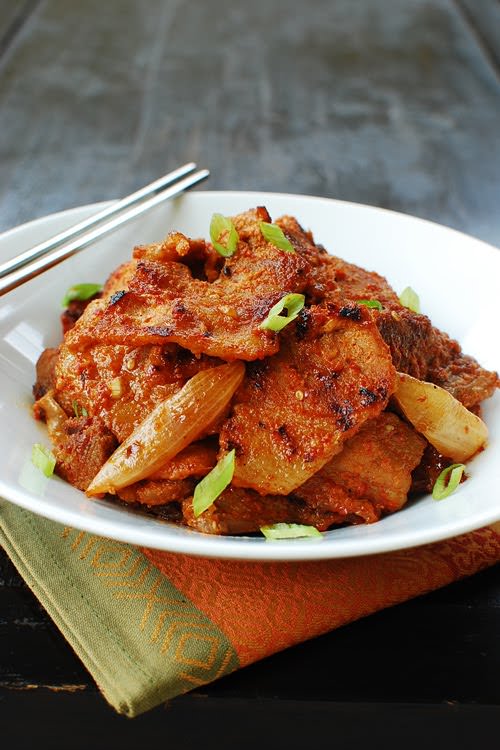 Today, I am guest posting for Bee over at Rasa Malaysia. I was so excited to receive an e-mail from Bee inviting me to guest post on her blog. She is an amazing blogger with over 400 easy Asian recipes, and her first cookbook Easy Chinese Recipes was recently released. Bee asked me if I could share a bulgogi recipe that uses gochujang, which is Korean red chili pepper paste. So I decided to share how to make dwaeji bulgogi (aka jeyuk bokkeum) using pork belly (samgyupsal). You can also use pork shoulder or loin or chicken for this recipe. Please visit Rasa Malaysia and find my Dwaeji Bulgogi recipe. While you are there, be sure to check out her delicious Asian recipes with beautiful photographs!

Unlike its beef counterpart, which is traditionally marinated in a soy sauce based sauce, pork is typically marinated in a spicy gochujang sauce. For an authentic Korean dish, there is simply no substitute for gochujang. The marinated pork can be either grilled or pan-fried. If you love fatty pork and spicy food, this is the perfect dish for you!
Ingredients:
1 pound thinly sliced pork belly (or pork shoulder)
1/2 medium onion, thinly sliced
2 – 3 scallions, roughly chopped
For the marinade:
3 tablespoons Korean red chili pepper paste (gochujang)
1 tablespoon Korean red chili pepper flakes (gochugaru)
2 tablespoons soy sauce
2 tablespoons rice wine (or mirin)
2 tablespoons sugar
1 tablespoon sesame oil
1 tablespoon minced garlic
1 tablespoon grated ginger
⅛ teaspoon black pepper
Mix all marinade ingredients well. Cut the pork belly into bite size pieces (about 2-inch long). Combine the meat, onion, and scallions with the marinade, and mix well by hand. Marinate for at least an hour. Heat a grill pan or a skillet over medium high heat and add the pork slices. Cook until the pork is cooked through and slightly caramelized, turning over once.
**Also, make sure to check out my review of CJ Chicken and Cilantro Mini Wontons and enter to receive two free packages here.