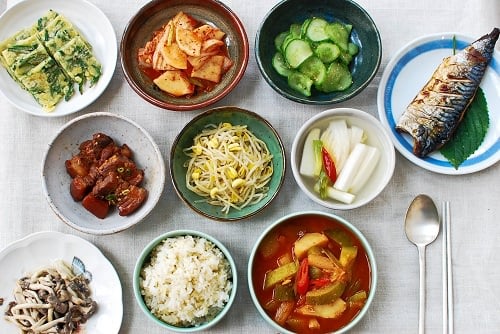 Welcome to my new home! Eating and living is now Korean Bapsang. In my 2-year anniversary post last year, I told you that I was in the process of giving my blog a new face and a new name. Yay, we are finally here! I had hoped to launch it on my 3-year blog anniversary in August but didn't quite make it. So, here's a belated happy anniversary!
After a long search of a new name that would closely reflect the theme of my Korean home cooking blog,
Korean Bapsang
was born.
Bapsang
(
밥상
)means a table at which meals are enjoyed. (To hear what it sounds like in Korean, click on the Korean word link and click on the speaker next to the word.)The word
bapsang
is made up oftwo words
bap
(cooked rice) and
sang
(table). It's pretty obvious from this how important rice is in Korean cuisine. The typical Korean table consists of rice, soup or stew, and several side dishes. Through this blog,
Korean Bapsang
, I will continue to provide delicious easy-to-follow recipes for your Korean table.
And, how do you like the new look? The logo is a
gujeolpan
, a nine-section tray that is used to serve traditional delicacies.
The earthenware (onggi/hangahri)are pots used to store fermented food such as gochujang (red chili pepper paste), doenjang (soybean paste), ganjang (soy sauce), and kimchi. All this is complemented by a traditional pattern in the background and a bright green bar with saekdong —a multi-color stripe pattern commonly used in traditional clothes (hanbok) —at the top of the page.
The old URL (eatingandliving.blogspot.com) automatically redirects to the new URL (
koreanbapsang.com
). As such, your prior bookmarks should work as is. Please let me know if you encounter any issues related to the transition (not receiving updates through RSS feed or e-mails, etc.).
To my fellow bloggers, if you currently link to my blog on your blogroll, it'd be greatly appreciated if you could update the name of the blog to
Korean Bapsang
to reflect the change.
Hope you like this new home as much as I do. Thanks always for your continuing support!