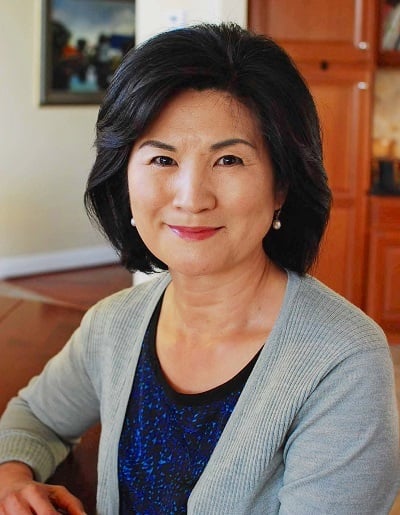 Hi! Welcome to Korean Bapsang (table)! My name is Hyosun Ro, and I am a Korean-American mom of two wonderful grown-up children. In the summer of 2009, I started this blog as a way to teach my children how to cook the food they grew up with. They frequently call me around dinner time asking how to cook certain dishes. Both of them love to eat great food and enjoy cooking. They grew up immensely appreciating family tradition and cultural heritage through food.
Growing up in Korea, I always took great interests in my mother's cooking. My mother is an excellent home cook and loves to cook for family and friends. When I was a newlywed, I recreated her dishes to feed my hungry husband. I then realized how much I had learned from my mother simply by watching and tasting her cooking. I soon had to start taking cooking seriously.
My mother-in-law, as all Korean mother-in-laws of her generation do, expected me to produce a feast for every special occasion. I still remember my first big cooking event. It was my son's 100th day after his birth (which is a big occasion for Koreans), and my parents-in-law invited everyone from their church.
Since then, cooking became a big part of my life. I honed my cooking skills by hosting numerous gatherings for family and friends that always involved great food. The peak of my culinary adventure was my father-in-law's 80th birthday many years ago. It was a huge party, with about 100 people, and I made all the food at home. Through all these events, I became an enthusiastic home cook.
This blog is the perfect outlet for my longtime passion for food. Through this blog, I hope to share the secrets of classic Korean home cooking and some of my other home favorites.
As most Korean home cooks do, I have always cooked by instinct and eyeballing, so it is a little bit of a challenge to develop exact measurements and cooking times. For this reason, I test all the recipes as many times as it takes to develop accurate recipes that are easy to follow and produce consistently quality results.
I would love to see my passion for creating great recipes develop into a cookbook to be passed on to generations to come. With this goal in mind, I treat each recipe I post as a page in my future cookbook. So, I'd like to invite you to share the experience as I create one recipe at a time!