Doenjang jjigae is a staple Korean stew made with fermented soybean paste! It's hearty, delicious and comforting!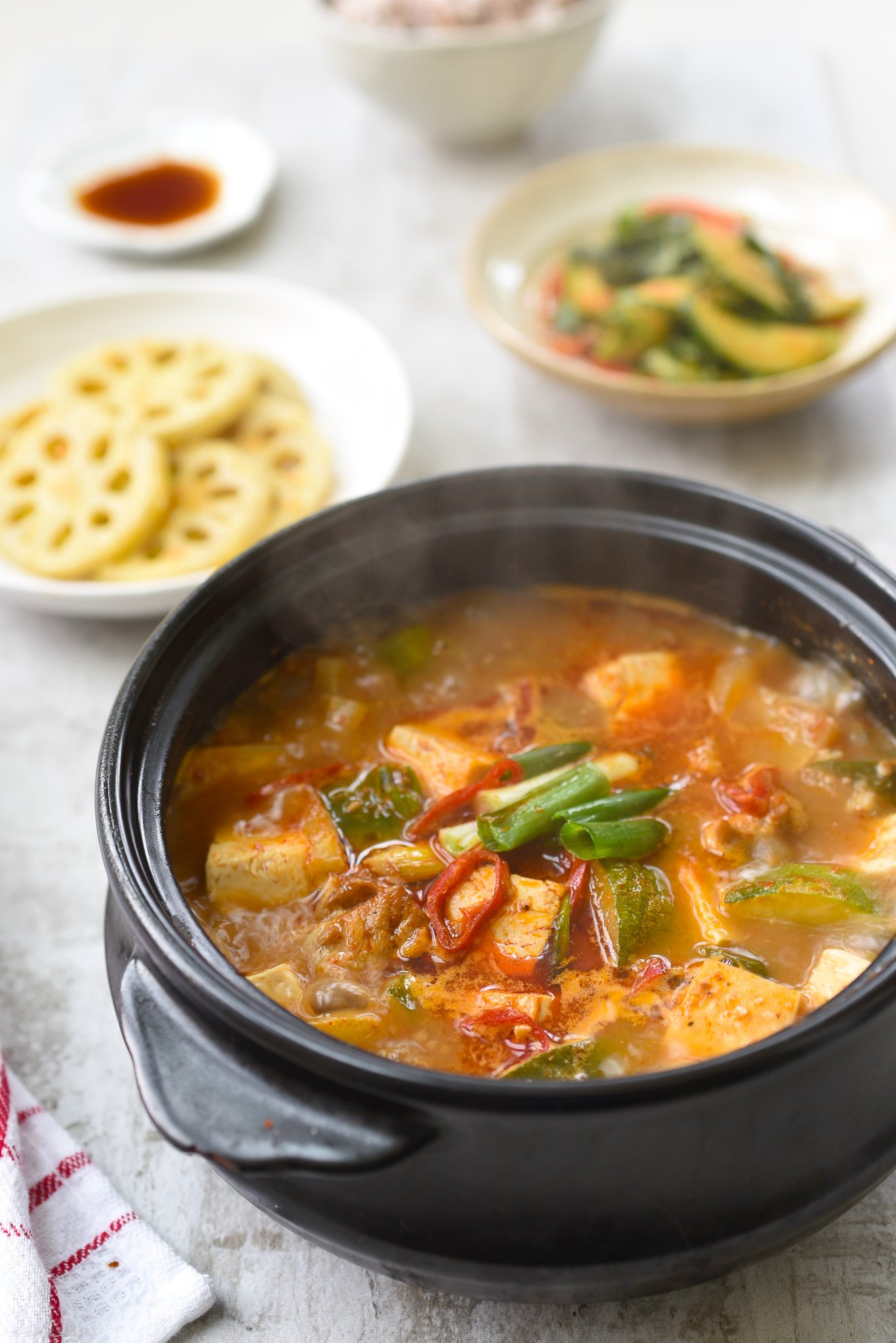 Doenjang jjigae (된장찌개) is a staple Korean stew made with
doenjang
(된장), fermented soybean paste. It is one of the most popular everyday home-cooked Korean dishes.
This hearty stew is my husband's all-time favorite meal and my go-to dish when I want to make a quick satisfying meal. The distinct aroma of sizzling doenjang makes my mouth water every time I make this dish! Such a comforting, delicious dish!
Depending on the other ingredients added, you can make endless variations of the stew. This recipe is made with fatty pork, but you can also make it with
beef
or
seafood
.
As I explained in my
Korean Pantry Seasoning Ingredients
post
, doenjang
.is one of the three primary Korean sauce and pastes, collectively called jang (장) along with ganjang (간장, soy sauce) and
gochujang
(fermented chili pepper paste). Every Korean home has it all year round. Its deep, rich flavor is created by several months of fermentation and aging.
In the past, every household made
doenjang
at home. However, there are many commercial brands available at Korean markets and on line these days. Of course, it goes without saying good doenjang makes good jjigae! So quality of doenjang matters. See my
Korean Pantry Seasoning Ingredients
post for a buying guide.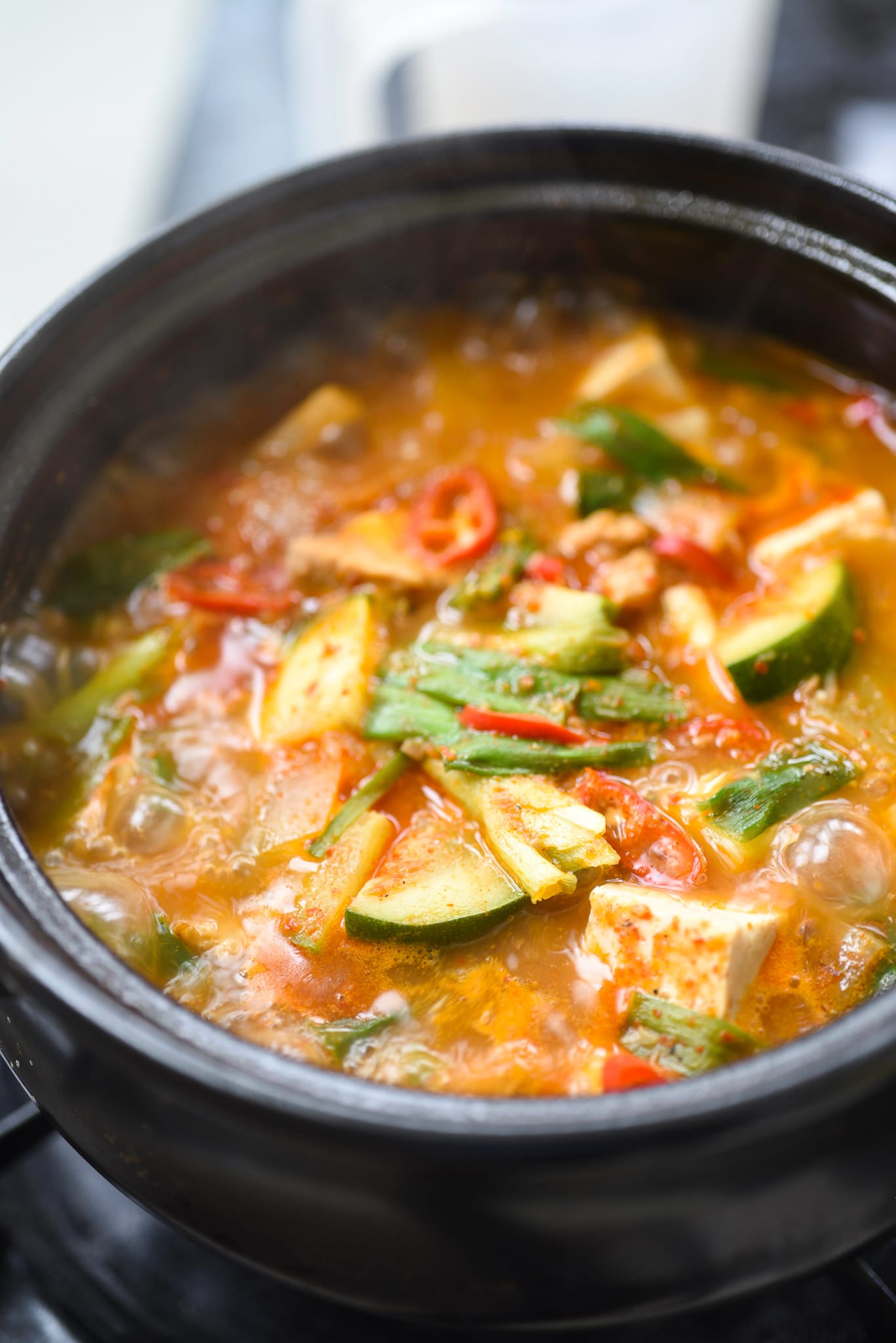 In terms of other ingredients added, tofu is typical in doenjang jjigae. For vegetables, I usually use Korean white radish (mu, 무), zucchini, onion, and fresh green and/or red chili pepper. Korean radish adds flavor and helps create a clean, refreshing broth.
If Korean radish is not available, you can add some potato slices which will make the stew slightly thicker. I often use both. Mushrooms are a good addition as well.
Tips for delicious doenjang jjigae
By now, you know Korean home cooks save the water used to rinse rice (ssalddeumul, 쌀뜨물) and use it as a stew or soup base. The rice water adds starch to the stew and works as a binding agent between the soybean paste and the broth. It also enhances the flavor of doenjang. If you didn't have to make rice, or forgot to save the water, add a little bit of flour or rice flour to water, but not absolutely necessary.
Use a small amount of vinegar at the end to make doenjang jjigae even more delicious! It will brighten the doenjang taste in the stew and round everything up nicely, but totally optional!
More Doenjang Jjigae Recipes
Seafood doenjang jjigae
Beef doenjang jjigae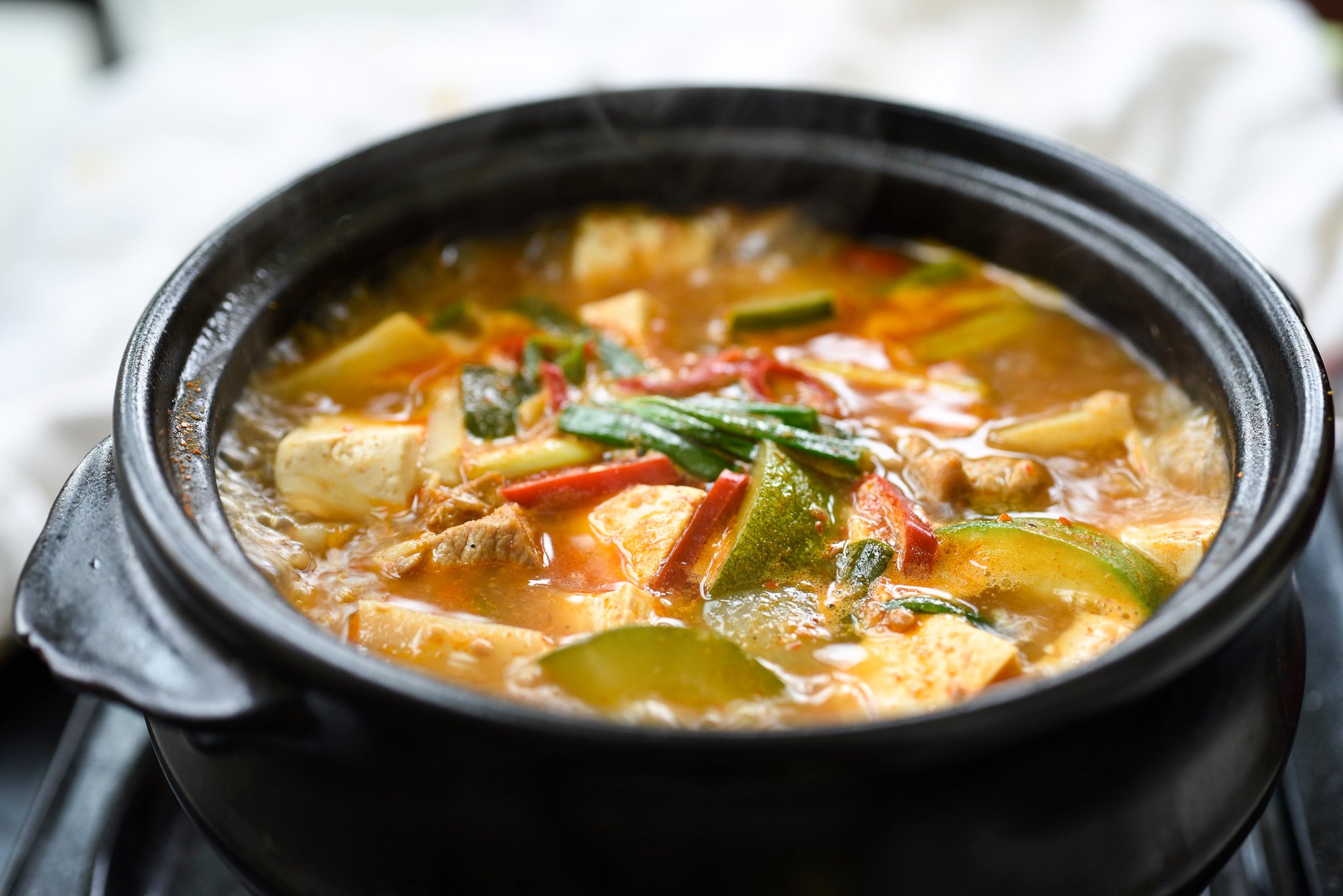 Watch How to Make It
For more Korean cooking inspirations, follow along on YouTube, Pinterest, Twitter, Facebook, and Instagram.
Doenjang Jjigae (Korean Soybean Paste Stew)
Main
Print Recipe
Ingredients
3

ounces

pork (preferably fatty pork)

shoulder, or loin (or beef)

9

ounces

tofu (dubu, 두부)

1/2

medium zucchini (4 to 5 ounces)

2

ounces

Korean radish (mu, 무)

and/or 1 small potato, sliced into 1/4-inch thick bite size pieces.

1/4

medium onion

1

chili pepper

green or red

1

scallion

2

tablespoons

doenjang (된장), Korean soybean paste

1

teaspoon

gochugaru (고추가루 ), Korean chili pepper flakes

adjust to taste

2

teaspoons

minced garlic

2

cups

water (or anchovy broth)

see note

1

teaspoon

vinegar (optional)
Instructions
Cut the tofu and zucchini into about 1-inch cubes. Cut the radish into thin small squares. Thinly slice the onion and pepper. Roughly chop the scallion. Slice the meat into thin strips.

Preheat a small pot with a little bit of oil. Sauté the meat, soybean paste, and chili pepper flakes, over medium heat for 3 to 4 minutes.

Add the water (or anchovy broth) and stir well to dissolve the soybean paste. Add the radish (if using a potato, add it in the next step). Boil over medium high heat for 3 to 4 minutes.

Add the onion, garlic, tofu, zucchini, and chili pepper. Boil for an additional 5 to 6 minutes. Throw in the scallion pieces and add the optional vinegar with a minute or two remaining.

Serve with a bowl of rice while it is still bubbling from the heat.
Notes
Save the water used to rinse rice (from the second or third rinsing), ssalddeumul for jjigae/stew. You can also use anchovy broth.
This recipe was originally posted in April 2010. I've updated it here with minor changes to the recipe and new photos.