This is a list of the Korean essential seasoning ingredients. Find out what they are, how they are used, which products to buy, and how to store them.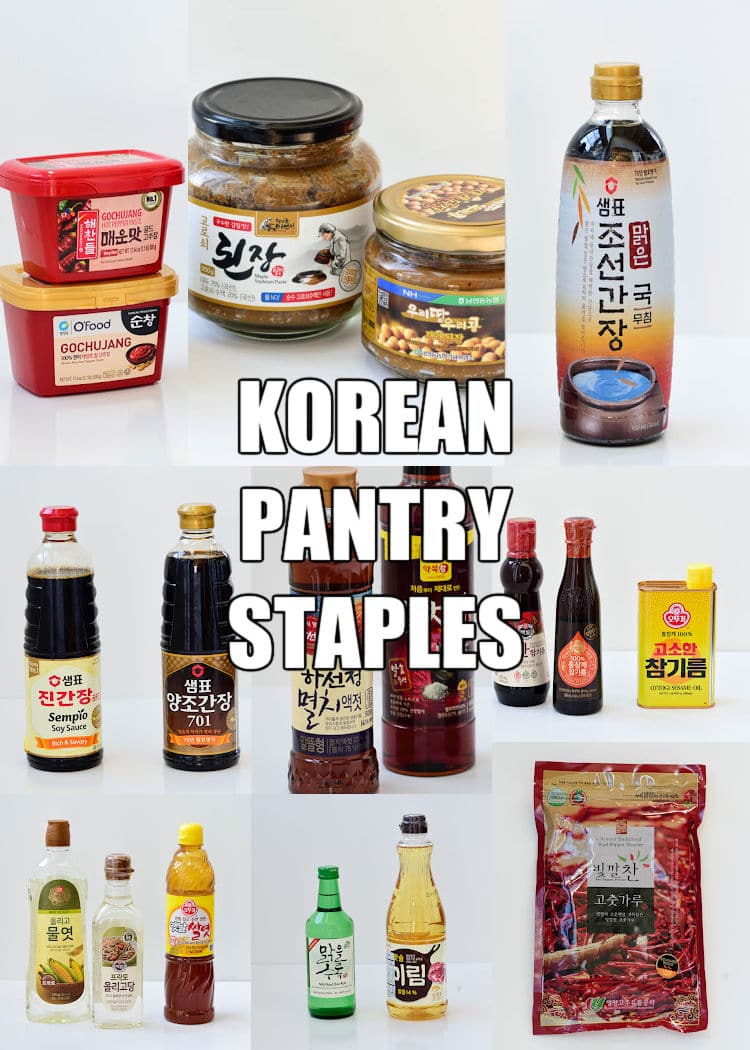 Seasonings are called yangnyeom (양념) in Korean, and every Korean cook uses his/her own combination and ratio of these pantry staples to season and flavor a dish. If you have these seasoning ingredients, you can make so many delicious Korean dishes. The last three items on this list are mostly for making kimchi.
Some items on this list are entirely unique to Korean cuisine. They are the three primary fermented sauce and pastes, collectively called jang (장) — ganjang (간장), doenjang (된장), gochujang (고추장). There simply are no substitutes for them if you want to create authentic flavors. In the old days, every household made its own jang. These days, many people use mass produced commercial brands. But, if you have access to artisanal/premium products, it's totally worth spending extra money on.
All the items on this list can be found in Korean markets or on-line. The brands I'm showing here are based on the availability around here or on-line. They are not sponsored. You can also find artisanal/premium products from on-line sources such as Seoul Mills, Wooltari USA and Kim'C Market in the U.S.
Because of the current pandemic situation, I'm noticing that the stores and on-line sources are not restocking some of their inventories and the availability is limited for some items.
Ganjang (Soy Sauce)
There are largely two types of soy sauce in Korea – traditional soy sauce and modernized soy sauce that's generally referred to as regular soy sauce.
Guk ganjang (soup soy sauce)

Also known as Joseon ganjang (조선간장) and jaerae ganjang (재래간장), this traditional soy sauce is made entirely with meju (메주, fermented soybean blocks) and salt brine as a by-product of making doenjang (fermented soybean paste). No wheat is included! Check the labels because some mass-produced ones may include wheat. It's lighter in color and deeply savory with a sharp, slightly tangy, salty taste. Soup soy sauce is quite salty so a little bit goes a long way.
Use: This type of soy sauce is most commonly used in soups, hence the name guk ganjang. Guk means soup. It adds delicious savory flavors to soups and stews without darkening too much and sweetening. Guk ganjang is also great to season vegetables for namul dishes. I strongly recommend you get a bottle if you cook Korean food on a regular basis.
Buying: I recommend Sempio Malgeun Joseon Ganjang (샘표 맑은 조선간장) or the artisanal products such as Mackurum Golden Mac Soy Sauce (황금빛 조선 맥간장) or Jaerae Ganjang (재래간장) available at Wooltari USA and Seoul Mills, respectively.
Storage: Keep it in a dark, cool place.
Yangjo Ganjang and Jin Ganjang
These are regular types of soy sauce. They are made with soybeans, wheat, sweetener, and other ingredients. It's dark in color, full of savory flavors and aroma and slightly sweet. Although every Asian country has its own soy sauce types, there actually are differences in taste. It's best to use Korean soy sauce in Korean cooking.
The two most common types are yangjo ganjang (양조간장) and jin ganjang (진간장), depending on the brewing techniques. The first is naturally brewed, and the latter typically is a combination of naturally brewed and chemically processed with a chemical acid which breaks down the proteins in the soybeans and wheat.
Use: Naturally brewed yangjo ganjang loses its flavor and aroma during cooking, so Sempio recommends this first type be used for cold foods and briefly cooked dishes. Those dishes are sauces (yangnyeom ganjang), japchae, and namul dishes. Jin Ganjang is good for marinating, braising and stir-frying.
Buying: If you just want one regular type of Korean soy sauce, I recommend Sempio Jin Gold F3 (진간장 금F3). It has a well- rounded flavor and not very dark. It's the best-selling soy sauce in Korea. For yangjo ganjang, Sempio Yangjo Ganjang 701 or 501 is great. I usually have both types.
Storage: Keep it in a dark, cool place. These soy sauce Korean labels also recommend storing in the fridge to preserve flavors longer. I just keep mine in my kitchen cupboard away from sunlight.
Doenjang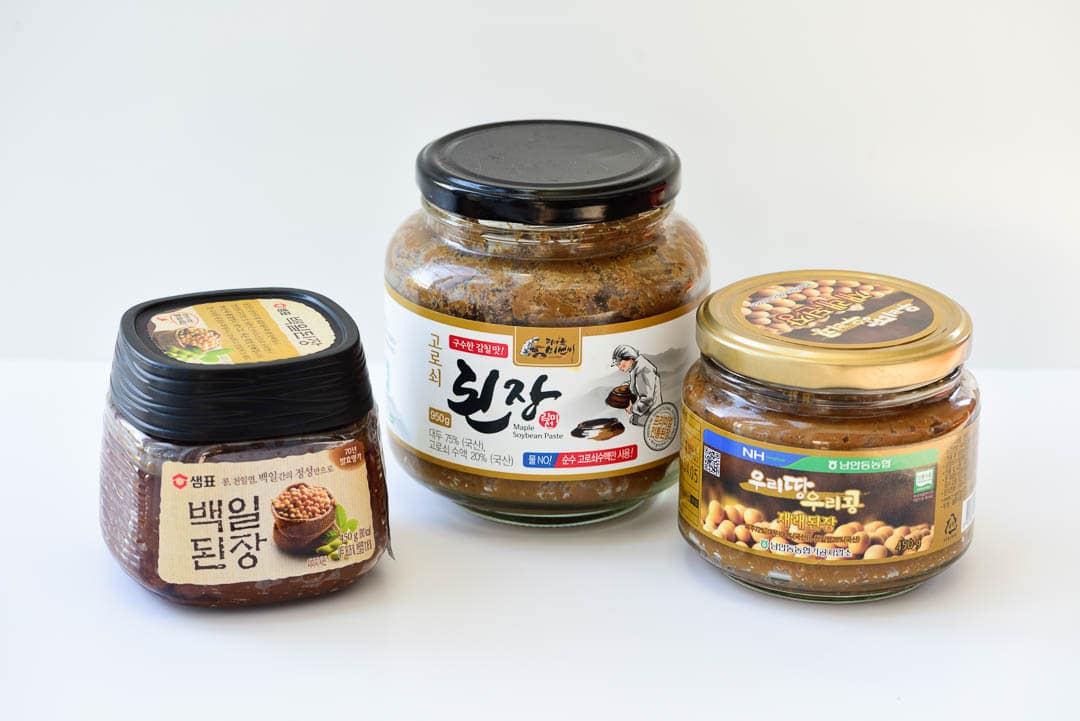 Doenjang (된장) is fermented soybean paste made with meju (메주) and salt brine. Meju is fermented soybean blocks that are made by cooking soybeans, mashing, and shaping into blocks for fermentation. Meju is fermented in salt brine for months, and then the liquid is drained. This liquid is further fermented to become traditional soy sauce, guk ganjang (see above), and the drained meju is mashed into a paste and further fermented for months or years.
Use: Doenjang usually is not eaten as is. It's used as an ingredient to season and flavor a wide range of dishes such as stews, soups, marinades, dipping sauce, and namul dishes.
Buying: For commercial brands, Sempio, Chungjungone, and Haechandeul are big brands which make many variations of doenjang. Totally confusing even to Korean cooks. Some are even pre-seasoned with seafood seasonings, garlic, etc. Sempio tojang falls under this category. Many say it's traditional (jaraesik, 재래식), but really not. Some include wheat, syrup and more. I'd recommend you buy doenjang with the shortest list of ingredients such as soybeans and salt.
The best option, especially for doenjang, is artisanal/premium doenjang from your local Korean store or on-line sources. I found the NH (Nonghyup, farmers' association) brand in the photo at a local Korean market. The middle one in the photo is MISUN Premium Gorosae Soybean Paste from Seoul Mills — highly recommended. Not in the photo, but other good options are All Natural Soybean Paste (Seoul Mills), and Maekdoenjang (Wooltari).
If you want to go with a big brand, try Sempio Baekil Doenjang (백일된장) or Sumshineun Doenjang (숨쉬는 된장).
Storage: Keep doenjang in the fridge after opening.
Gochujang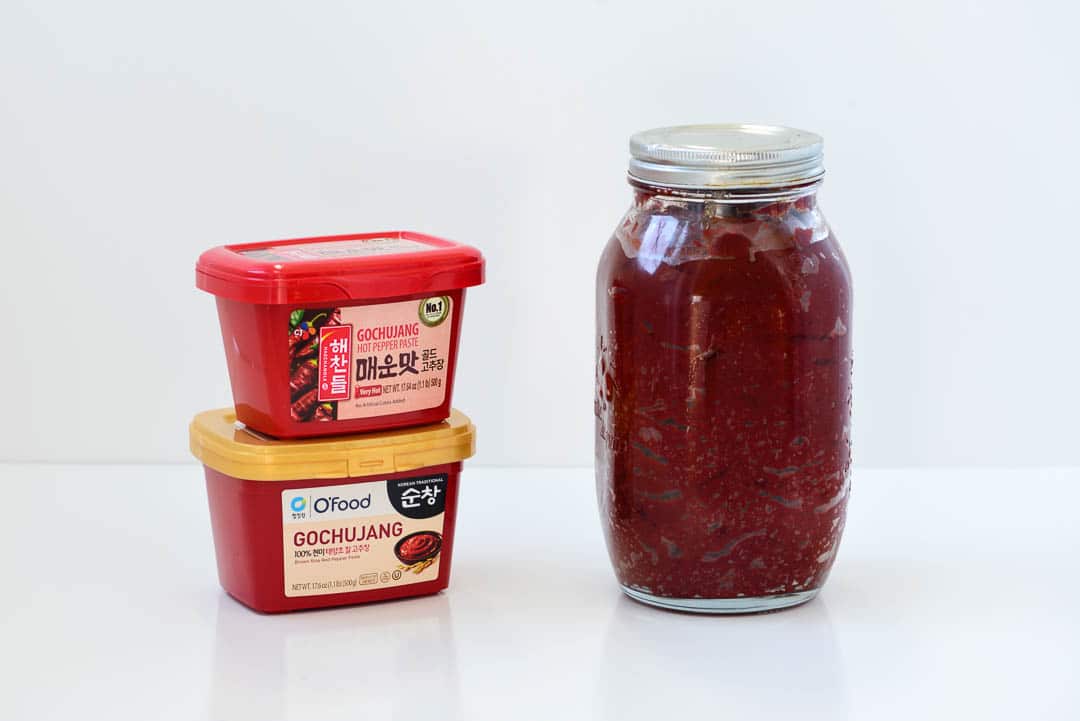 Gochujang is a red chili paste that is spicy, sticky and slightly sweet. It's made of gochugaru (고추가루, Korean red chili peppers), yeotgireum (엿기름, barley malt), chapssal (찹쌀, sweet rice) or other grains, meju garu (메주가루, fermented soybean powder), and salt. Traditionally, these ingredients would be placed in large earthenware pots for several months to ferment which results in a rich burnt red color and deep flavors.The red thick paste is deeply savory, peppery, pungent, slightly sweet and spicy!
Use: Gochujang usually is not eaten as is. It's used as an ingredient to season and flavor a wide range of dishes or made into various sauces. It's great for stews, marinades, sauces, dipping sauce, and namul dishes. Also, see my 15 Recipes that Use Gochujang.
Buy: Commercially made gochujang is widely available in Korean markets or on-line. Sunchang and Haechandeul are the two most popular mass produced brands. You can also find artisanal/premium products from on-line sources, which again is a better option.
If you're interested in making your own gochujang at home, check out my How to Make Gochujang post. It's not that hard to make.
Storage: Keep gochujang in the fridge after opening.
Gochugaru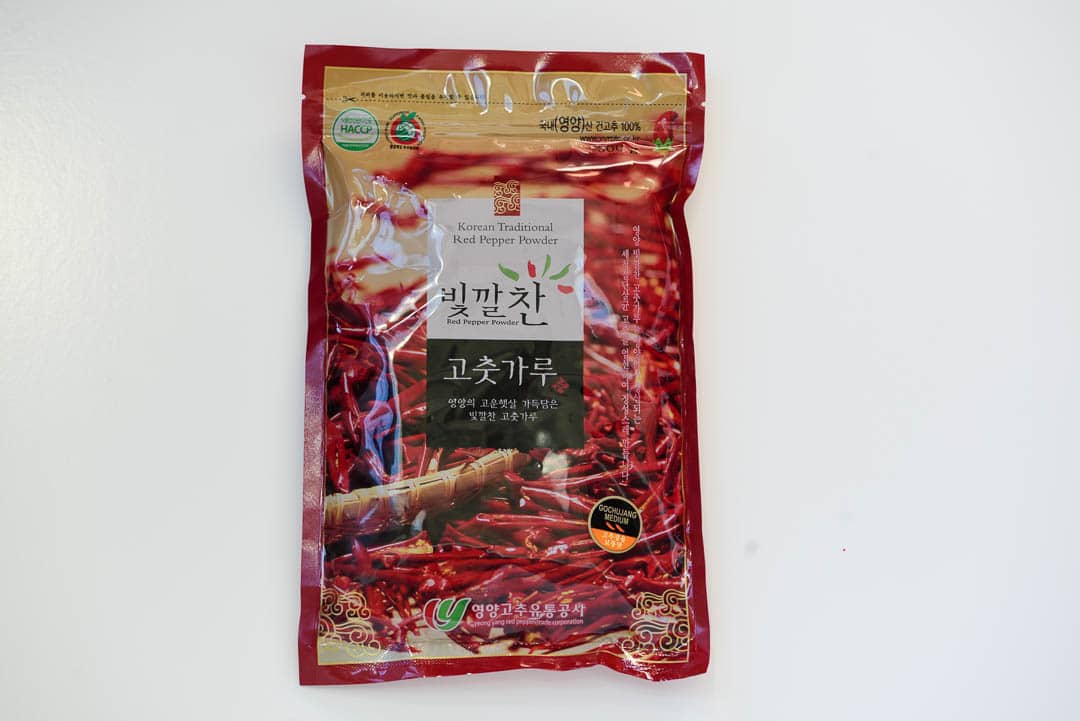 Gochugaru (고추가루) is Korean red chili flakes. There are coarsely ground and finely ground types. Coarsely ground gochugaru is used to make kimchi or other dishes such as stews and soups. Finely ground gochugaru is used to make gochujang and sometimes to thicken a sauce while adding extra spiciness, without the sweetness and saltiness of gochujang.
Some gochugaru packages indicate the spicy level, such as botongmat (보통맛), meaning medium spicy, or maeunmat (매운맛), meaning extra spicy. Some are sun-dried (taeyangcho, 태양초), which is a traditional drying method that yields a brighter color and more natural flavor than a factory heat dried method.
Use: Gochugaru is most iconically used in kimchi, but it's used in many other dishes — yukgaejang, dubu jorim, sundubu jjigae, and kongnamul muchim to name a few.
Buying: The availability of gochugaru brands are quite diverse depending on the stores, so it's hard to recommend one particular product. In general, gochugaru produced in Korea is considered high quality, although it's much more expensive. Your local Korean markets may carry gochugaru from Korea. If you see NH (Nong Hyup, 농협) brand, which is a brand created by a farmer's association, it's a good quality product.
I also recommend Bitkkalchan Gochugaru (빛갈찬 고추가루) which is premium gochugaru from Korea and available on-line (Wooltari USA and Amazon).
Storage: Gochugaru keeps well in the freezer for a long time, a year or longer.
Sesame Oil
Korean sesame oil (Chamgireum, 참기름) is made from toasted sesame seeds. It goes into many Korean dishes as Koreans love this highly fragrant and nutty oil.
Use: It's most commonly used as a finishing or flavoring oil in all sorts of vegetable and meat dishes. It's also used to flavor soups and stews. A generous drizzle of sesame oil on your bibimbap or bibim guksu elevates the taste of the dish to the next level.
Buying: Look for sesame oil made from 100% whole sesame seeds. It's usually noted in the label. If it doesn't say anything about it, you can pretty much assume it was made from processed sesame seed powder, which costs less and not as aromatic.
Ottugi Gosohan Chamgirum (오뚜기 고소한 참기름) is made from 100% whole sesame seeds (tongchamkkae, 통참깨), and some other major brands such as Baeksul (the middle one in the picture), and Sempio also have a type made with 100% whole sesame seeds.
Storage: Sesame oil should be kept in the fridge to prevent it from becoming rancid.
Rice wine

Use: Rice wine is commonly used in meat and fish dishes to remove any gamey or fishy taste and help tenderize the meat. Traditionally, cheongju (청주), a clear rice wine with a subtle sweet flavor, is used in cooking, but soju, a distilled alcohol beverage, is commonly used in modern cooking. Cheongju is hard to find in the U.S., so I use a soju type in my cooking.
I also use sweetened cooking rice wine known as matsool (맛술) in Korea or mirin in Japan. The alcohol percentage and ingredients widely vary depending on the brands. Some Korean cooking rice wine is also flavored with ginger or other ingredients.
Buy: I use soju (any type) when I don't want to sweetened the dish, and use Lotte Mirim (미림) cooking rice wine. It has 14 percent alcohol, and is not too sweet.
Storage: Keep rice wine in a dark, cool place.
Syrup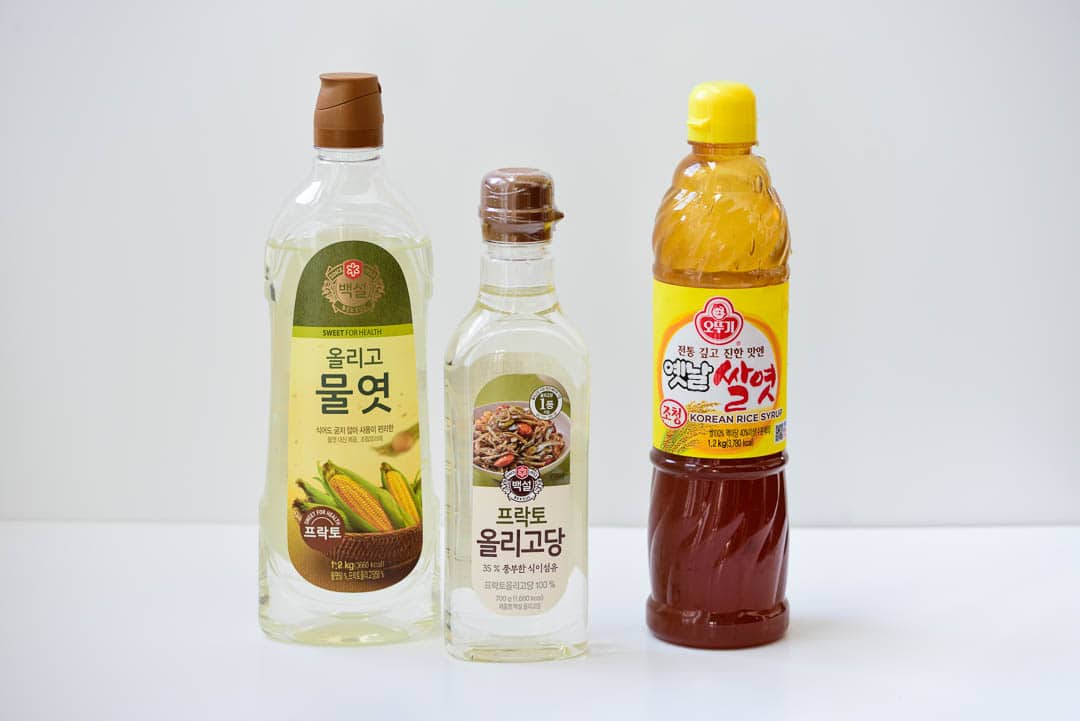 There are several different types of sweet syrups used in Korean cooking. Jocheong (조청) is a traditional sweetener naturally made with rice and malt barley (yeotgireum, 엿기름). It's rich amber-hued and has a subtle earthy taste. Oligodang (올리고당) is oligosaccharide, and mulyeot (물엿) is corn syrup. Oligodang is less sweet, contains more fiber than corn syrup, and helps with colon health. For these reasons, many Koreans prefer oligodang to corn syrup.
If you have concerns over using corn syrup, the experts are saying the corn syrup type you get from grocery stores is simply a sugar that has been extracted from corn and processed into a liquid form. It's not worse than sugar. It's not the high-fructose corn syrup (HFCS) which is further processed for extra sweetness and used in soft drinks and commercially made sweet products.
Use: All these have a similar viscosity, add a gloss and thicken the sauce in dishes such as dakgangjeong jjimdak, and myulchi bokkeum. Agave, honey, or maple syrup can be used as a substitute. But, keep in mind that honey and maple syrup have distinct flavors.
Buy: Ottugi Yenal Jocheong (오뚜기 옛날 쌀엿, the right one in the photo) for rice syrup, and Baesul Fructo Oligodang (백설 프락토 올리고당, the middle one in the photo) for oligo syrup.
Storage: Keep syrup in a dark, cool place.
Vinegar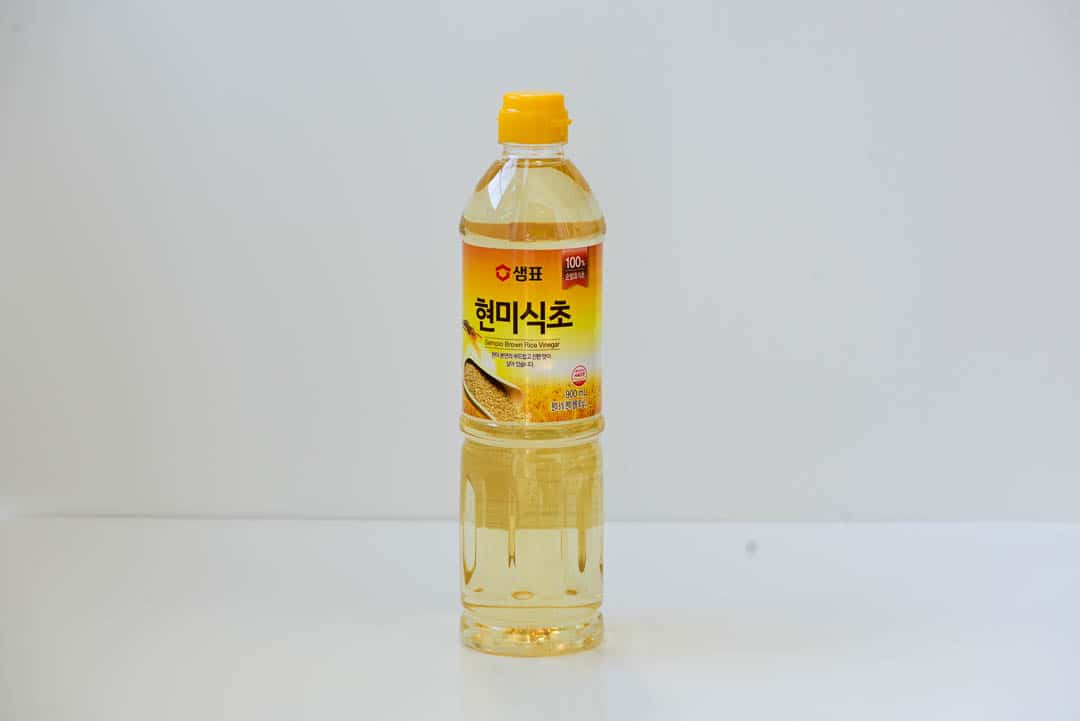 I usually use Korean brown rice vinegar (hyunmi sikcho, 현미식초) for Korean cooking. There are also various fruit flavored vinegar types in the vinegar section of Korean markets if you prefer. Lemon vinegar and apple vinegar are popular among Korean home cooks.
If you don't have rice vinegar, you can use any clear vinegar such as white vinegar, apple cider vinegar, or Korean fruit flavored vinegar.
Use: The vinegar is used in many Korean dishes. The flavor profile of sweet and sour is very common in spicy and non-spicy sauces and glazes. Examples are bibim guksu, ojingeo muchim, dipping sauce, dakgangjeong.
Buy: Sempio (샘표), Chungjungone (청정원), and Ottugi (오뚜기) brands all have brown rice vinegar. Any of them is fine.
Storage: Keep it in a dark, cool place.
Fish sauce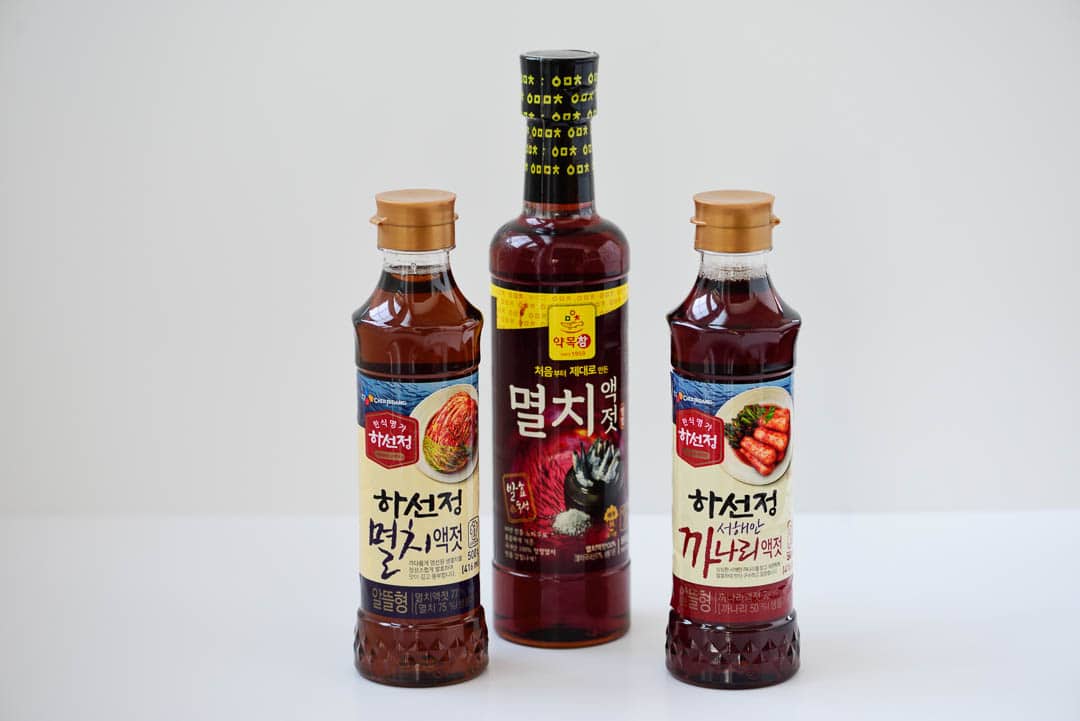 Fish sauce is made by fermenting small fish in salt. The most common types are myulchi aekjeot (멸치액젓) and kkanari aekjeot 까나리액젓). Myulchi aekjeot is made with anchovies, and kkanari aekjeot is made with sand lance fish.
Use: Both are used in kimchi but can be used in other dishes such as namul dishes, soups and stews. Myulchi aekjeot has a more pungent flavor and aroma than kkanari. Myuchi aekjeot is more commonly used in kimchi, but it's a matter of preference. My kimchi recipes call for myulchi aekjeot because that's what I use, but it can be substituted with kkanari aekjeot for a milder taste.
Hasungjung (하선정) and Chungjungone (청정원) are the two major brands with popular fish sauce. Yakmok (약목, the middle photo) is a small brand fish sauce you can find on line (Seoul Mills). All these are good. If you can't find a Korean fish sauce, you can substitute it with Vietnamese or Thai fish sauce. But, be aware that Korean fish sauce is much stronger in flavor and saltier than the others.
Storage: Keep it in the dark and cool place, but in the fridge for longer storage.
Salted shrimp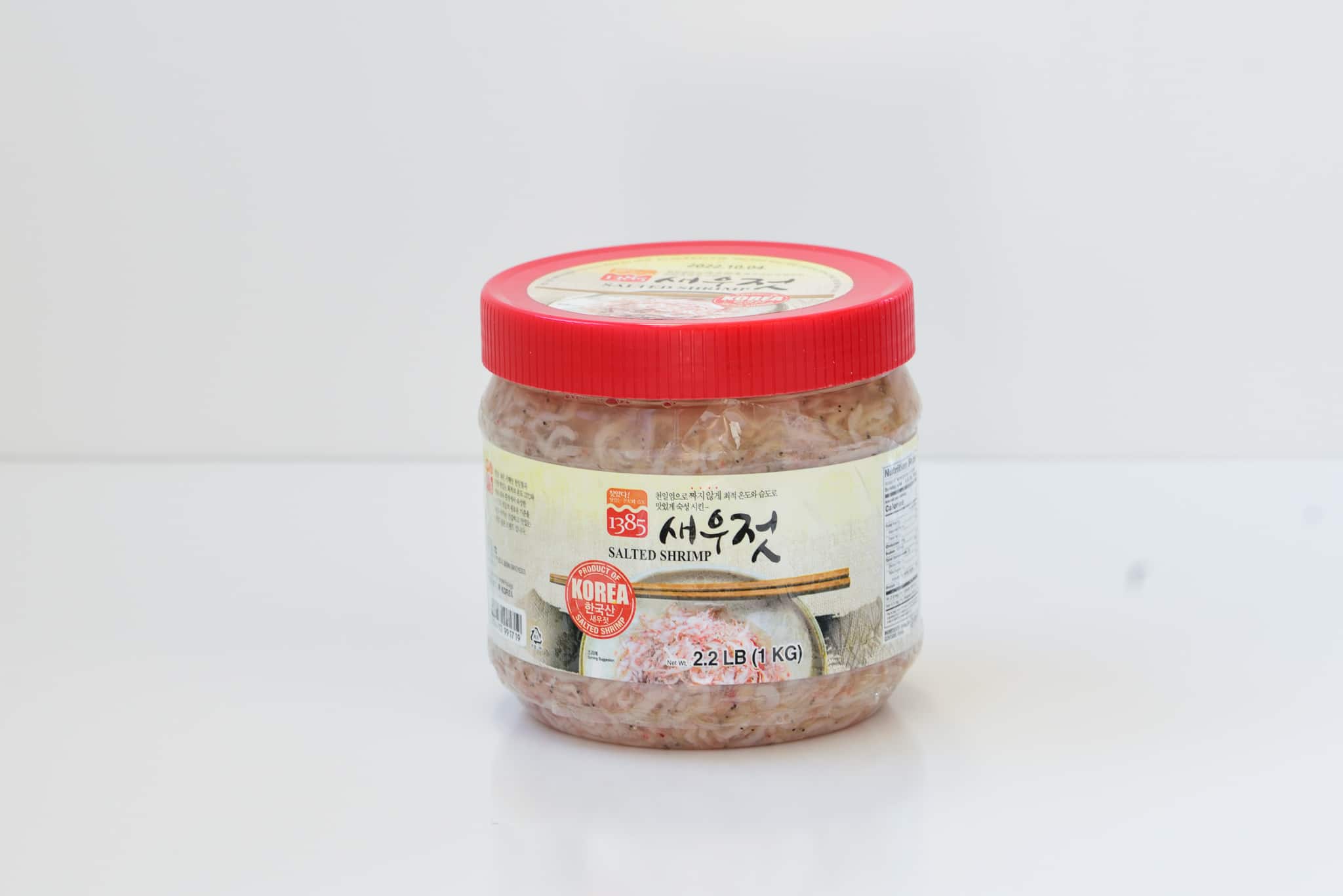 Saeujeot (salt shrimp) is a flavorful and salty ingredient used in kimchi. "Saeu" means shrimp and "jeot" is a category of salted and fermented food used in Korean cooking. Saeujeot is tiny shrimp that are salted and fermented.
Use: Saeujeot adds a rich savory flavor and saltiness to kimchi and other Korean dishes such as gyeran jjim, stir fried zucchini and sundubu jjigae. It also pairs well with pork dishes, so saeujeot is commonly served as a condiment for bossam and samgyupsal gui.
Buying: I recommend buying salted shrimp made in Korea if available.
Storage: Keep saeujeot in the freezer. It won't freeze but stay fresh for a long time.
Coarse Sea salt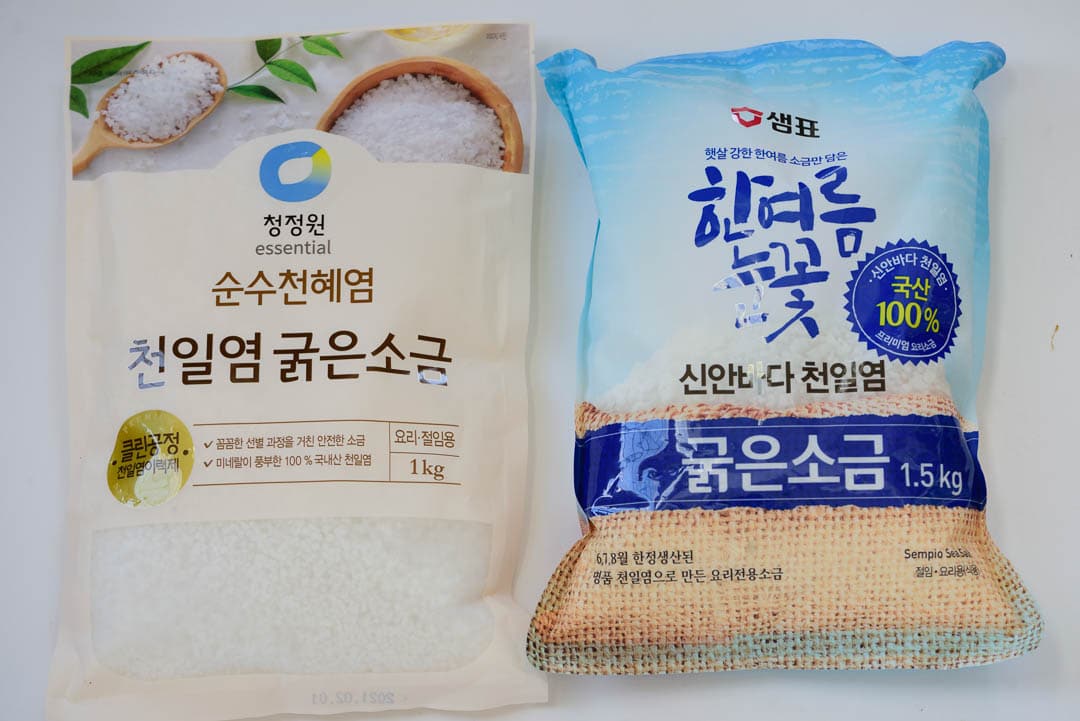 Korean coarse sea salt, Cheonilyeom (천일염), with bittern removed, is best for salting vegetables for kimchi. It's also essential in making Korean jang such as gochujang. Bittern (called gansu in Korean, 간수) is a bitter solution remaining in salt making after the salt has crystallized out of seawater. This type of salt is sometimes labeled jang sogeum (장소금, salt for jang) or jeolimyong (절임용, for salting vegetables). Sometimes, it's noted in the back of the package about the removal of gansu.
Buying: Both Sempio and Chungjungone Coarse Sea Salt packages note that bittern was removed from their salt, so good for jang and kimchi making. They are sea salt from the West Sea tidal flats in Sinan Island, Korea, one of the top 5 world tidal flats and biosphere reserves.
Storage: Salt can be stored at room temperature in your kitchen cupboard.