Welcome to Korean Bapsang! I'm so glad you're here. You've come to the right place to cook delicious Korean food.
Korean Bapsang means a Korean table at which meals are enjoyed. Bapsang (밥상) is made up of two separate words in Korean – bap (cooked rice) and sang (table). Rice plays such a critical role in Korean food and the culture at large that the word bap is often used interchangeably with the word food.
Food is best enjoyed when shared, and this is certainly the case for the Korean bapsang. Mealtime is when family and friends come together and literally share food from the communal plates on the table. Each component – the rice, banchan, stew/soup – nicely complements each other, and it is this harmony and collective experience that make the Korean bapsang so special.
What can I find on a Korean Bapsang?
A typical Korean meal includes rice, kimchi, side dishes or 'banchan' (반찬), and a stew and/or soup. You'll find my recipes easy to follow and approachable as you learn how to make delicious Korean dishes at home. Korean cuisine is adaptable to different palates, ranging in spice levels, textures to ingredients. Vegetarian or vegan Korean cooking is delicious and possible!
Rice
There is always a starch in every Korean meal. While noodles and rice cakes are commonly eaten, rice is the most important (and common) starch we eat daily, sometimes up to three meals a day.
Koreans typically cook short-grain rice that is not flavored or seasoned. While plain white rice is most common, other grains such as barley, millet, sorghum, brown or black rice, as well as various beans are often added to short-grain rice to boost flavor and nutrition. In this case, it's called 'japgok bap' (잡곡밥), which translates to multigrain rice.
Banchan
Korean cuisine is well known for multiple small dishes that accompany the main entree. However, 'banchan' (반찬) actually is much more than those small dishes. In a broader sense, banchan is what accompanies the rice – big or small, elaborate or simple.
A Korean table almost always includes kimchi, usually more than one type of kimchi. It can also include pickled vegetables, savory pancakes, various meat and seafood dishes.
The number of banchan you put out on the table is really up to you. Simple, lighter meals such as noodles and kimbap are usually eaten with only a couple of different banchan (or even with just kimchi alone!), while larger, more elaborate meals, especially for holidays and special occasions, consist of a wide variety of banchan. Learn more about the different types of banchan and make your own.
Stew and/or Soup
A traditional Korean bapsang also includes a stew (jjigae, 찌개) and/or soup (guk, 국). Stews/jjigae tend to be heartier than soups and are often served as a main entree in a meal. Like banchan, stews are to be eaten communally by everyone at the table. 'Jeongol' (전골) is a Korean style hot pot that is similar to jjigae but usually includes more ingredients and commonly cooked at the table.
Soups or 'guk' are lighter, have more liquid, and served in individual bowls.
A good broth is the key to a flavorful 'guk' or 'jjigae'. Try making anchovy or vegetable broth which can be used as a base for these soups.
Korean Pantry Staples
To help you stock a Korean pantry, here's a list of staples with buying guides.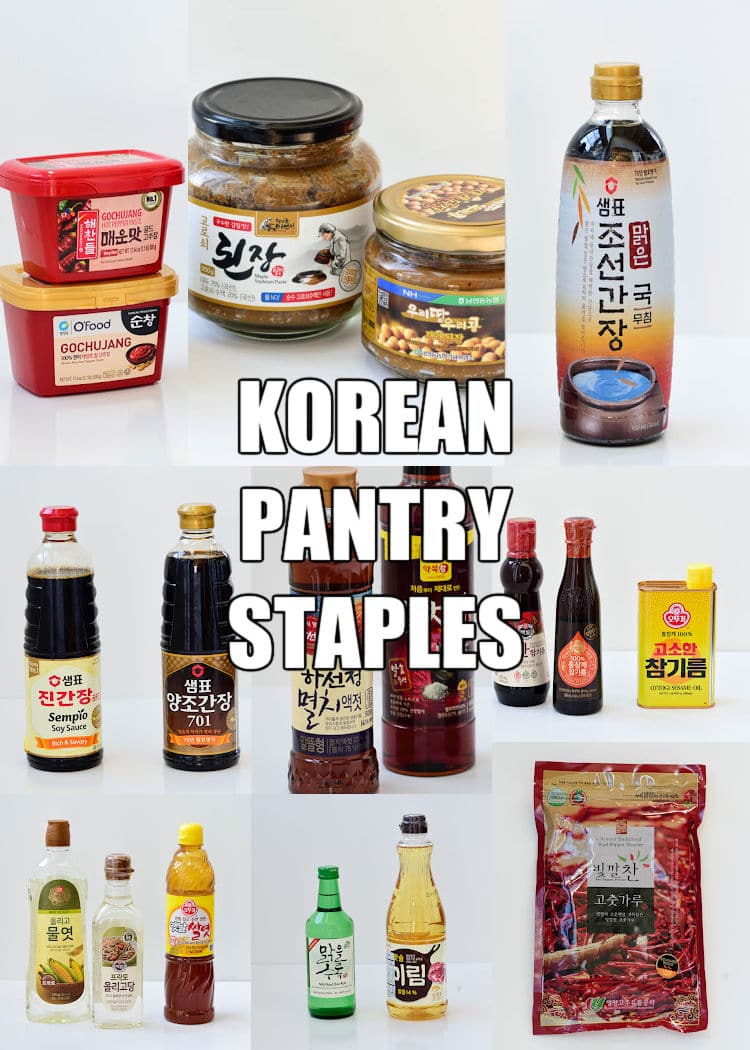 Once you have the staples, let's start cooking! Start with one of the easy recipes to try below.
Easy Recipes to Try
Many Korean recipes are very easy to make with a few basic ingredients. Numerous dishes are naturally vegan or gluten-free.
Easy Kimchi Recipes
More kimchi recipes →
Easy Korean BBQs
More Korean BBQ recipes →
Easy Soups
More soup recipes →