You can make this Korean spicy cucumber salad with any crunchy cucumbers. It'll add delicious spiciness to any Korean meal.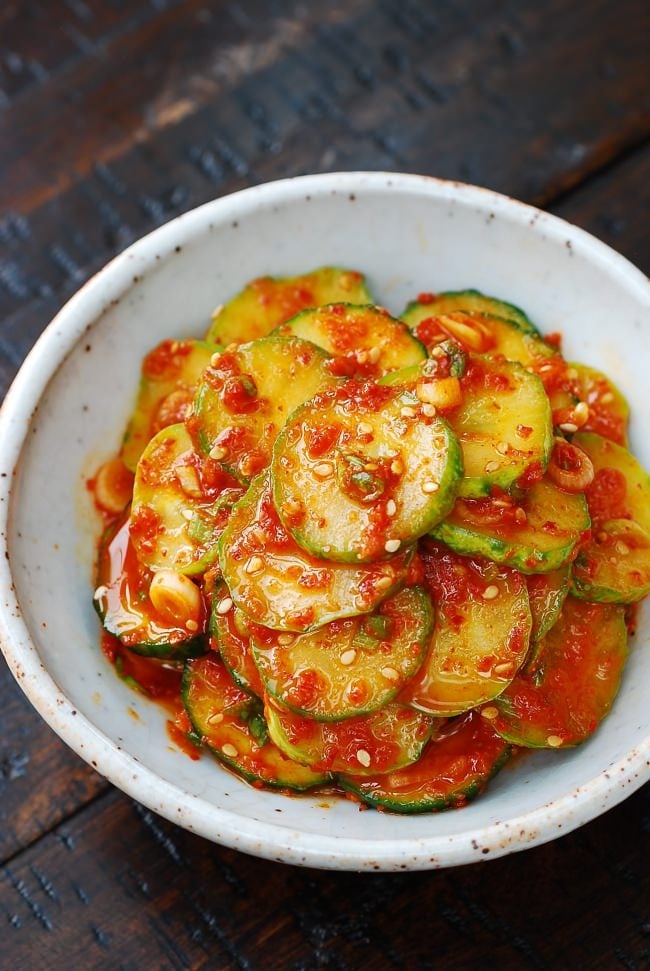 Oi muchim (오이무침) is a spicy cucumber salad. Oi means cucumber, and muchim means mixed with seasonings. It's a simple side dish (banchan) you can make with any crunchy cucumbers, such as Korean cucumbers, pickling cucumbers (aka Kirby), Persian, English, Japanese cucumbers, etc. It's delicious with any Korean meal and can be a quick kimchi substitute.
While any crunchy cucumbers are good for this dish, I personally love Korean cucumbers. They are bountiful in Korean markets around here in the summer. I've also been growing them in my backyard. Korean cucumbers are light in color, slender, and bumpy with thin skin. They are less seedy, very crispy and tasty. I might be a little biased, but I think they are the best of all cucumber varieties.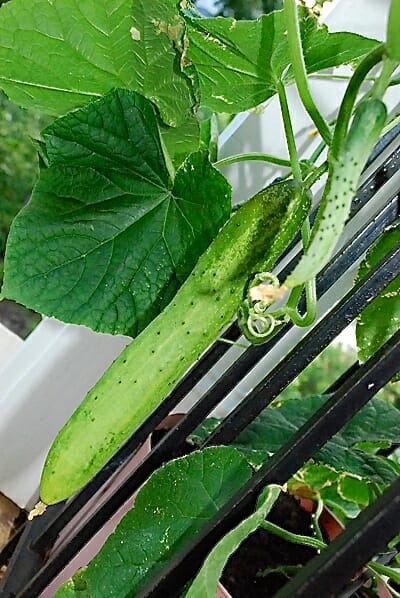 How to make spicy cucumber salad
To make oi muchim, lightly salt the cucumber slices first and let them stand for a while to draw out water.
Drain off excess liquid. Cucumbers have a high water content, so removing excess moisture after salting keeps the dish from being too watery.
The salting process gives the dish an extra crunch as well.
Avoid s
queezing and bruising the cucumbers for this dish.
Combine the cucumber slices with the seasoning ingredients, and mix well.
It may look a little dry at this point, but the cucumber slices will continue to release water content. As always, taste a piece and adjust the seasonings as necessary.
Watch how to make it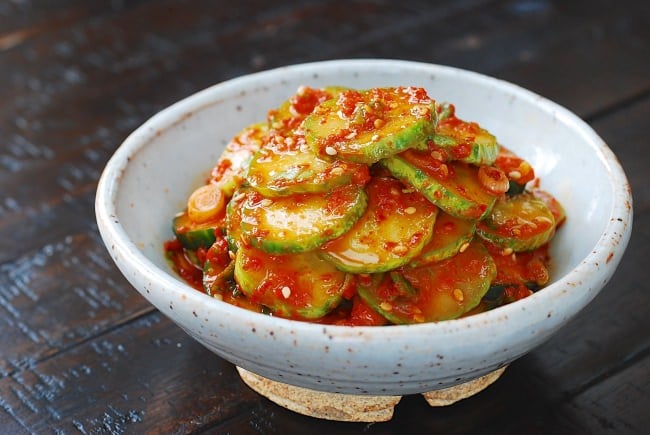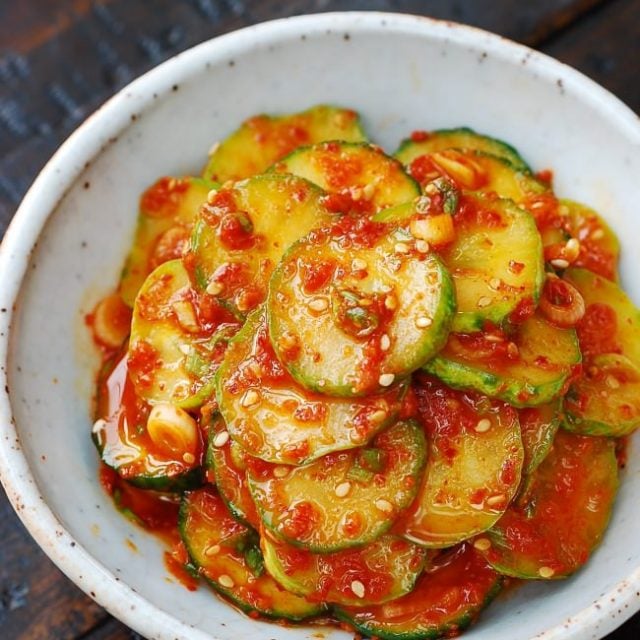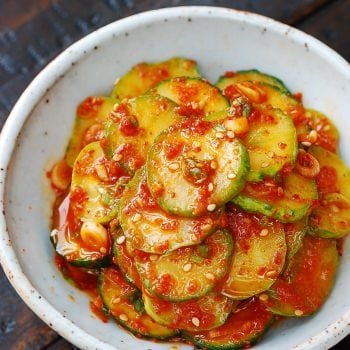 Ingredients
1

Korean cucumber or 2 Kirby

pickling cucumbers

1

teaspoon

salt

1

tablespoon

Korean red chili pepper flakes

gochugaru (고추가루) – use less if desired

1

tablespoon

chopped scallion

1/2

teaspoon

garlic minced

1

teaspoon

vinegar

1/2

teaspoon

sugar

1

teaspoon

sesame seeds

1

teaspoon

sesame oil
Instructions
Thinly slice the cucumber (1/8 to 1/4-inch thick). Toss gently with salt and set aside for about 15 minutes.

Drain excess liquid. Avoid squeezing them because they will bruise. Mix well with all of the remaining ingredients. Taste a little and adjust the seasonings if necessary.