Spicy Korean pork bulgogi marinated in a gochujang based sauce with lots of fresh garlic and ginger! Great as an easy stir-fry dinner or for outdoor grilling.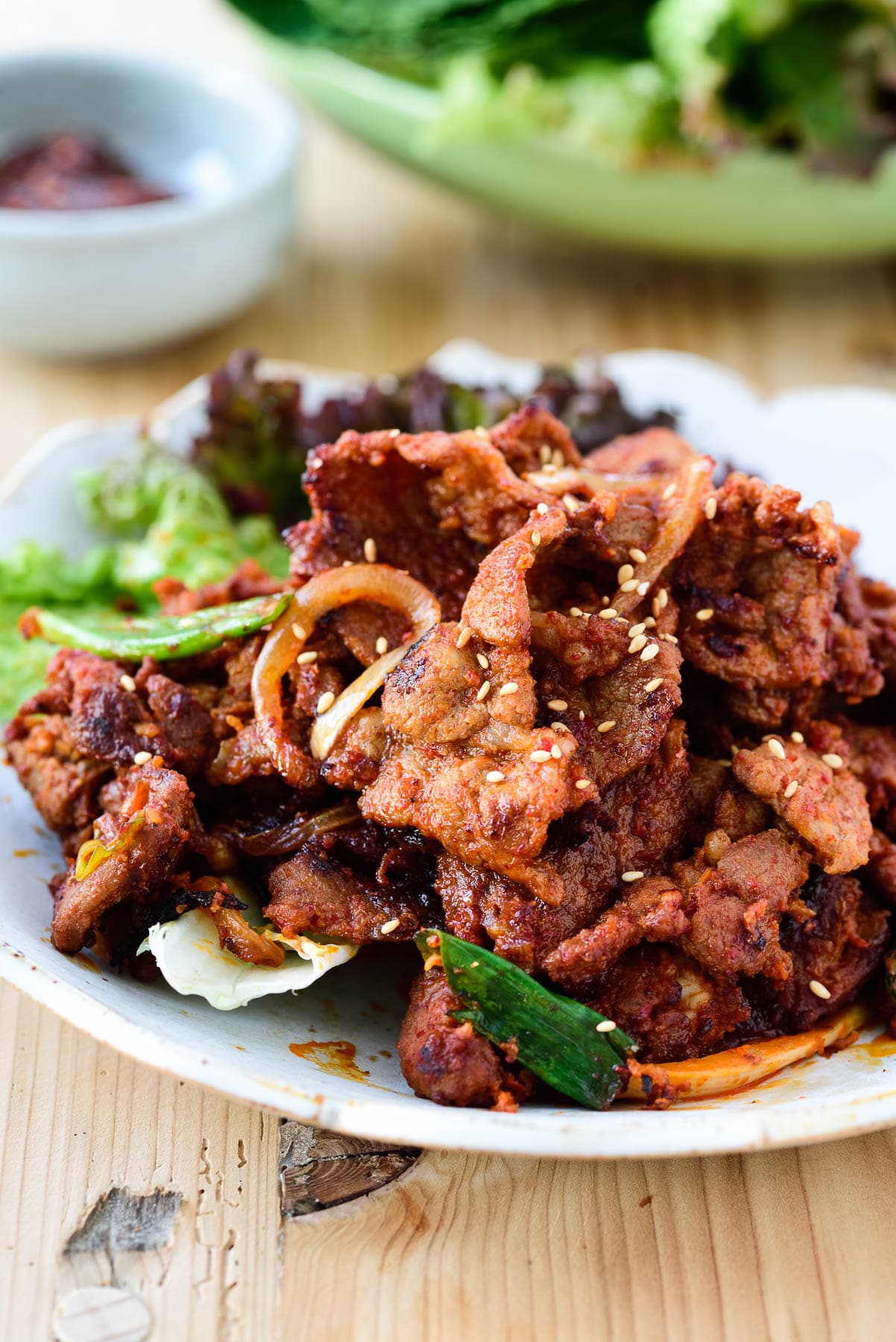 Jeyuk bokkeum (제육볶음), aka dweji bulgogi (돼지불고기), is a spicy marinated pork. It's another highly popular Korean BBQ dish. Jeyuk means pork, and bokkeum means stir-fry. It's my son's absolute favorite! He loves fatty pork and spicy food, which makes this dish perfect for him. Great for your outdoor grilling or an easy stir-fry dinner!
How to make spicy pork bulgogi
The meat
Although any cut of pork can be used for this dish, pork shoulder or butt with some fat works best. I sometimes add sliced pork belly to intensify the pork flavor. You can find pre-sliced pork bulgogi meat at Korean markets. If cutting the meat at home, partially freeze it for about an hour before slicing.
The marinade
Unlike its beef counterpart, which is traditionally marinated in a soy sauce based sauce, pork is more commonly marinated in a spicy gochujang based sauce with lots of fresh garlic and ginger. The spicy marinade works really well with fatty pork. It's spicy but not overly spicy. And you can always adjust the heat level to your taste. Jeyuk bokkeum is usually made with a combination of gochujang and gochugaru. You can omit gochugaru if you like it less spicy or add more to make it spicier.
Lots of fresh garlic and ginger are very important to this recipe! They help reduce porky smell and add next level flavors to the dish.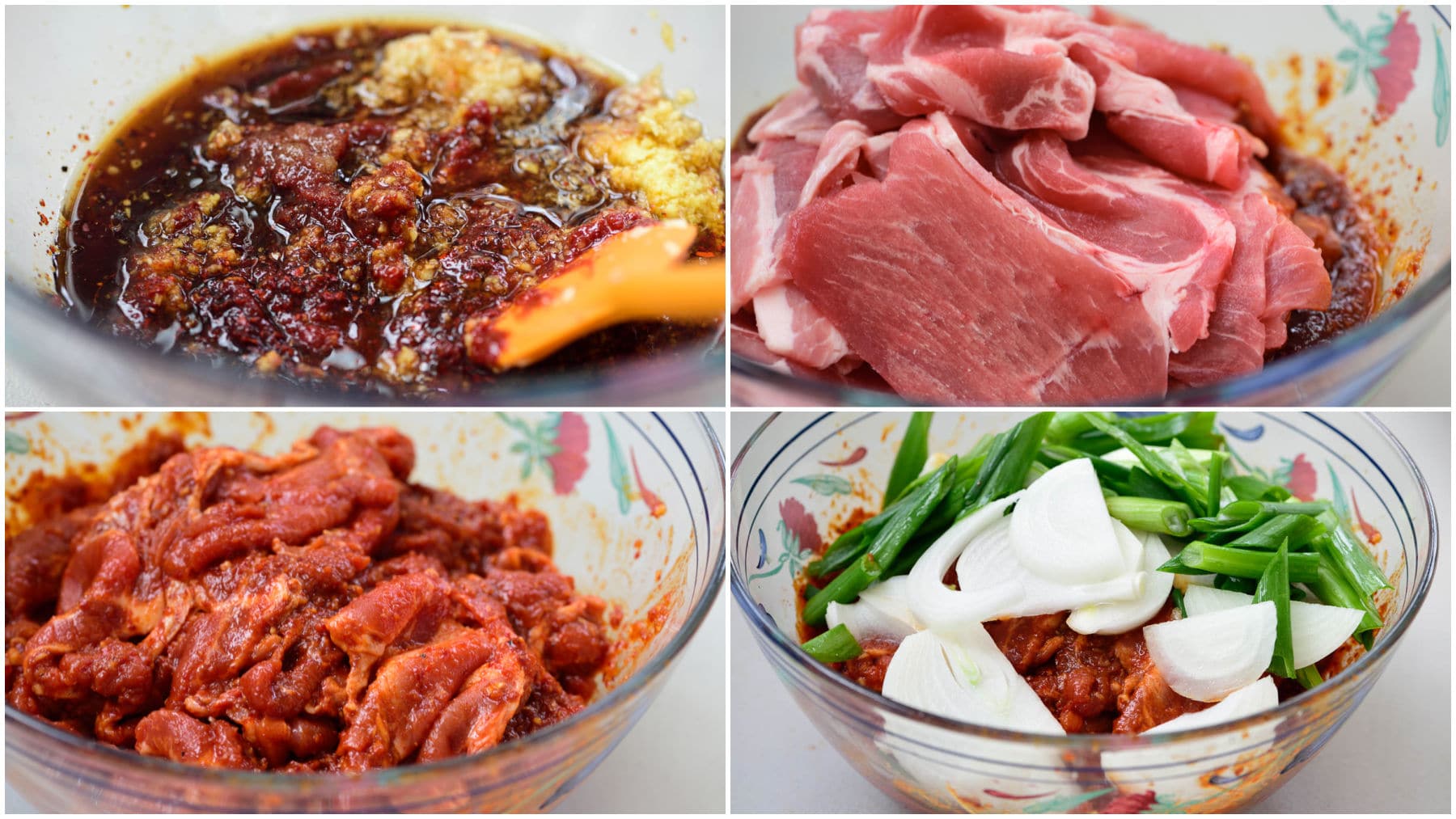 I also use grated apple to add an acidic sweet flavor to the marinade. The apple works really well with the pork. Korean plum syrup (maesil cheong) is also good if available. Use 2 tablespoons for this recipe instead of grated apple. In either case, it's nice to have, but can be omitted.
The thinly sliced meat doesn't take long to marinate. All you need is about 30 minutes.
Cooking
The pork can be either grilled over open fire or pan-fried. In Korean homes, it's usually pan fried, hence the name jeyuk bokkeum (stir-fried pork). Preheat the pan, add the meat, fry in a skillet over medium high heat until the liquid is almost gone and the meat is slightly caramelized.
You can also stir-fry it with more vegetables, such as chili peppers, bell peppers, mushrooms, etc.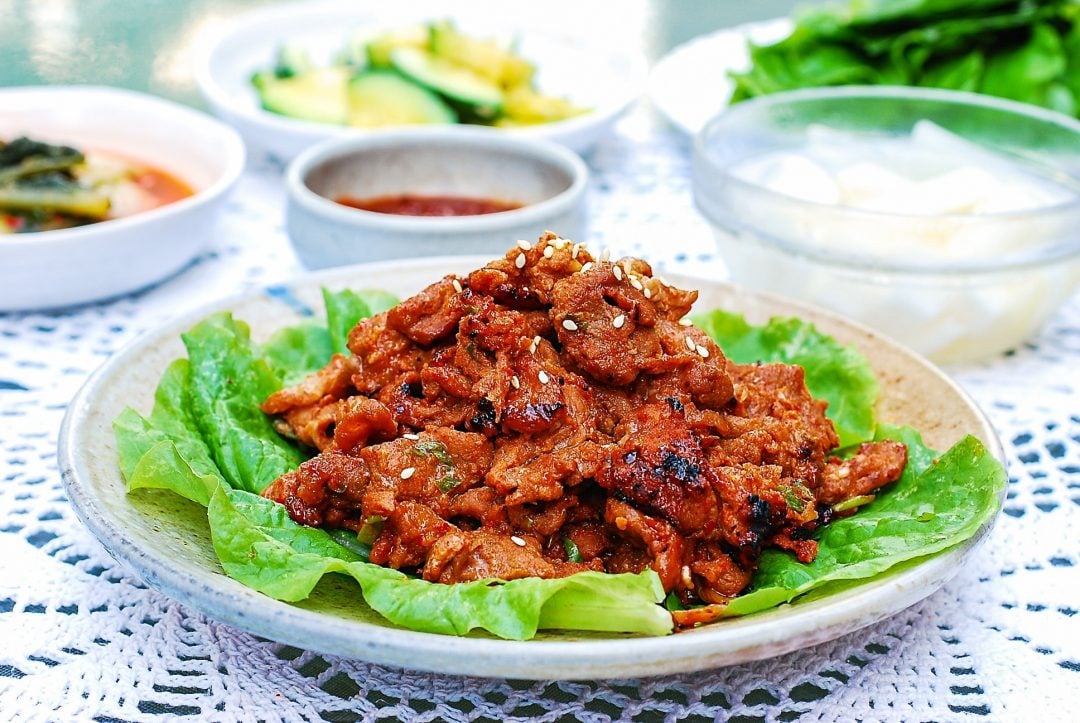 How to serve spicy pork BBQ
You can certainly enjoy this dish simply with a bowl of rice and other side dishes. But, it's so delicious wrapped in some leafy vegetables such as red or green leaf lettuce and/or perilla leaves (kkaennip, 깻잎) along with ssamjang (쌈장). Crown daisy (ssukgat, 쑥갓) is a great vegetable to add to your wraps, if available.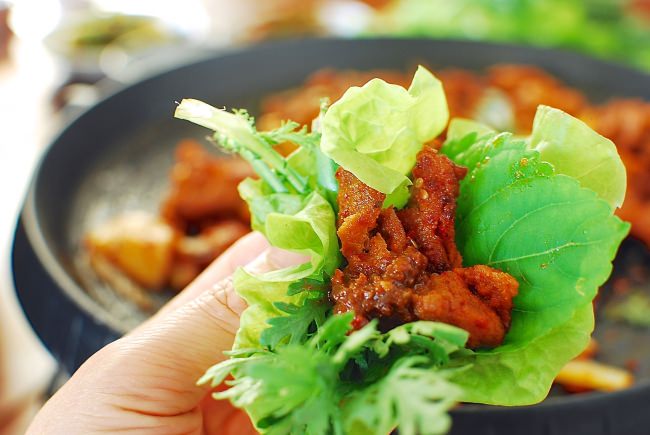 More pork recipes
Maekjeok (doenjang marinated prok)
Dubu kimchi (tofu with stir-fried kimchi and pork)
Bossam (boiled pork ribs)
Dwaeji galbi (grilled pork ribs)
Slow cooker pork ribs
Watch how to make it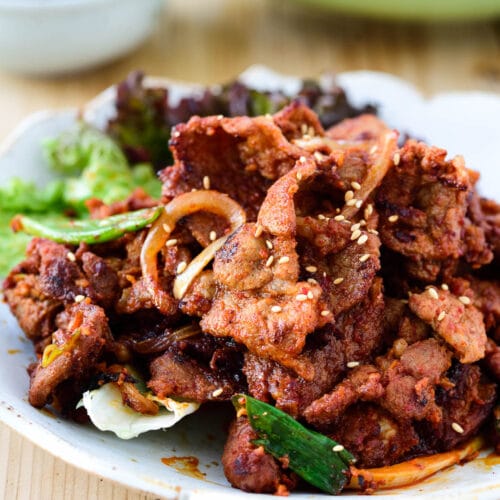 Jeyuk Bokkeum (or Spicy Pork Bulgogi)
Main Course
Print Recipe
Ingredients
2

pounds

thinly sliced pork shoulder or butt (or a combination of pork shoulder or butt and pork belly)

1/2

medium onion, sliced

3

scallions, cut into 2-inch pieces
Marinade:
6

tablespoons

gochujang

1

or 2 tablespoons

gochugaru

3

tablespoons

soy sauce

3

tablespoons

rice wine (or mirin)

2

tablespoons

sugar (or brown sugar)

1

tablespoon

honey (or more sugar)

2

tablespoons

sesame oil

2

tablespoons

minced garlic

1

tablespoon

grated ginger

1/2

small apple grated, 3 - 4 tablespoons (or 2 T plum syrup, maesilcheong)
Instructions
Thinly slice the meat, if not pre-sliced.

Mix all marinade ingredients well in a large bowl. Add the meat and toss everything well to evenly coat the meat with the marinade. Add the onion and scallions and toss again. Let it sit for about 30 minutes.

Grill or pan fry in a skillet (in 2 batches) over medium high heat until slightly caramelized. Adjust the heat as necessary.
This recipe was originally posted in May 2010. I've updated here with new photos, more information and minor improvements to the recipe.