Made with bouncy sweet potato starch noodles, dangmyeon, japchae (or chapchae) is a classic Korean dish everyone loves! Find out how to make authentic, delicious japchae with this time tested, readers' favorite recipe!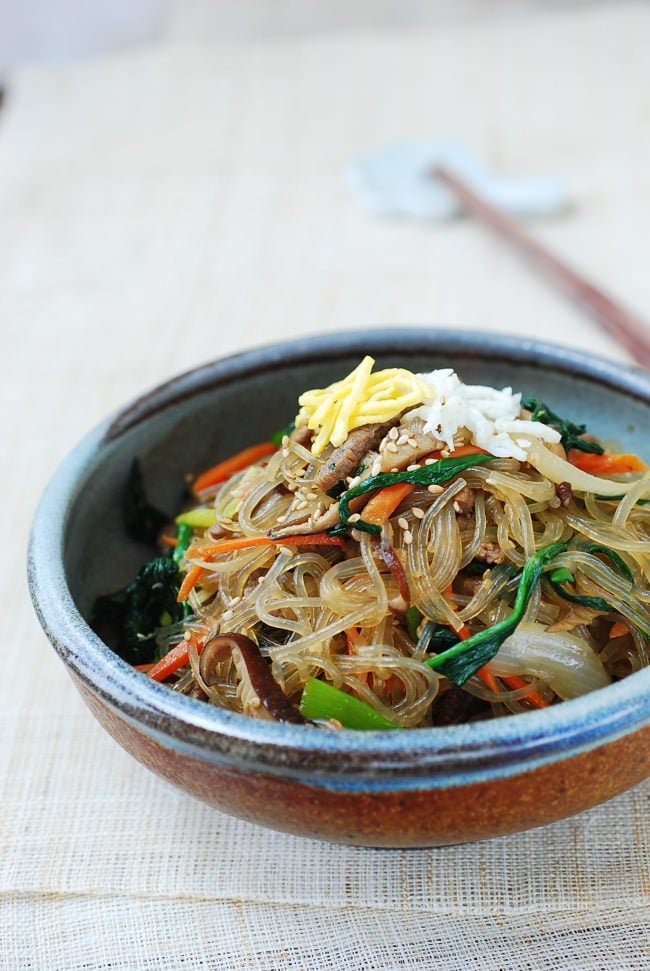 What is japchae?
Japchae (잡채) literally means "mixed vegetables." But the main ingredient of this classic dish is Korean sweet potato starch noodles (dangmyeon), also known as glass noodles. It's an essential dish for traditional holidays and special occasions. There are many variations using different ingredients, as you can see from my Spicy Seafood Japchae and Kongnamul Japchae.
In this traditional japchae recipe, the chewy and springy noodles are nicely paired with thin strips of beef (or pork) and various vegetables. Typical vegetable options include carrots, spinach, onions, mushrooms, cucumbers, bell peppers, garlic chives, etc.
Serve it as an appetizer or a side dish or over a bed of rice to make it a main dish.
How to make japchae
I make this dish by separately cooking each ingredient and then combine everything at the end into a deliciously colorful dish. This classic method is what makes this dish so special!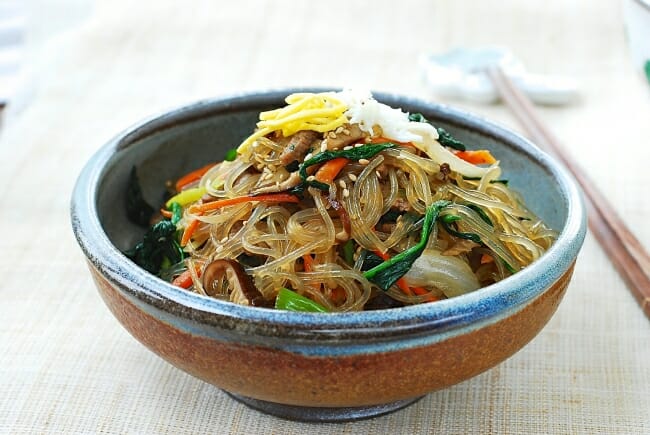 However, the real secret to successfully creating the authentic flavors of this dish is to find the right balance between soy sauce and sugar. This japchae recipe will give you that right balance!
To make the process a little easier, I make a bowl of sauce to be used throughout the cooking process. Use brown sugar, if available, for color and a bit extra flavor.
Leftover japchae should be kept refrigerated. It reheats well in the microwave. The noodles will get soft and chewy again.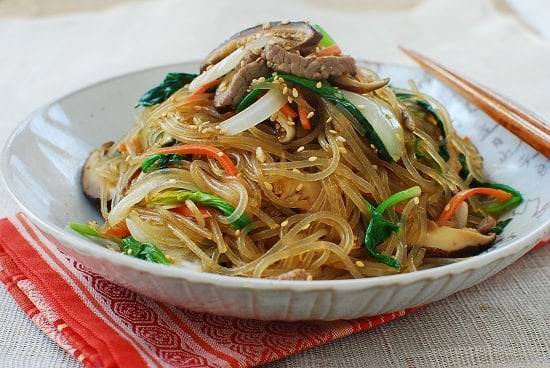 More japchae recipes
Spicy seafood japchae
Kongnamul japchae (Soybean sprout japchae)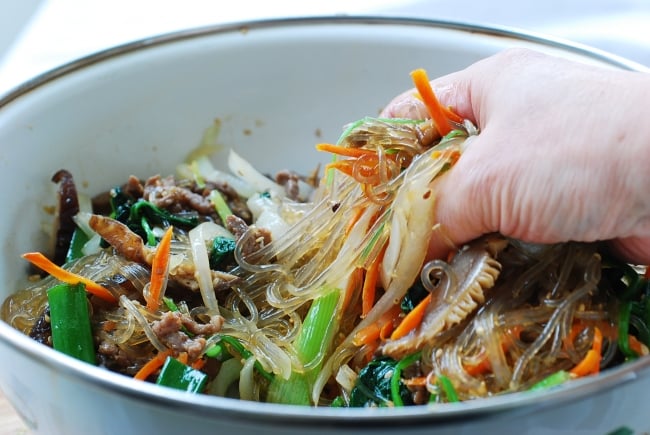 Have you tried this japchae recipe? Please rate the recipe below and leave a comment! Stay in touch by following me on YouTube, Pinterest, Twitter, Facebook, and Instagram.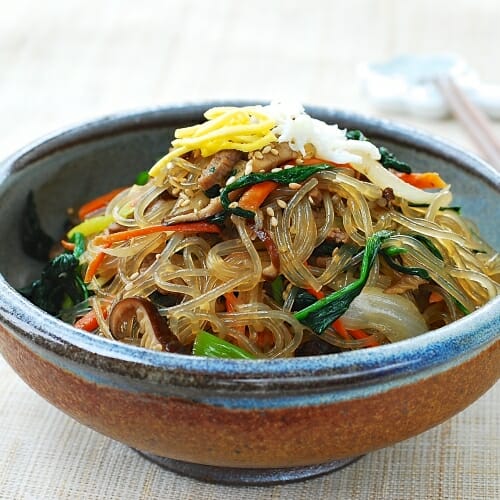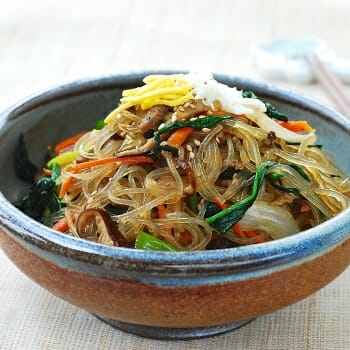 Japchae (Korean stir-fried starch noodles with beef and vegetables)
Appetizer, Side Dish
Print Recipe
Ingredients
6

ounces

Korean potato starch noodles (dangmyeon, 당면)

1

small carrot

1

small sweet onion

2

scallions

4

ounces

lean beef (sirloin or rib eye)

4 - 5

dried shiitake mushrooms, soaked until plump

or fresh mushrooms - see note

6

ounces

fresh spinach

vegetable oil for stir frying

salt and pepper
Sauce
3

tablespoons

soy sauce

2 1/2

tablespoons

sugar (or brown sugar)

2

tablespoons

sesame oil

2

teaspoons

minced garlic

2

teaspoons

roasted sesame seeds

Egg garnish

jidan - optional
Instructions
Cut the beef into thin 2-inch long strips and mix with 1 tablespoon of the sauce. Cut the stems off the mushrooms, and slice into 1/4-inch thin strips. Season with 1 tablespoon of the sauce.

Blanch the spinach in boiling water only until wilted. Drain quickly and shock in cold water. Squeeze out excess water, cut into about 2-inch lengths, and lightly season with salt and pepper.

Bring a pot of water to a boil, and cook the noodles according to the package directions (usually 6 - 7 minutes). Rinse in cold water and drain. Cut the noodles with kitchen shears or a knife into 6 -7 inch lengths. Mix in 2 tablespoons of the prepared sauce in a large bowl.

In a large non-stick skillet, stir fry the noodles over medium heat, stirring frequently, until translucent and a bit sticky (about 4 minutes). Transfer back to the bowl.

Add 1/2 tablespoon of oil to the pan, and stir fry the onion until translucent over medium high heat, lightly sprinkling with salt and pepper. When the onion is almost done, stir-in the scallion and cook briefly. Transfer to the bowl with the noodles. Stir fry the carrot for 1 to 2 minutes until softened. (Do not overcook. The vegetables should be crisp.) Transfer to the bowl.

Stir fry the beef and mushrooms together until the meat is cooked through, 2 - 3 minutes. Transfer to the bowl.

Toss well by hand. Adjust the seasoning to taste by adding a little more (start with 1/2 teaspoon) soy sauce and/or sugar as necessary.
Notes
Dried shiitake is ideal for its concentrated flavor and meatier texture, but you can use any kind of fresh/dried mushrooms such as oyster or button mushrooms.
Leftover japchae should be kept refrigerated. Japchae reheats well in the microwave. The noodles will get soft and chewy again.