Made with sweet potato starch noodles, dangmyeon, beef and various vegetables, japchae (or chapchae) is a classic Korean dish everyone loves! Find out how to make authentic, delicious japchae with this time tested, readers' favorite recipe!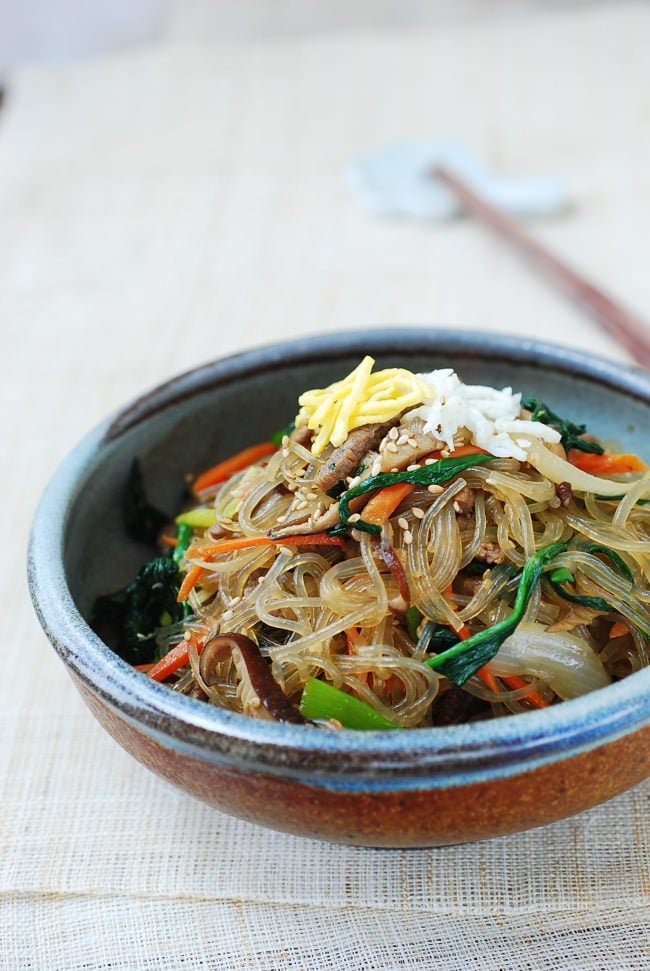 What is japchae?
Japchae (잡채) literally means "mixed vegetables." But the main ingredient of this classic dish is Korean sweet potato starch noodles (dangmyeon), also known as glass noodles.
The chewy and springy noodles are nicely paired with thin strips of beef and various vegetables (such as carrots, spinach, onions, shiitake mushrooms, cucumbers, and bell peppers).
How to make japchae
All ingredients, separately cooked to develop the layers of flavor, are combined at the end into a deliciously colorful dish. This classic method is what makes this dish special and a Korean favorite for special occasions and traditional holidays.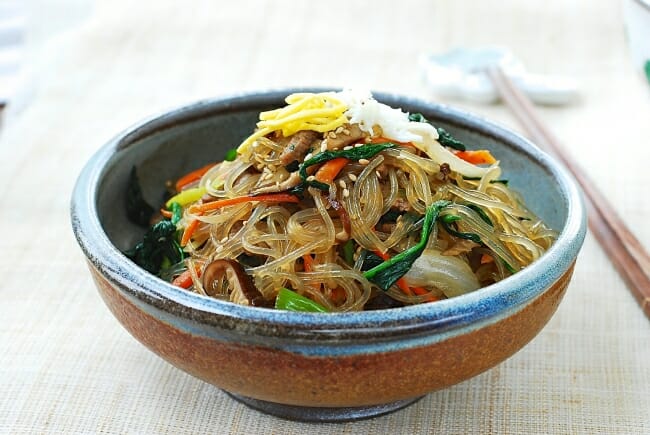 The real secret to successfully creating the authentic flavors of this dish is to find the right balance between soy sauce and sugar. This japchae recipe will give you that right balance!
Serve it as a first course or side dish or over a bed of rice to make it a main dish.
More japchae recipe
Kongnamul japchae (Soybean sprout japchae)
Did you make and love this japchae recipe? Please rate the recipe below in the recipe card or in the comment section! And share your creations by tagging me on Instagram! Stay in touch by following me on Pinterest, Twitter, Facebook, and Instagram.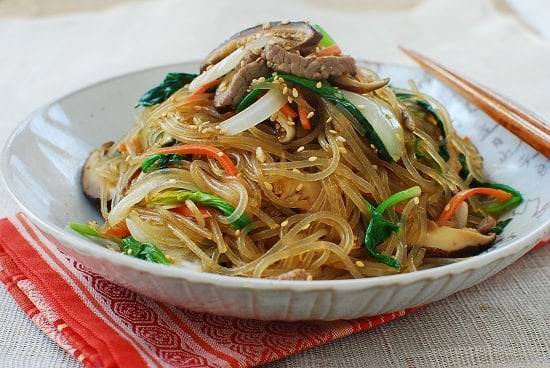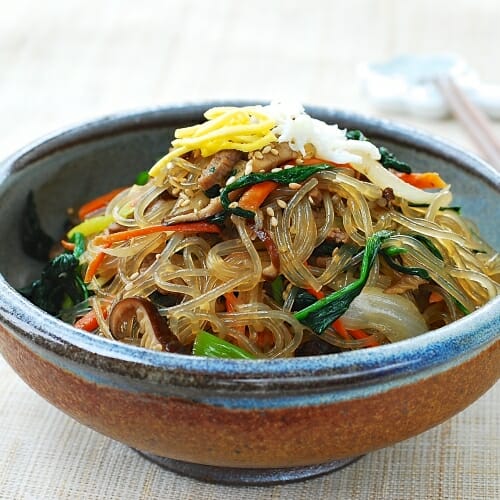 Japchae
Korean Stir-Fried Starch Noodles with Beef and Vegetables
Ingredients
6

ounces

170 grams Korean potato starch noodles (dangmyeon, 당면)

1

small carrot

1

small sweet onion

2

scallions

4

ounces

110 grams lean beef (sirloin or rib eye)

4 - 5

dried shiitake mushrooms

soaked until plump - see note

6

ounces

170 grams fresh spinach

vegetable oil for stir frying

salt and pepper
Sauce
3

tablespoons

soy sauce

2 1/2

tablespoons

sugar

2

tablespoons

sesame oil

2

teaspoons

minced garlic

2

teaspoons

roasted sesame seeds

Egg garnish

jidan - optional
Recipe Notes
Dried shiitake is ideal for its concentrated flavor and meatier texture, but you can use any kind of fresh/dried mushrooms such as oyster or button mushrooms.
Leftover japchae should be kept refrigerated. Japchae reheats well in the microwave. The noodles will get soft and chewy again.