In this post, I'm updating my kimchi jjigae post that was originally posted in September 2009

with better photos and new head notes.
When kimchi gets old, it becomes an excellent ingredient for various other dishes! The most common dish made with aged kimchi is kimchi jjigae (김치 찌개). It's a go-to stew in Korean homes. Growing up in Korea, we had a lot of meals just with kimchi jjigae and a bowl of rice. I don't remember ever getting tired of it.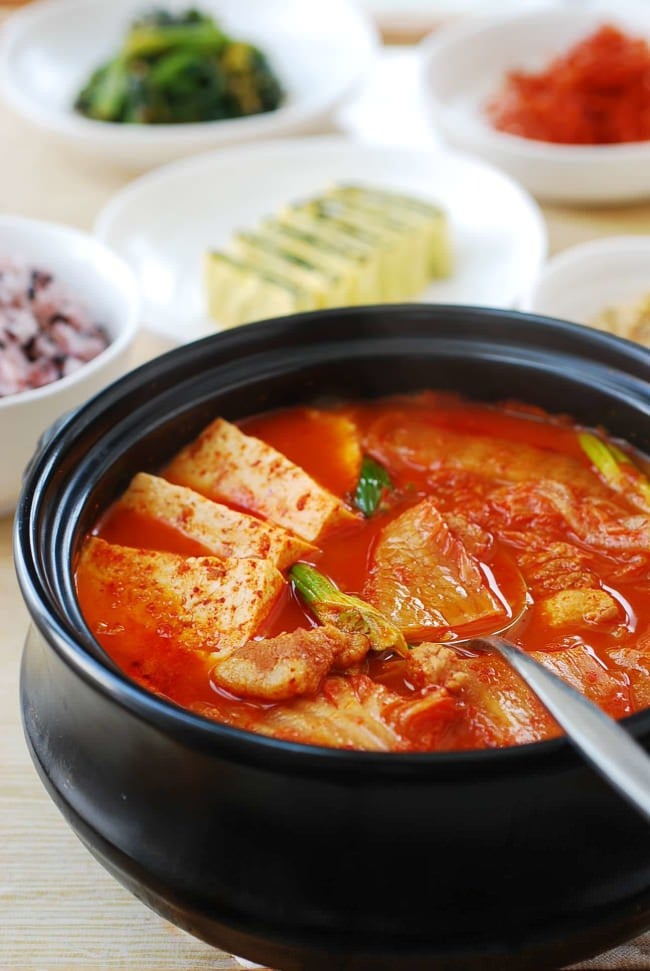 There are many ways to make it. The popular version, which is also my favorite, is made with fatty pork. Kimchi and fatty pork is a match made in heaven. To add extra flavor, cook the kimchi and pork together before adding the liquid. If you'd like, use beef or canned tuna instead. It's also good simply made in anchovy broth, without any meat, for a cleaner taste.
Use the juice from the kimchi if available because it will add lots of flavor to the broth. Whether you make it to use up old kimchi, or to satisfy a craving, this small pot of comfort food is all you need for a satisfying meal.
More recipes you can make with old kimchi : dubu kimchi, kimchi jeon, kimchi mandu, kimchi fried rice, kimchi kongnamul guk, kimchi bibim guksu, spaghetti with kimchi and kimchi jjim.
If you want to make some kimchi at home, here are my easy-to-follow recipes: pogi kimchi, mak kimchi, and vegan kimchi.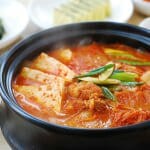 Ingredients
2

cups

packed bite size kimchi

fully fermented

4

ounces

fresh pork belly

or other pork meat with some fat

1 to 3

teaspoons

Korean red chili pepper flakes

gochugaru - adjust to taste

1

teaspoon

minced garlic

1/2

teaspoon

minced ginger

1/2

cup

juice from kimchi

if available

2

cups

of water

1/2 cup more if not using kimchi juice - see note

6

ounces

tofu

2

scallions

salt and pepper to taste
Instructions
Cut the meat and kimchi into bite sizes. Slice the tofu (about 1/2-inch thick), and roughly chop the scallions.

In a pot, cook the kimchi and pork with the red pepper flakes, garlic, and ginger over medium high heat until the kimchi is softened and the pork cooks through, about 5 to 7 minutes. Add the kimchi juice and water. Reduce the heat to medium, and boil, covered, for about 20 minutes. Add more water if necessary.
Tuna kimchi jjigae
To make kimchi jjigae with no meat, follow the same steps leaving out the pork. Add one can of tuna (chamchi) with oil when adding the kimchi juice and water and boil for 10 - 15 minutes. (You can add onion slices at this point if desired.) Follow the rest of the recipe above. (Fresh or canned salmon works well too in kimchi jjigae.)
Notes
For added flavor, save the water used to rinse rice, ssal ddeum mul, and use for jjigae/stew. The water used to rinse rice is commonly used for Korean jjigae. I normally use the water from the third round of rinsing. Another option is to use anchovy broth (about 7 or 8 medium dry anchovies and 1 3-inch square dried kelp boiled in 3 cups of water for 10 minutes).