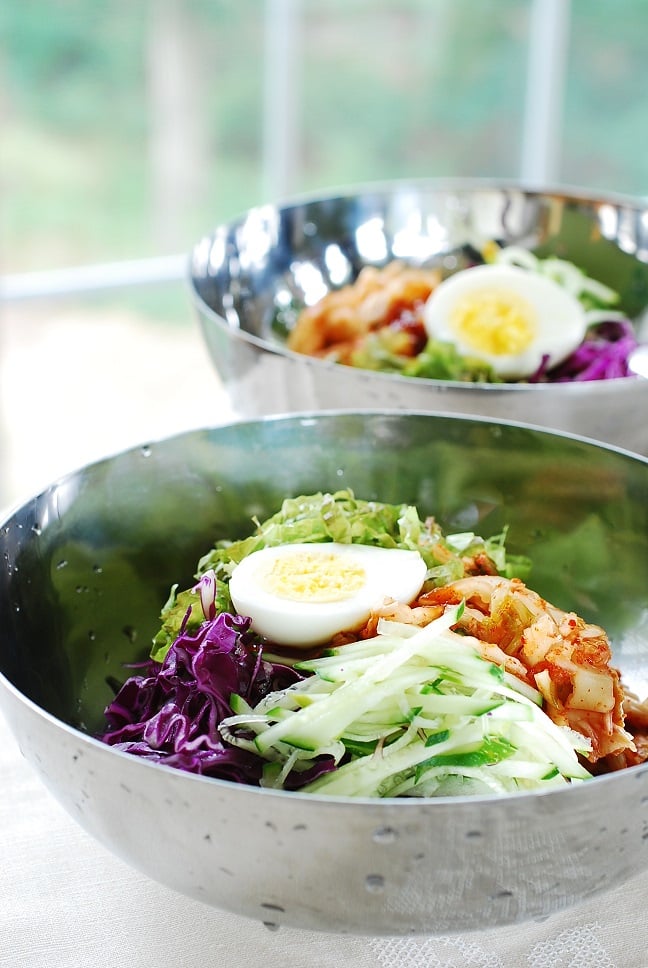 Last weekend, my family and I
went to Flushing, NY.,
one of the largest Korea towns in the U.S., to
watch
the World Cup Round of 16
game between Korea and
Uruguay.
Korea played amazingly but still lost!
After the game,
we ate at a small Korean restaurant nearby. While looking at the menu,
bibim guksu

got my attention right away. The dish was so cool and refreshing! It was just what I needed after the heartbreaking game on a scorching day.
Bibim guksu is a cold noodle dish that is usually made with thin wheat flour noodles (
somyeon
) or buckwheat noodles
(m
emil guksu).
The noodles are typically mixed in a sweet and sour
gochujang
sauce. If more soy sauce and less chili pepper paste is used, it can be made mild.
You can toss it all together before serving, or arrange everything in a serving bowl so it can be mixed at the table. The latter allows each person to adjust the amount of sauce to his or her liking.
As with its rice counterpart,
bibimbap
, this is a very versatile dish. A simple version I recall from my childhood memories is made only with sliced
kimchi
and fresh cucumbers. On the other hand, the one I ate at the NY restaurant had plenty of surprises such as strips of squid, snails, shrimps and avocado.
Here, I kept it simple. Using buckwheat noodles, I added a few vegetables to create a nice combination of colors, flavors and textures. Other vegetables commonly used are carrots, scallions, perilla leaves, and Korean radishes. Although not as common, red bell peppers, bean sprouts, watercress, and spring mix can all be excellent additions to this dish as well.
So, be creative and have fun with it! The result is an especially appetizing dish that is perfect for hot summer days!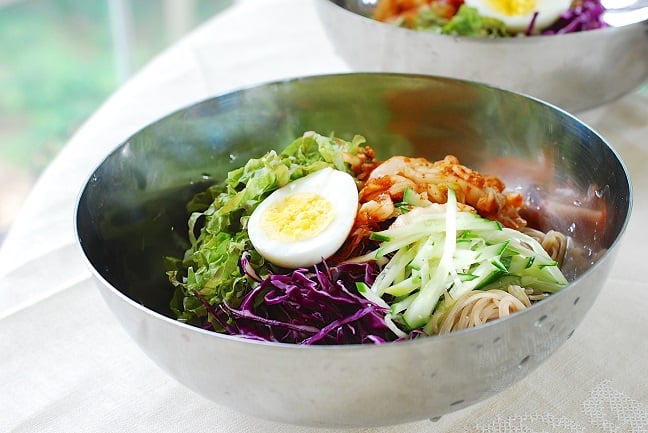 Ingredients
8

ounces

buckwheat

memil guksu/soba or wheat flour noodles (somyeon/somen)

1

Kirby

pickling cucumber, julienned

3 to 4

red cabbage leaves

julienned

3 to 4

lettuce leaves

1/2

cup

thinly sliced kimchi

1

boiled egg

optional
Sauce:
3

tablespoons

Korean chili pepper paste

gochujang

1

tablespoon

Korean chili pepper flakes

gochugaru (if you like extra heat)

1

teaspoon

Korean/Asian hot mustard paste

optional

2

tablespoons

sugar

or use honey or corn syrup

2

tablespoons

rice vinegar

or apple cider vinegar

1

tablespoon

soy sauce

1

clove

garlic minced

1

tablespoon

sesame oil

1

teaspoon

sesame seeds
Instructions
Mix all sauce ingredients and keep it cool in the fridge.

Prepare the vegetables and keep them cool in the fridge or in ice water (drain well before using).

Bring a medium pot of water to a boil. Cook the noodles according to the package instructions (5 – 6 minutes). Drain quickly and shock in cold water to stop cooking. Drain and rinse in icy cold water until the noodles are very cold. Make two one-serving size mounds. Place the mounds in a colander to drain.

Place the noodles in the middle of the serving bowl and nicely arrange the cold vegetables over the noodles. Drop a few ice cubes so the dish can stay cool while eating. The sauce can be served on top or separately.
Notes
You can also add a small amount of lemon juice, orange juice, or soda such as coke or sprite for an additional layer of flavor.