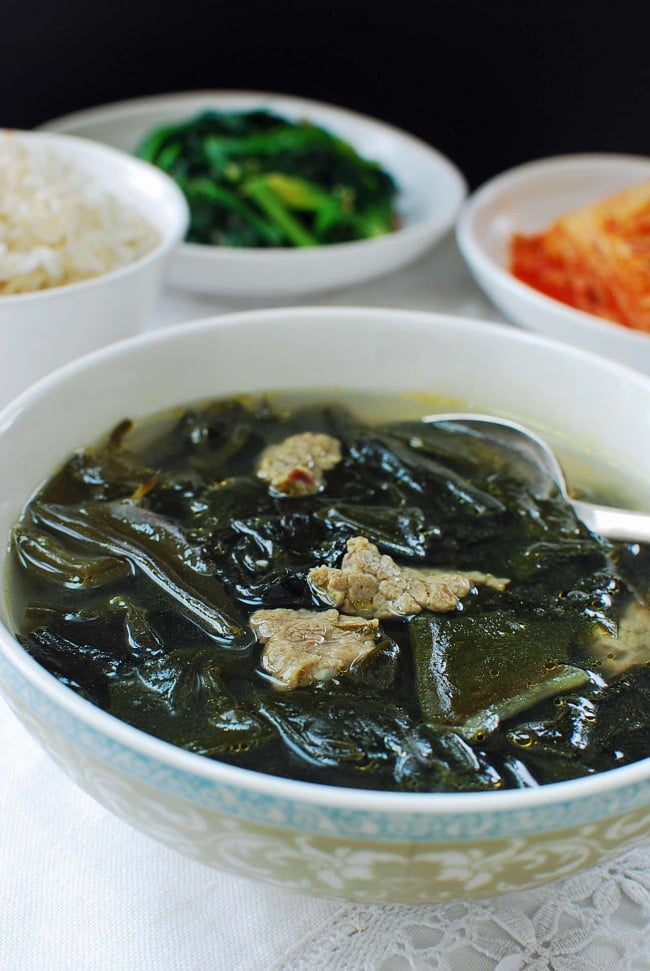 If I had to name my favorite soup, it would be miyeok guk. I make it 2 to 3 times a month, eat it for a couple of meals and then freeze the rest to eat again later. Miyeok gukis made with dried miyeok (aka wakame), which is a sea vegetable (edible seaweed). I love the briny flavor of miyeokand its slightly chewy, slippery texture.
As I explained in my miyeok guk with mussels post, this staple soup also is the soup that new moms eat for the first few weeks after giving birth because of the nutrients contained in miyeok that help with recovery andthe production of breast milk.
InKorea, this soup is part of the hospital diet for new moms. If you're in America, your Korean mother (or mother-in-law) probably brought a big insulated jar of it to the hospital to feed you after your childbirth.
Because of this soup's association with childbirth, it's also aKorean tradition to eatmiyeokgukon birthdays.
Here, I made it with beef. There are two common ways to make a Korean beef soup base.
The methodI used here is the quicker method. The thinly sliced beef is seasoned with soup soy sauce and sautéed before being boiled in water.
The other method boils the big chunk of meat with aromatic vegetables for a long time until tender. The meat is then shredded and added to the soup. I often use the latter method for a deeper flavor when I have time. See mytteokguk recipeforinstructions for making the beef broth using the longer method.
For Korean beef soups, brisket (양지머리, yangjimeori) is the best cut to use. While the brisket takes longer to cook than some other cuts, the resulting broth is much more flavorful. You can certainly use a different cut of beef.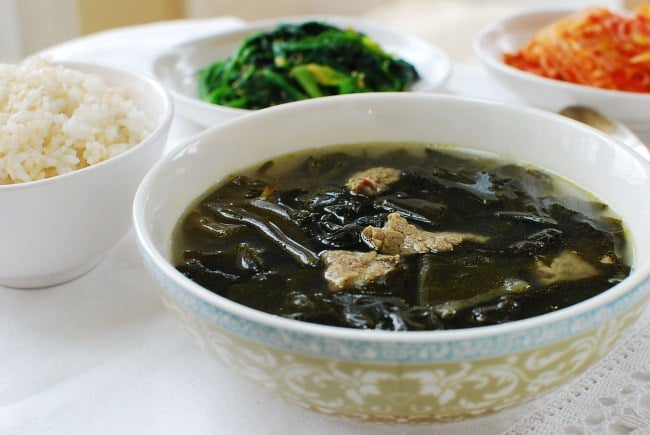 If you tried this miyeokguk recipe, please rate the recipe and let me know how it turned out for you in the comment section below. Stay in touch by following me onYouTube,Pinterest,Twitter,Facebook, andInstagram.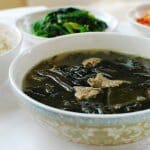 Ingredients
1.5

ounces

dried miyeok

yields about 3 cups soaked

6

ounces

beef

stew meat or brisket

2

teaspoons

minced garlic

2

tablespoons

soup soy sauce (gukganjang, 국간장)

If unavailable, use 1 T regular soy sauce and season with salt to taste

1

tablespoon

sesame oil

salt and pepper

10

cups

water
Instructions
Soak the dried miyeok per package instructions (usually 10 to 20 min) or until miyeok turns soft and plump. Rinse twice. Drain well, and cut into bite sizes.

Cut the beef into thin bite size pieces. Marinate with 1 tablespoon of soup soy sauce, garlic, and a pinch of pepper.

Heat a large pot over medium high heat. Sauté the meat with the sesame oil just until the meat is no longer red.

Add 10 cups of water, and bring it to a boil. Skim off any scum. Add salt and pepper to taste. Lower the heat to medium low. Boil, covered, for 20 to 30 minutes until the meat is tender and the broth is slightly milky.