Korean BBQ beef, bulgogi, is very easy to make at home with a few basic ingredients, and the thinly sliced beef doesn't take long to marinate. This bulgogi recipe shows you everything you need to know about how to make the best bulgogi!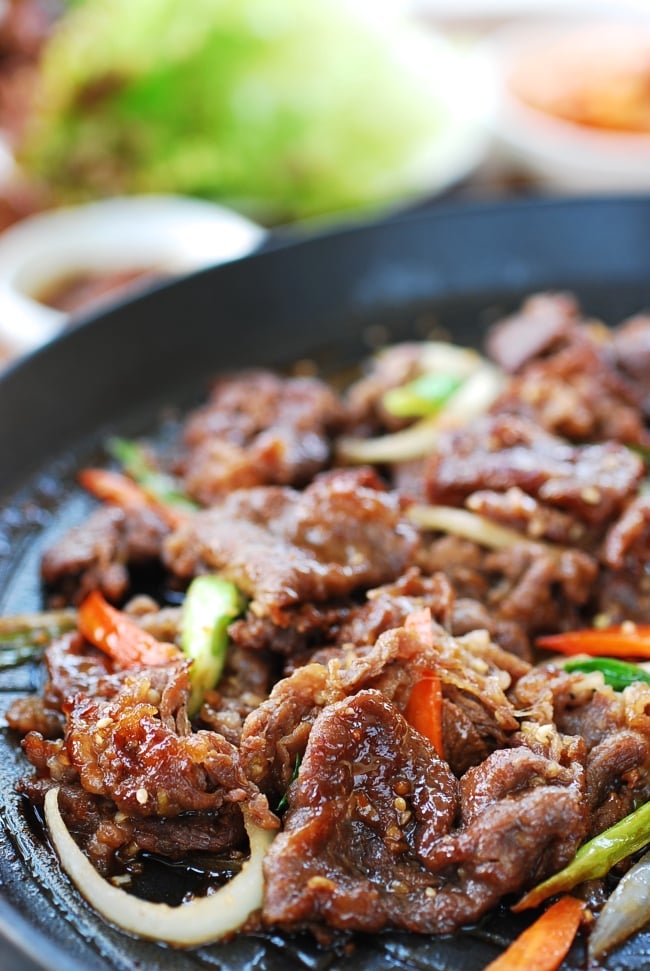 What is bulgogi?
Bulgogi (불고기), also known as Korean BBQ beef, is marinated thinly sliced beef, typically cooked over an open flame. "Bul" means fire in Korean, and "gogi" is a general term for meat. While it can be made with other meats such as chicken (dak bulgogi) and pork (dweji bulgogi), the term "bulgogi" generally refers to the beef version.
While this Korean marinated beef is most commonly char grilled at restaurants and homes, especially outside Korea, there are many regional variations of how this dish is prepared.
In this bulgogi recipe, I'm also introducing Seoul-style bulgogi (서울식 불고기), which is how I used to eat bulgogi growing up. It's also known as yetnal bulgogi (옛날불고기), meaning old-fashioned. It's a particular way bulgogi is served up. Over the last decade or so, it has made a remarkable comeback and become very popular throughout the country. My family loves it!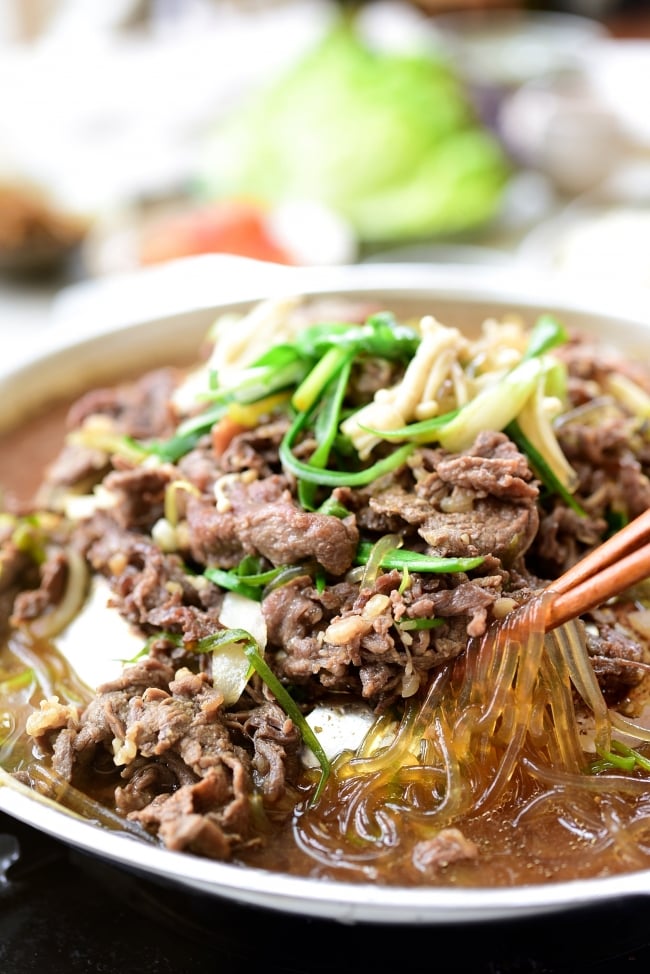 The cut of meat for bulgogi recipe
The best cut of meat for this dish is rib eye. Any tender, flavorful cut of beef, such as chuck eye, sirloin and tenderloin, works well too. I sometimes use tenderloin when I cook for the elderly members of my family and friends.
You can find pre-cut bulgogi meat at Korean markets. It usually comes in different grades. Spend a little more for good quality meat if you can. You can also ask your butcher to thinly slice the meat or slice it yourself after freezing the meat for a couple of hours.
How to make bulgogi marinade
The classic marinade or sauce is made with a few basic ingredients such as soy sauce, rice wine, sugar, sesame oil, garlic, etc. The important thing is to find the right balance between saltiness and sweetness. You'll find that right balance with this bulgogi recipe!
Using generous amounts of garlic and sesame oil is necessary to create an authentic taste.
To enhance the flavor and tenderize the meat, Koreans traditionally add a grated Korean pear to the marinade. It's simply the best way. However, if you cannot find a Korean/Asian pear, you can omit it or use a Bosc pear or an apple instead.
Thinly-sliced good quality meat doesn't need much tenderizing. If desired, you may also use kiwi or pineapple, but be sure to use only a small amount so you don't over-marinate the meat. They are very strong tenderizing agents and can break down the meat too much.
This marinade can also be used for other meats such as chicken or pork.
The thinly sliced meat doesn't take hours to marinate. All you need is about 30 minutes to an hour, although you can marinate it up to overnight.
How to cook the meat
Grilling:
You can grill the meat over charcoal or wood charcoal (sootbul, 숯불), but a gas grill or a grill pan over the stove top works well too. If you are pan-frying your bulgogi and want nicely caramelized meat, preheat the pan nice and hot and don't crowd the pan.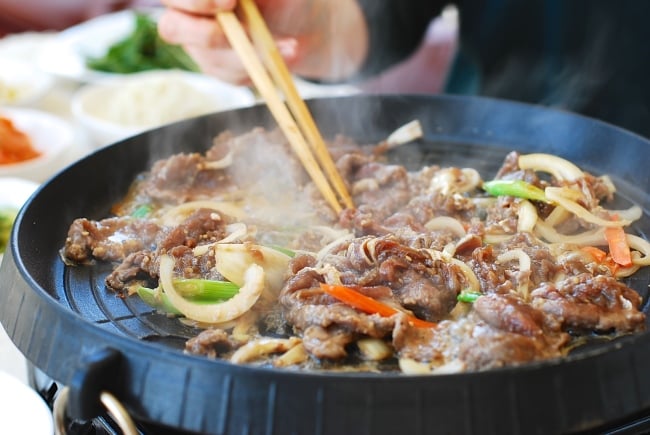 Stir-frying:
Koreans also cook bulgogi in its own juice in a pan over the stove top for softer meat and some delicious sauce. Use all the marinade if you want more sauce at the end.
Seoul-style bulgogi
As I mentioned earlier, this is how I grew up eating this dish. The marinated meat is cooked on a special dome shaped pan with holes and a flat bottom that holds water or broth. The dome shape allows the drippings to flow down to the water or broth, which thickens as the meat cooks.
Starch noodles and/or vegetables such as mushrooms are delicious cooked in the slightly sweet and savory sauce. Try mixing the sauce with your rice. Incredibly tasty!
The liquid can be simply water or broth. I use dashima broth that's mildly seasoned with some soy sauce.
I found my dome-shaped grill pan at a local Korean market, but I also saw it online if you'd like to buy one. Otherwise, simply use a large skillet instead.
What to serve Korean BBQ beef with
Pa muchim (scallion salad) is excellent to accompany this dish along with lettuce wraps and ssamjang. For other vegetable side dishes, see my 15 Korean vegetable side dishes. Doenjang jjigae (soybean paste stew) pairs very well with bulgogi too.
What to do with leftovers
You can store any unused marinated meat in the fridge for up to 4 days or freeze it for longer storage.
Leftover bulgogi is excellent in bibimbap, gimbap (also spelled kimbap), bulgogi doepbap or bulgogi jeongol. Or try kimchi bulgogi cheesesteak or tacos.
More bulgogi variations
Flank steak bulgogi
Slow cooker bulgogi
Dak bulgogi
Dweji bulgogi
Watch how to make it
For more Korean cooking inspiration, follow along on YouTube, Pinterest, Twitter, Facebook, and Instagram.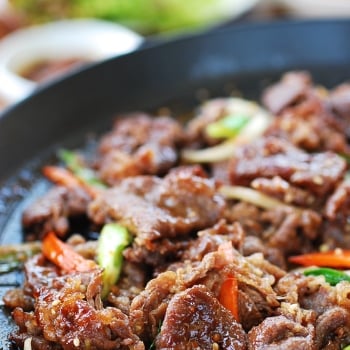 Ingredients
2

pounds

thinly-sliced beef (rib eye or top sirloin) - see note

3

scallions,

cut into 2-inch pieces

1

small onion,

thinly sliced

1

small carrot,

thinly sliced - optional
Marinade
6

tablespoons

soy sauce

3

tablespoons

water

4

tablespoons

sugar ( or you can use 2 T sugar 2 T honey)

Use more if not using Korean pear or apple

2

tablespoons

rice wine or mirin

2

tablespoons

minced garlic

2

tablespoons

sesame oil

2

teaspoons

sesame seeds

4

tablespoons

grated Korean/Asian pear

⅛

teaspoon

pepper
To serve bulgogi Seoul-style
3

ounces

potato starch noodles (soaked in hot water for 20 minutes and drained)

3

scallions

1

pack

enoki mushrooms (stems removed)

2

cups

water, dashima broth, or beef broth

1

teaspoon

soy sauce
Instructions
If using packaged pre-sliced meat, separate the slices. Remove any excess blood from the pre-sliced meat using paper towels.

Mix all the marinade ingredients in a bowl.

Place the meat and vegetables in a large bowl. Add the marinade and toss gently to combine everything well. Marinate the meat for 30 minutes to an hour, up to overnight.

Grilling: Grill the meat on a charcoal or gas grill or pan fry in a skillet over high heat until slightly caramelized. If pan searing, preheat the pan nice and hot and cook the meat until slightly caramelized. Do not crowd the skillet.

OR Stir-frying: Preheat the pan, and add the meat over high meat. You can crowd the pan to generate some liquid and let the meat cook in its own juice. Cook until the meat is no longer pink. Use all the marinade if you want some sauce at the end.
To serve bulgogi Seoul-style
Thinly slice the scallions. Season 2 cups of water or broth with 1 teaspoon of soy sauce.

Heat the pan, and add the bulgogi and top it with the scallions and mushrooms. Add about half of the broth around the edges of the pan along with the noodles. Add more liquid when the liquid level goes down as you cook.
Notes
*Pre-sliced bulgogi meat is sold at any Korean market. Pay a little more to get good quality meat. If cutting the beef at home, partially freeze for about an hour to firm it up for easier slicing. Cut across the grain into about ⅛ - inch thick slices.
This bulgogi recipe was originally posted in May 2010. In this updated post, I've made minor tweaks to the recipe and introduced Seoul-style bulgogi (서울식 불고기), which is a particular way bulgogi is served up.