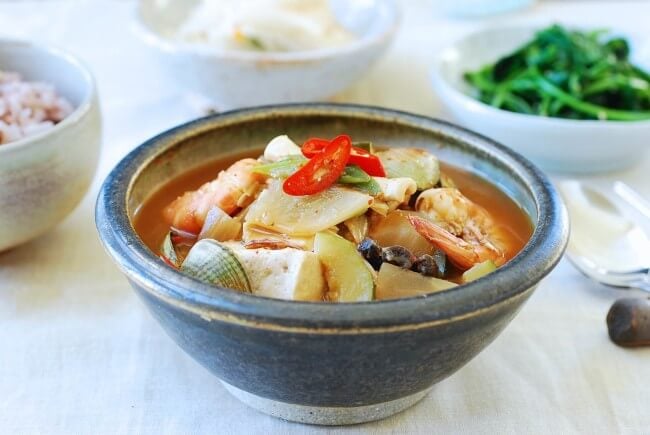 It's been over 5 years since I last posted a doenjang jjigae(된장찌개) recipe, which is a staple stew made with fermented soybean paste, doenjang. It was a very basic doenjang jjigae recipe, that I made with fatty pork, but a very popular one. Head over thereif you like meat in your stew. This time, I made a variation made with seafood.
Any type of seafood can be added. The typical additions are clams, mussels, shrimp, squid, and oysters. You can use any one of these or a combination.
The most important ingredient in doenjang jjigae is obviously doenjang. Doenjang is traditionally homemade, but most households buy commercially available doenjang these days. For many years, we were lucky enough to have doenjang that my mother-in-law made. It was the best doenjang! Now that she's unable to make it, I usually resort to locally made home-style doenjang that's sold at some Korean markets. If unavailable, I get one of the major brands.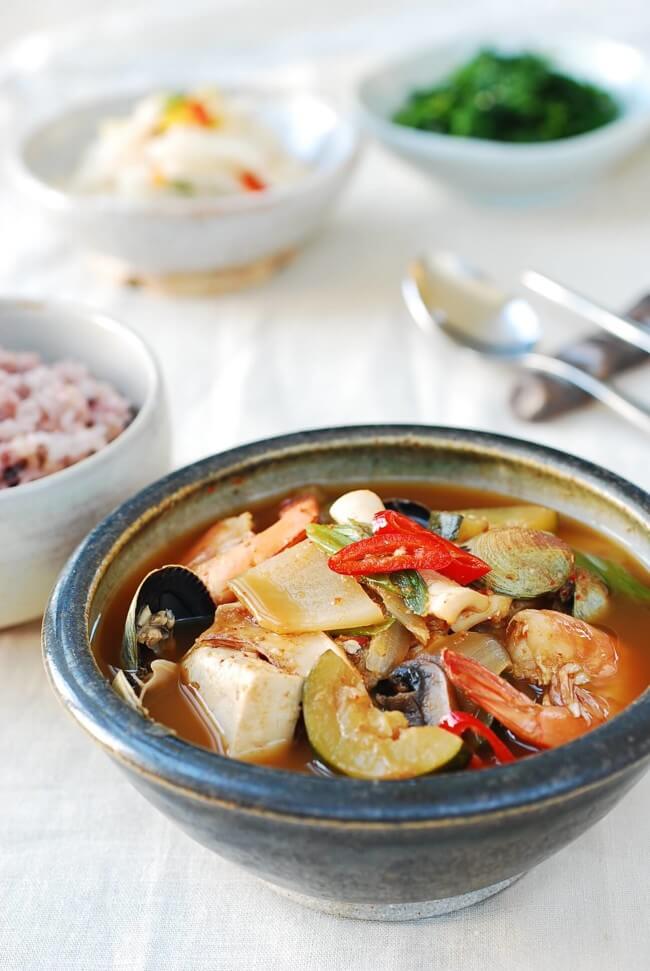 We all know by now a good Korean stew requires anchovy broth, and it doesn't take much time to make it. Make a habit of using anchovy broth in your stew. Dry anchovies last a long time in the freezer.
A small trick you can use for doenjang jjigae is to use a small amount of vinegar at the end. It will brighten the doenjang taste, making the stew even more delicious!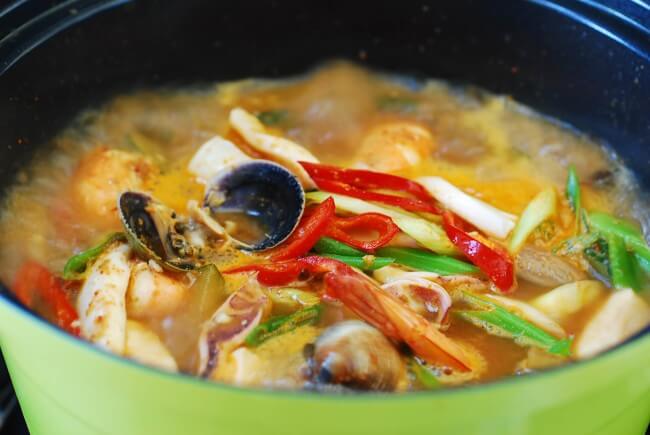 Ingredients
1

cup

assortment of seafood

I used a few small clams, 1/2 squid, and 5 medium shrimp

8 to 10

ounces

tofu

1/2

medium zucchini

3 to 4

mushroom caps

1/4

medium onion

3

ounces

Korean radish

mu

1

chili pepper

green or red

1 to 2

scallions

3

cups

of anchovy broth or water

see note

2

tablespoons

doenjang (Korean soybean paste)

1

teaspoon

gochugaru (Korean chili pepper flakes)

1

teaspoon

minced garlic

1

teaspoon

vinegar
Instructions
Rinse and scrub the clams. Place the clams in salted water (1 tablespoon of salt in 2 to 3 cups of water) for 30 minutes or longer to get the clams to spit out the sand. Clean the squid, and cut into bite size pieces. Clean the shrimp.

Cut the tofu into 1/2-inch thick bite size slices. Cut the zucchini, onion, mushrooms, and radish into bite size pieces. Roughly chop the scallion, and thinly slice the chili pepper.


Add the anchovy broth (or water), soybean paste and gochugaru to a small pot. Stir well to dissolve the soy bean paste. Add the radish and onion. Bring it to a boil over medium high heat, and cook for 3 to 4 minutes.

Notes
Use the water used to rinse rice, ssal ddeum mul or anchovy broth for jjigae/stew. For anchovy broth, boil about 10 medium dry anchovies and one 3-inch square dried kelp in 4 cups of water for 10 minutes.