Doenjang jjigae made with beef! The intense, hearty flavor of beef works great with doenjang. You can use any flavorful cut of beef.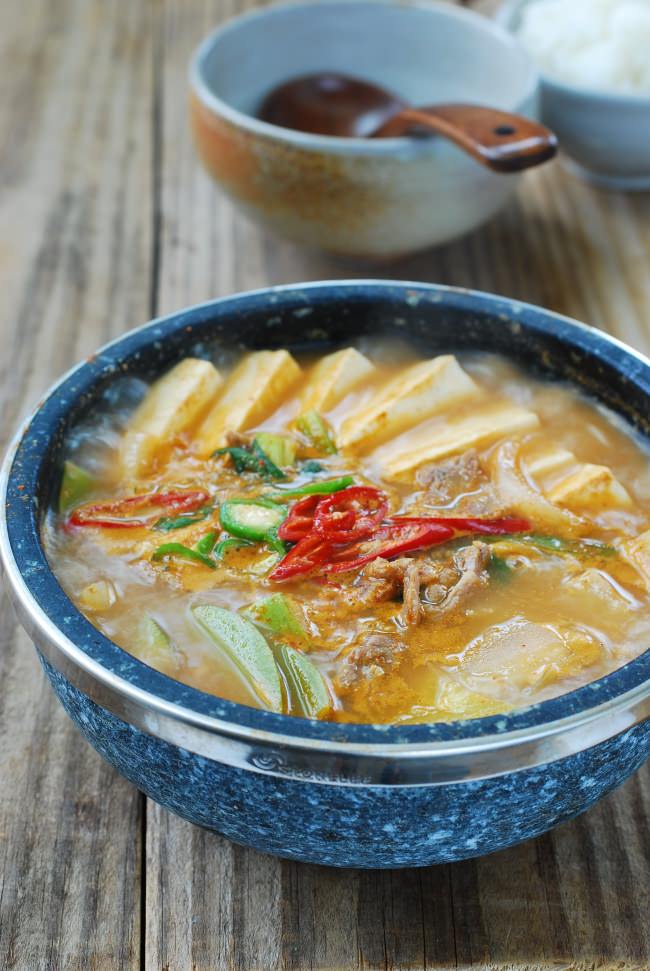 Doenjang jjigae (된장찌개) is a staple Korean stew made with doenjang (된장), fermented soybean paste. Everyone makes this dish a little differently and has his/her secret to great taste. Every time I make this stew, I find myself making it a little differently as well. Without a doubt, doenjang is the defining ingredient. Depending on the other ingredients added, you can make endless variations of the stew.
This is the third doenjang jjigae recipe on the blog. The first one was made with pork, and the second one was seafood doenjang jjigae. The fatty pork adds richness to the stew, while seafood adds a clean, briny flavor. This recipe uses beef (sogogi, 소고기). The intense, hearty flavor of beef works great with doenjang as well.
Ingredients for beef doenjang jjigae
Meat:
I used stew meat, but any cut of beef works. Be sure to cut thinly if using a tough cut of meat. In Korea, doenjang jjigae made with brisket (chadolbagi, 차돌박이) is popular both at home and at restaurants.
Vegetables:
I usually use Korean white radish (mu, 무), zucchini, onion, and fresh green and/or red chili pepper. If you recall from my previous posts, Korean radish is commonly used in making a broth. It adds flavor and helps create a clean, refreshing broth. You can add potatoes if you like slightly thicker stews.
Broth:
It's a very Korean practice to save the water used to rinse rice (ssalddeumul, 쌀뜨물) and use it as a stew base. The rice water adds starch to the soup and works as a binding agent between the soybean paste and the broth, while enhancing the flavor of the doenjang. If you didn't have to make rice, or forgot to save the water, add a little bit of flour or rice powder to tap water.
Whether to use gochujang (고추장, Korean fermented red chili pepper paste) or gochugaru (고추가루, Korean red chili pepper flakes) is a matter of preference. Gochugaru simply adds a spicy kick, while gochujang adds a bit of sweetness and saltiness to the stew.
As I mentioned in my previous posts, a small amount of vinegar added at the end will brighten the doenjang taste, making the stew even more delicious! Some people also use sugar to balance out the strong flavor of doenjang.
Korean stews are often made and served in an earthenware, called ddukbaegi (뚝배기). This type of cookware better contains and retains heat, so it provides even distribution of heat during cooking and keeps the food warm while being served.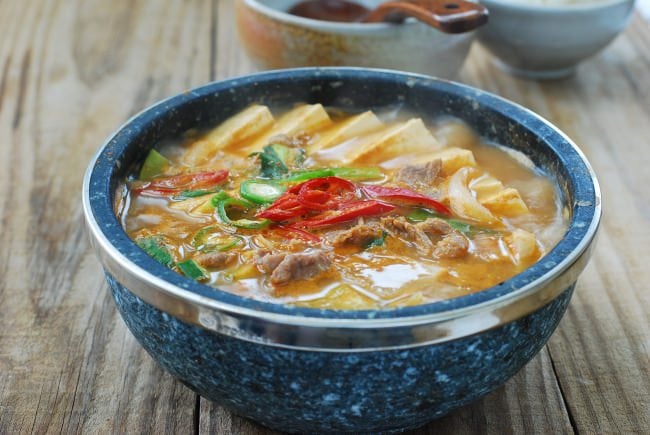 For more Korean cooking inspirations, follow along on YouTube, Pinterest, Twitter, Facebook, and Instagram.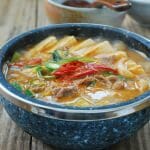 Ingredients
2

ounces

radish

1/2

small zucchini

about 3 ounces (mushrooms and potatoes can be added if desired)

1/4

small onion

1

chili pepper

green and/or red

1

scallion

3

ounces

beef

stew meat or other well-marbled cut

8

ounces

tofu

2

tablespoons

Korean soybean paste

doenjang

1

teaspoon

Korean chili pepper paste

gochujang

1

teaspoon

minced garlic

Black pepper to taste

1/2

teaspoon

vinegar

2

cups

of water used to rinse rice

ssal ddeum mul (or add 1/2 teaspoon flour or rice powder to clear water)
Instructions
Cut the radish into thin 1-inch squares. Cut the zucchini into bite size pieces. Thinly slice the onion and chili pepper. Cut the scallion into 1-inch lengths.

Preheat a small pot. Sauté the meat until no longer pink. Add the radish and continue to sauté until the radish is wilted.

Add the water, soybean paste, and chili pepper paste. Stir well to dissolve the pastes. Boil over medium high heat for 4 to 5 minutes.

Add the tofu, onion, zucchini and garlic. Boil for an additional 5 to 6 minutes. Stir in the vinegar, and throw in the scallion and chili pepper. Cook for another minute or two.

Serve with rice while it is still bubbling from the heat.