This large batch Korean marinade will come in handy for your Korean BBQ this summer! You don't need to assemble a marinade or run to a store to buy a jar of pre-made marinade every time.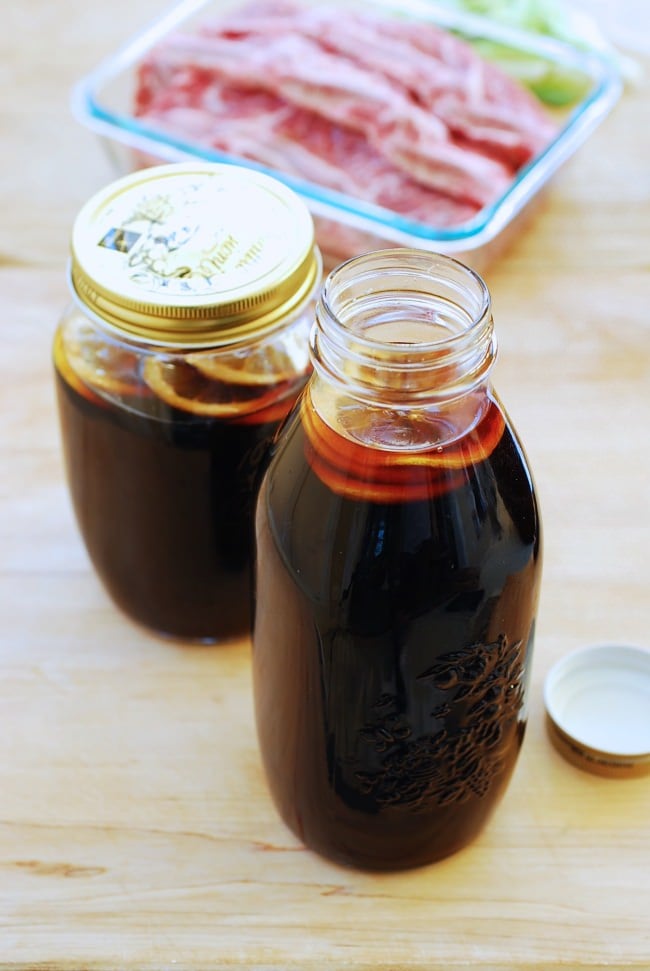 This marinade is all you need for Korean BBQ this summer! It takes less than an hour to put this large batch together. You don't need to assemble a marinade or run to a store to buy a jar of pre-made marinade every time. All the flavor enhancing ingredients are boiled together, so the marinade is so flavorful and the shelf life is naturally long.
In Korea, this type of sauce is called manneung ganjang (만능간장, meaning all-purpose soy based sauce) or mat ganjang (맛간장, meaning flavorful soy based sauce). The typical Korean soy sauce based sauce is pretty standard, so some people add complexity and layers of flavors by using a flavorful broth.
Restaurants commonly do this to develop their own unique, tasty flavors, using all sorts of secret ingredients for the broth. It has also become common among home cooks.
To make this all-purpose marinade, the marinade ingredients are boiled with umami boosting vegetables such as dried shiitake mushrooms and dashima. Korean radish is good too. For fruity sweetness, I used an apple. You can also use an Asian/Korean pear. The fresh lemon is added at the end, which keeps the marinade fresh for a longer period.
Use it for any Korean BBQ dishes such as galbi, bulgogi, chicken bulgogi, salmon bulgogi, etc., or add Korean flavors to your steaks and ribs. You can zip up the flavors by adding fresh garlic, ginger, onion, scallion and/or grated Korean pear if you like, but it's not absolutely necessary. Do add some sesame oil. It's an essential ingredient for Korean meat dishes.
You will generally need one cup of this marinade for 2 pounds of meat.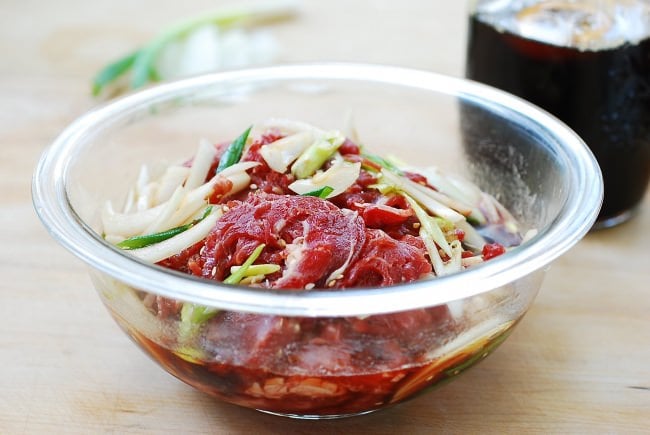 For a spicy marinade, simply add gochugaru (Korean red chili pepper flakes) and/or gochujang (Korean red chili pepper paste).
This marinade is also great for stir-frying and braising. Try it with eomuk bokkeum (stir-fried fish cake), gamja jorim (braised potatoes), or gungjung tteokbokki (mild royal court tteokbokki).
Basically, you can use it in any recipe that calls for soy sauce and sugar. It's that versatile! Keep in mind this marinade is diluted so you need to use more than the amount of soy sauce the recipe calls for.
I never thought Korean marinades were hard to put together, but it's so much quicker and easier with a batch of this basic marinade, especially when I need to put together several dishes at the same time.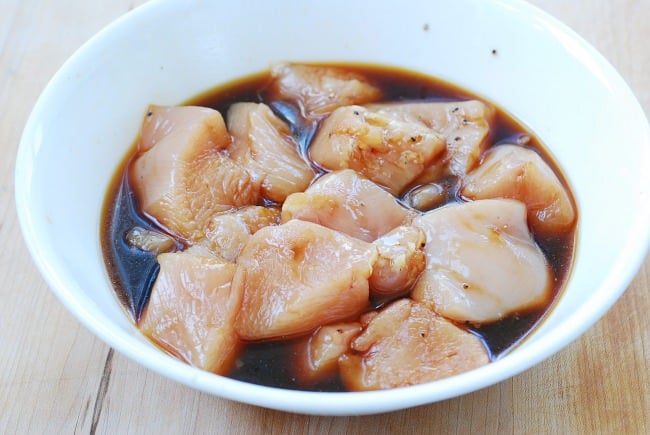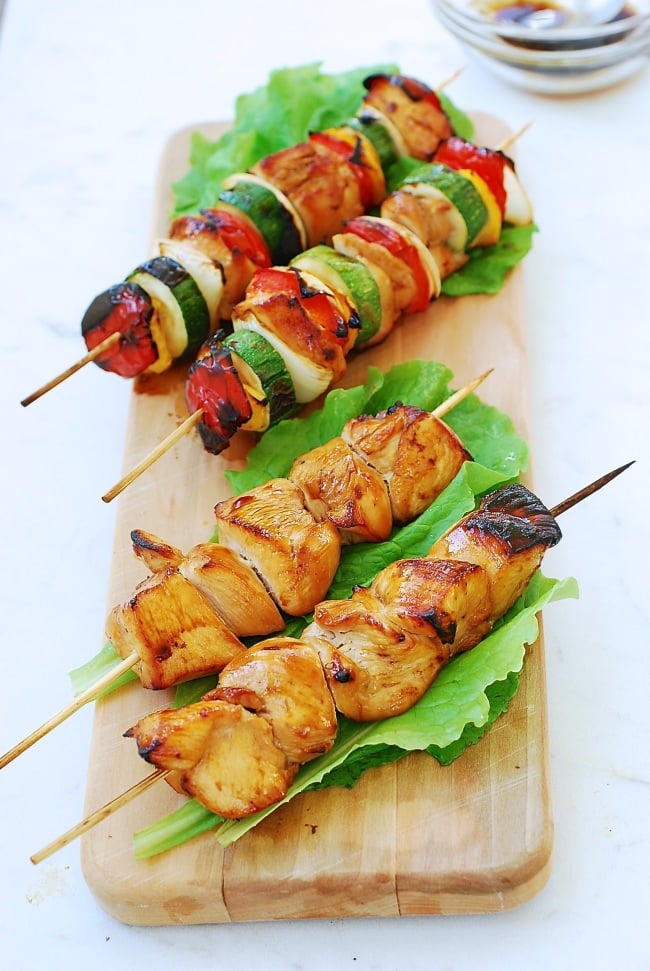 Have you tried this all-purpose Korean marinade recipe? Please rate the recipe below and leave a comment! Stay in touch by following me on YouTube,Pinterest,Twitter,Facebook, andInstagram.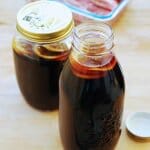 Ingredients
Yields about 10 cups
6

cups

of water

4

cups

soy sauce

2

cups

sugar

1

cup

corn syrup (or Korean Oligodang)

or use 2/3 cup honey or 1 more cup sugar

1

large onion, roughly cut into small pieces

1

large apple, roughly cut into small pieces

2

scallions, cut into shorter pieces

12 to 14

plump garlic cloves, roughly cracked oped (use a side of the knife)

2

inch long

ginger (about 1 inch diameter), thinly sliced

3 or 4

dried shiitake mushrooms

1

teaspoon

peppercorns

5

inch

square dashima 다시마 (dried kelp)

1

cup

rice wine (or mirin)

Dry white wine is also good.

1

lemon, thinly sliced
Instructions
Add all the ingredients (except the dashima, rice wine, and lemon) to a large pot with 6 cups of water. Bring it to a boil over high heat, uncovered, and then reduce the heat to achieve a medium boil (between medium high and medium on my stove). Boil for 30 minutes.

Add the dashima and continue to boil for 10 more minutes.

Remove all the solids with a strainer.

Add the rice wine and lemon slices, and let it cool. Store in a jar(s) in the fridge.
Galbi (beef short ribs) or bulgogi
For 2 pounds of beef short ribs or bulgogi meat, use 1 cup of the marinade and add 1 tablespoon of sesame oil. You can also add 1 tablespoon of minced garlic, grated 1/4 Korean pear and a handful of scallion and onion slices if you like. For galbi, you need to marinate for at least 6 to 8 hours or overnight for best results. Marinate bulgogi for 30 minutes to an hour, up to overnight.
Spicy pork
For 2 pounds of pork, use 1/2 cup of the marinade, 1 tablespoon of sesame oil, 2 tablespoons of gochugaru (red chili pepper flakes), and 3 tablespoons of gochujang (red chili pepper paste). If using more gochujang, use less marinade. You can add 1 or 2 teaspoons of grated ginger, 1 tablespoon minced garlic, and a handful of scallion and onion slices.
Notes
You can adjust the sweetness or salt level by adding more sugar or soy sauce depending on the dish you are using it for. Grated pear, corn syrup, honey, and Korean plum extract (maesilcheong) are all great as sugar substitutes.
Add some sesame oil when you use the marinade.
If the smell of boiling soy sauce bothers you, keep your candle lit for an hour or two.