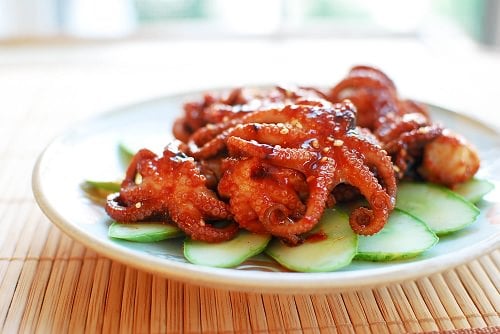 I know that a lot of people are intimidated by octopus. If you're one of them, I urge you to try your hand at it with baby octopus, jjukkumi. Baby octopus is naturally tender and easy to handle. They are usually sold frozen (and pre-cleaned) here in the U.S. In case you're wondering, unlike the name suggests, baby octopus is fully grown octopus of a small species.
If you prefer, you can also use small squids for this recipe. Octopus, baby octopus and squid are popular ingredients in Korea. They are most commonly prepared with a spicy gochujang (Korean red chili pepper paste) sauce. In the past, I shared how to make a spicy stir-fried squid dish, ojingeo bokkeum. You can use baby octopus for that recipe as well.
Here, these little guys are marinated in a spicy gochujang sauce and seared quickly on the grill. Marinating helps tenderize the octopus, so give it sufficient time to marinate. It will be tender, enjoyably chewy, not to mention a burst of flavor with every bite!
2 to 3 servings
Ingredients:
1 pound (10 – 12) baby octopus
1 small cucumber, thinly sliced, for garnish (optional)
Marinade:
2 tablespoons Korean red chili pepper paste (gochujang)
1 to 2 teaspoons Korean red chili pepper flakes (gochugaru)
1 tablespoon soy sauce
1 tablespoon rice wine (or mirin)
2 tablespoons sugar
1 teaspoon minced garlic
1/2 teaspoon finely grated ginger
1 tablespoon sesame oil
1 teaspoon sesame seeds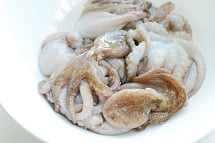 Defrost, if frozen. If not pre-cleaned, remove and discard the inside of the head and beak. See more here. Rinse the octopus well under cold running water.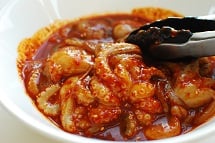 Combine the marinade ingredients. Pour over the octopus and mix to coat well. Marinate for 2 to 3 hours (up to overnight) in the fridge. Heat a lightly oiled grill or a grill pan to medium high and sear for about 3 minutes, turning a couple of times. Do not overcook. Plate them on the optional cucumber slices to serve.