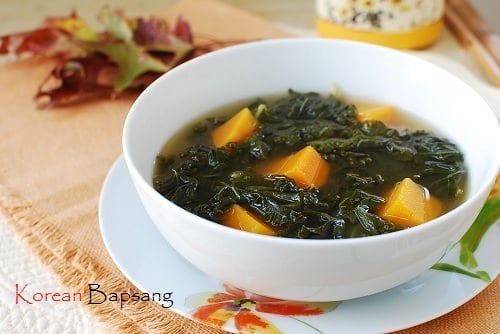 We all know kaleis a nutritional power house. It's packed with vitamins, minerals, fiber, antioxidants and anti-cancerproperties. Kale is also great for detoxifyingyour body and keeping your liver healthy.Are you eating enough kale? To be honest, I wasn't.Lately, I've been trying to fix that by incorporating more of it into my cooking — stir-frying, adding to salads and pizza, and making soups.
Kale is not a traditional Korean vegetable, but I've found thestrong earthy flavor of kale works very well with doenjang(Korean fermented soybean paste).
Kale is a cold weather vegetable. It's in season now through early spring. Look for freshdeep colored kale with small to medium leaves and thinner stalks. Smaller kale is tenderer and sweeter.
For this kale doenjang soup, I used store boughtchicken stock. Anchovy broth, beef broth or vegetable broth will be great as well. The butternut squash added color and sweetness to the soup, offering a nice contrast to the slightly peppery kale. If you like Korean doenjang guk(된장국), this simple soup is a great way to eat more kale.
**The winners for the Sempio product giveaway have been announced in thegiveawaypost. Please check it out!**


4 servings
Ingredients: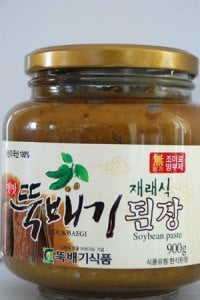 10 ounces kale
8 ounces butternut squash
4 cups chicken stock (or anchovy, beef or vegetable broth)
2 cups water used to rinse rice,
ssalddeummul*
2 tablespoons Korean soybean paste (doenjang)
1 tablespoon soup soy sauce (guk ganjang) – use salt if unavailable
1 teaspoon minced garlic
1 teaspoon rice vinegar**
salt and pepper to taste
(*The water used to rinse rice,ssalddeummul, adds starch to the soup and works as a binding agent between the soybean paste and the broth, while enhancing the flavor of thedoenjang.)
(**A little bit of acidity helps brighten the flavor of doenjang. You can also uselemon juice for this.)
Tear the kale off the stems into small pieces. Discard thick stems. Rinse thoroughly and drain. Peel the butternut squash and cut into about 4/3-inch cubes.
Add the chicken stock to a pot. Run the soybean paste through a strainer in the chicken stock. This process helps dissolve the paste easier and catches big chunks of beans remaining in the soybean paste. Add the soup soy sauce to the stock.
Add the kale, butternut squash and garlic, and bring it to a boil over high heat. Reduce the heat to medium high and boil until the kale and butternut squash become soft, about 10 minutes. (Boil longer if you like the kale very soft, but add the squash with 10 minutes remaining.) Taste and add salt, if necessary, and pepper to taste. Stir in the vinegar right before turning off the heat.