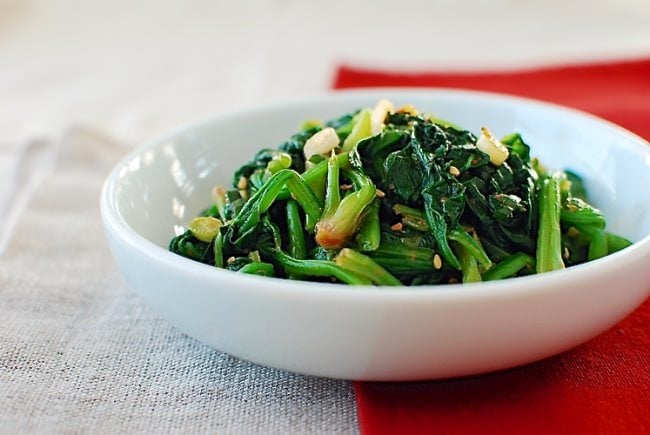 Sigeumchi namul
is a simple Korean side dish made with spinach.
Namul
is the general term that refers to a seasoned vegetable dish, and
sigeumchi
is spinach. Although the cooking method and seasonings vary, the vegetables are typically blanched first and then dressed with seasonings. There are an infinite number of vegetables that are used to make
nauml
dishes in Korea. Spinach is one of the most common and often used in
bibimbap
.
For my
bibimbap
recipe, the spinach was lightly seasoned with salt. Here, I have another variation seasoned with
red chili pepper paste
(gochujang)
and soy sauce.
1 bunch spinach (about 10 ounces)
1 scallion, chopped
2 teaspoons
chili pepper paste (
gochujang)
2 teaspoons soy sauce
1 clove garlic, minced
1/2 teaspoon sugar
1 teaspoon sesame oil
1 teaspoon sesame seeds
salt and pepper to taste
Trim off the roots from the spinach. Wash thoroughly until there is no sand in the water. Blanch the spinach in salted boiling water until wilted, 30 – 40 seconds.
Quickly remove the spinach from the pot and shock in cold water to stop the cooking. Drain and gently squeeze out excess water. Cut into 3-inch lengths.
Add the remaining ingredients and mix everything well by hand. It will take about 10 minutes for the flavor of the seasonings to seep into the spinach.