This post contains affiliate links. I earn a commission if you make purchases through those links. See my disclosure policy.
This easy vegetable side dish is flavored with doenjang (Korean fermented soybean paste). You can make the recipe with various different vegetables.

This recipe is a country style vegetable side dish. It's simply seasoned with doenjang, Korean fermented soybean paste, hence the name doenjang muchim (된장무침).
Young cabbage called putbaechu (풋배추) or eolgari (얼가리) is one of the vegetables commonly used for this dish. Often, I also use napa cabbage, baby bok choy, spinach, or kale (or baby kale). Any other green leafy vegetables would also work. Just remember to adjust the blanching time.
You can add a little gochugaru (Korean red chili pepper flakes) or gochujang (Korean red chili pepper paste) to make it a bit spicy or sweeten it with a bit of sugar. I like to keep it simple and savor the unique, deep flavor of the doenjang.
This side dish is great with any Korean meal. We enjoyed it for two meals this week – first with bulgogi and then with bukeoguk next day.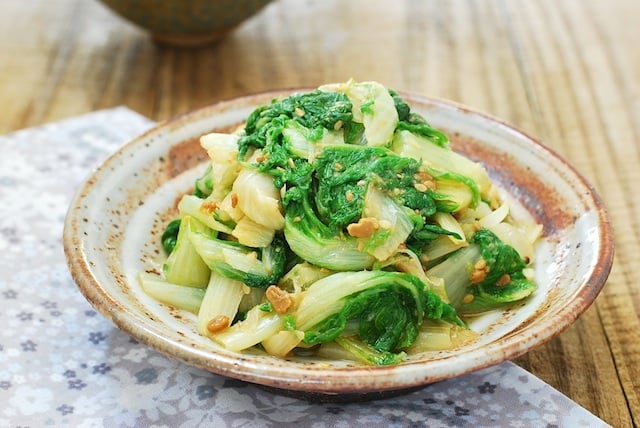 For more Korean cooking inspirations, follow along on YouTube, Pinterest, Twitter, Facebook, and Instagram.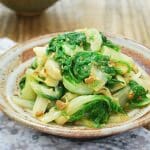 Putbaechu (Young Cabbage) Doenjang Muchim
Side Dish
Print Recipe
Ingredients
2

bunches young cabbage (putbaechu, 풋배추) - about 8 ounces each

- See note for substitutes.

1

tablespoon

(or to taste) doenjang, fermented soybean paste

1/2

tablespoon

minced garlic

1

tablespoon

sesame oil

1

teaspoon

sesame seeds

1

teaspoon

gochugaru or gochujang - optional

adjust to taste
Instructions
Bring a large pot of water to a rapid boil. Add a tablespoon of salt. Blanch the cabbage until the white parts turn soft, 4 to 5 minutes. Remove the cabbage from the pot and shock in cold water to stop the cooking.
Notes
You can also use regular napa cabbage, bok choy, spinach, or kale (or baby kale) for this recipe. Adjust the cooking time and seasoning depending on the vegetable and the amount you use.