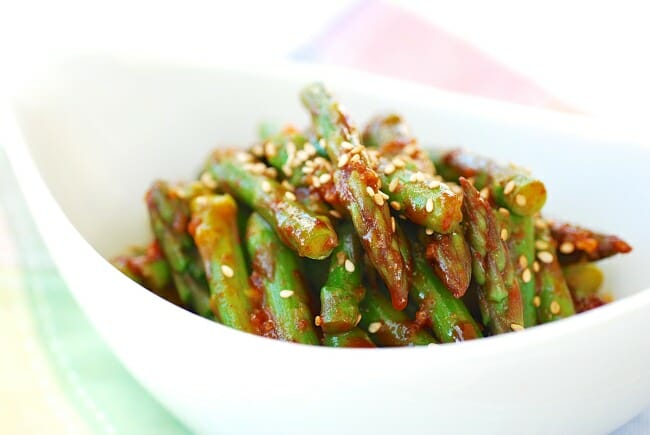 Here's a quick and easy Korean side dish you can make with spring asparagus. Simply blanch the asparagus and dress with a sweet and vinegary gochujang (Korean red chili pepper paste) sauce, called cho-gochujang (초고추장). Cho is a short form of sikcho, which is vinegar. Dishes seasoned with a vinegary sauce is often called cho muchim, so you can call this dish "asparagus cho muchim" or simply "asparagus muchim".
Cho-gochujang is used in various dishes. It's also popular as a dipping sauce for vegetables and seafood such as squid and raw fish (saengseon hwe, 생선회). Everyone makes the sauce a little differently, but the key ingredients are gochujang, vinegar, and sugar (or corn syrup). Adjust the amount of vinegar and/or sugar to your taste.
This sauce is also great with blanched broccoli or soaked miyeok (aka wakame).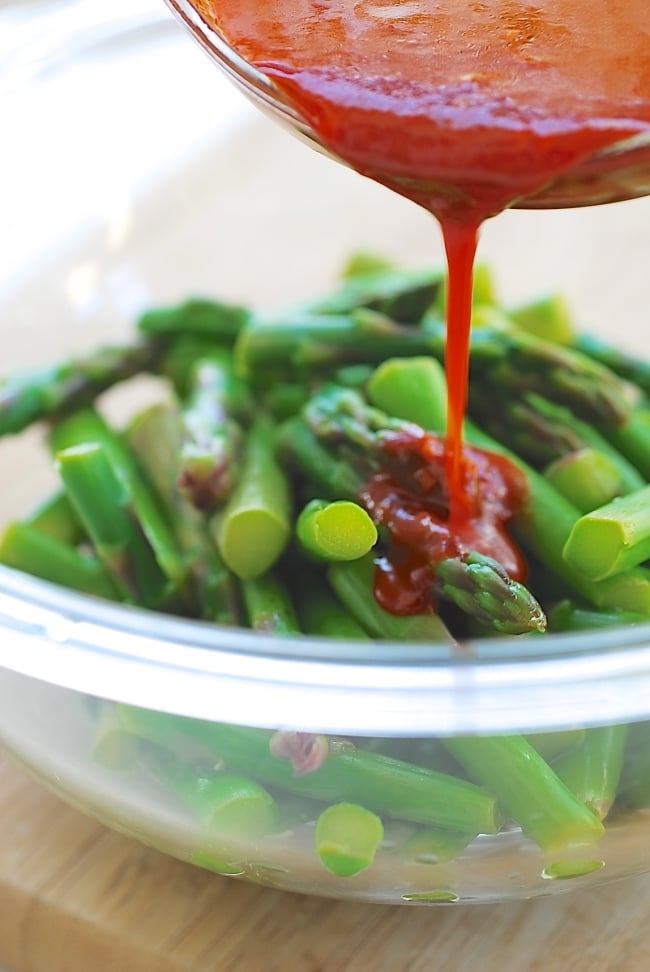 Asparagus with Gochujang Sauce
2015-03-23 03:35:43
Serves 4
a quick and easy Korean side dish made with asparagus and gochujang
Ingredients
1 pound asparagus
1 tablespoon salt
Sweet and sour gochujang sauce (Cho-gochujang)
2 tablespoons gochujang, Korean red chili pepper paste
2 tablespoons vinegar - more if you like
1 tablespoon sugar - more if you like
1/2 teaspoon minced garlic
1 teaspoon sesame oil
1/2 teaspoon sesame seeds
Instructions
Remove the tough ends of the asparagus. Cut into about 2-inch lengths.

Blanch the asparagus in salted boiling water until softened, about 1 to 3 minutes depending on the thickness. Remove with a strainer, and shock in icy cold water. Drain very well.

Mix the sauce ingredients in a small bowl. Pour over the asparagus, and toss well to mix.

Korean Bapsang https://www.koreanbapsang.com/