Jangjorim is a soy-braised beef dish. It's a slightly sweet, salty side dish that goes well with any Korean meal!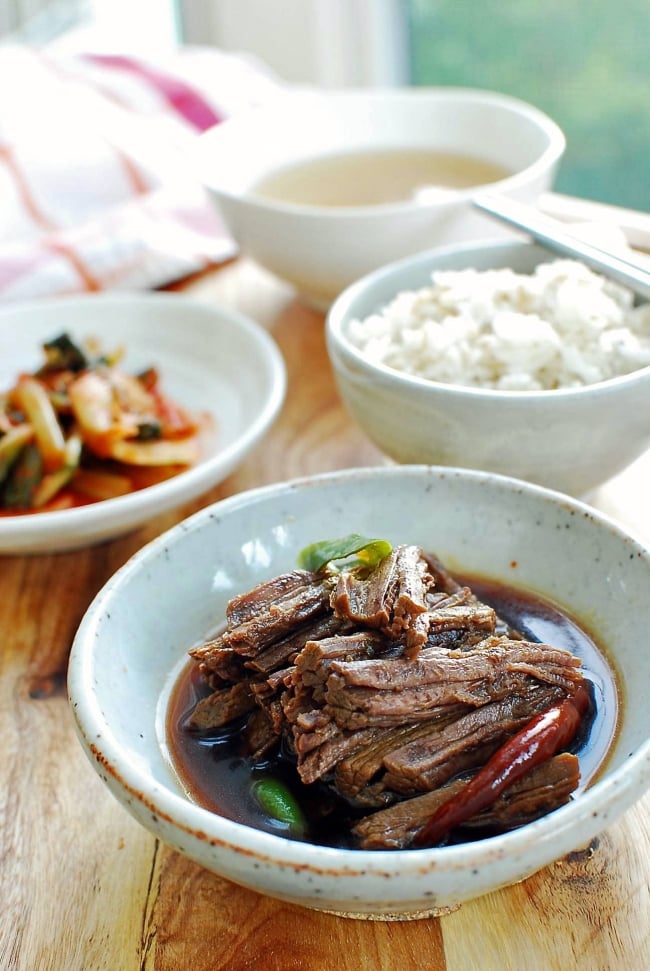 Jangjorim (장조림) is a soy-braised beef dish. It's a slightly sweet and salty dish that's meant to be eaten in small amounts as a basic side dish, mitbanchan (밑반찬). So, a little bit of meat goes a long way.
Back in the day, when beef was scarce, jangjorim was an economical way to put some beef on the table for the whole family. It's also a popular side dish for home-packed lunch boxes. Kids love it! Growing up, it was the most exciting thing to see in my lunch box.
Beef eye round is commonly used, but I prefer brisket or shank because they are more flavorful. First, cook small blocks of beef in water, along with a few aromatic vegetables, and then cook in soy sauce based broth. The beef will turn tough if cooked in soy sauce from the beginning. I boil the aromatic vegetables, to make a flavorful broth, before adding the beef to cook.
Shred a block of beef or two and pour the sauce over to serve.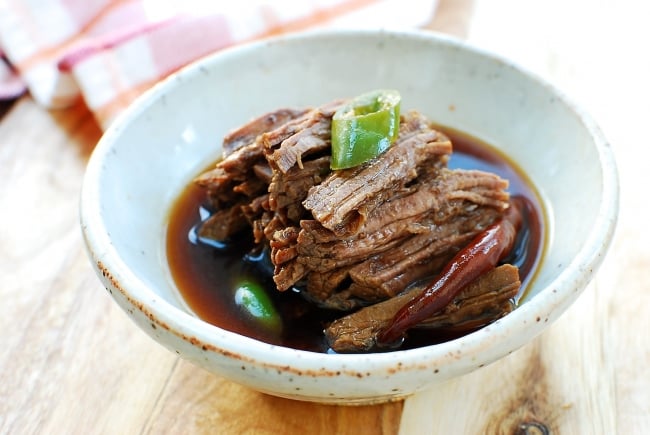 Ingredients
1-1/2

pounds

beef brisket or shank

or shank

1/2

medium onion

2

scallions white part

6

ounces

of Korean radish, mu, cut into big chunks

7

garlic cloves

3

thin ginger slices, about 1-inch round

1/2

teaspoon

whole peppers (or ground peppers to taste)

5

tablespoons

soy sauce

2

tablespoons

soup soy sauce

3

tablespoons

sugar

3

tablespoons

rice wine or mirin

2 to 3

chili peppers (dried or fresh green/red peppers)

1

piece

3-inch square dried kelp
Instructions
Cut the beef into 2 to 3-inch rectangles.

In a covered medium pot, bring 6 - 7 cups of water and the next 6 ingredients to a boil. Continue to boil for 5 minutes.

Drop the meat into the pot. Bring it to a gentle boil, and remove the scum. Reduce the heat to medium low. Boil, covered, for about 30 minutes.

Remove the meat. Drain the liquid, reserving the broth. Add 2 cups of the broth back to the pot. (You can save the remaining broth to make a soup or stew later.)

Add the meat and sauce ingredients. Bring it to a boil. Reduce the heat to medium low, and boil until the meat is tender and the sauce is reduced to about 1/3, about 30 minutes. Add the chili peppers and dried kelp with about 7-8 minutes of time remaining. Remove the kelp, and transfer the meat and sauce to an airtight container.

Shred the meat and pour some sauce over to serve.
Notes
Keep it refrigerated in an airtight container. It will keep well up to 10 days. If you want to keep it longer, boil the meat and sauce again after a few days. The meat will become hard in the fridge. You can soften it by leaving the shredded beef out at room temperature for 20 to 30 minutes, or microwave for 10 - 15 seconds to soften.