This is how my mother used to make her gochujang! It's the traditional way. Making gochujang from scratch is easier than you might think. Hope you try it.

What is gochujang?
Gochujang (고추장) is Korean fermented chili pepper paste. Along with ganjang (간장, soy sauce) and doenjang (된장, fermented soybean paste), it's one of the three fundamental fermented sauce or paste, collectively called jang (장). The red thick paste is deeply savory, peppery, salty, spicy and slightly sweet!
Contrary to popular belief, gochujang is not a ready-to-eat condiment. It's used as a base ingredient to season and flavor a wide range of dishes or made into various sauces. See my 15 Recipes that Use Gochujang.
Commercially made gochujang is widely available in Korean markets or on-line, but there's nothing like homemade gochujang! It's really not that difficult to make a small batch of gochujang at home. If you made it once, you'd never look back!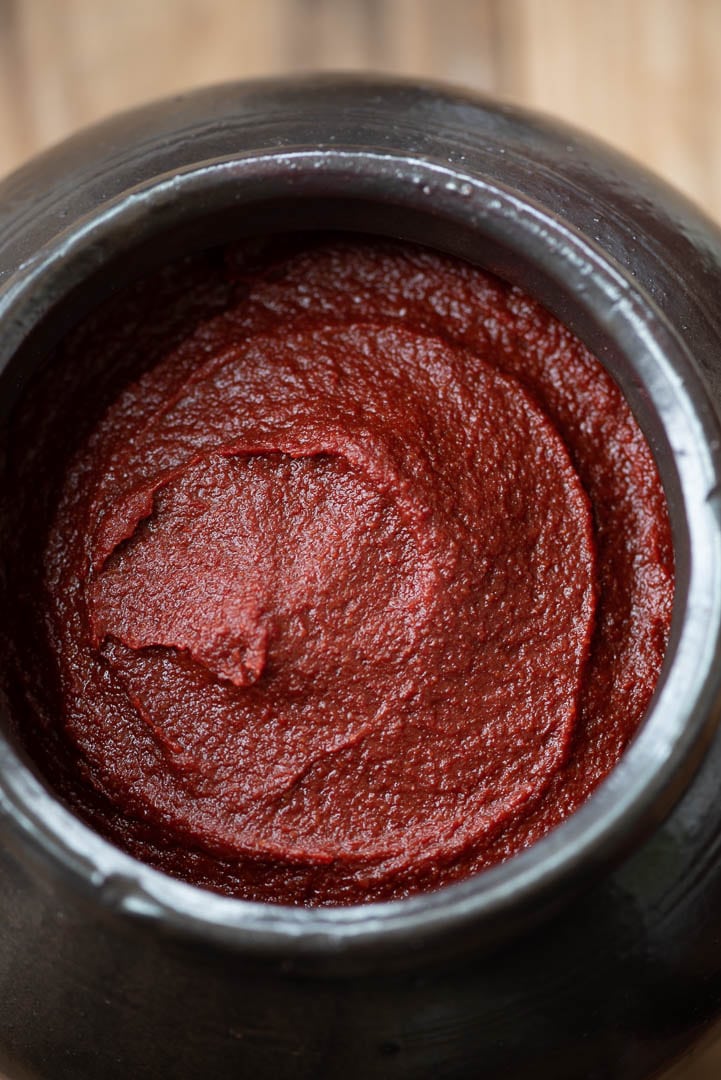 Gochujang Ingredients
While gochujang has many variations, the basic ingredients typically include gochugaru (고추가루, Korean red chili peppers), yeotgireum (엿기름, barley malt), chapssal (찹쌀, sweet rice) or other grains, meju garu (메주가루, fermented soybean powder), and salt. You can find these ingredients in Korean markets or on-line.
Small bags for most of these are usually 500 grams, so I've developed my small batch recipe based on that. The measurements, however, are flexible as long as you adjust the liquid and salt amount accordingly. Also, if you like a larger batch, this recipe is easy to double.
Of course it goes without saying that quality ingredients make good homemade gochujang, so use the best ones you can find.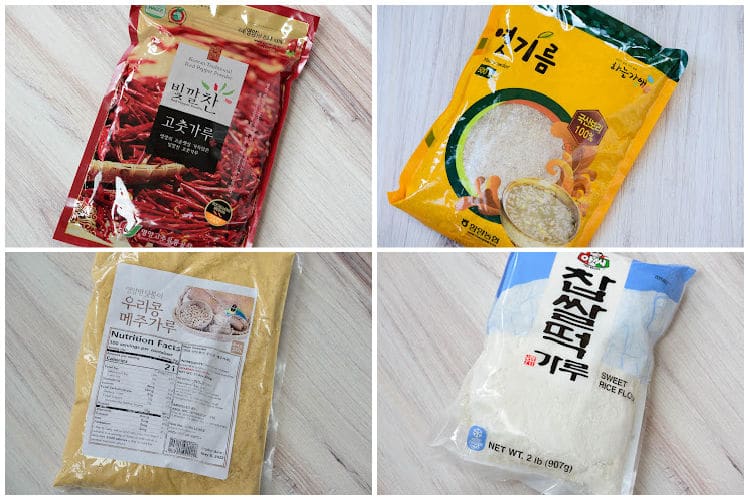 Gochugaru
You may have regular gochugaru for making kimchi or other dishes such as stews and soups. For gochujang, you'll need finely ground gochugaru, which is usually labeled as "고추장용" gochujang yong, meaning for making gochujang or "고운 고추가루" go-un gochugaru, meaning finely ground.
Some gochugaru packages indicate the spicy level, such as botongmat (보통맛), meaning medium spicy, or maeunmat (매운맛), meaning extra spicy. Some are sun-dried (taeyangcho, 태양초), which is preferred by some people.
Yeotgireum (barley malt)
Yeotgireum (엿기름) is barley that has germinated/sprouted and dried through a malting process. Barley malt usually comes in two different types in Korea. The first type is roughly milled with the husks on, and the other type is hulled and ground into white powder. The first type is less processed and traditionally used for making gochujang.
Milled malt is steeped in water, allowing the enzymes to breakdown the complex carbohydrates of the malted grain. The resulting milky liquid, after removing the husks, is boiled down and used to make the base liquid for gochujang. Malt adds a sweet, nutty taste to gochujang and help promote fermentation.
In Korea, barley malt is also used to make jocheong (rice syrup) and sikhye (sweet rice drink).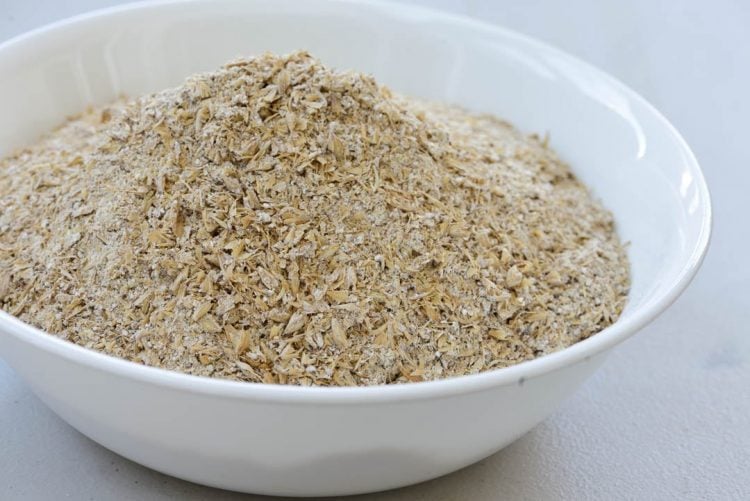 Chapssal (sweet rice)
Sweet rice (aka glutinous rice), called chapssal (찹쌀) in Korean, adds natural sweetness and a sticky texture to gochujang. Some people cook sweet rice first and then combine with malt water, but it's common to mix sweet rice flour with malt water and boiled it down to create slightly thickened and sweetened liquid.
You can find wet sweet rice flour (chapssal garu, 찹쌀가루) in the frozen section of Korean markets. You can also soak sweet rice for hours, drain well, and ground in a blender for this recipe.
Mejugaru
Mejugaru (메주가루) is fermented soybean powder. Meju (메주) is a fermented soybean block that's used to make doenjang (fermented soybean paste). For gochujang, meju is made slightly differently for a milder taste. This adds a savory, funky taste to gochujang and provides enzymes that help develop earthy, sweet taste during fermentation.
Salt
Korean coarse sea salt, Cheonilyeom (천일염), with bittern removed, is best for making jang and salting vegetables for kimchi. Bittern (called gansu in Korean, 간수) is a bitter solution remaining in salt making after the salt has crystallized out of seawater. This type of salt is sometimes labeled jang sogeum (장소금, salt for jang) or jeolimyong (절임용, for salting vegetables). Sometimes, it's noted in the back of the package about the removal of gansu.
Among the ones available around here, Sempio and Chungjungone Coarse Sea Salt packages note that bittern was removed from their salt, so good for jang and kimchi making. They are sea salt from the West Sea tidal flats in Sinan Island, Korea, one of the top 5 world tidal flats and biosphere reserves.
The level of saltiness widely varies depending on the types of salt. Always hold back some and add as necessary. Korean sea salt is the best for this recipe.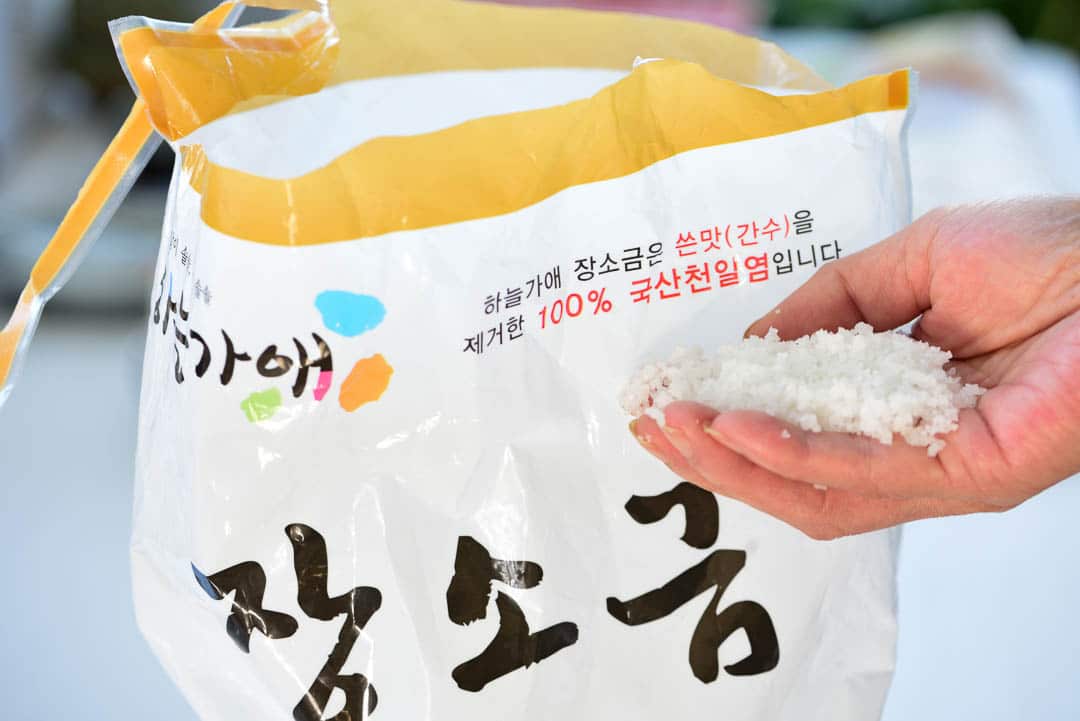 Other common ingredients
These days, it's very common to add rice syrup (jocheong, 조청) and/or plum extract (maesilcheong, 매실청) to gochujang as extra sweeteners. Some people also use soju (rice wine) to prevent gochujang from spoiling or becoming moldy during warm months. Soju will be useful if you're in warm weather locations. These can be stirred in at the end if you like to try it.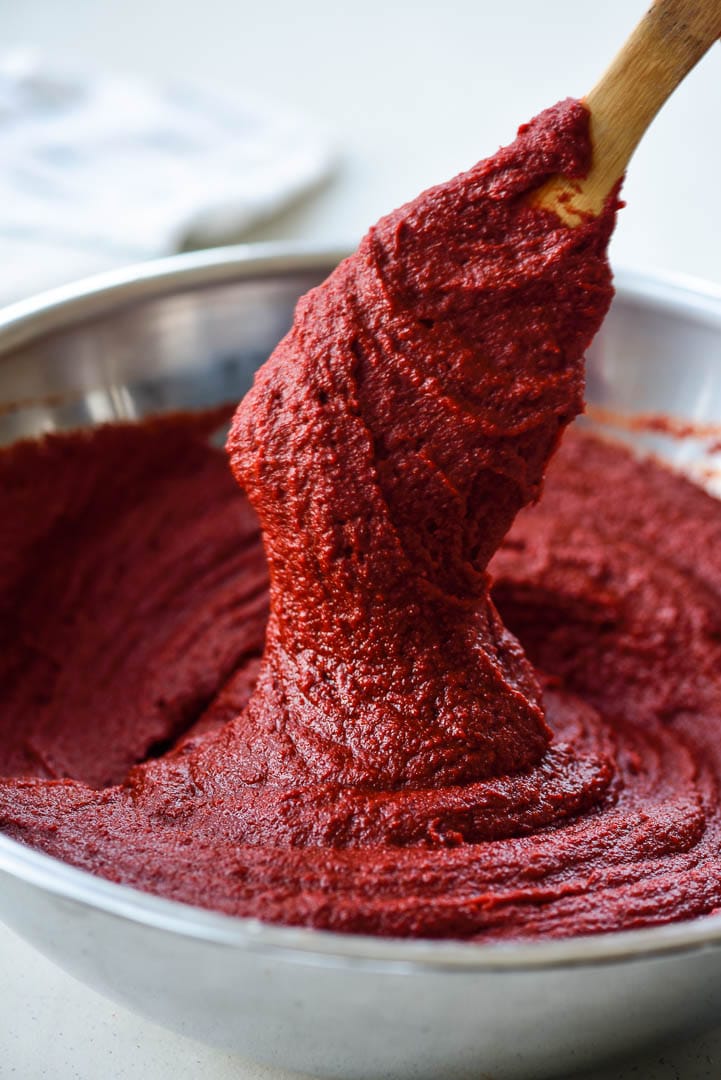 How to make gochujang at home
Here, I'm sharing how to make gochujang the traditional way my mother used to make. In 2018, we made a large batch of gochujang with her. Due to her declining health, she couldn't actually do the work, but directed my father and me what to do every step of the way. She's no longer with us but we still have some gochujang we made with her.
My mother didn't make gochujang as sweet as how it's usually made these days with extra sweetener, but she used a lot of barley malt, which gives gochujang plenty of earthy taste and subtle sweetness. Great for soups and stews! And gochujang is more flexible this way. You can always adjust the sweetness by adding a sweetener of your choice when you're cooking individual dishes with gochujang.
In case you like yours a little sweeter, I've included an optional addition of rice syrup (which is naturally made with barley malt and rice) in this recipe. It will still not be as sweet as some of the commercially available gochujang you've probably had.
While every household has its own recipe for gochujang, the traditional method typically involves making malt water by soaking barley malt, squeezing out milky liquid, and strain. This process is repeated to extract as much malt as possible.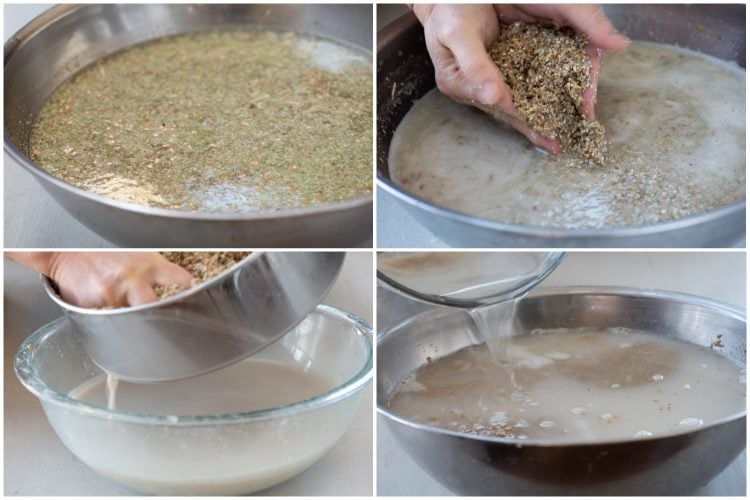 The liquid then is mixed with sweet rice, and boiled down to slightly thick liquid.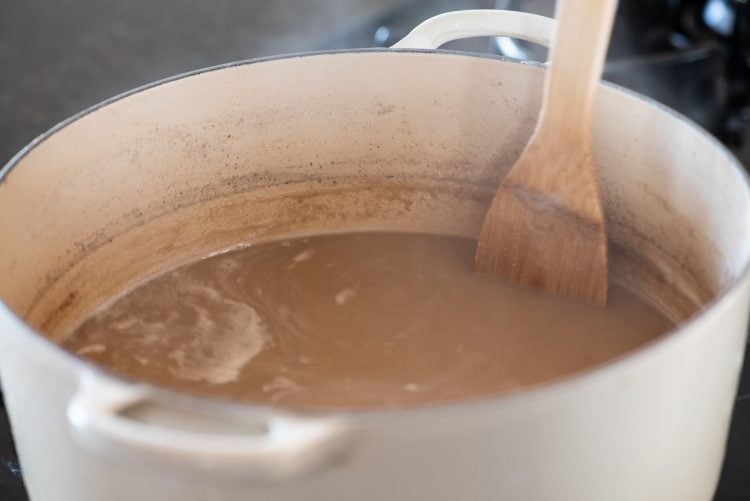 This liquid is combined with salt, mejugaru, and gochugaru until smooth and creamy.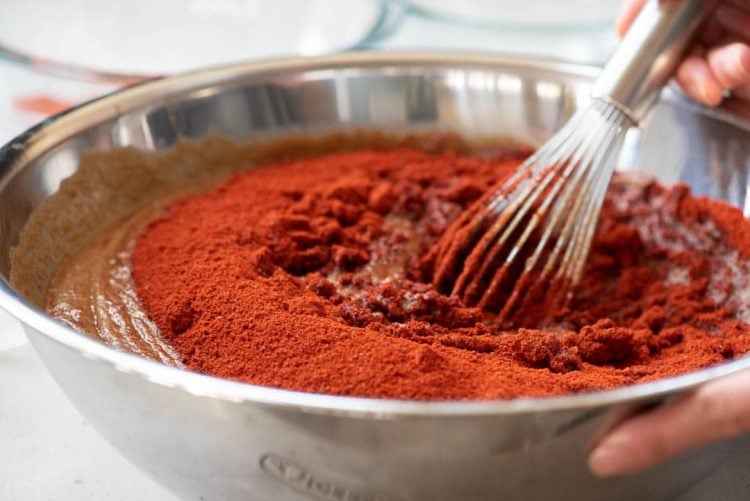 How to store homemade gochujang
Traditionally, gochujang is stored in an earthenware, called onggi (옹기) or hangari (항아리), outdoors in cool temperatures for fermentation. This is why gochujang is made during cold months, usually October to March. On sunny days, remove the lid and allow some exposure to sunlight and close at night and cloudy/rainy days. The opening should be covered with a fine mesh fabric or cheesecloth and secured with a rubber band to keep the bugs away.
If you're living in a warm weather area or made gochujang during warm months, it's better to keep your gochujang in a cool indoor place with plenty of sunlights.
It takes 60 to 90 days or longer to ferment gochujang. After that, you can refrigerate it and start eating. But, it will taste better with more time. Properly made gochujang can keep well for a long time in a cool place or in the fridge.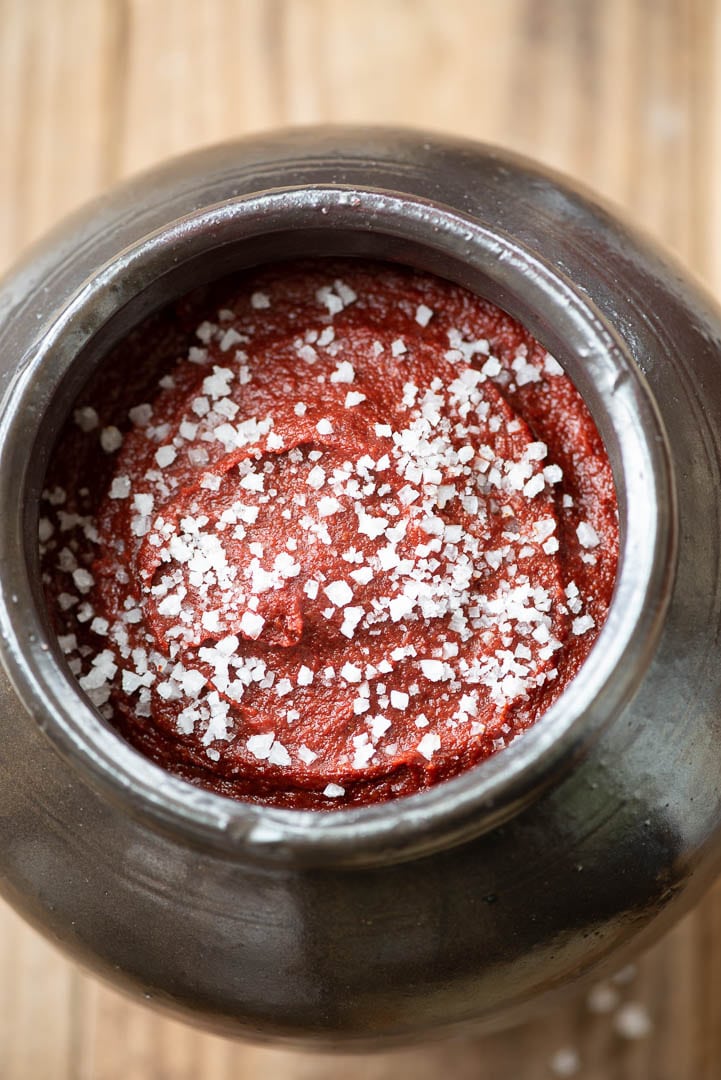 For more Korean cooking inspirations, follow along on YouTube, Pinterest, Twitter, Facebook, and Instagram.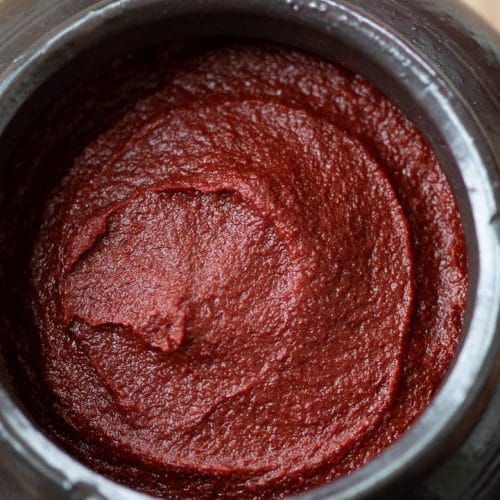 Equipment
2 large bowls

a fine sieve or a medium sieve with cheesecloth

1 large pot

a whisk

a large wooden spoon

a rubber spatula

1 small onggi or jar(s) equivalent to about 3/4 gallon
Ingredients
500

grams

yeotgireum (엿기름)

500

grams

wet chapssal garu (찹쌀) - sweet rice flour

or 2 cups sweet rice soaked and blended - see note 1

250

grams

meju garu (메주가루), fermented soybean powder

250

grams

Korean Cheonilyeom (천일염)

coarse sea salt (bittern removed)

500

grams

finely ground gochugaru, 고추가루

1

cup

jocheong (조청), rice syrup - optional

or masilcheong (Korean green plump syrup) - note 2
Instructions
Place the barley malt in a large bowl. Stir in 10 cups of warm water, and let it sit for an hour or two, up to overnight.

Rub the malt between palms and squeeze out milky liquid. Strain the malt liquid through a fine sieve into another bowl. If you don't have a fine sieve, line a strainer with a cheesecloth. Then, squeeze the malt husks with your hands through the sieve to drain out the remaining liquid. Transfer the liquid to a large heavy bottom pot.

Place the malt husks in the first bowl and add another 10 cups of water. No need for an additional soaking time. Repeat the squeezing and straining process. Transfer the liquid to the pot with the first batch of milky liquid. This will yield about 17 to 18 cups of malt water.

Add the sweet rice powder to the malt water and stir well. Turn the heat on to warm it up. Warm but not too hot to touch. Turn the heat off, and let it sit for two hours. During this process, the enzymes in the malt will break down the starch in sweet rice and convert to sugar.

Turn the heat on to medium and boil the liquid down to a half, stirring once in a while. Measure the depth of the liquid with a wooden spoon or spatula, so you can easily tell when the liquid is reduced to a half. This will take about 2 hours and the resulting liquid will be around 8 to 9 cups. You'll need about 8 cups for this recipe, but a little bit of extra is nice to have just in case. If you're using other optional liquid, you can reduce it further. Stir once in a while. Let it cool down a bit.

While the liquid is still warm, pour 7 cups of the malt liquid into a large bowl, and add the salt. If you're not using Korean sea salt, hold some back and add as necessary after mixing dry ingredients. Stir to dissolve. This is about a cup less than what's required so you can add the rest or optional ingredients as needed.

Using a whisk, stir in the fermented soybean powder and mix well until you see no lumps.

Stir-in the gochugaru and mix very well until there are no big lumps. Continue to stir. You can use a large wooden spoon or spatula this time. If the gochujang is too thick, use more malt liquid or optional rice syrup (jocheong), plum extract, and/or soju to adjust the thickness and sweetness. It should be thin enough to slowly drop from the wooden spoon or spatula like a thick batter. Let it sit for a few hours until the dry ingredients fully absorb the liquid, and salt is completely melted. Adjust the saltiness, sweetness, and thickness as necessary. Gochujang should be a bit too salty to eat as is.

Transfer to a jar(s) or an earthenware -- onggi hangari, if you have one. Lightly sprinkle with coarse sea salt. Cover with a fine mesh fabric or cheesecloth and secure with a rubber band.

Place the lid on. Keep it outdoors in cool temperatures or at room temperature, if cooler, next to a sunny window. On sunny days, remove the lid and allow some exposure to sunlight. For this small batch, it takes 60 to 90 days to ferment. After that, you can refrigerate.
How to sterilize onggi
Clean with warm water, and place it upside down to remove excess water. Then, place it upside down on the stove. Turn the heat to medium to heat it up, and then reduce to medium low. Leave it on the heat for 5 to 7 minutes. Longer for bigger ones.
Notes
How to make wet sweet rice flour: Rinse sweet rice 3 times, soak for 3 to 4 hours, drain well, and ground in a blender as fine as possible.
You can use these ingredients to your taste and/or to adjust the thickness of the paste. The amount required will depend on how thick the paste is at this point and your taste. Soju (Korean rice wine) can also be used to adjust the thickness and to prevent gochujang from spoiling/molding during fermentation. If need to increase the saltiness, you can use soup soy sauce (called gukganjang, 국간장, or Chosun 조선간장) as well. Of course, salt is good, but you will need to stir very well to dissolve it.