I must tell you this recipe had been in draft form since the end of August. I made this stew quite often this past summer. I had a few zucchini plants in my container garden, so I had a constant supply of fresh zucchinis. The season is over, and we just cleaned out the container garden this weekend (I know it was overdue).
My home-grown zucchinis are gone, but stews and soups are definitely here to stay for fall. If you like rich and pungent Korean stews (
jjigae),
such as
kimchi jjigae
and
doenjang jjigae
,
you should add this
gochujang jjigae
(고추장 찌개) to your repertoire.
Gochujang
(fermented red chili pepper paste)
is
a condiment that's spicy, savory, slightly sweet, and pungent. It adds lots of spicy, robust flavors to this simple stew which is made with a few very ordinary ingredients such as zucchini and potatoes. Tofu, mushrooms, onions or radishes would all be great additions to this stew as well.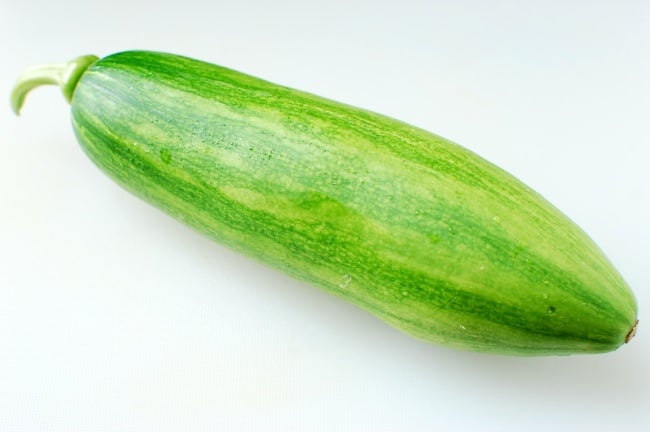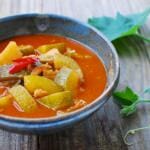 Hobak Gochujang Jjigae (Korean Spicy Zucchini Stew)
Print Recipe
Ingredients
1

medium zucchini

about 10 ounces

1

medium potato

about 8 ounces

1

scallion

1 - 2

green or red chili peppers

1

teaspoon

minced garlic

3

ounces

clam meat

fresh or canned

1-1/2

tablespoons

Korean red chili pepper paste

gochujang

1/2

tablespoon

Korean soybean paste

doenjang

1

tablespoon

soup soy sauce

gukganjang

2

cups

water used to rinse rice

ssalddeummul (see note)
Instructions
Cut the zucchini into about 1/2-inch thick bite sizes and the potato into a little thinner pieces as the potato takes longer to cook. Roughly chop the scallion. Thinly slice the peppers.

Add the water to a small pot. Add the red chili pepper paste, soybean paste, and soup soy sauce. Stir well to dissolve. Bring it to a boil.

Add the potatoes, zucchini, clam meat, chili peppers and garlic.

Cook until the potatoes and zucchini become soft, about 10 minutes. Throw in the scallion with 2 minutes remaining. Serve hot with a bowl of rice.
Notes
The water used to rinse rice is commonly used in Korean stews and soups. Use the water from the second round of rinsing.