Made simply with flour, ginger and sugar, maejakgwa is a traditional Korean sweet confection that's deep-fried and coated with simple syrup. Crunchy and delicious!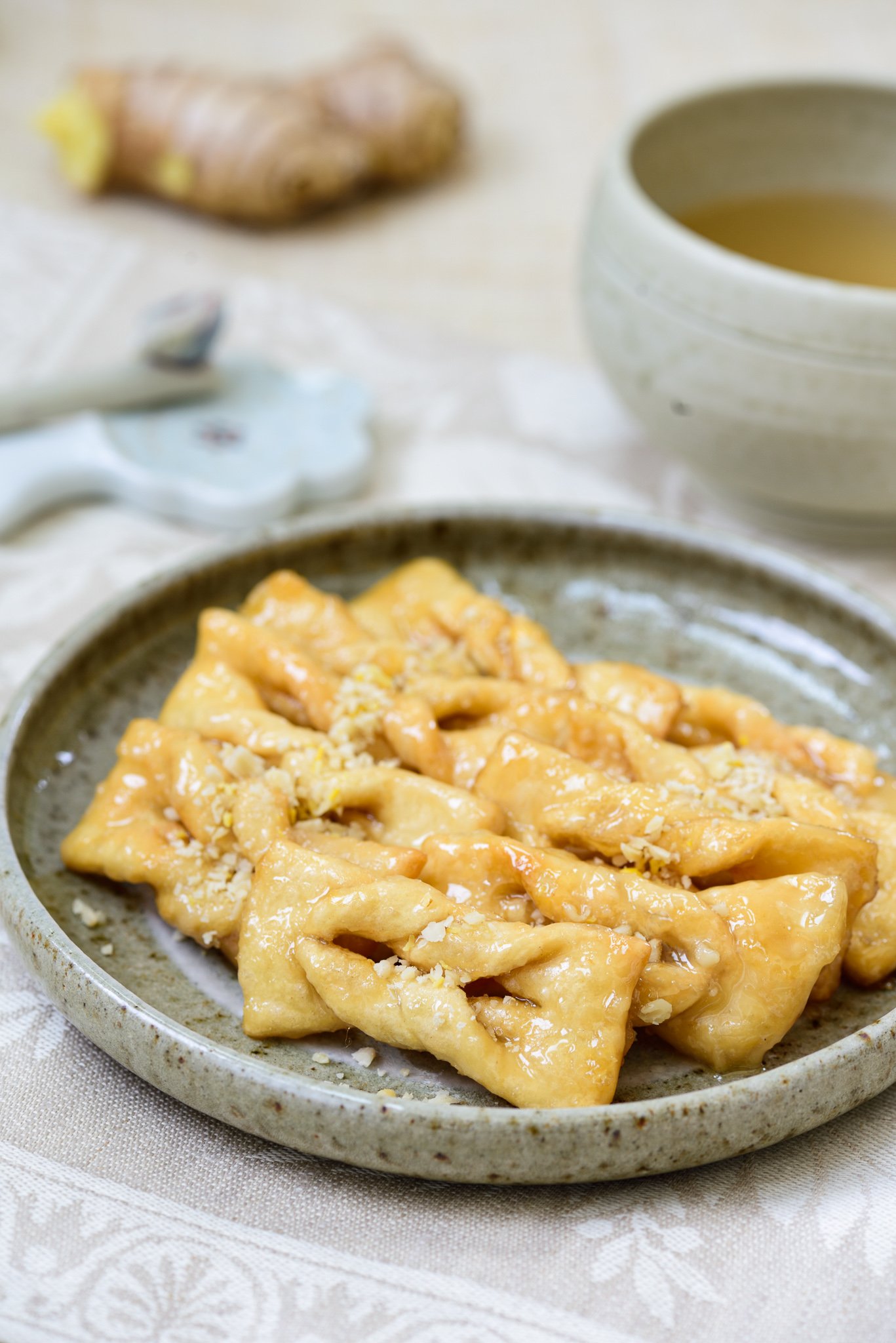 Served on holidays and special occasions, maejakgwa (매작과) is a traditional Korean confection (hangwa) made with ginger-flavored flour dough in a ribbon shape. It's deep-fried, dunked in simple syrup, and typically topped with finely ground pine nuts.
There are similar deep-fried pastries in different parts of the world, but this Korean classic is made simply with flour and ginger without any egg, butter, or baking powder.
The cookie has a couple of other names, but maejakgwa is the most common and poetic name which comes from its shape. Do you see a sparrow on a flower of a plum tree when you look at these cookies? Well, our ancestors did! Mae is from maehwa, a variety of plum trees that's common in Asia, and jak means a sparrow. Gwa means sweet confection.
I first learned how to make these little sweet treats from my middle school home economics class. I don't remember much of the things I learned from that class, but I remember having fun making these cookies and how pretty and crunchy they were.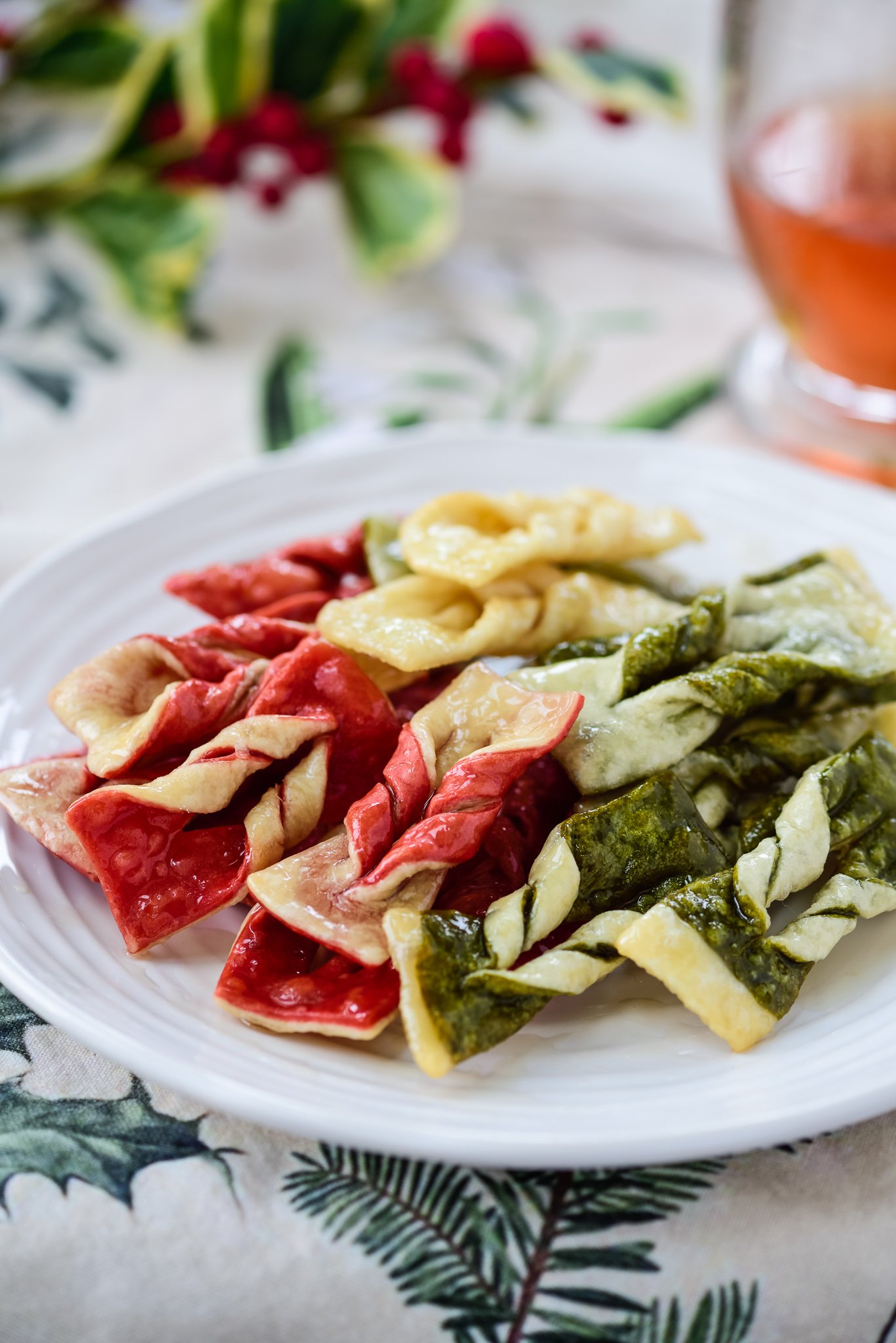 The dough
To make the dough, first make ginger water by mixing grated ginger and water and running it through a sieve. Knead the flour with ginger water and rest the dough for about 30 minutes. For shaping and maintaining the shape, the dough should feel dry and stiff to work with, not very smooth and soft. It will relax a bit after resting.
Roll it into a thin sheet, and then cut into small rectangles. Create a twisted shape by making three slits on each rectangle and then pushing one end through the middle slit. The middle slit should be longer than the other two.
You can make these cookies a little more festive by adding natural coloring. I used beet boiled water for the red dough. Simply boil a couple of beet slices in a little bit of water until the water is sufficiently reduced to dark red liquid. For the green dough, I used green tea powder (nokchagaru, 녹차가루). You can roll the same amounts of two different colors together and make very pretty bi-color cookies.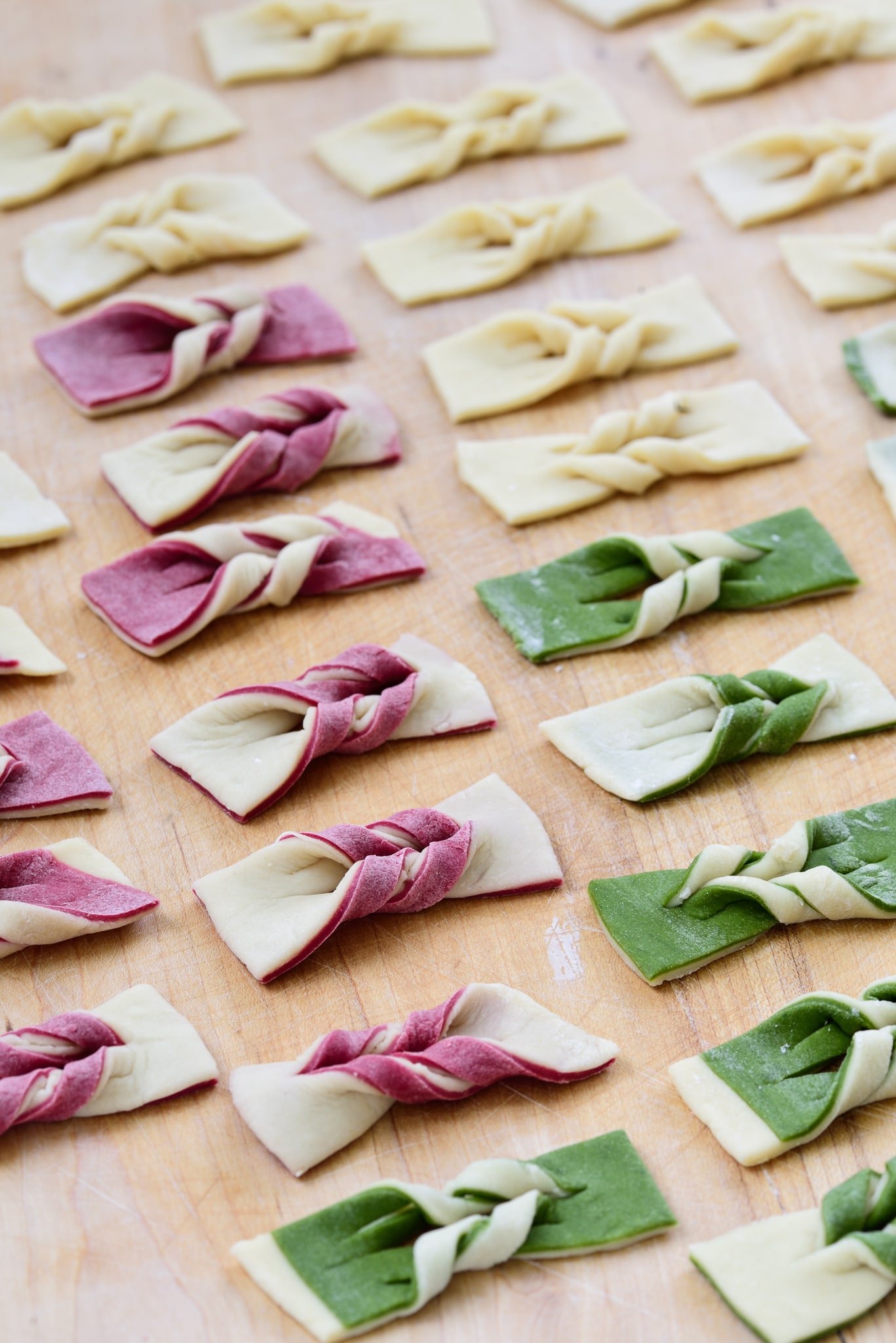 The shaped dough is then deep-fried. For the crispy, crunchy cookie, the dough should be fried at relatively low temperature, about 275°F (135°C) over medium heat, for about 3 minutes for a crunchy texture.
The syrup
You can make simple syrup with sugar and water (1:1 ratio) and simmer for a few minutes. I also add a little bit of corn syrup to keep it from crystalizing. Honey or maple syrup will be a great addition as well. You can flavor your syrup with ginger, cinnamon or citrus zest.
Another option is to dip the cookies in honey, maple syrup or other syrup without making simple syrup. It'll be thicker coating than the simple syrup in this recipe.
More Korean sweet treat recipes
Kkaegangjeong (sesame crunch)
Dalgona (spongy candy)
Hotteok (sweet filled pancakes)
For more Korean cooking inspirations, follow along on YouTube, Pinterest, Twitter, Facebook, and Instagram.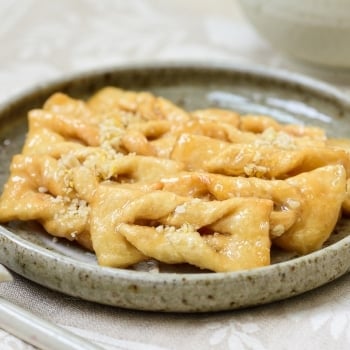 Ingredients
For the ginger water for the dough
1

teaspoon

grated ginger

4

tablespoons

water
For the white dough (24 cookies)
1

cup

flour (about 5 ounces/140 grams)

1/4

salt

4

tablespoons

ginger water
For the syrup (for 24 cookies)
1/4

cup

sugar

1/4

cup

water

see the note

1

tablespoon

corn syrup (or maple syrup, honey, oligo syrup, or rice syrup)
Other ingredients
Oil for frying (about 1 cup using a small skillet)

1

teaspoon

pine nuts, finely chopped - optional
For the green dough (12 cookies) - optional
1/2

cup

flour (about 2.5 ounces/70 grams)

⅛

teaspoon

salt

1

teaspoon

green tea powder

2

tablespoons

ginger water
For the red dough (12 cookies) - optional
1/2

cup

flour (about 2.5 ounces/70 grams)

⅛

teaspoon

salt

2

tablespoons

beet water flavored with ginger
Instructions
Make ginger water by adding the grated ginger to 4 tablespoons of water. Run it through a sieve to remove the fibrous part.

Sift the flour and salt together. Add 4 tablespoons of ginger water, and mix it well. Knead with the heel of your hand until the dough comes together without visible flour in the dough and the bowl. Add a little more water if necessary, a teaspoon at a time. It should feel dry and stiff for easy shaping of cookies. Cover with a plastic wrap, and let it rest for 30 minutes. After resting, the dough will feel slightly softer.

Over medium low heat in a small saucepan, bring the sugar, syrup and water to a boil over medium low heat. Continue to simmer until the syrup is reduced to half, about 4 to 5 minutes. Remove from the heat. See the note.

Flour a cutting board. Cut the dough (if used 1 cup of flour) into two pieces for easier handling. Flatten one piece to a small rectangle. Wrap the other one until ready to use. Roll the flatten one with a rolling pin to make a thin rectangle, about 5 x 8-inch.

Cut the rectangle in half lengthwise, and then cut each half into about 6 1-inch small rectangles.

Fold a piece in the middle. From the folded side, make a slit in the middle, and then a shorter slit on each side of the middle slit.

Unfold it, and push one end through the middle slit, wiggling it gently to shape it. Repeat with all pieces. Repeat steps 4, 5, 6 and 7 with the other half of the dough from step 4.

Pour about 1 inch of oil into a heavy bottom pan. When the oil is hot (275°F/135°C), drop the pieces in one at a time. Cook for about 3 minutes. Remove and briefly set them on a wire rack or in a strainer.

Coat with the syrup while still warm. Sprinkle with the optional pine nuts on top.
For the bi-color dough - optional
For the white/green dough (1 batch): Make ginger water using step 1. Make 1/2 batch of white dough using step 2. Do the same thing for the green dough with an addition of green tea powder.

For the white/red dough (1 batch): Make ginger water using step 1. Make 1/2 batch of white dough using step 2. Boil a slice of beet in 1/4 cup of water until the liquid is reduced to a half. Add the remaining 2 tablespoons of ginger water from step 1 and simmer for a minute. Make the red dough using step 2 but with beet water.

Put the same amounts of two different color doughs together and roll it out, cut, and shape, following steps 4 to 7.
Notes
You can make ginger water as done for the dough in step 1

or drop a couple of ginger slices to make ginger-flavored syrup.