Buchu (garlic chives) kimchi is one of the easiest kimchi types you can make! ·The distinct flavor of garlic chives is wonderful when mixed with kimchi seasonings.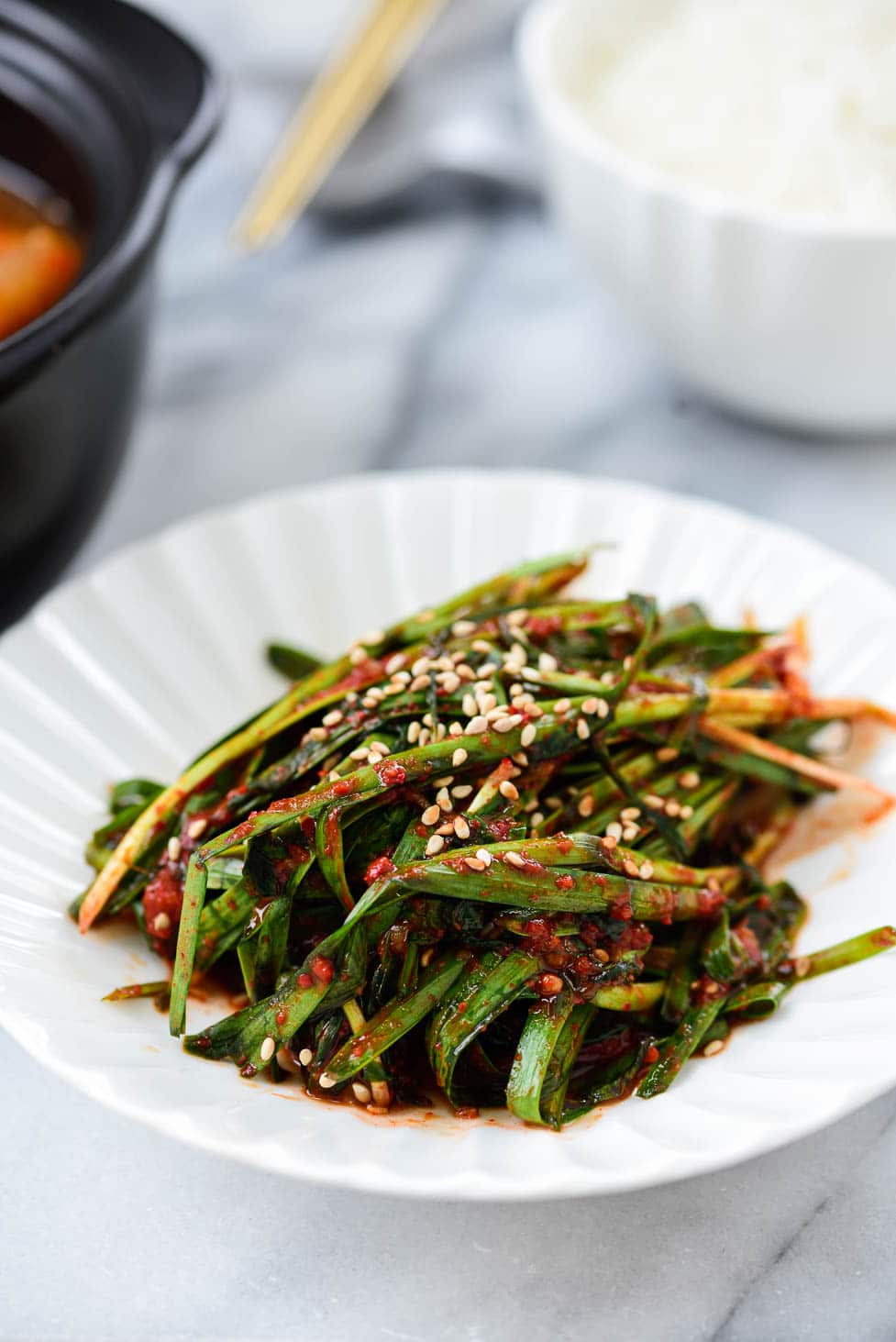 This kimchi made with garlic chives (buchu, 부추) is quick, easy and full of unique flavors! Buchu kimchi is a common summer kimchi that is especially popular in Korea's southern provinces (Jeolla-do and Gyungsang-do).
Garlic chives are distinguished from regular chives by their flat leaves and distinct flavor that's like a mild onion with a delicate garlic flavor.
Here in the U.S., Chinese garlic chives are more common, but Korean garlic chives also appear in Korean markets in the spring and summer. Korean garlic chives are thinner and tenderer so they are better for making kimchi.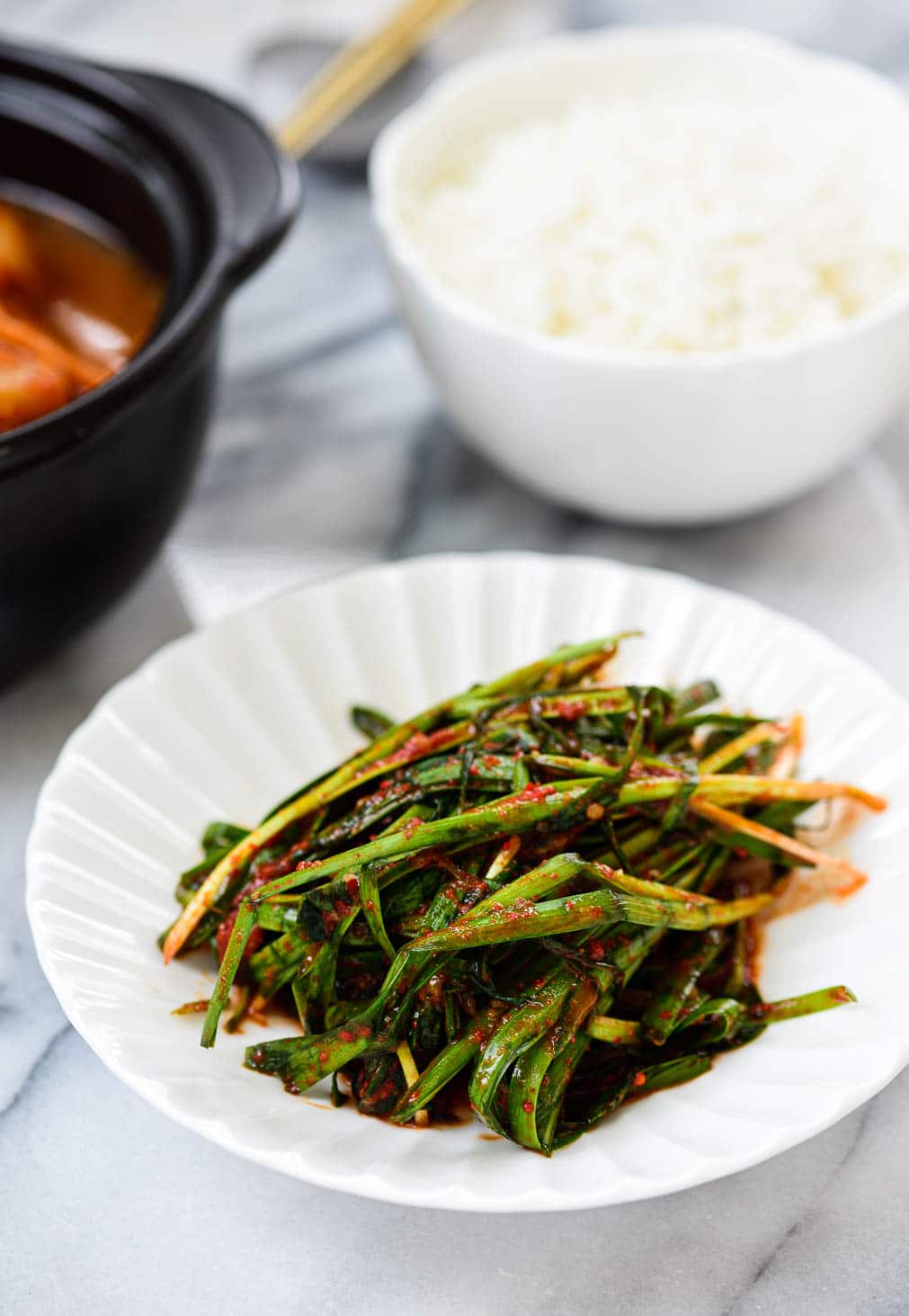 I've been growing garlic chives in my back-yard garden, which provides a steady supply from spring to early fall. The perennial plant is hardy and easy to grow. If you can't find Korean chives, by all means, use the Chinese variety. Look for ones with thin and narrow blades.
Buchu kimchi is typically seasoned with myulchiaekjeot (fish sauce made with anchovies). I like to add a little bit of saewoojeot (salted shrimp), but it can be omitted, if unavailable. Simply use a little more fish sauce. No pre-salting is necessary this kimchi.
If you like, add a little bit of minced garlic and/or ginger. I don't usually use garlic or ginger to let the natural flavor of the garlic chives come through better.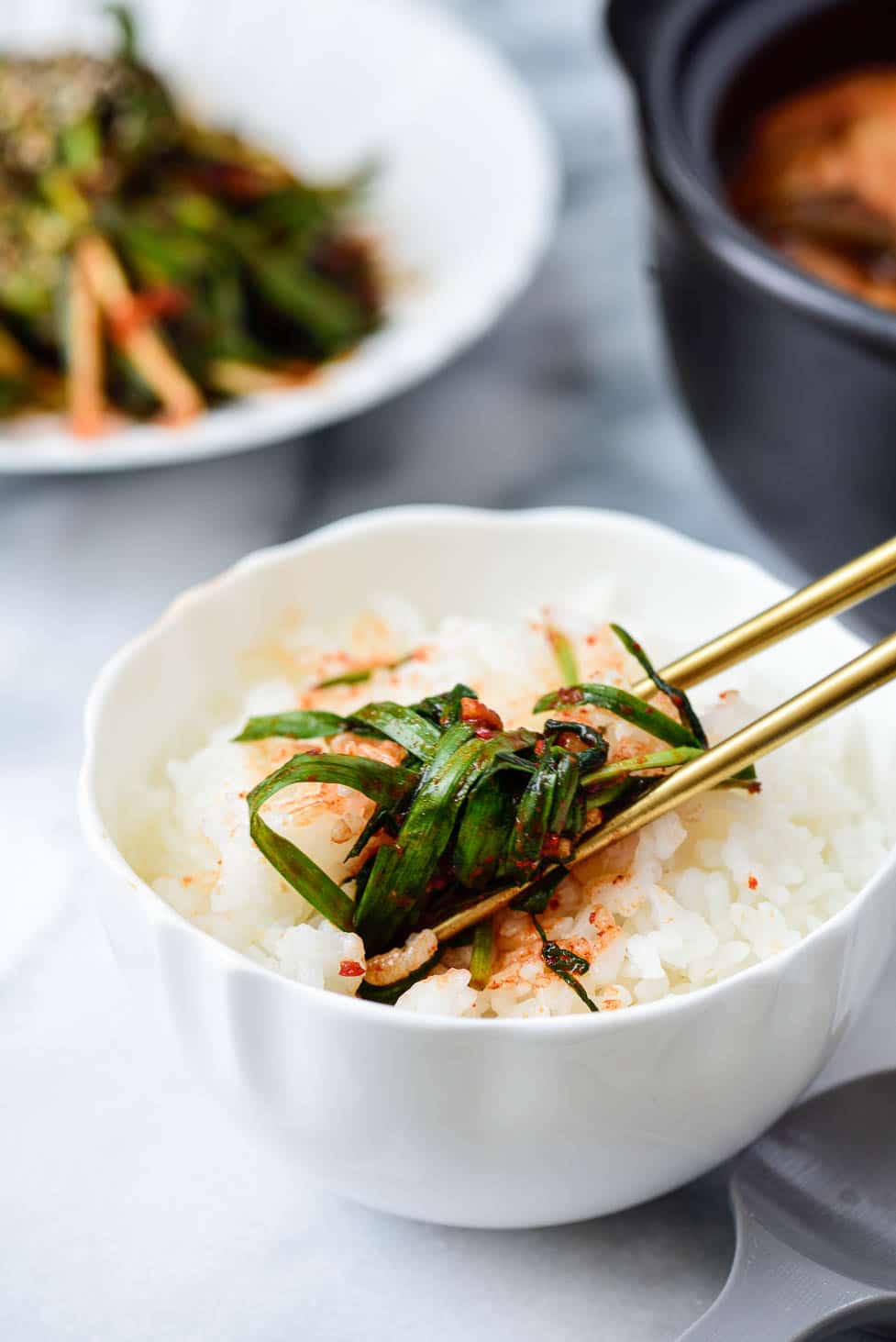 For more Korean cooking inspirations, follow along on YouTube, Pinterest, Twitter, Facebook, and Instagram.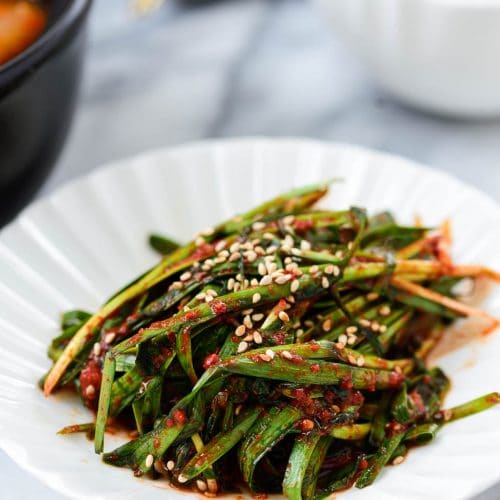 Ingredients
1

pound

450 grams buchu, 부추 (garlic chives)

Seasonings:

1

tablespoon

glutinous rice flour (aka sweet rice flour)

4

tablespoons

gochugaru (Korean red chili pepper flakes)

3

tablespoons

myulchiaekjeot (fish sauce)

1

tablespoon

saewujeot (salted shrimp)

finely chopped (or use more fish sauce)

1

teaspoon

sugar

or more to taste

1

teaspoon

sesame seeds - optional
Instructions
Whisk together the glutinous powder and 1/2 cup of water. Simmer over low heat, stirring occasionally, until it thickens to a thin paste. Let it cool. Yields about 4 tablespoons.

Wash the chives thoroughly a couple of times, gently shaking them in the water to get out any dirt between the blades. Drain. Cut the chives into 2 or 3 sections crosswise.

Mix all the seasoning ingredients along with 1/2 cup of water in a bowl. Add to the garlic chives.

Gently rub the seasoning mixture all over the garlic chives to evenly coat them. Let stand at room temperature for 2 to 3 hours until the chives wilt and reduce in volume. Transfer to an airtight container or a jar and refrigerate. Buchu kimchi can be eaten right away, but the flavor develops as it ferments. It will keep well for 2 to 3 weeks in the fridge.
This buchu kimchi recipe was originally posted in June 2013. I've updated it here with new photos and a recipe card.