This stir-fried Korean fish cake is a simple side dish (banchan) that's highly popular at home and restaurants. Learn how to prepare two different ways – mild and spicy.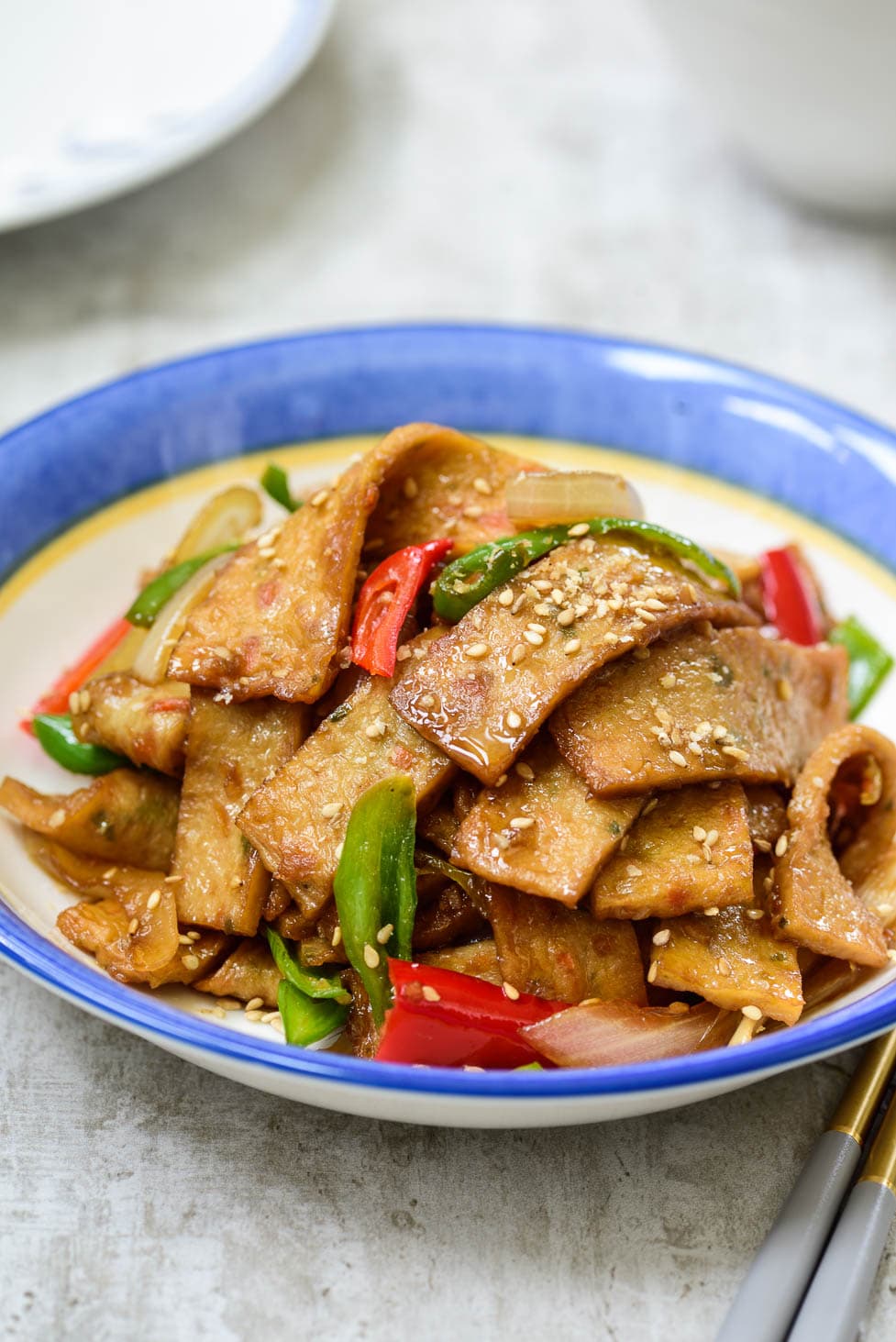 Eomuk (어묵) is processed seafood made with pureed fish. It translates to fish cake, but obviously not the fish cake known in Western cooking.
There are various dishes made with eomuk, including Eomuk soup which is hugely popular as street foods in Korea. This eomuk bokkeum (어묵 볶음) is a staple side dish at home and also commonly served at restaurants. It's a stir-fried dish that's quick and easy to prepare.
Korean fish cake
Busan, a southern coastal city, is famous for the most delicious eomuk, so I normally buy the ones made in Busan. Outside Korea, you can find them in the frozen section of Korean markets or delivered frozen from on-line Korean shopping.
There are various types and shapes of fish cakes, and you can use any type or shape for this eomuk bokkeum recipe. Slice them if they are thick so the sauce can easily penetrate.
The thin rectangle shape fish cake is most commonly used for this dish. It's the type of eomuk we grew up with before the eomuk industry became highly sophisticated. It's also the type commonly used in gimbap and tteokbokki.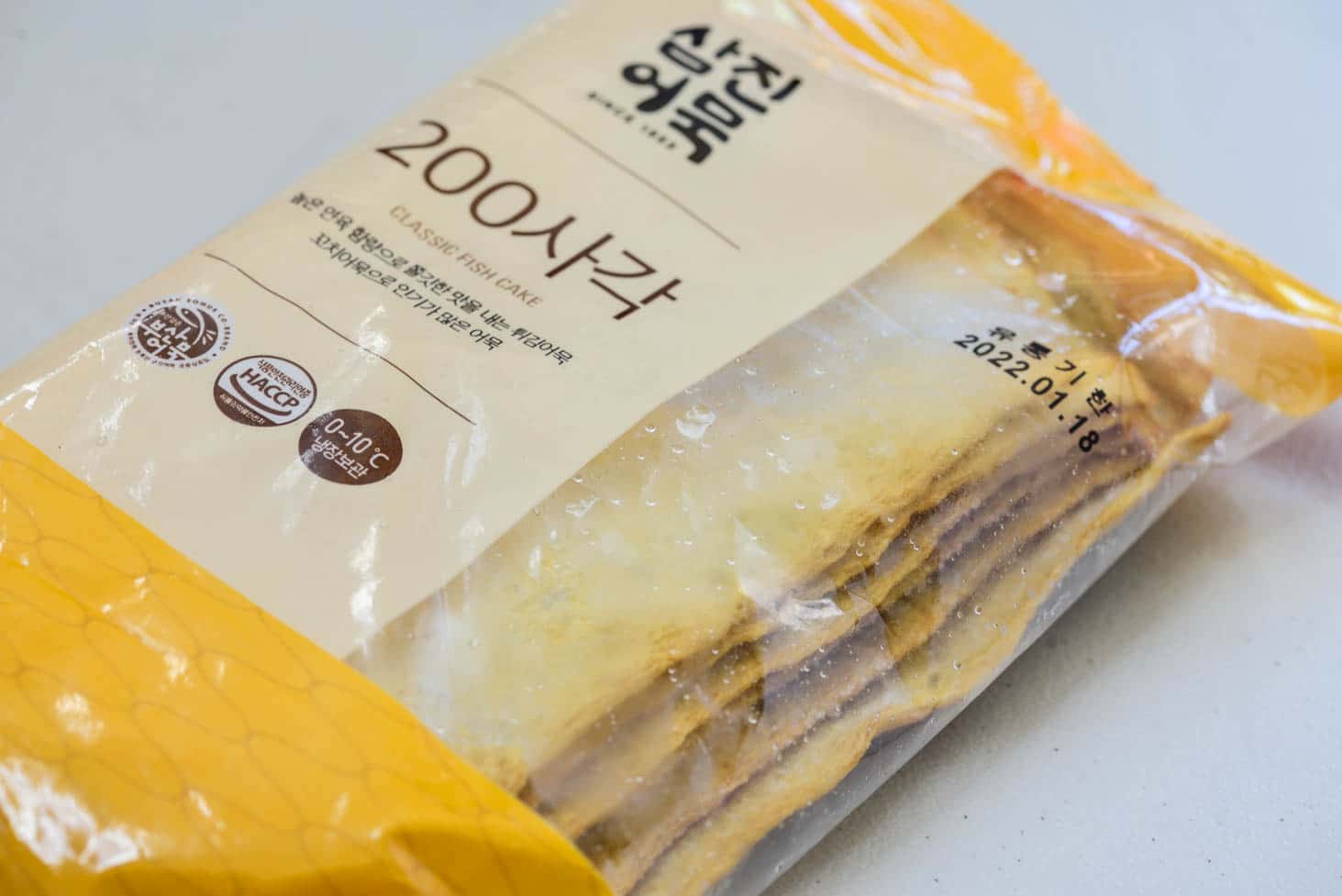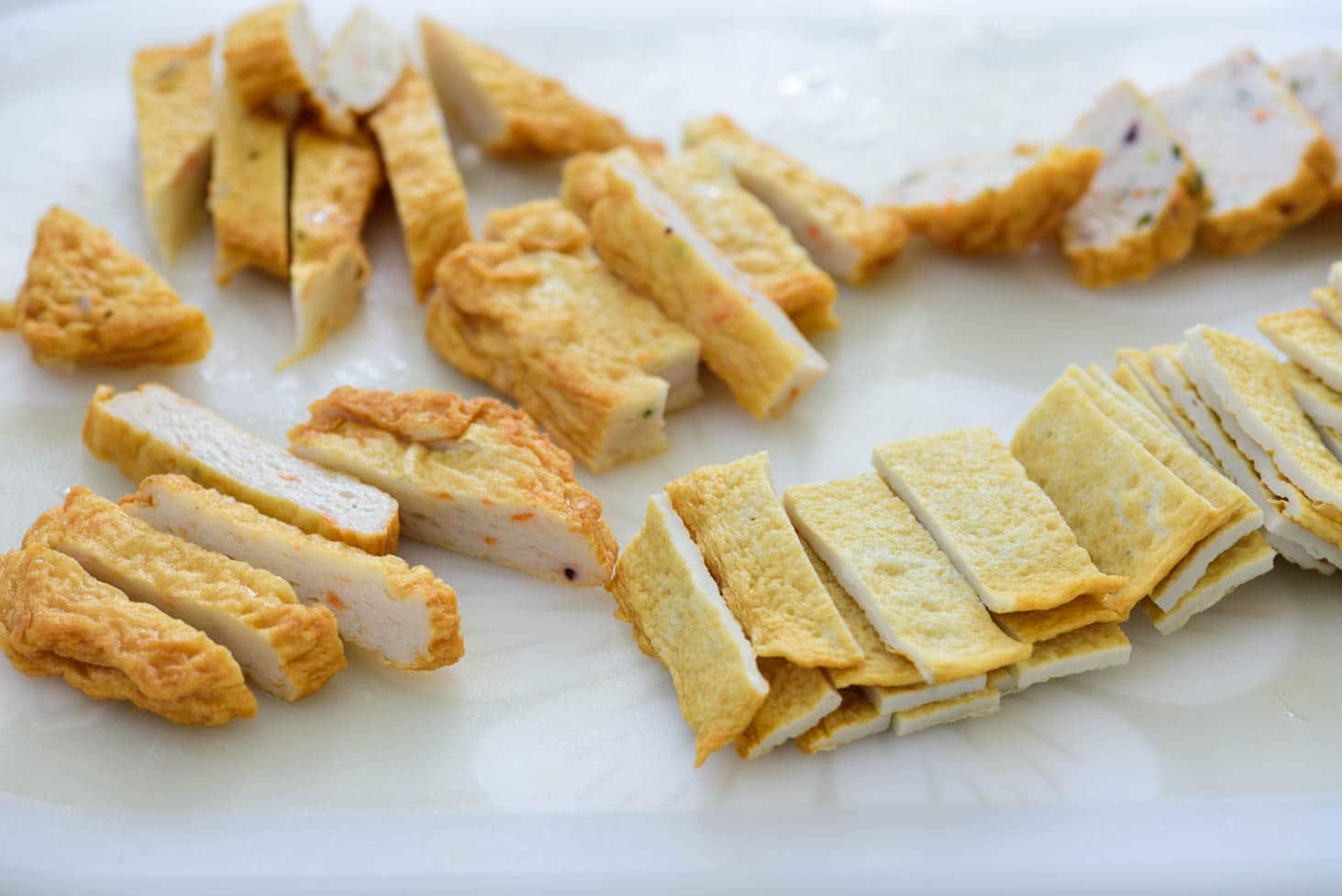 How to make eomuk bokkeum
While it's not absolutely necessary, quick blanching of the fish cake in boiling water removes excess surface oil and softens them.
For vegetables, I usually use onion and scallions along with some colorful veggies such as chili peppers, bell peppers, or carrot depending on what I have in my fridge.
You can make it mild or spicy with this recipe. Simply add some gochugaru (Korean red chili pepper flakes) to the sauce to make it spicy.
Watch how to make it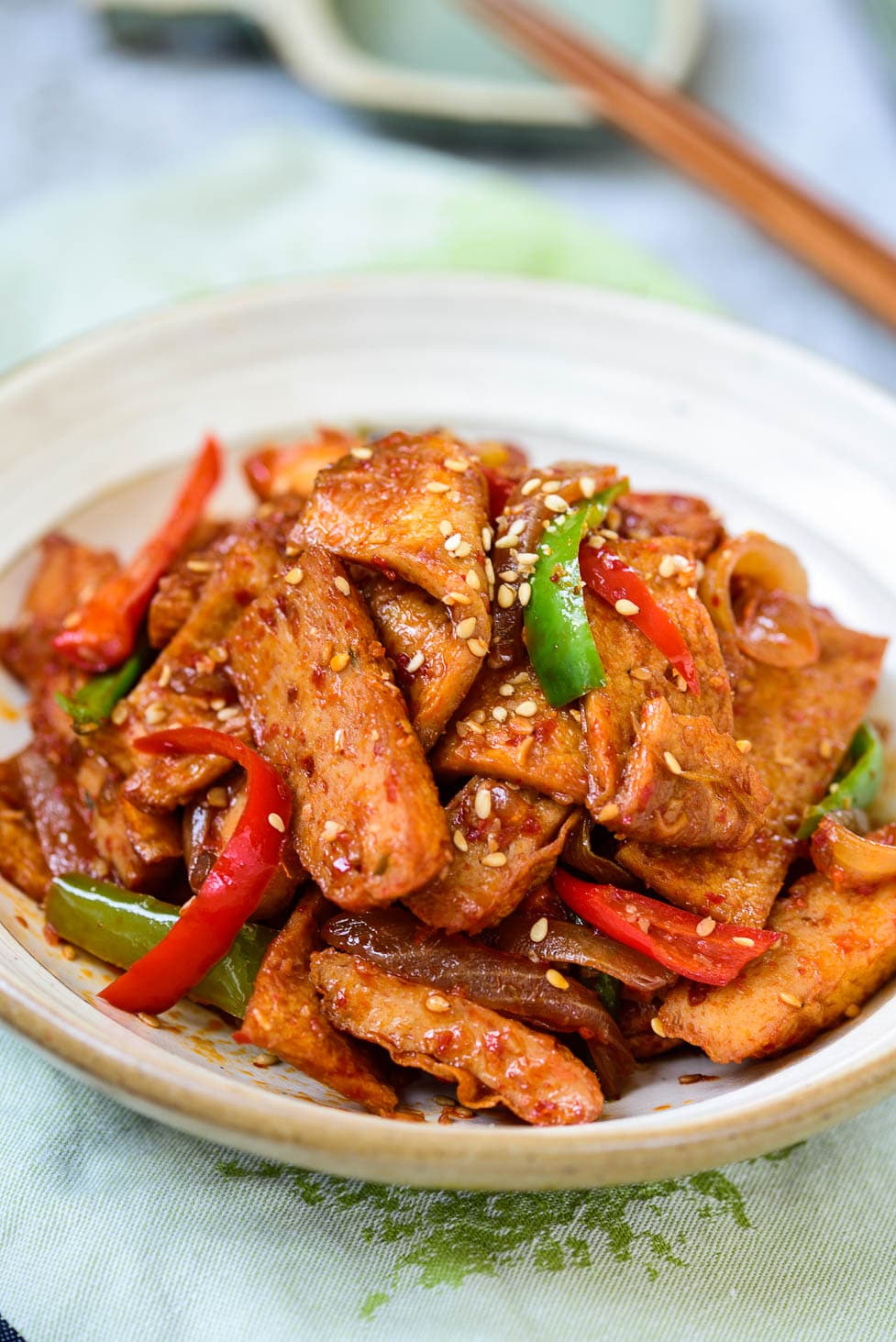 For more Korean cooking inspirations, follow along on YouTube, Pinterest, Twitter, Facebook, and Instagram.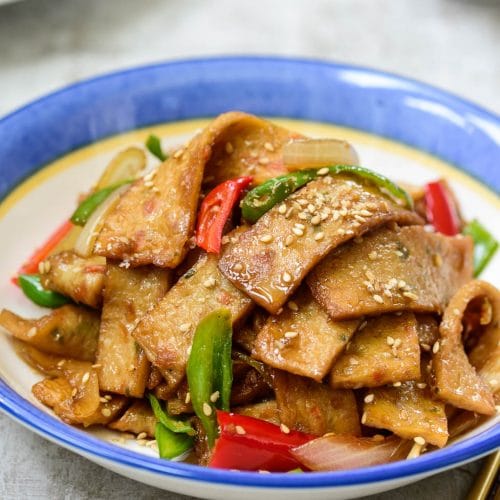 Ingredients
8

ounces

eomuk (어묵), fish cake (about 4 sheets)

1/4

medium onion

1

teaspoon

minced garlic

1/2

scallion

1

red chili pepper (or 1/4 red bell pepper)

(or 1/2 carrot)

1

green chili pepper (or 1/4 green bell pepper)

oil for stir-frying
Sauce Ingredients (see note)
2

tablespoons

soy sauce

1

tablespoon

rice wine (or mirin)

1

teaspoon

sugar (or two teaspoons if you like it sweeter)

pinch

black pepper

2 to 3

teaspoons

gochugaru (Korean red chili pepper flakes) - only for the spicy version
Instructions
Bring a medium pot of water to a boil and turn the heat off. Plunge the fish cake for 30 seconds. Drain and cool. This step removes excess oil and softens the fish cake, but you can skip it if you want.

Cut the fish cake into bite size pieces. Thinly slice the vegetables.

Heat a non-stick pan with 2 tablespoons of oil over medium high heat. Add the garlic, onion, and scallions, and cook for a minute. Reduce the heat to medium. Add the fish cake and chili peppers, and stir-fry for about 1 minute.

Add the sauce ingredients over the fish cake and vegetables. Stir well, and cook until the sauce is well distributed and absorbed and the fish cake and vegetables are tender, about 1 minute.
Notes
You can combine all the sauce ingredients in a small bowl, if you feel more comfortable than adding it directly to the pan while cooking.
This recipe was originally posted in April 2015. I've updated it here with new photos and minor changes to the recipe.