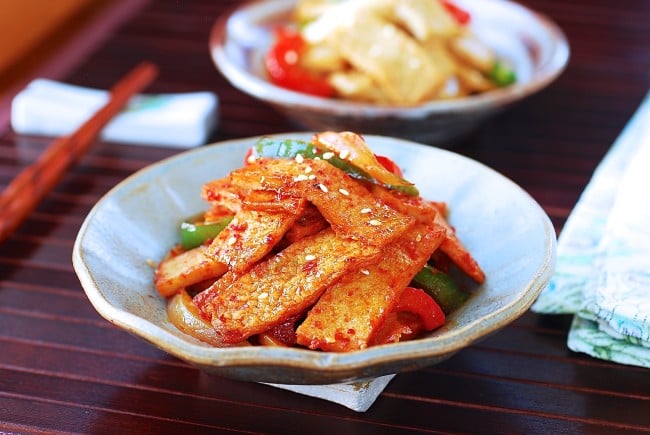 Eomuk (어묵) is processed seafood made with pureed fish. It translates to fish cake, but obviously not the fish cake known in Western cooking. There are various dishes made with eomuk, which are hugely popular as street foods in Korea, such as eomuk soup sold in street carts. Eomuk bokkeum (어묵 볶음) is a staple side dish at home. It's a stir-fried dish that's quick and easy to prepare.
Busan, a southern coastal city, is famous for the most delicious eomuk, so I normally buy the ones made in Busan. Outside Korea, you can find them in the frozen section of Korean markets. There are various types and shapes of fish cakes, and you can use any type or shape for this eomuk bokkeum recipe. Slice them if they are thick so the sauce can easily penetrate. However, the thin rectangle shape eomuk is most commonly used for this dish. It's the type of eomuk we grew up with before the eomuk industry became highly sophisticated. It's also the type commonly used in gimbap and tteokbokki.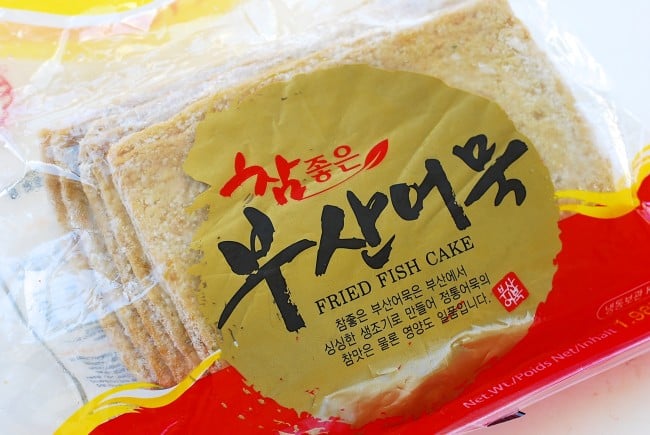 While it's not absolutely necessary, quick blanching of the fish cakes in boiling water removes excess oil and softens them.
I used onion and bell peppers here to accompany the fish cake because I happened to have some in my fridge, but I sometimes make it with onion, carrot, and scallion. You can substitute bell peppers with green and red chili peppers if you like.
You can make it mild or spicy with this recipe. Simply add some gochugaru (Korean red chili pepper flakes) to the sauce to make it spicy.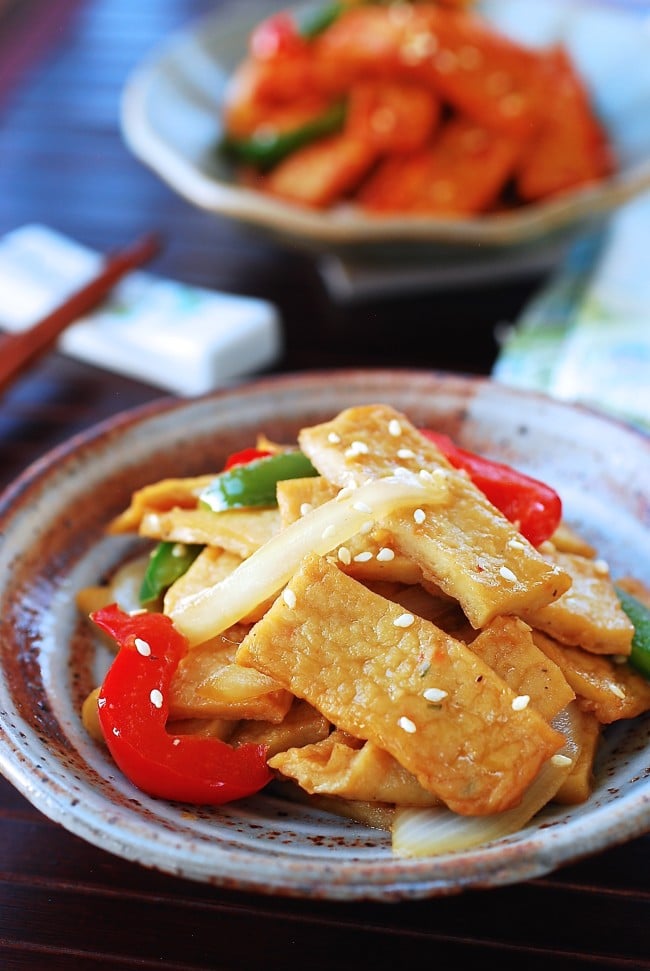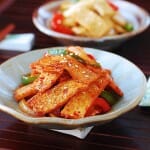 Ingredients
4

sheets eomuk

fish cake

1/4

red bell pepper

1/4

green bell pepper

1/4

small onion
Sauce Ingredients
2

tablespoons

soy sauce

1

tablespoon

rice wine

2

teaspoons

sugar or corn syrup

1/2

teaspoon

minced garlic

pinch

black pepper

2 to 3

teaspoons

gochugaru

Korean red chili pepper flakes - only for the spicy version