Ganjang gejang is a traditional dish that's made by marinating fresh raw crabs in a mild soy-sauce based brine. Your bowl of rice will be gone in no time as you enjoy sucking the flavor-packed crab meat out of the shell.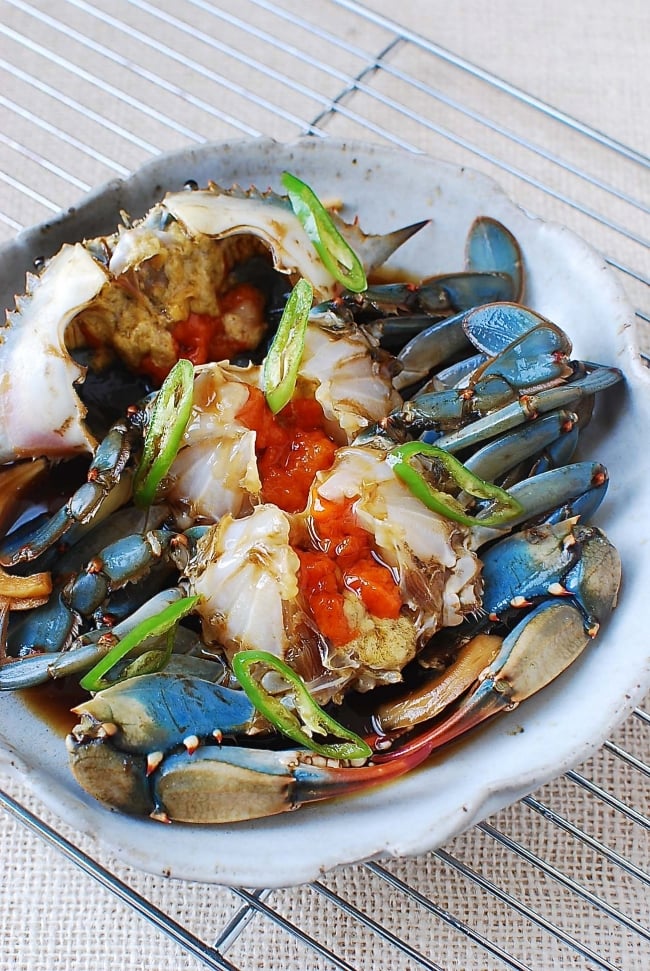 What is gejang?
Gejang (게장) is a traditional dish that's made by marinating raw crabs in soy sauce. Historically, a very salty soy sauce brine was used as a way of preserving the crabs for a long time. Nowadays, gejang is enjoyed for its deliciously savory taste, so fresh crabs are marinated in a mild soy sauce-based brine and usually eaten within a few days. This modern version is enormously popular in Korea. The soy sauce-based gejang is also called ganjang gejang (간장게장) to distinguish it from a spicy version, which is another modern concoction, called yangnyeom gejang(양념게장).
In my family, two of us are big fans of gejang. When I was pregnant with my first child, gejang was what I craved the most. Interestingly, my first born loves gejang. During his visit to Korea, he waited 45 minutes in line outside on a hot summer day to eat at a restaurant well known for its gejang. I wonder if his love for gejang has anything to do with my pregnancy cravings.
Gejang is eaten with a bowl of rice. Koreans even refer to this dish as a "rice thief" (밥도둑). Your bowl of rice will be gone in no time as you enjoy sucking the flavor-packed crab meat out of the shell. Be sure to leave a spoon or two of rice to mix with the roe and tomalley in the top shell. The crab infused brine is also delicious mixed with the rice or as a sauce for other dishes.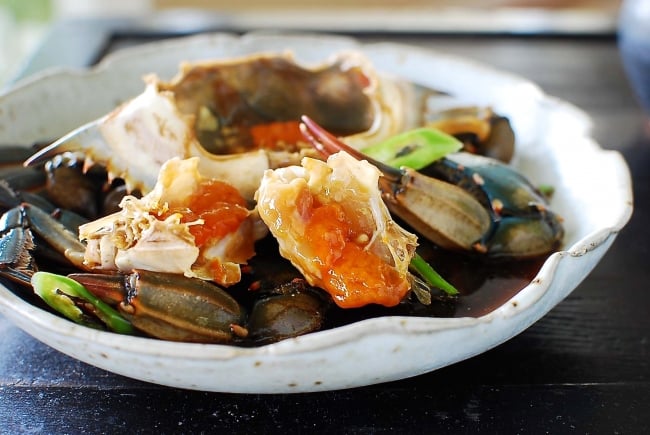 How to make gejang
In Korea, gejang is most commonly made with a crab species called, kkotge(꽃게), aka horse crab. The Korean name literally translates into "flower crab". Here on the east coast of the U.S., we have blue crabs. I started this gejang post earlier in the summer, when the peak season for Chesapeake Bay blue crabs had just started. But even now, I am still able to find fresh female crabs with roe.
We Koreans prefer female crabs for making gejang, but you can also use male crabs, especially in the fall when they are fat and bountiful. As is the case with the consumption of any raw seafood, be sure to use only the freshest crabs.
The method for making ganjang gejang is relatively simple. Dealing with the live crabs will be your biggest challenge. However, it's very common in Korea to freeze live crabs since fresh crabs degrade very quickly. I always put them in the freezer for a while for easier cleaning.
To make the brine, Korean cooks tend to use a wide variety of aromatic ingredients. The goal is to eliminate the raw, fishy taste while enhancing the flavor of the crabs at the same time. The brine should be flavorful, but not overpowering and too salty.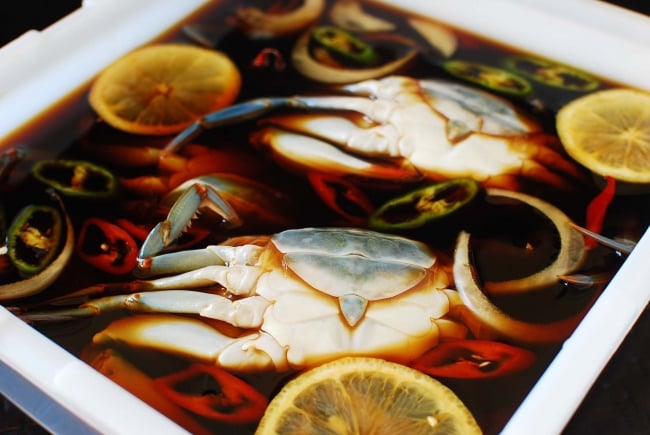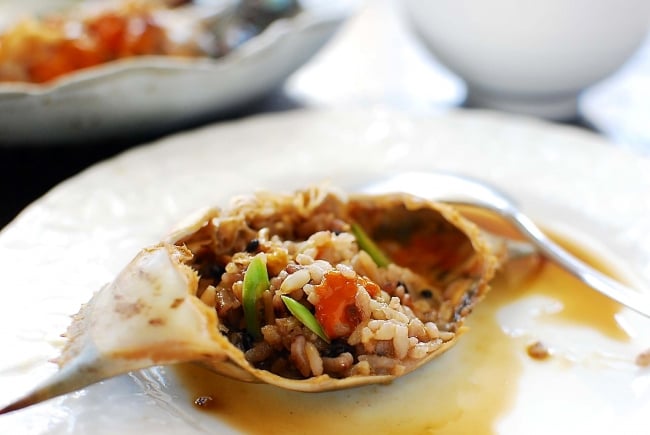 For more Korean cooking inspirations, follow along on YouTube, Pinterest, Twitter, Facebook, and Instagram.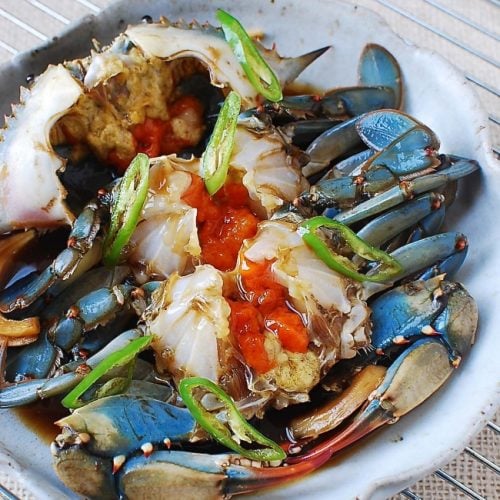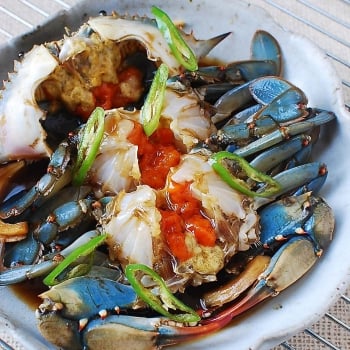 Ganjang Gejang (Raw Crabs Marinated in Soy Sauce)
Side Dish
Print Recipe
Ingredients
5

medium fresh blue crabs or kkotge

about 2 pounds
For the brine:
2

cups

soy sauce

1/2

cup

rice wine

or mirin

6

cups

water

3

tablespoons

sugar

adjust to taste

1/2

medium onion

roughly sliced

5 - 6

plump garlic cloves

3 - 4

thin ginger slices

about 1-inch round

1

piece

dried kelp

dashima (about 5-inch square)

1

small apple

roughly sliced (or 1/2 small Korean/Asian pear, if in season)

1

bay leaf

1/2

teaspoon

whole black peppers

2 to 3

small dried whole red chili peppers
For the garnish:
2 - 3

green and/or red chili peppers

thinly sliced

a few thin onion slices

3

thin lemon slices
Instructions
Put the live crabs in the freezer for an hour or two (longer is fine as well), unless you are comfortable with handling live crabs.

Meanwhile, bring all the marinade ingredients to a boil over medium high heat. Reduce the heat to medium low, and continue to boil, covered, for about 20 minutes. Remove the kelp after about 10 minutes of boiling. Strain the brine. Discard the fruit and vegetables. Cool completely, and then refrigerate until ready to use.

Clean each crab thoroughly with a kitchen brush. Drain well in a colander in the fridge.

Place the crabs in an airtight container or jar. Add the chili pepper, onion and lemon slices. Pour the brine over the crabs. Make sure all the crabs are submerged. Weigh them down, if necessary, with a small bowl or plate that fits inside the container. Refrigerate.

After one day, strain the brine into a pot (and put the crabs back in the fridge). Bring the brine to a boil over medium heat, and boil for 3 to 4 minutes. Wait for the brine to completely cool, and then pour it back over the crabs. You can skip this process, but it enhances the flavor of the brine and helps the crabs to last longer.
Notes
The crabs are ready to eat after two to three days of preparation. Separate the top shell and break the body in half before serving. Use a crab or nut cracker to break the claws.
If left in the brine for too long, the crabs can get too salty, and the meat will start to dissolve. It's best eaten within 3 to 4 days of preparation. After that, individually freeze any leftover crabs with a little bit of the brine in a freezer bag. Thaw in the fridge for a few hours before serving.
The crab infused leftover brine can be re-used to marinate meat or as a dipping or seasoning sauce. Boil it for a few minutes and cool before saving it in the fridge for later use.