Gaji namul is a simple Korean side dish made with steamed eggplants! It's a staple side dish that's easy and delicious!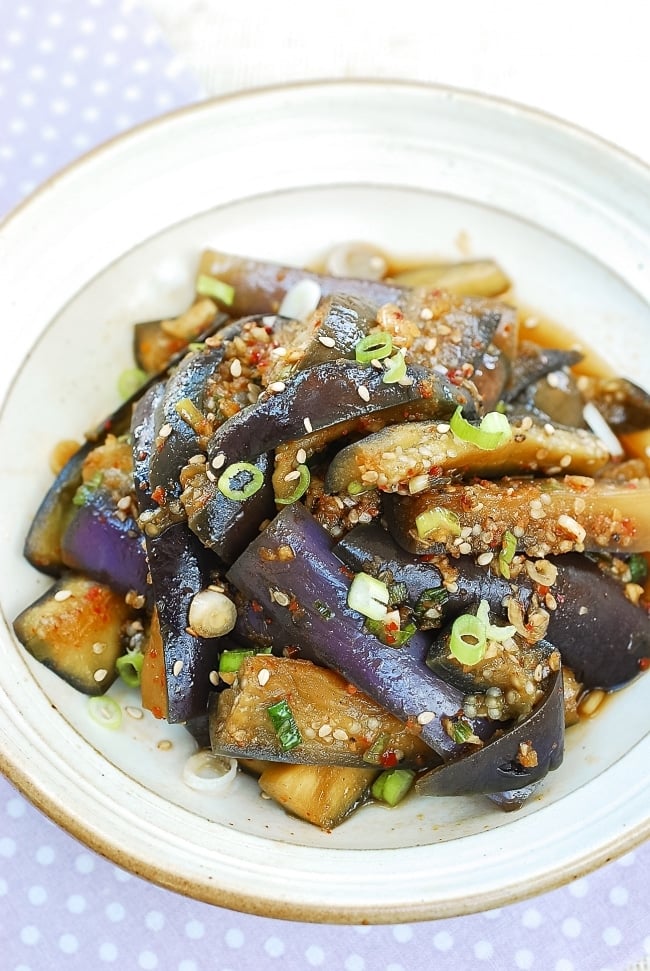 Gaji namul is a popular summer side dish that is made with steamed eggplants. It's a staple side dish that's easy and delicious, especially with summer eggplants!
Eggplants are in season! For this recipe, you'll need Korean/Asian eggplants. They have tender skin and sweet flesh. You may be able to find them in your local groceries and farmers' markets these days without a special trip to a Korean/Asian market. Look for slender eggplants with a rich purple color and shiny skin, and without any soft or brown spots.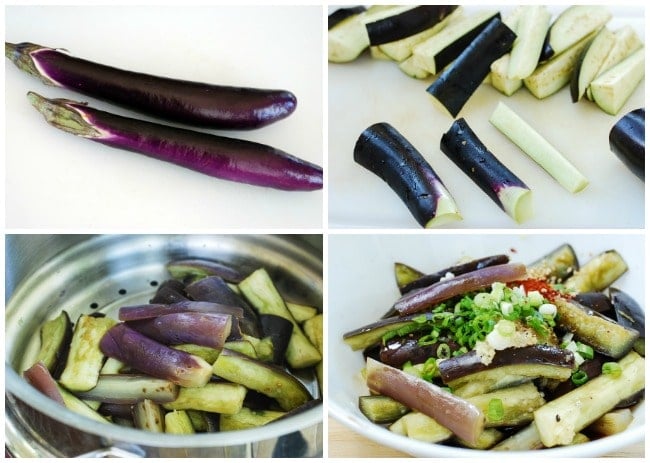 The traditional way of making this dish is to steam the eggplants and then tear them into small strips. It's very easy to overcook eggplants, resulting in mushy eggplants that fall apart during the tearing process. You can avoid this by cutting the eggplants into bite sized pieces before steaming them quickly. The key is to steam the eggplants until they are tender but still slightly firm.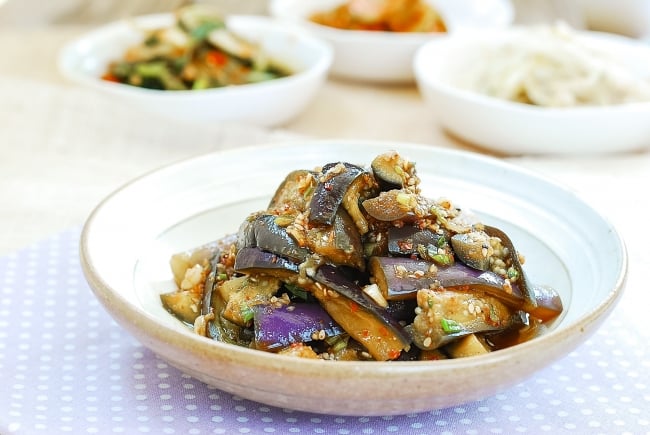 Have you tried this gaji namul recipe? Please rate the recipe below by either clicking the stars or leaving a comment! And make sure to share your creations bytagging me on Instagram! Stay in touch by following me onPinterest,Twitter,Facebook, andInstagram.
Gaji Namul (Steamed Eggplant Side Dish)
Side Dish
Print Recipe
Ingredients
2

medium size Korean/Asian eggplants

1

scallion

finely chopped

1

teaspoon

minced garlic

1-1/2

tablespoons

soy sauce

2

teaspoons

sesame oil

¼

teaspoon

sugar

½

teaspoon

gochugaru

Korean red chili pepper flakes

1

teaspoon

roasted sesame seeds

pinch

pepper
Instructions
Cut the eggplants lengthwise in quarters. Then cut crosswise into about 2-inch pieces.

Boil the water in a pot with a steamer tier or basket over high heat, covered. Place the eggplant pieces in the steamer, and steam until softened but still a bit firm, about 3 minutes.

Transfer to a bowl to cool.Add all remaining ingredients and gently toss everything together. Add more soy sauce or gochugaru to taste if needed.