Gamja jorim is an easy Korean side dish made with potatoes and a few basic ingredients!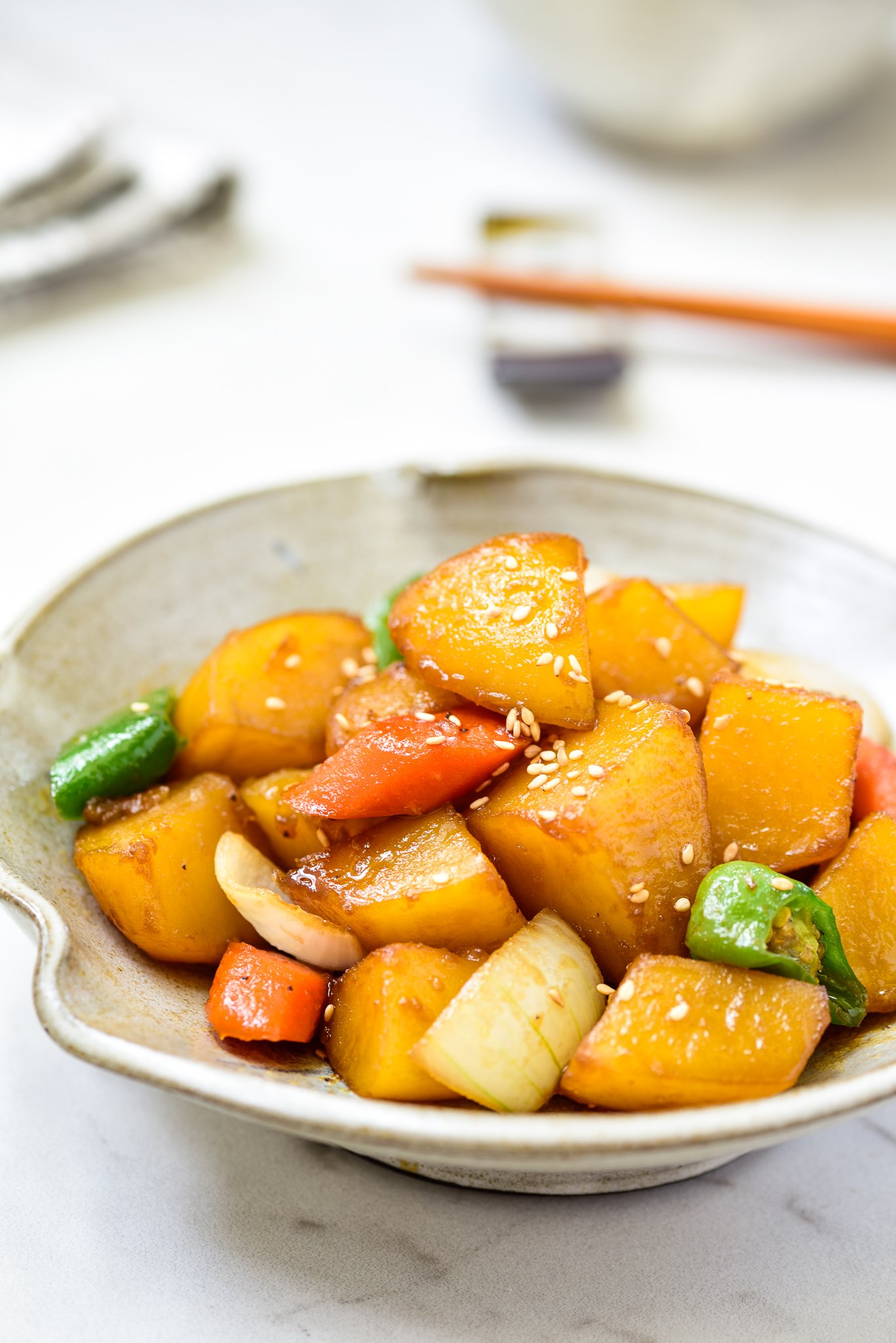 What is gamja jorim?
Gamja jorim (감자조림) is a braised potato dish. It's a popular side dish at home and restaurants and for home-packed lunch boxes.
Jorim refers to dishes made by simmering the main ingredient in a sauce until the sauce is reduced. This dish involves short braising in a slightly sweet, soy sauce-based sauce. It's a filling, inexpensive dish we all grew up on.
I originally posted this recipe in 2009 after spending a couple of weeks on vacation in Berlin visiting my son who was taking a summer program there. After several days eating German food, we felt it would be a nice change to have a home-cooked Korean meal. I had made a quick version of green cabbage kimchi a couple of days before. We cooked some rice and needed some other banchan (side dish), so I made this braised potatoes.
It was delicious even without all the conventional ingredients. After this memorable meal thousands of miles away from home, my daughter asked me to write my recipe for gamja jorim.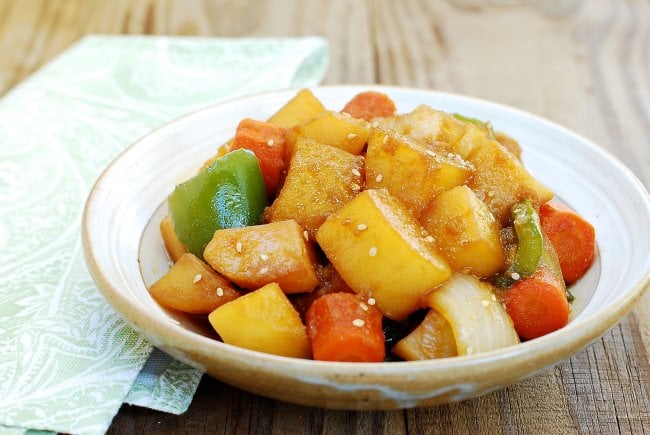 Which potatoes to use
Any variety of potatoes works for this dish. However, less starch ones such as white or Yukon gold hold up their shape better. Red, fingerling, and new potatoes are all good for this dish. You can leave the skins on if you want. If using starchy potatoes such as Russet potatoes, rinse and soak them in water for a few minutes after cutting them into cubes. This process removes some starch.
I also find the cooking time varies quite a bit depending on the potatoes. So, watch it not to overcook the potatoes.
Variations
Gamja jorim can be made simply with just potatoes. I typically use a carrot, onion, and some green pepper or chili peppers for colors. You can use other vegetables of your choice such as red/orange bell pepper, scallions, and mushrooms. I sometimes, also throw in a few whole garlic cloves.
For the seasonings, you can also add some gochujang (Korean red chili pepper paste) and/or gochugaru (Korean red chili pepper flakes) if you like to add a little heat to the dish. Simply swap out 1 tablespoon of soy sauce with 1 tablespoon of gochujang. You can add gochugaru to your taste without altering the recipe.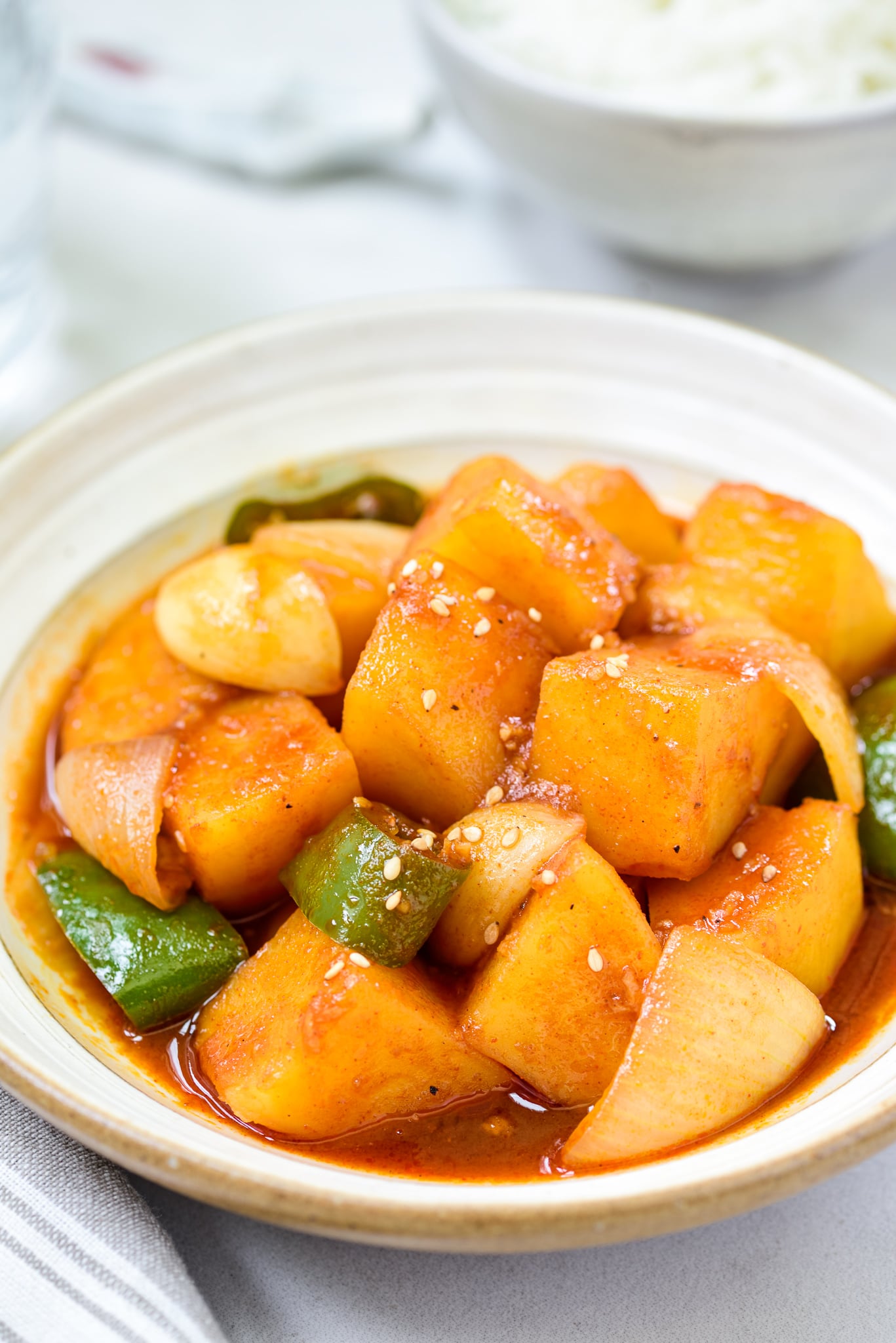 More potato recipes
Gamjajeon (potato pancakes)
Gamjaguk (potato soup)
Gamjatang (spicy pork bone stew)
Watch how to make it
For more Korean cooking inspirations, follow along on YouTube, Pinterest, Twitter, Facebook, and Instagram.
Ingredients
1.5

pounds

potatoes (about 3 medium size)

1

carrot (about 3 ounces)

See note 1

2 to 3

green chili peppers (or 1/2 green bell pepper)

1/4

medium onion

1

tablespoon

cooking oil
Braising liquid:
3

tablespoons

soy sauce

(or 2 T soy sauce and 1 T gochujang) See note 2

1

tablespoon

sugar

1

tablespoon

rice wine (or mirin)

You can omit it if unavailable

1

tablespoon

corn syrup (or oilgodang)

Or use 1 tablespoon more sugar

1

teaspoon

minced garlic

pinch

black pepper

3/4

cup

water

1

teaspoon

sesame oil

1/2

teaspoon

roasted sesame seeds
Instructions
Peel and cut potatoes into about 1-inch cubes. Cut the carrot, peppers, and onion into big chunks.

In a small bowl, combine all the braising liquid ingredients except the sesame oil and seeds. Stir well.

In a non-stick pan (or a small pot), sauté the potatoes in cooking oil over medium heat for 4 - 5 minutes, stirring occasionally so the potatoes don't stick to the pan.

Add the sauce mix and bring it to a boil over high heat. Drop the carrot pieces in. Cover, and reduce the heat to medium and cook until the potatoes are almost cooked through (about 5 to 6 minutes, depending on the type or size of potatoes). The potatoes should be firm and not mushy.

Stir in the green peppers and onion, and continue to boil (uncover this time) until the sauce is reduced and slightly thickened, about 3 minutes. The potatoes will continue to soak up the sauce even after being cooked. Stir in the sesame oil and sprinkle with sesame seeds.
Notes
1. This dish can be made simply with just potatoes. The other vegetables in this recipe are only guidelines. You can use other vegetables of your choice such as red/orange bell pepper, scallions, garlic cloves, and mushrooms.
2. If using gochugaru (Korean chili pepper flakes) to add a spicy kick, you don't need to change anything in the recipe. Try 1 to 3 teaspoons to your taste.
This recipe was originally posted in November 2009. Here, I have updated it with new photos, more information and improvements to the recipe.