Easy spicy grilled shrimp flavored with a deeply savory gochujang sauce! The marinade is so easy to prepare, and the shrimp cook up very quickly. It'll be perfect as a weeknight meal or a simple addition to your summer BBQ.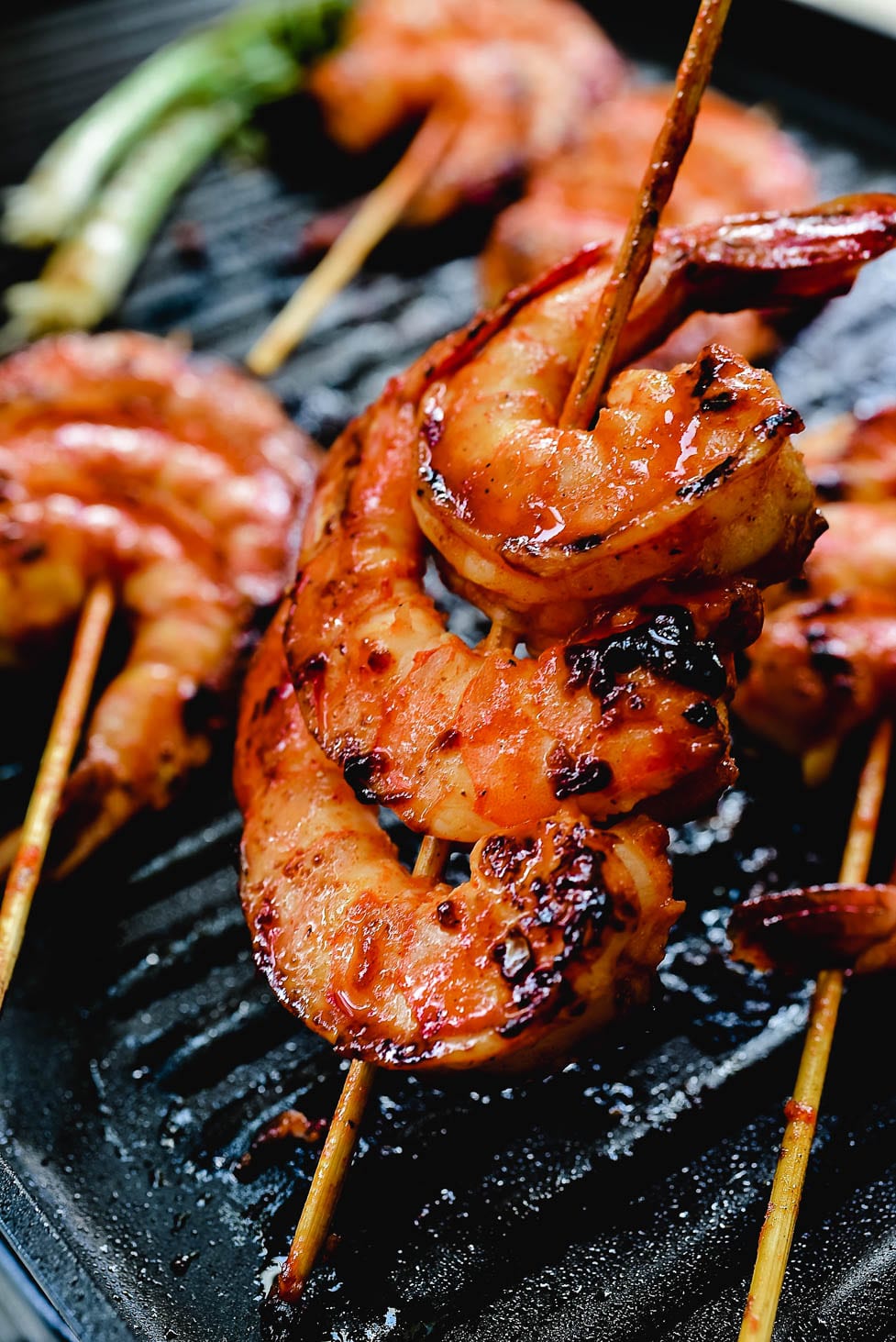 Sometimes it only takes one special ingredient to give a dish a total makeover. In this recipe, that one ingredient is gochujang (고추장)! I simply added a couple spoonfuls of it to my usual marinade for grilling shrimp. That's it!
Gochujang sauce
If you think about it, how can you go wrong with gochujang? It's deeply savory, peppery, pungent, slightly sweet and spicy – all at once. No wonder everything tastes better with gochujang!
Gochujang is commonly used in Korean spicy marinades, as used in such dishes as spicy grilled chicken, spicy grilled squid, and spicy pork BBQ. If you want to add more spiciness without altering the saltiness, add some gochugaru.
Adjust the amount of sugar or honey in the recipe to your liking, but don't leave it out. The sugar or honey in the recipe helps balance out the saltiness of the gochujang, and also helps caramelize the shrimp faster.
I used garlic in this recipe, but ginger will be a nice addition to the marinade as well.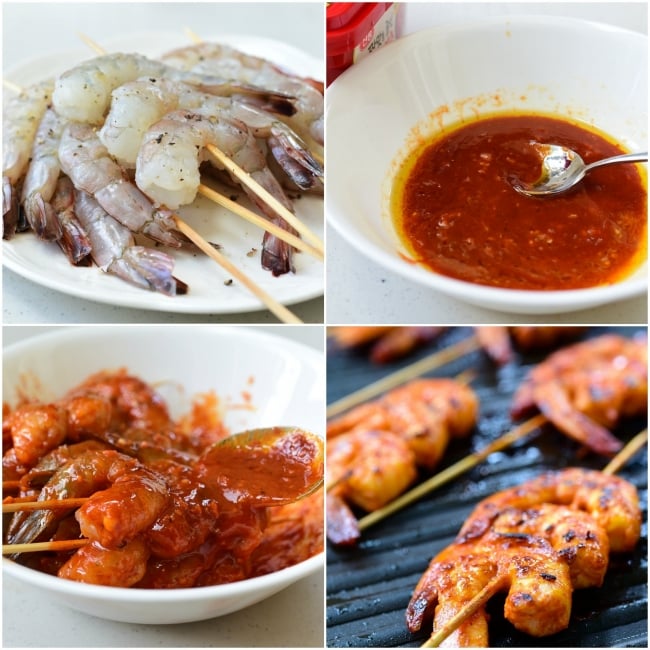 How to prepare and grill the shrimp
For grilling, jumbo shrimp work best. I use 16 to 20 count shrimp, but 21 to 25 count shrimp are okay too. Be sure to adjust the cooking time depending on the size of the shrimp. If you bought shell-on shrimp, peel and devein them.
Obviously peeled shrimp marinates better, while shell-on shrimp get extra flavor from the shell. I like to keep the tails on as the cooked shrimp look more attractive with the tails on, and the tail works as a built-in handle.
Be sure to soak wood/bamboo skewers in water for about 30 minutes, so they don't burn on the grill. If you don't have skewers, you can grill the shrimp individually. You don't need to skewer the shrimp if you don't want to.
Once skewered, lightly sprinkle the shrimp with salt and pepper while preparing the marinade. Let the shrimp marinate for about 30 minutes up to overnight.
Grill the shrimp over open flame or in a grill pan. You can also cook them under the broiler or in a skillet. The shrimp cook up very fast, but the amount of time required will vary depending on the heat source.
Do not overcook. Nothing worse than overcooked dry and rubbery shrimp! The shrimp are cooked when they curl up and turn opaque. Don't forget that they'll continue to cook with remaining heat.
Serve the shrimp with grilled vegetables or a summer salad.
More Summer BBQ Recipes:
10 Korean BBQ Recipes: a collection of readers' favorite Korean BBQ recipes.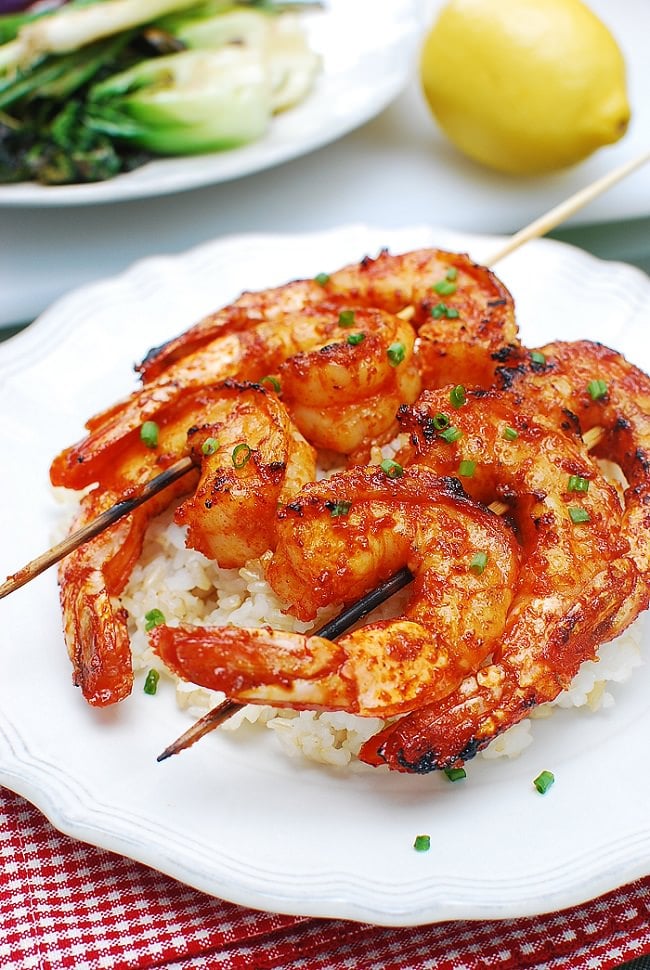 For more Korean cooking inspirations, follow along on YouTube, Pinterest, Twitter, Facebook, and Instagram.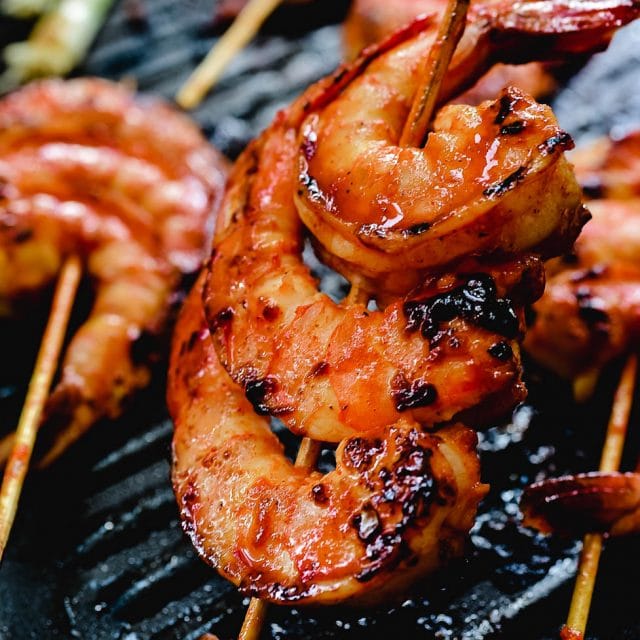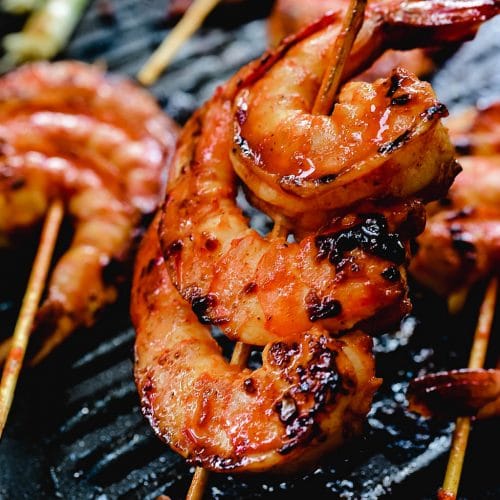 Spicy Grilled Shrimp (Gochujang Saewu Gui)
Main, Main Course
Print Recipe
Ingredients
1

pound

large or jumbo shrimp

peeled, tail on, and deveined

salt and pepper

For the marinade:

2

tablespoons

extra virgin olive oil

1

teaspoon

minced garlic

or more to taste

juice of 1/2 of a fresh lemon

about 2 tablespoons

2

tablespoons

gochujang

1

tablespoon

sugar or honey

For the garnish:

finely chopped scallions or chives for garnish

optional

Bamboo/wood skewers
Instructions
Soak the wooden skewers in water while preparing the shrimp. Peel and devein the shrimp if they are shell-on. Rinse the shrimp and drain well (or pat dry). Thread 3 or 4 shrimps on to the skewers. Lightly sprinkle them with salt and pepper.

Mix all the marinade ingredients well in a bowl.

Spoon (or brush) the marinade all over the shrimp to coat evenly. Let stand for about 30 minutes.

Preheat a lightly oiled grill. Grill the shrimp over moderate heat until they turn opaque and curled up, a minute or two each side, depending on the heat source. Do not overcook. Baste the shrimp with the remaining sauce while grilling and before serving. You can also cook the shrimp in a grill pan over medium high heat. Garnish with the optional scallions or chives.
This Korean spicy shrimp recipe was originally posted in June 2013. I've updated it here with new photos, recipe card, and minor changes to the recipe.