A simple Korean banchan made with spring garlic scapes! This delicious side dish takes less than 20 minutes to whip up.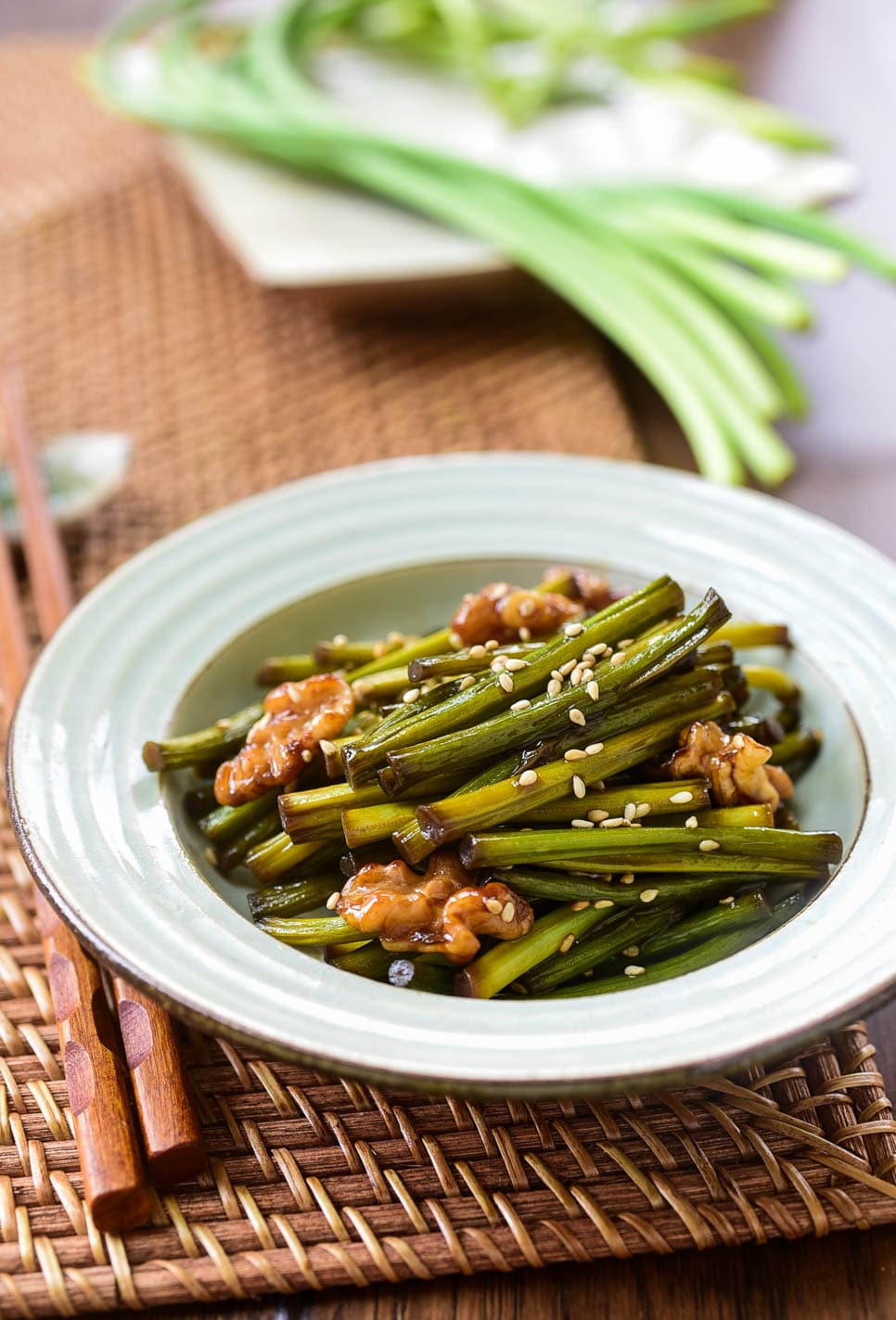 Garlic scapes (maneuljjong – 마늘쫑 ) are in season. I got a bunch from a Korean market for the first time this season. They are available in the late spring and early summer, when scapes are most tender and sweet.
What are garlic scapes?
Garlic scapes are the curly flowering shoots/stalks of garlic plants that are snipped off to allow the bulbs to grow bigger. They have a milder flavor than garlic cloves but are still quite garlicky. When cooked, the scapes become sweeter with a subtle garlic undertone and have a texture similar to that of thin asparagus.
In Korea, garlic scapes are commonly used as a vegetable for various side dishes. I sometimes pickle garlic scapes in a soy brine. I also blend scapes into a paste and add it to the grated potatoes to make potato pancakes.
For this recipe, I stir-fried the scapes with walnuts in a soy sauce-based sauce. You can omit the walnuts if you want. Stir-fried garlic scapes are a simple and delicious spring side dish!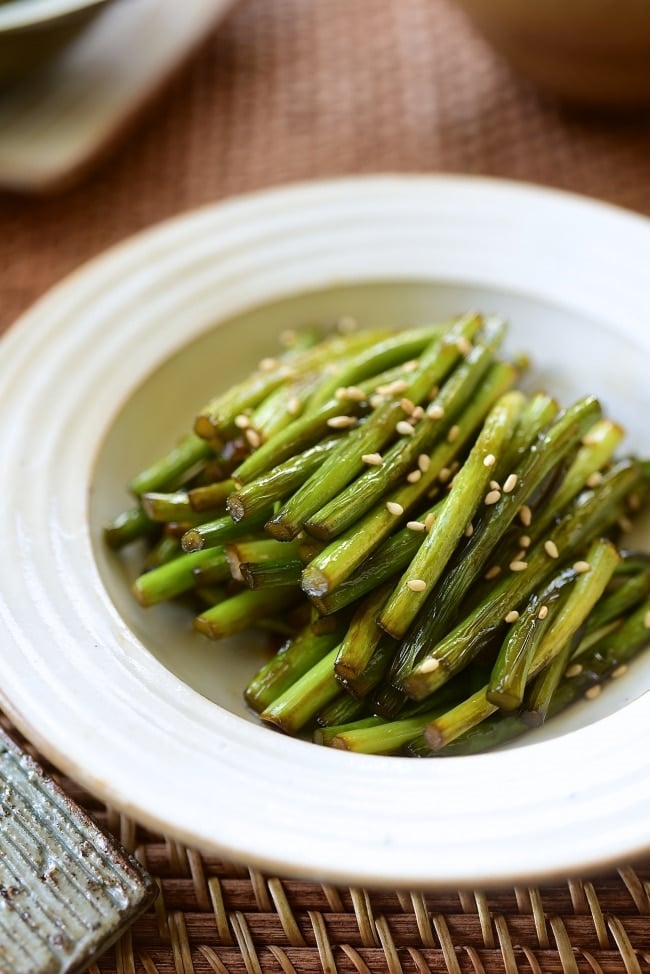 This recipe was originally posted in May 2013. I've updated it here with new photos and minor changes to the recipe.
If you haven't cooked with garlic scapes, make that a goal this spring. You're missing out on a wonderful vegetable! The scapes only appear in markets for a short period time, so grab them while you can.
For more Korean cooking inspirations, follow along on YouTube, Pinterest, Twitter, Facebook, and Instagram.
Maneuljjong Bokkeum (Stir-fried Garlic Scapes)
Side Dish
Print Recipe
Ingredients
10

ounces

garlic scapes

maneuljjong

1/2

cup

shelled walnuts

broken into quarters -- optional

1

tablespoon

cooking oil
For the sauce:
2

tablespoons

soy sauce

1

tablespoon

rice wine

1

tablespoon

water

1

teaspoon

sugar

1

tablespoon

oligodang or corn syrup

or more sugar

1

teaspoon

sesame oil

1/2

teaspoon

sesame seeds
Instructions
Rinse and cut the garlic scapes into 2-inch lengths. Mix the first four sauce ingredients well together, and set aside.

In a heated pan over medium low heat, roast the optional walnuts for 2 to 3 minutes. Remove from the pan.

Add a tablespoon of oil to the pan, and increase the heat to medium high. Sauté the scapes for 2 to 3 minutes, stirring constantly.

Reduce the heat to medium low. Return the walnuts to the pan, and pour the sauce into the pan. Cook until the garlic scapes are tender and the sauce is almost gone, about 2 - 3 minutes.

Add the oligodang (or corn syrup), and stir well. Finish with the sesame oil and sesame seeds.