These Korean-style meatballs are glazed in a sweet and savory sauce. They are tender, moist and packed with lots of flavors! Great as cocktail meatballs for your holiday parities!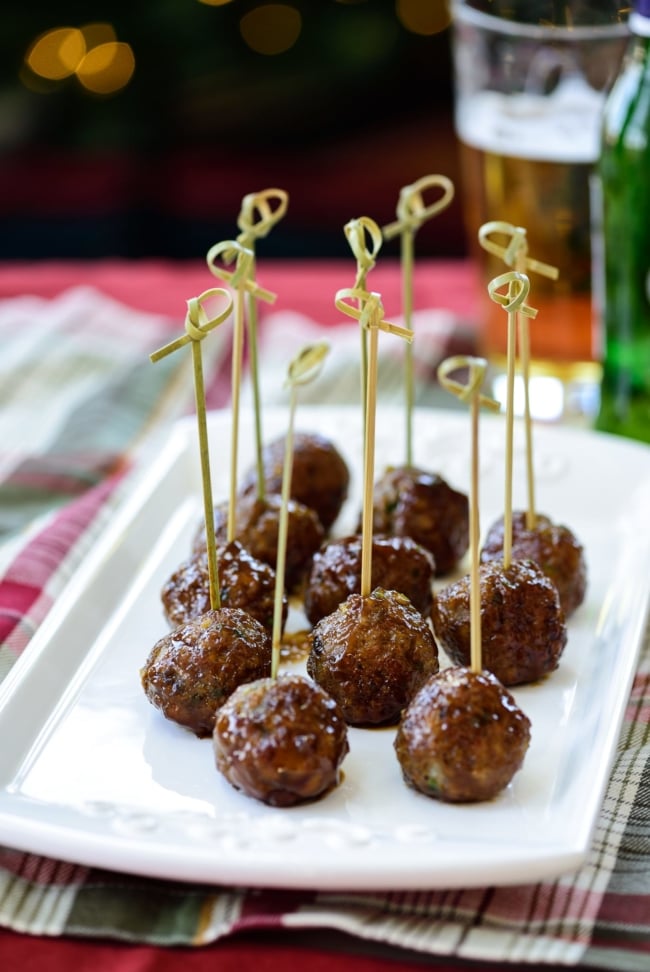 Every country has some sorts of meatballs. In Korea, meatballs are called gogi wanja (고기완자) and used in soups or hotpots, egg-battered and pan-fried (wanjajeon, 완자전), or braised in a sauce (wanja jorim, 완자조림). For this wanja jorim, the meatballs are first pan-fried and then finished in a deliciously sweet and savory sauce.
These Korean-style meatballs are tender, moist and packed with lots of flavors! They are child-friendly, great as cocktail meatballs for your holiday parties, or simply as a side or a main dish for any meal. In Korea, the meatballs are highly popular as a lunch box item.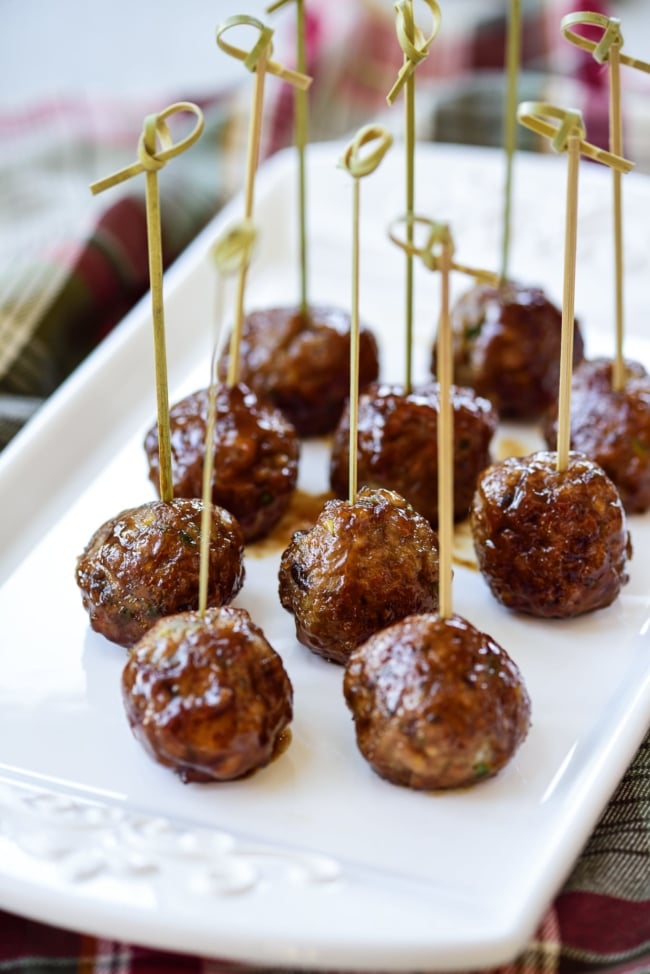 Traditionally, meatballs were an essential ingredient in Korean Royal Court dishes such as Sinsello, an elaborate Royal Court hotpot.
How to make Korean meatballs
For the meat, I like to use equal parts of beef and pork. Of course, you can use all beef or all pork depending on your preference or change up the ratio around to your preference. Pork will give the meatballs a softer texture, which Koreans tend to look for in their meatballs.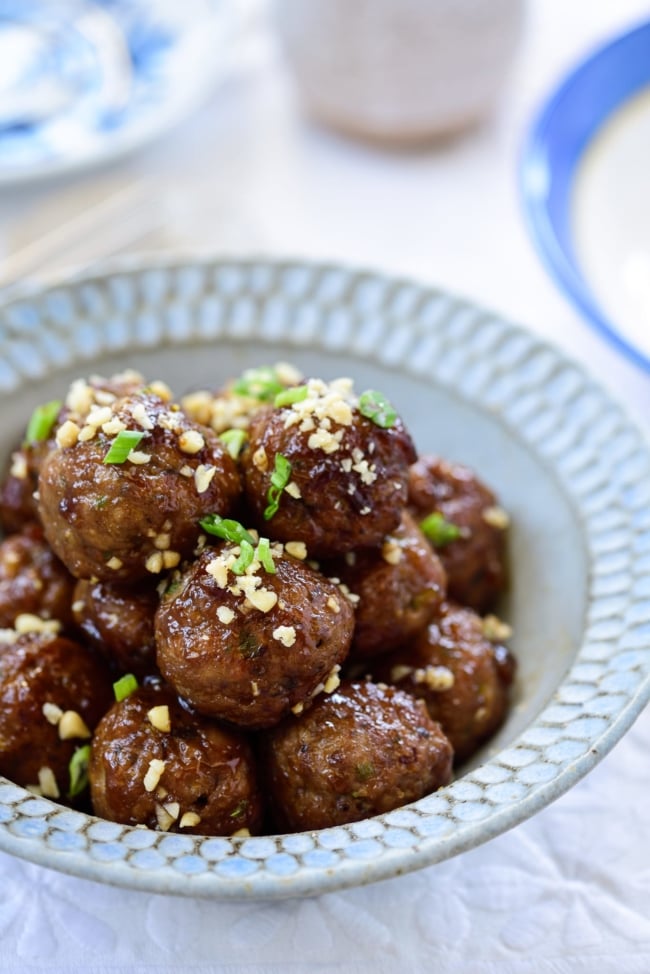 For other additions, Korean meatballs also include tofu, carrots, mushrooms, onions and/or scallions. I used mushrooms, onions and scallions in this recipe. These vegetables add a lot to the flavor and texture of the meatballs. Whatever you use, take extra time to finely chop the ingredients for a smooth meatball texture. Then, your children will never know there are mushrooms and onions in the meatballs.
For a tender and moist texture, mix the meat with other ingredients by your hand. Using all your five fingers, move it around the bowl in quick circles until the mixture is well blended together.
To cook the meatballs. I pan fried mine here, but you can bake them if you want or even air fry.
Lastly, the sauce I used here is a soy based sweet and savory sauce (jorim jang, 조림장) commonly used in Korean cooking. You can add a little bit of gochujang for a little spicy kick if you want.
The meatballs can be prepared ahead of time and pan-fried and braised on the day of serving. These will freeze well too.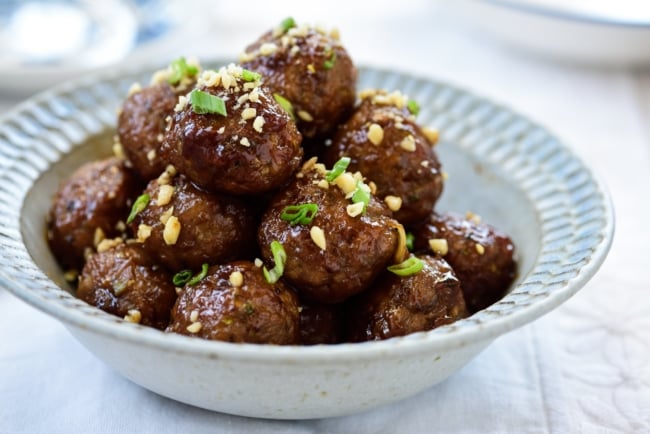 For more Korean cooking inspirations, follow along on YouTube, Pinterest, Twitter, Facebook, and Instagram.
Ingredients
For the meatballs:
1/2

pound

ground beef

1/2

pound

ground pork

4 to 5

fresh shiitake

or any mushroom caps, finely chopped

1/4

medium onion

finely chopped

2

scallions

finely chopped

1

egg yolk

1

tablespoon

soy sauce

2

teaspoons

minced garlic

1

teaspoon

finely grated ginger

salt

about 1/4 teaspoon and pepper to taste

1/2

cup

cornstarch or flour for dredging
For the sauce
1

tablespoon

sugar

3

tablespoons

soy sauce

You can replace with 1 TB gochujang for a little spicy kick

3

tablespoons

rice wine

or mirin

3

tablespoons

water

2

tablespoons

corn syrup

oligodang

2

plump garlic cloves

thinly sliced

1

inch

piece ginger

thinly sliced
Optional garnish:
chopped peanuts or pine nuts

chopped scallion
Instructions
Finely chop the mushrooms, onion, and scallions. Combine all the meatball ingredients well by hand until evenly blended.

Shape the mixture into about 1 1/4-inch balls. Dredge the meatballs in the cornstarch or flour to lightly coat.

Heat a tablespoon of oil in a pan over medium heat. Add half of the meatballs to the pan. Turning as necessary, fry until all sides are golden brown but not cooked through, about 5 minutes. The meatballs will finish cooking in the sauce. Remove from the pan and repeat with the remaining meatballs.

Add all the sauce ingredients to another pan. Boil over medium heat until the sauce is slightly thickened, about 3 – 4 minutes.

Add the meatballs to the sauce and simmer until the sauce becomes a thick glaze, turning to coat evenly, about 5 minutes. Sprinkle with the optional garnish. Serve warm with your choice of vegetables.
This recipe was originally posted in March 2012. I've updated it here with new photos, more information and minor changes to the recipe.