Tteokguk (or dduk guk) is Korean rice cake soup! This starchy and soothing bowl of soup is not only a New Year's tradition but is classic comfort food any time of year!
Happy New Year! For Koreans, auspicious food for a prosperous New Year is definitely tteokguk (떡국) — rice cake soup!
Tteokguk is a soup made with sliced rice cakes, usually in beef broth. It's a traditional must-eat New Year's dish. It's made with garaetteok, which is unsweetened and shaped like a long cylinder. For the soup, garaetteok is sliced into thin oval shapes. The white oval shape symbolizes a bright and prosperous new year.
Growing up, I always loved to eat long steaming garaetteok that my mother used to bring home from a rice cake mill to prepare for the New Year's feast. She would wait a couple of days for the garaetteok to turn hard before slicing them into thin oval slices. These days, pre-sliced gareatteok is widely available all year around, making the soup preparation much easier.
Often, I add mandu (Korean dumplings) to tteokguk, in which case the soup is called tteok-manduguk. You can use any kind of mandu in the soup. My favorite is kimchi mandu because of its pungent flavor and crunchy texture, which I think adds a nice contrast to the mildly flavored broth and soft rice cake slices.
This starchy and soothing bowl of soup is not only a New Year's tradition but is a classic comfort food any time of the year!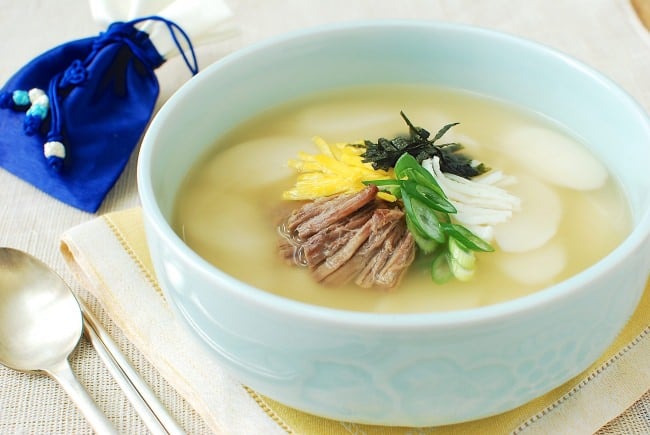 More tteokguk recipe:
Gul tteokguk (Oyster rice cake soup)
Have you tried this tteokguk recipe? Please rate the recipe below by either clicking the stars in the recipe card or in the comment section! And make sure to share your creations by tagging me on Instagram! Stay in touch by following me on Pinterest, Twitter, Facebook, and Instagram.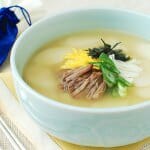 Tteokguk (Korean Rice Cake Soup)
Total Time:
1
hour
40
minutes
Print Recipe
Ingredients
Beef Broth (you can also use anchovy broth)
1/2

pound

230 grams beef brisket (양지머리)

1/2

medium onion

5

– 6 cloves of garlic

3

scallions – white parts

1

– 2 tablespoons soup soy sauce

Salt and pepper to taste
Garnish
Beef removed from the broth

1/2

teaspoon

minced garlic

1/2

teaspoon

sesame oil

salt and pepper

1

egg

1

scallion

1/2

sheet gim

nori
Rice cakes (garae tteok)
4

cups

sliced garae tteok

rice cake

Soak in cold water for 10 to 20 minutes if hardened.
Instructions
In a large pot, bring the meat, onion, scallions and garlic to a boil in 14 cups of water. Reduce the heat to medium low, and skim off the scum. Simmer, covered, until the meat is tender enough for shredding, 1 to 1-1/2 hours. Remove the meat and cool. Discard the vegetables. Stir in soup soy sauce, salt and pepper to taste.

Cut the cooled beef into 1 – 1 1/2-inch wide strips, shred, and combine well with garlic, sesame oil, and salt and pepper to taste.

To make egg garnish (jidan), separate the egg white and yolk. Lightly beat the white by gently cutting it with a spoon. Stir the yolk with a spoon until smooth. Heat a lightly oiled nonstick skillet over medium low heat. Pour each egg part into a thin layer, tilting the skillet and/or spreading with a spoon. Cook each side briefly. (Do not brown the egg.)

Roll each egg crepe, and slice into short thin strips. Slice the scallion diagonally into thin strips. Roast the gim on a hot skillet. Cut into thin 1 1/2-inch strips with kitchen shears, or simply crush them with hands.

Return the broth to a boil. Add the rice cake slices and boil until soft, usually about 5 – 8 minutes. Ladle the steaming soup into individual bowls and garnish with the shredded beef, egg, scallion and gim strips.
Notes
Although egg jidan is a classic garnish for tteokguk, a common alternative is to drizzle a lightly beaten egg over the boiling soup right before turning the heat off. Or you can omit the egg part entirely if you like.
If you don't like your soup too thick and starchy, you can parboil the rice cake slices in the boiling water until soft, drain, and then add to the soup.
If you want to add some mandu (dumplings), you can drop them in along with the rice cake slices, stirring gently so they don't stick to the bottom of the pot. Boil until all of them float, and continue to cook for another minute or two. You can also steam mandu or cook in boiling water separately, and add to the soup when the rice cake is softened. This method will keep the soup from becoming too thick from all the starch released from the rice cake and mandu.