These Korean mini meat patties are egg-battered and pan-fried. They are nicely soft, moist, and delicious!

What is wanja jeon?
On traditional holidays such as Chuseok (mid-autumn festival) and Seollal (New Year's Day), most Korean homes make several types of jeon (전) dishes (pan-fried battered food) for their holiday feast. Wanja-jeon (완자전) is among the popular choices. It's also called gogi-jeon (고기전).
Meatballs are called gogi wanja (고기완자) in Korean and used in many traditional dishes such as soups or hot pots. When they are egg-battered and pan-fried, they are called wanja-jeon. To make jeon, the meatballs are gently pressed into mini patties.
As a child growing up in Korea, I loved these little egg-battered meatballs. We called them by their funny nickname – dong-geu-rang-ddeng (동그랑떙), meaning "a round thing". I know it's hard to pronounce, but it is one of those words that makes you smile when said or heard. They were a favorite for packing in the school lunch boxes. Meat was a luxury in Korea back then, so it was always a special treat to have a few of these meatballs with a meal.
Enjoy it on your holiday table or simply as an appetizer or side dish with any Korean meal. They are also delicious simply with a bowl of rice and kimchi.

Ingredients:
ground beef and pork or use all beef or all pork
tofu
onion
carrot
scallions
minced garlic
sesame oil
salt and pepper to taste
eggs
flour
oil for pan-frying
Mushrooms are also great in these meat patties.
To achieve a smooth texture, take extra time to finely chop the vegetables and mix all the ingredients very well by hand. You can use a mini chopper if available.
Make about 1-inch meatballs by rolling the meat mixture between your palms. Then gently press to flatten. When ready to fry up, dredge in flour and dip in the egg wash before adding to the preheated pan for pan-frying.
The meat patties can be prepared ahead of time and pan-fried on the day of serving.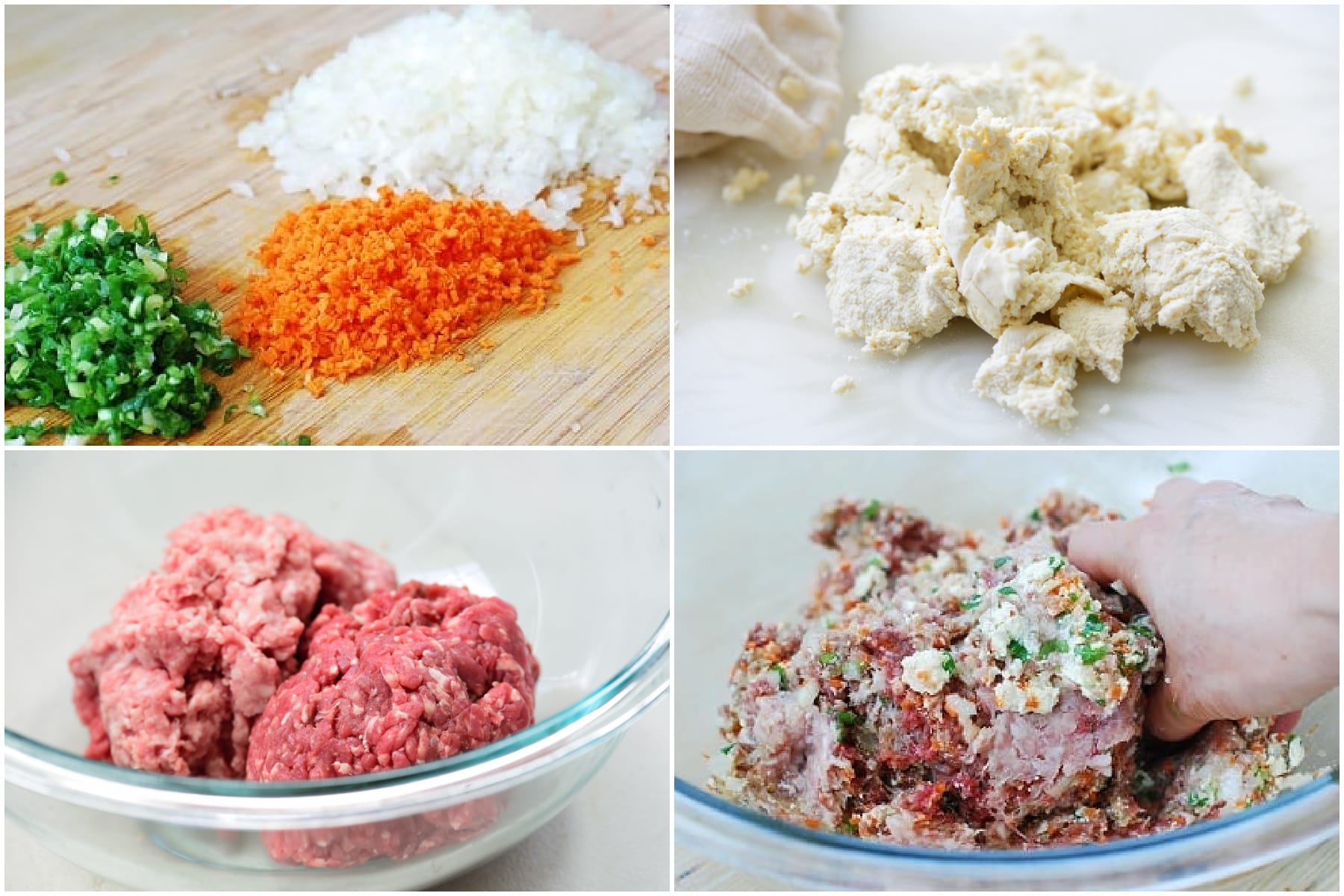 Variations
The meat mixture in this recipe can also be used to make types of stuffed jeon such as kkaennip jeon. You can also stuff other vegetables such as chili peppers, zucchinis, and mushrooms.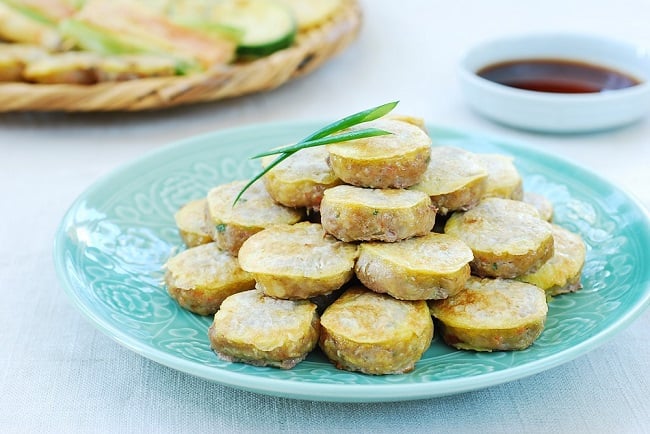 For more Korean cooking inspirations, follow along on YouTube, Pinterest, Twitter, Facebook, and Instagram.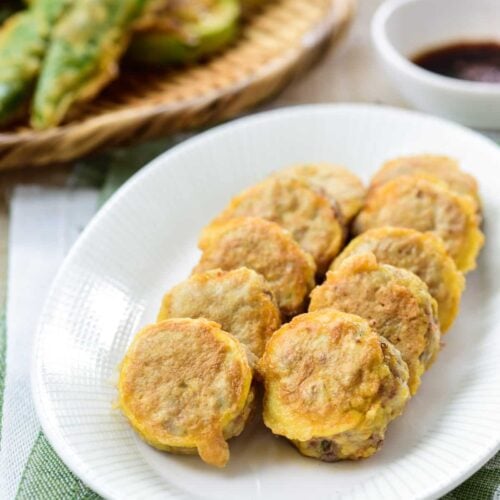 Wanja jeon (Pan-fried egg battered meat balls)
Side Dish
Print Recipe
Ingredients
1

pound

ground beef

or combination of beef and pork (half and half)

4 to 6

ounces

tofu

squeezed and crushed

1/2

medium onion

1/2

medium carrot

2

scallions

1

tablespoon

sesame oil

2

teaspoons

minced garlic

salt

about 1/2 teaspoon and pepper to taste

3

eggs

beaten well

1/2

cup

flour

oil for pan-frying
Instructions
Finely chop the vegetables.

Place the tofu in a cheese cloth or kitchen towel and squeeze out as much water as possible. Break up any large chunks of tofu into crumbles.

Combine all the prepared ingredients, and mix very well by hand until everything is evenly blended, crushing any remaining big pieces of tofu. You can cook a little bit in the microwave (or in a pan) to see if it needs more salt.

Shape the mixture into 1-inch balls, and then gently press between your palms to flatten.

Dredge the patties in flour one at a time, coating well. Shake off excess flour.

Heat a non-stick pan over medium low heat. Coat the pan evenly with 1/2 tablespoon of oil. Dip each piece in the beaten egg, and carefully place in the heated skillet. Cook for about 2 minutes on each side, adding more oil, until the meat is cooked through. The meat is ready if it feels firm. Clean the pan, and repeat with the remaining pieces.
This recipe was originally posted in Sept 2014. It's been updated here with new photos and minor improvements to the recipe.