This post contains affiliate links. I earn a commission if you make purchases through those links. See my disclosure policy.
Tteokbokki is a highly popular Korean street food and a delicious comfort food you can easily make at home. The spicy, slightly sweet, and chewy rice cakes are simply addictive!

What is tteokbokki?
Tteokbokki (also spelled ddukbokki, ddeokbokki, dukbokki or topokki), 떡볶이, is a beloved Korean rice cake dish with many variations and a rich history. Literally translated as "stir-fried rice cake", this dish is made with garaetteok, a cylinder-shaped white rice cake. This spicy rice cake dish is enormously popular as a street food and also often enjoyed at home.
Unlike gungjung tteokbokki, which has been around for hundreds of years, the red spicy tteokbokki has a relatively short history. It was developed in 1953, the year the Korean War ended, by a woman named Ma Bok-rim in the Sindang-dong neighborhood in Seoul. The chewy rice cake in a spicy gochujang sauce instantly became popular as an affordable comfort snack.
By the time I was growing up as a child, this spicy rice cake dish had become quite popular as a street food. The tteokbokki I grew up with was in its classic form without all the add-ins you see today. I have fond memories of eating it from street carts or market stalls as an after-school snack.
The rice cake
Garaetteok (가래떡), a cylinder-shaped white rice cake, is used in various ways in Korea. The thick type is sliced into thin oval shapes for making tteokguk (rice cake soup). The thinner, shorter type is used for tteokbokki, hence the name tteokbokki tteok (떡볶이떡).
You can use either one for this recipe, but the thick type needs to be cut thinner and shorter for this recipe.
Depending on where you live, you can find these rice cakes freshly made, refrigerated, or frozen at Korean markets. They come in various shapes and sizes. Needless to say, locally made fresh ones are the best ones to use, but good quality refrigerated ones are fine as well. Frozen ones sometimes are dry, easy to crack and not chewy.
Tteokbokki sauce
The spicy tteokbokki sauce is usually made with a combination of gochujang (고추장, Korean red chili pepper paste) and gochugaru (고추가루, Korean red chili pepper flakes). Some people simply make this rice cake sauce with gochujang, and some only use gochugaru.
If you don't like it too spicy, simply use gochujang without any red chili pepper flakes. To make it really spicy, adding more red chili pepper flakes is the way to increase the heat level without altering the saltiness and sweetness.
In this updated recipe, I provided another ratio of gochujang and gochugaru for you to try. It gives a cleaner-tasting spicy kick.
In any case, be aware that the level of spiciness varies widely among different brands of gochujang and gochugaru.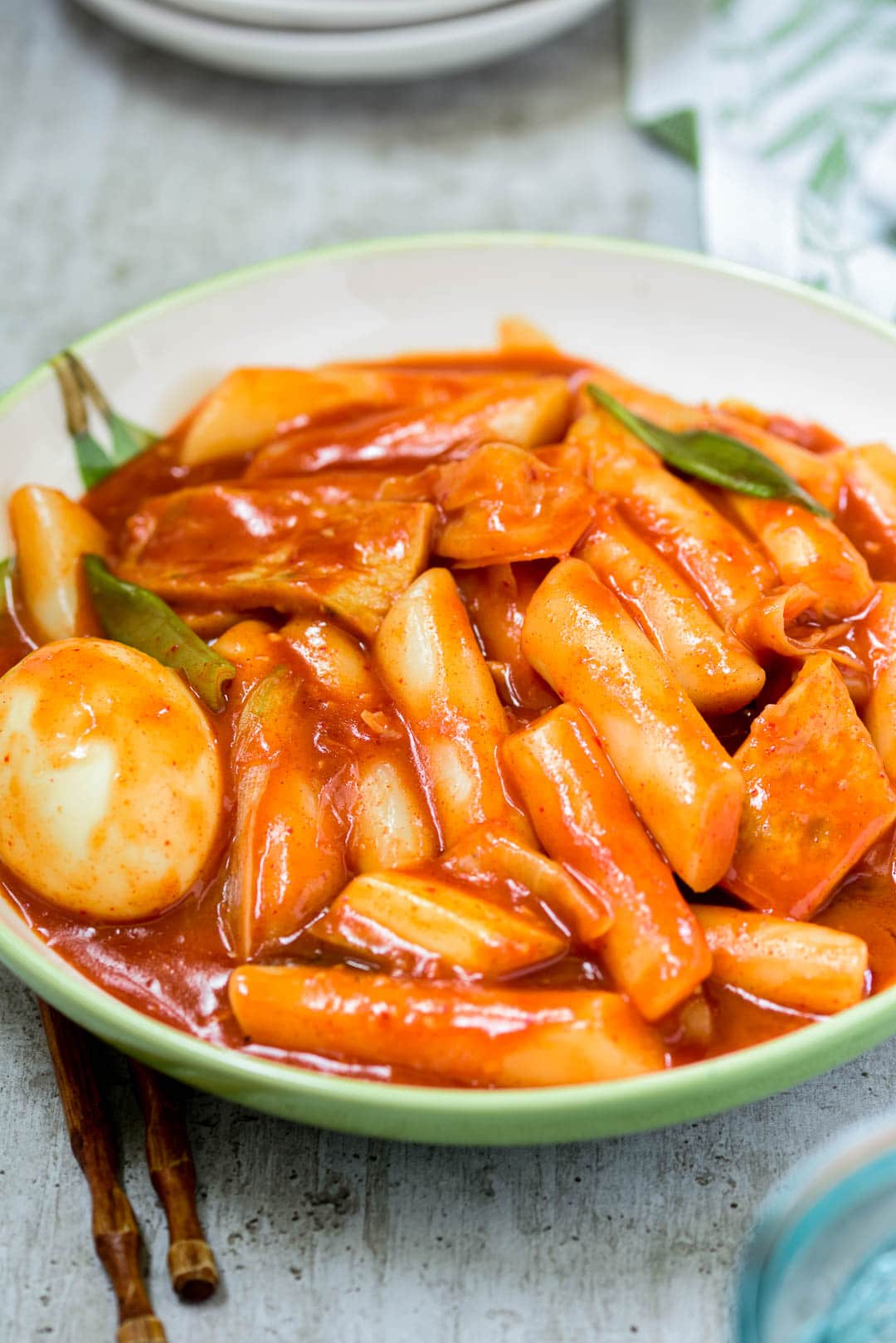 Other additions
Tteokbokki has continued to evolve over time. Today, people add all sorts of other ingredients such as fishcake, ramen, dumplings, egg, hot dogs, seafood and even cheese.
Here, I kept the recipe simple with eomuk (fish cake), green cabbage, and scallions, which is how we used to eat tteokbokki growing up.
Anchovy broth is typically used for a depth of flavor, but you can simply use water if you like. Gochujang and soy sauce give the dish lots of umami flavors.
How to make vegan tteokbokki
Instead of anchovy broth, use water or vegetable broth for vegetarian or vegan tteokbokki. Simply omit the fish cake, or substitute it with fried tofu pockets called yubu.
Watch how to make it
More tteokbokki variations
Gungjung tteokbokki
Seafood cheese tteokbokki
Soupy tteokbokki – with more toppings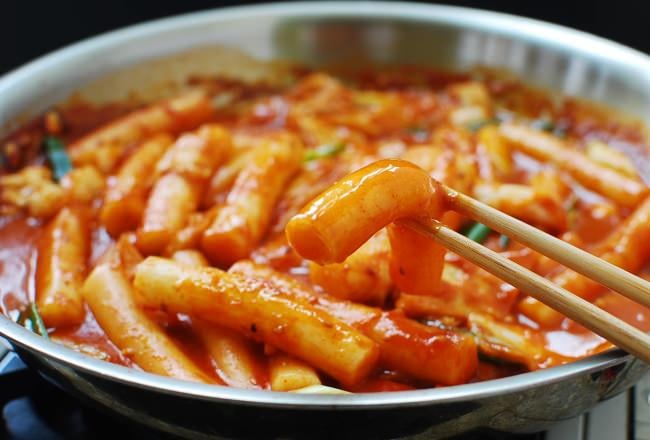 For more Korean cooking inspirations, follow along on YouTube, Pinterest, Twitter, Facebook, and Instagram.
Tteokbokki - Spicy stir-fried rice cakes
Appetizer, Snack
Print Recipe
Ingredients
1

pound

tteokbokki tteok 떡볶이 떡 (about 24 3-inch long rice cake pieces)

See Note 1

1

sheet eomuk 어묵 (fish cake)

4

ounces

green cabbage (yangbaechu, 양배추)

1 - 2

scallions

3

cups

anchovy broth

or water (use 4 cups for more sauce)

3

tablespoons

Korean red chili pepper paste (gochujang, 고추장)

See Note 2

1 - 3

teaspoons

Korean red chili pepper flakes (gochugaru, 고추가루) - preferably finely ground

See Note 3

1

tablespoon

soy sauce

2

tablespoons

sugar (or use 1 tablespoon if you like it less sweet)

1

tablespoon

corn syrup (or 1 more tablespoon sugar)

1

tablespoon

minced garlic
Notes
1. You can find tteokbokki rice cakes fresh, refrigerated, or frozen at Korean markets. Locally made fresh rice cakes are the best ones to use, but good quality refrigerated ones are okay too. Try avoiding frozen ones if you have other options.
2. Another combination I like that you should try: 2 tablespoons gochujang, 2 tablespoons finely ground gochugaru, and 1-1/2 tablespoons soy sauce. Everything else stays the same.
3. Finely ground gochugaru works better with this recipe. You can grind your normal gochugaru in a spice grinder to make it finer.
4. Tteokbokki doesn't reheat well in the microwave. Reheat any leftovers, along with a little bit of broth or water, in a small pan over low heat.
This is an update of the tteokbokki recipe that was originally posted in March 2012. I've updated it here with more information, new photos, and minor changes to the recipe.