Jajangmyeon is a popular Korean-Chinese dish. Learn how to make these delicious black bean noodles at home with this easy to follow recipe!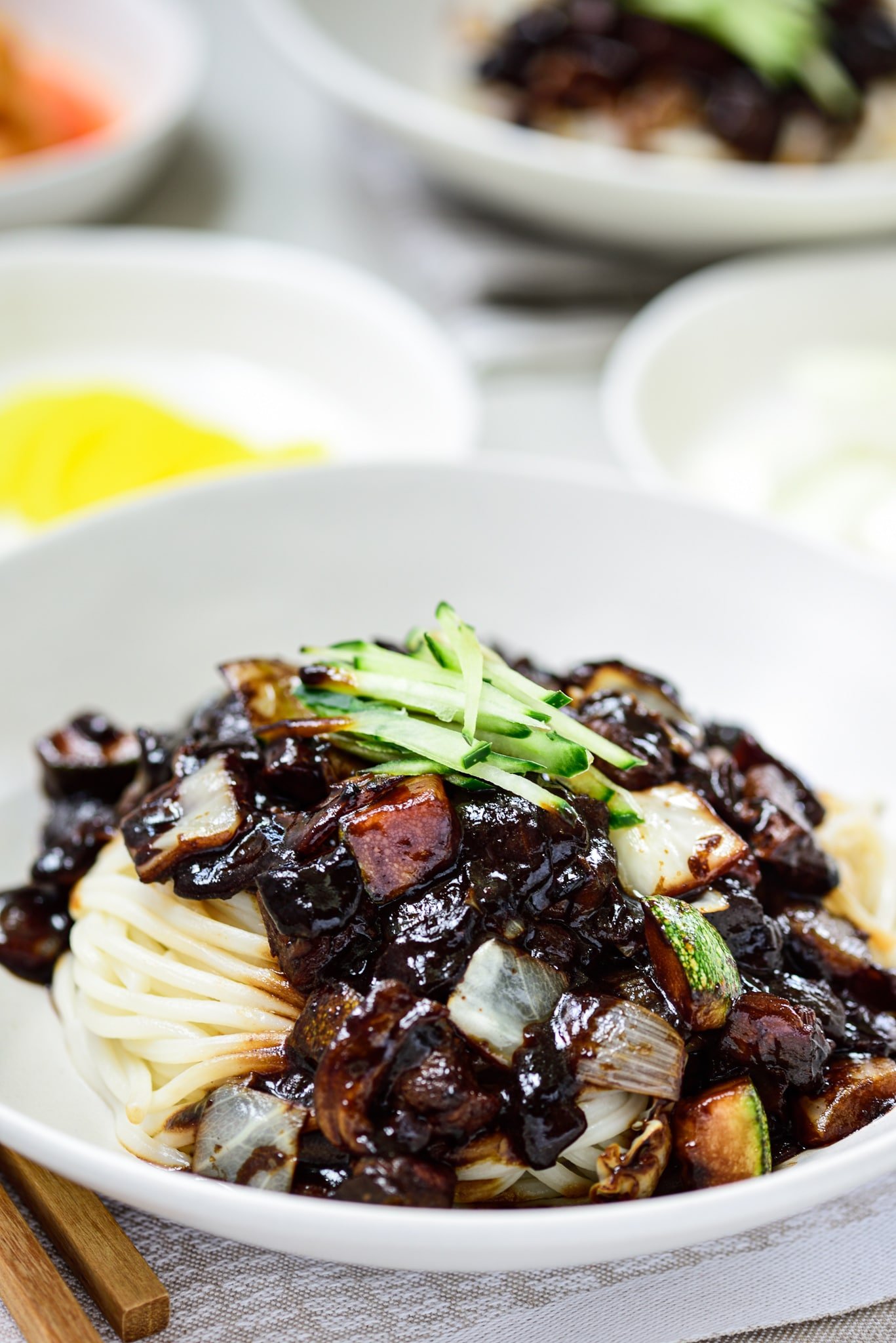 Whether you grew up on these Korean black bean noodles or learned to love them as an adult, I'm sure you get strong cravings for this beloved dish every so often. Good news is that you can easily make this restaurant favorite at home as long as you have the black bean paste called chunjang (춘장)!
What is jajangmyeon?
Jajangmyeon (자장면), also called jjajangmyeon (짜장면), is a noodle dish in a black bean sauce. Along with jjamppong (짬뽕, spicy seafood noodle soup) and tangsuyuk (탕수육, sweet and sour pork or beef), it's a popular Korean-Chinese dish. Called collectively as Junghwa Yori (중화요리), Korean-Chinese cuisine was developed by early Chinese immigrants in Korea. It's a huge part of Korean food culture.
Growing up, jajangmyeon was the dish that our parents treated us with on special occasions, such as graduation, exam days, birthdays, etc. It was every child's favorite food! Still probably is.
As you might have seen on Korean dramas, it's also the most popular dish for home delivery in Korea, just like pizza delivery in America. It's the dish Koreans call to order on a hectic moving day.
As a more recent phenomena, jajangmyeon has become a symbolic dish that single people eat with their friends on Black Day (April 14) to commiserate with each other over black noodles for lacking a romantic relationship.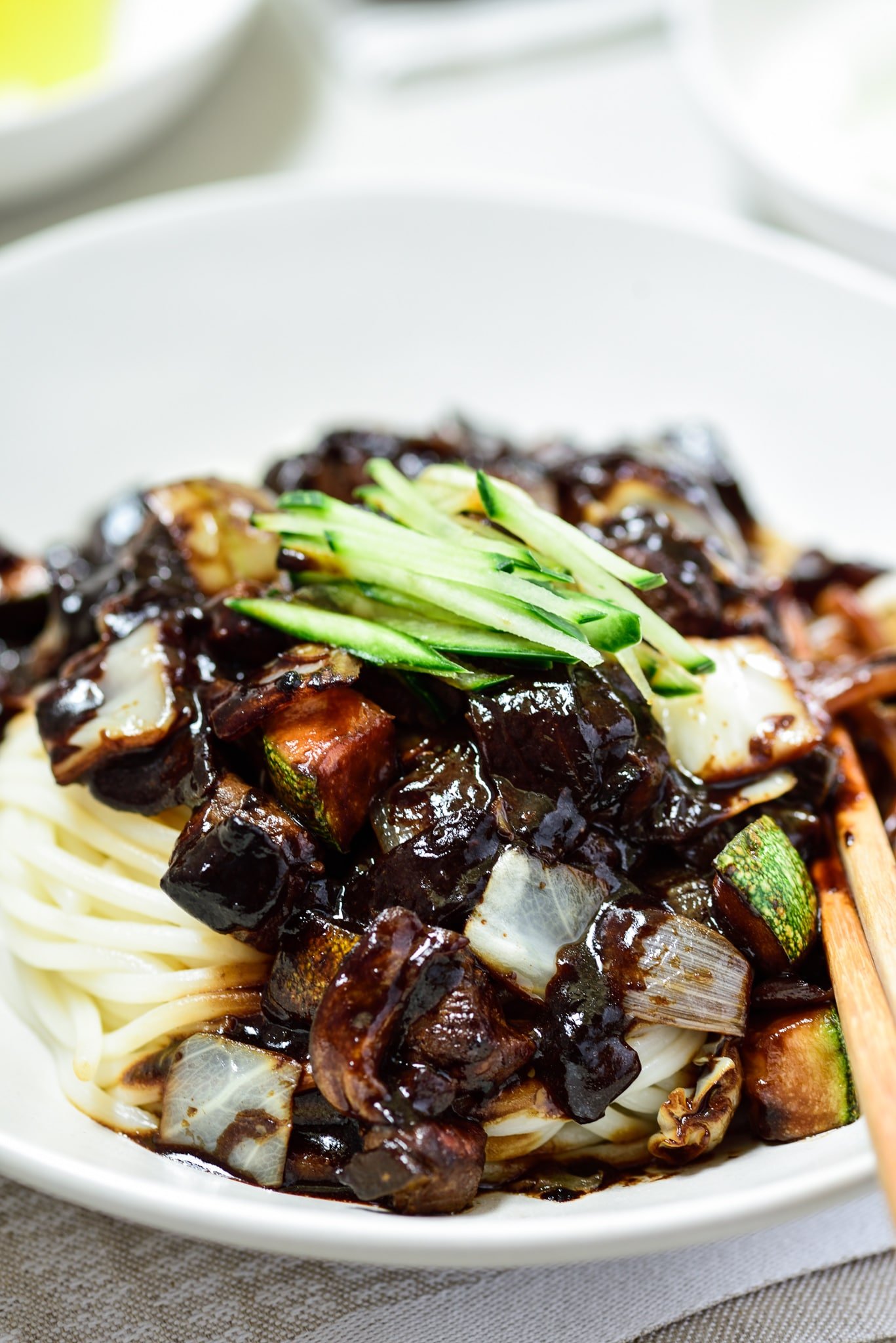 Types of Korean black bean noodles
Jjajangmeyon (짜장면): When there's no other word in front of it, it simply refers to regular jajangmyeon, also known as yetnal jajangmyeon — yetnal meaning from the past or old-fashioned. For this type, water or stock is added to the sauce as well as some starch slurry to thicken it. The resulting sauce is liquidy.
Ganjjajangmyeon (간짜장면): The dish is made without the addition of any water or stock or thickening for the sauce. As a result, the sauce is dry with more solid ingredients per serving.
Samseon jjajangmyeon (삼선짜장면): Samseon means fresh delicacies from 3 sources — land, sea and sky, but in Korean-Chinese cuisine, it commonly refers to a dish with various seafoods. There's usually samseon ganjjajangmyeon (삼선간짜장면) on the menu as well.
Euni jjajangmyeon (유니짜장면): Jajangmyeon made with ground meat.
Jaengban jjajang (쟁반짜장면): The noodles are stir-fried with the sauce and served in a large platter to be shared.
This recipe is for regular jajangmyeon, but I didn't add a lot of liquid. If you want your sauce to be more saucy/liquidy, you can add more stock or water.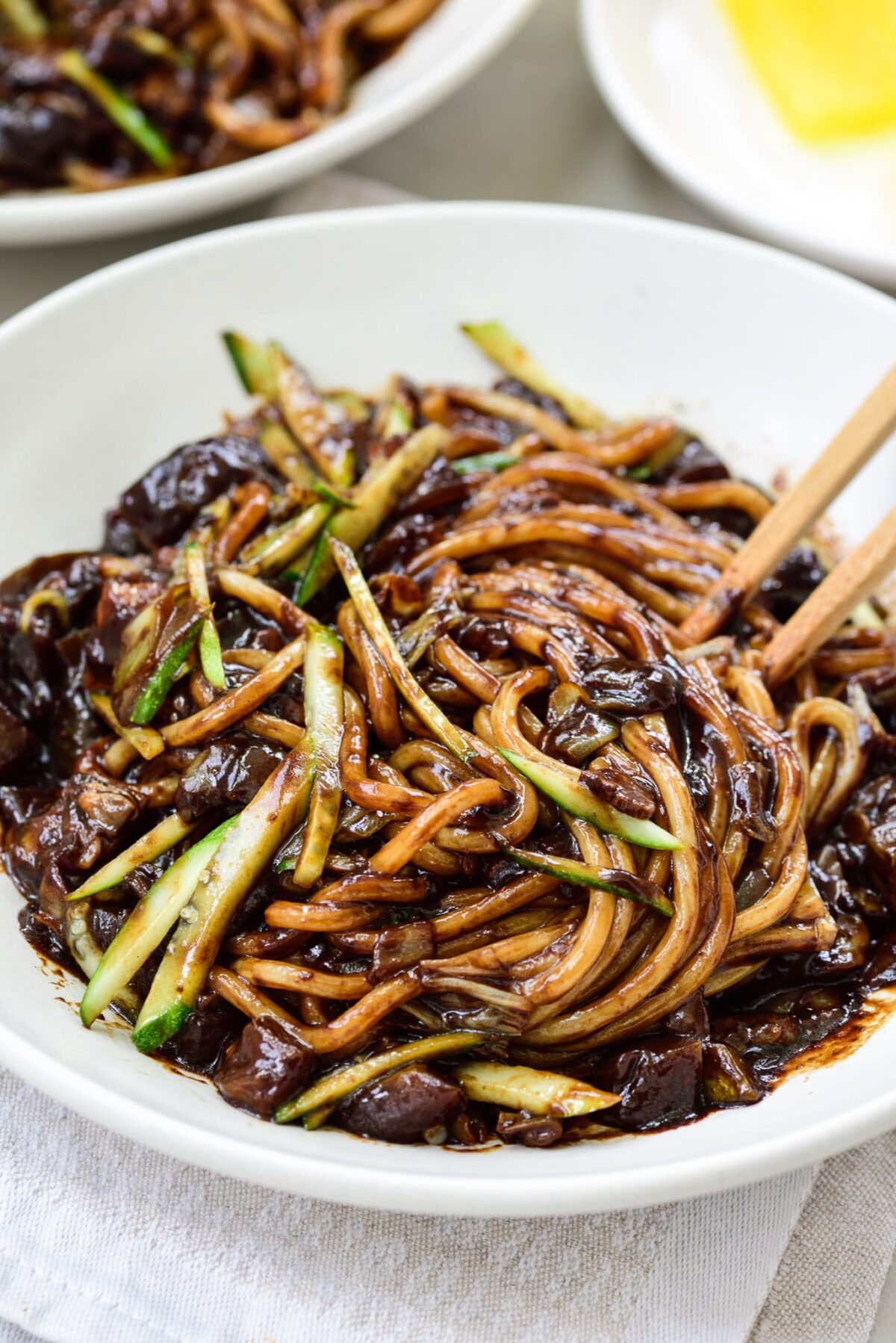 Jajangmyeon sauce
The sauce is made with chunjang (춘장), which is a Korean-style black bean paste made with fermented wheat flour, soybeans and caramel sauce. Its use is pretty much limited to Korean-Chinese dishes. I know some have asked if a Chinese black bean paste can be a substitute for this dish. The answer is NO, if you want to make jajangmyeon as Koreans enjoy.
You can find chunjang at Korean markets, usually next to doenjang (된장, fermented soybean paste). Depending on the brands, some are saltier, sourer, and/or sweeter than others.
When chunjang is fried in oil along with meat and vegetables, it becomes a jajang sauce. You first need to fry the black bean paste in oil. This process helps remove the bitter and sour taste of the bean paste. Some are sold pre-fried, so check the directions on the package. But, it would never hurt to fry it again.
In the past, and probably still the case at many restaurants, chunjang was fried in pork fat as a flavoring, so there's your option if you want to try!
A little bit of sugar also helps balance out the bitterness, sourness, and saltiness of the black bean paste.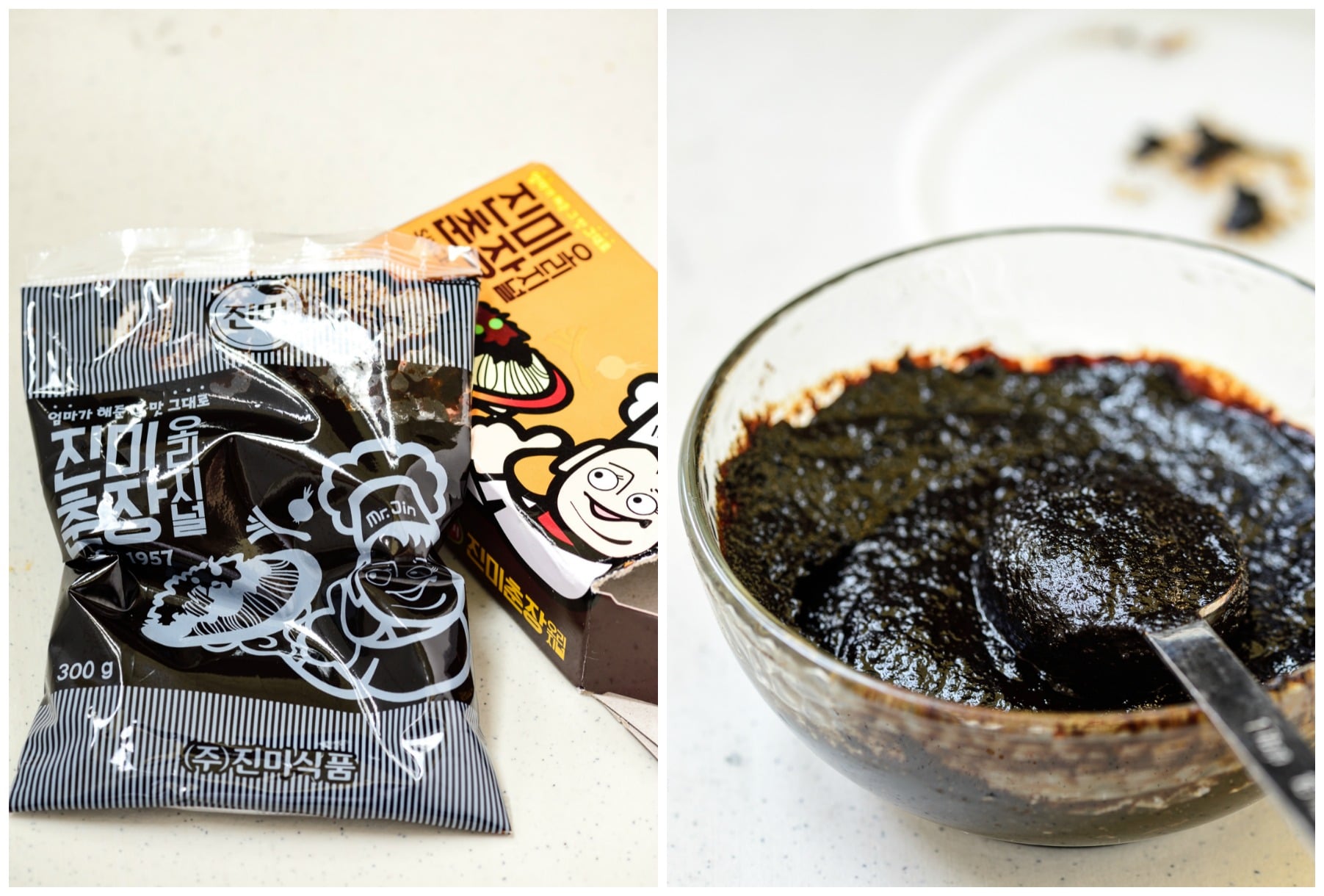 Meat and vegetables
Pork is the classic option for the meat, but you can substitute it with any chicken, beef, and/or seafood. You can, of course, use lean meat, but some pork fat will add lots of flavor to the sauce.
For vegan jajangmyeon recipe, omit the meat, and use some mushrooms and/or fried tofu.
Typically, jajangmyeon includes lots of vegetables such as onion, green cabbage, zucchini, and potato. Onion and cabbage, especially, give the jajang sauce a delicious sweetness. I didn't use potatoes in this recipe, but you can if you want. Carrots and green peas are also good options.
In this jajangmyeon recipe, I used good quality chicken stock to give the sauce extra flavor. I think it makes a big difference, but water is okay too.
Jajangmyeon noodles
Nothing is better than restaurants' hand-pulled noodles, which are nicely thick and chewy. For home cooking, you can find ready-made fresh noodles in the refrigerator section of Korean markets, which are preferred. There are also frozen and dried noodles. These noodles are generally labeled for udon and jajangmyeon (우동 짜장면) or jungwhamyeon (중화면).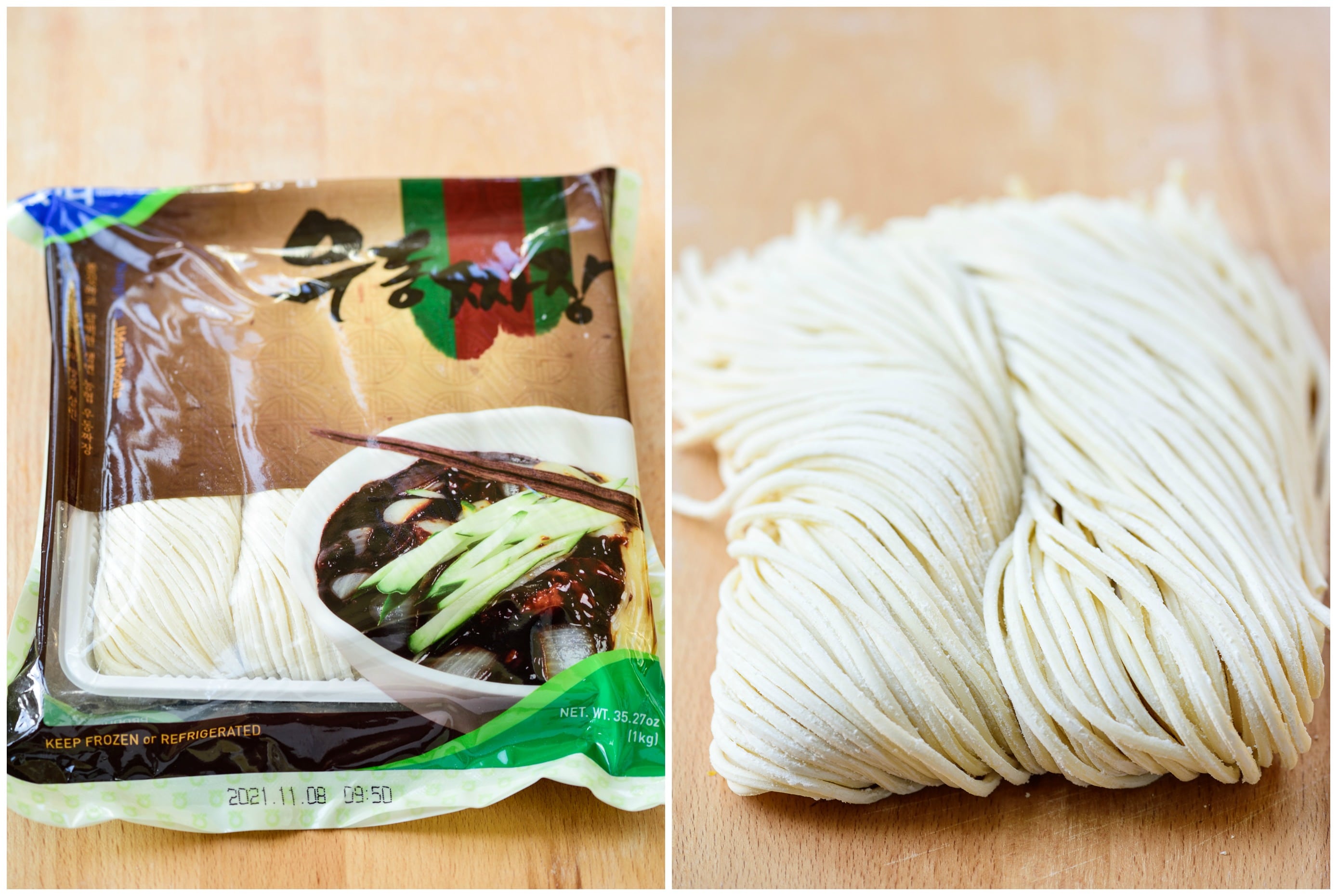 Variations
Add some seafood such as shrimp and squid. You can throw them into the pan when the vegetables are almost cooked.

If you like a spicy kick, add a little bit of gochujang (Korean red chili pepper paste) or gochugaru (red chili pepper flakes).
Serve the jajang sauce over cooked rice, a welcome change from the usual dish with noodles. In this case, the dish is called jajangbap (짜장밥).
This recipe yields 3 to 4 servings, depending on your serving size.
More warm noodle recipes
Jjapaguri with steak
Jjamppong (spicy seafood noodle soup)
Dak kalguksu (chicken noodle soup)
Janchiguksu (warm noodle soup)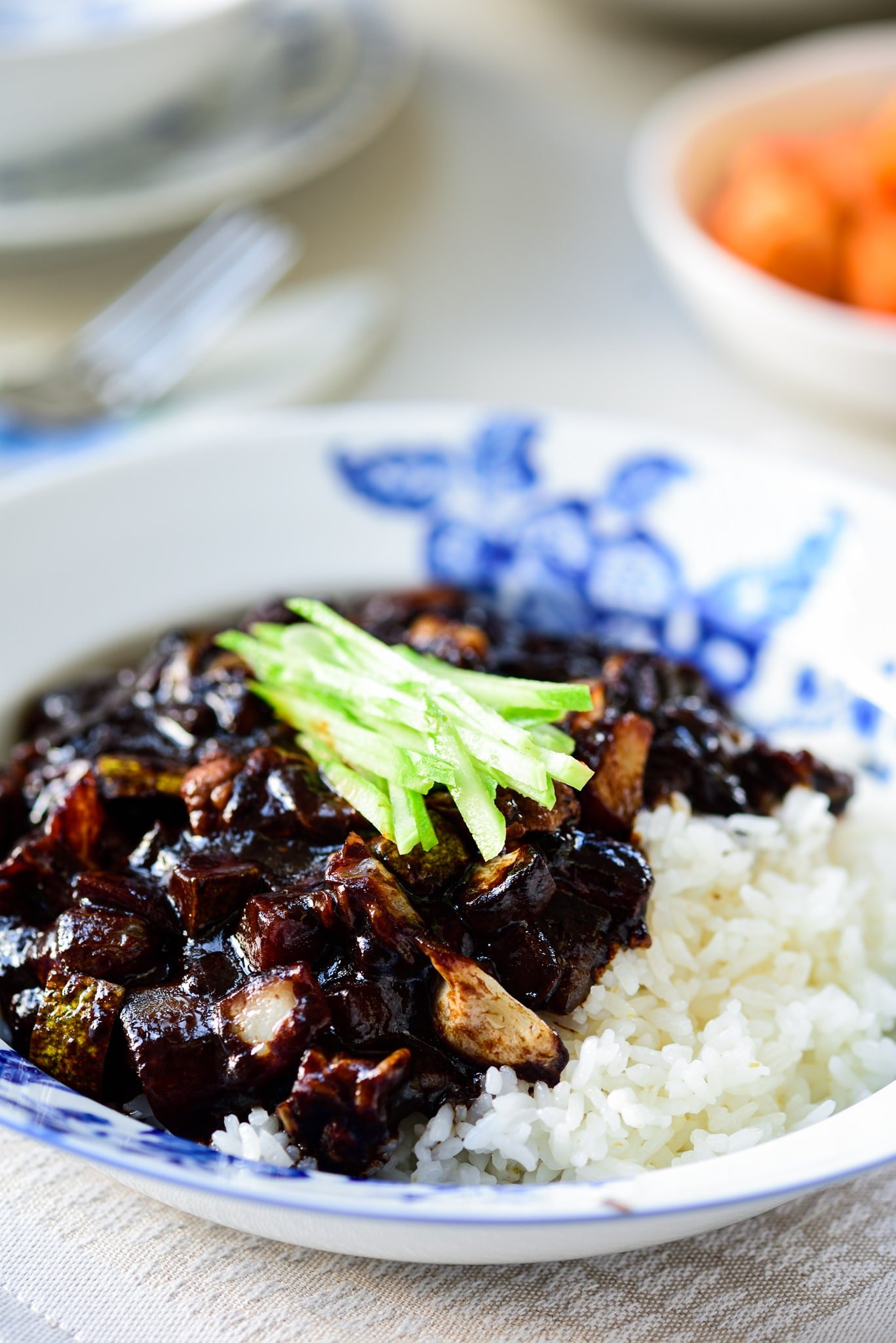 For more Korean cooking inspirations, follow along on YouTube, Pinterest, Twitter, Facebook, and Instagram.
Jajangmyeon (noodles in a black bean sauce)
Main Course
Print Recipe
Ingredients
3 to 4

servings

fresh jajangmyeon/udon noodles (about 6 ounces per serving)
For the sauce
5

tablespoons

Chunjang (춘장), Korean black bean paste

some may be labeled as jjajang (짜장)

2

tablespoons

cooking oil

1

tablespoon

sugar

1

tablespoon

oyster sauce - optional

1

cup

chicken stock or water

You can add 1/2 cup more for thinner, more liquidy/watery sauce. See note.

1

tablespoon

potato or corn starch

dissolved in 1/4 cup of chicken stock or water
Meat
8 to 10

ounces

pork (preferably with some visible fat, pork shoulder cut, Boston butt, etc.)

or lean cut if preferred

1

teaspoon

grated ginger

1

tablespoon

rice wine (or mirin)

⅛

teaspoon

each salt and pepper

2

tablespoons

cooking oil

1

tablespoon

soy sauce
Vegetables
1

extra large

onion (or 2 medium, 12 to 14 ounces)

See note if adding potatoes

8

ounces

green cabbage

8

ounces

zucchini

1

small

cucumber for garnish - optional
Instructions
Have a pot of water ready to cook the noodles. Turn the heat on when you start cooking the meat. This way you will have the boiling water ready, for cooking the noodles, by the time the sauce is done.

Prepare the pork and vegetables by cutting them into 1/2 - 3/4 inch cubes. Marinate the pork with a tablespoon of rice wine (or mirin), ginger, salt and pepper while preparing the vegetables.

Add the black bean paste to a small saucepan with the oil, sugar, and the optional oyster sauce. Fry it over medium heat for 2 - 3 minutes, stirring constantly.

Heat a large pan with 2 tablespoons of cooking oil over medium high heat. Add the pork and stir fry until no longer pink, adding a tablespoon of soy sauce half way through.

Add the onion and cook until soft, stirring occasionally.

Add the cabbage and zucchini and continue to stir fry until vegetables are softened.

Stir in the black bean paste and mix everything together until all the meat and vegetables are coated well with the paste.

Mix everything together until all the meat and vegetables are coated well with the paste. If you like ganjjajang, you can stop here and skip the next two steps. See note.

Add the noodles in the boiling water. Cook according to the package instructions and drain. Do not overcook. The noodles should have a firm bite to them (al dente). Place a serving size of noodles in each bowl. Spoon the sauce over the noodles and garnish with the optional cucumber matchsticks. Alternatively, you can serve over cooked rice.
Notes
1.If you're adding some potatoes, dice smaller than other vegetables, and add to the pan when the onions are added. Or you can briefly cook diced potatoes in the microwave because it takes longer to cook potatoes than the other vegetables.
2. Ganjajang is a drier sauce made without the addition of any water or stock. Some people prefer it this way, but this will yield less servings. (See the body of this post for types of jajangmyeon.)
3. If you want your sauce to be more liquidy/watery, add an addition 1/2 cup of stock or water with a little more starch when you make starch slurry (about 1 teaspoon more).
This jajangmyeon recipe was originally posted in May 2011. I've updated it here with new photos, more information, and some changes to the recipe.