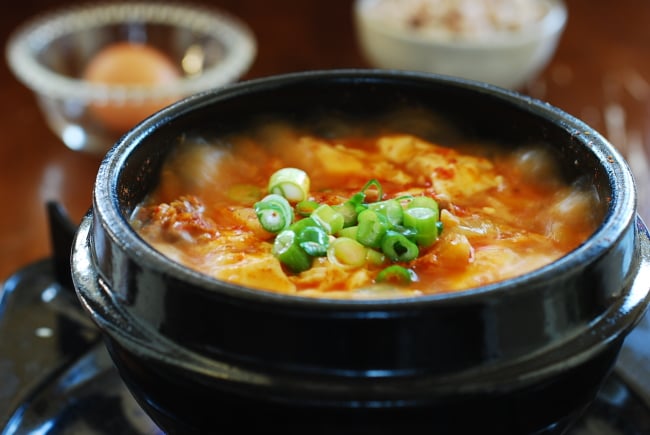 Today, I'm posting another soondubu jjigae (순두부 찌개) recipe. It's a stew made with uncurdled tofu, soondubu (also spelled sundubu). Previously, I showed you how to make haemul (seasfood) soondubu jjigae. This recipe is made with kimchi and meat.
You can use any meat you want, and mushrooms are a good substitute if you don't like meat. For the best results, always use fully fermented kimchi to cook with.
I like to use anchovy broth as a stew base, which is typical, but you can use other broth or water.
Also, if you have some salted shrimp (saewujeot, 새우젓) leftover from making kimchi, use a little to season the stew instead of using salt. It adds a nice layer to the flavor of the stew.
Keep a package or two of soondubu in the fridge, and whip up this bubbling pot of flavorful stew when you want something warm and comforting on a cold winter night.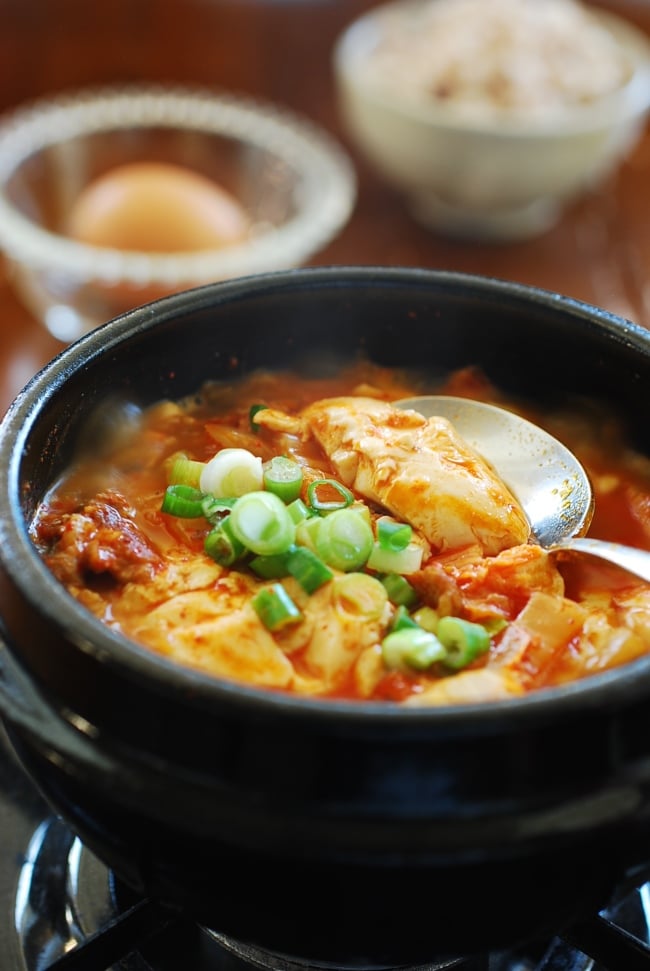 Soondubu Jjigae (Soft tofu stew)
a bubbling pot of flavorful stew made with soft tofu
Ingredients
1

package

11 ounces soondubu, 순두부 (extra soft/silken tofu)

2

ounces

beef or pork

rib eye, sirloin, pork loin, or pork belly

1/3

cup

thinly sliced kimchi

1

scallion

finely chopped

1

teaspoon

red chili pepper flakes

gochugaru- add more for a spicier stew

1

teaspoon

sesame oil

use a little more if using more gochugaru

1

teaspoon

minced garlic

1/2

teaspoon

saewujeot

새우젓 (salted shrimp) or salt

pinch

black pepper

1

cup

anchovy broth*

or other broth or water

2 to 3

tablespoons

juice from kimchi

1

egg

optional
Recipe Notes
For anchovy broth, boil about 5 or 6 medium dry anchovies and 1 3-inch square dried kelp in 2 cups of water for 10 minutes.