This warming and comforting jjigae (Korean stew) is made with extra soft tofu (soondubu), thinly sliced meat, kimchi and anchovy broth. It really takes less than 30 minutes to prepare this flavor packed Korean tofu stew!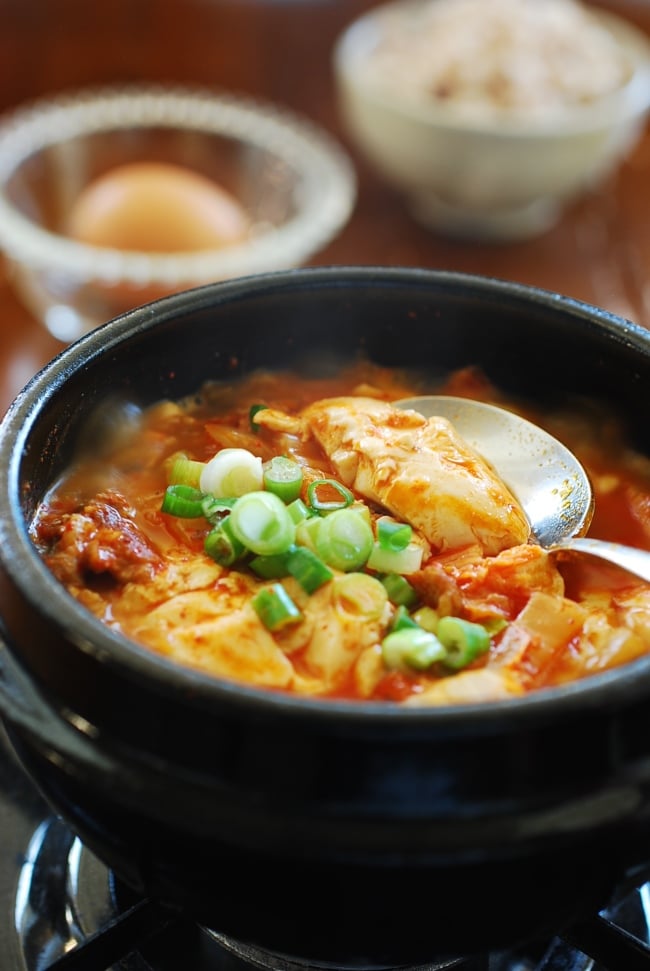 Today, I'm posting another soondubu jjigae (순두부 찌개), Korean soft tofu stew. This time, it's made with soondubu (also spelled sundubu, aka silken tofu), ripe kimchi and thinly sliced meat. Do you have a Korean tofu house near you that specializes in soondubu jjigae? Restaurants usually offer several variations (seafood, meat, vegetables, combination, etc.) on the menu. Which is your favorite variation? This kimchi soondubu jjigae is very popular. Try making it at home.
For the best results, always use fully fermented kimchi to cook with. If you have some salted shrimp (saewujeot, 새우젓) leftover from making kimchi, use a little to season the stew instead of using salt. It adds a nice layer to the flavor of the soft tofu stew.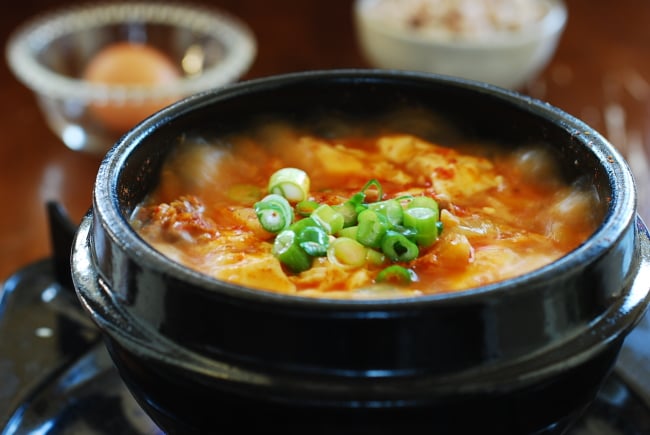 I like to use anchovy broth as a stew base, which is typical, but you can use any other broth or water.
This recipe combines kimchi and pork, a classic match. Feel free to use beef, chicken, or seafood and switch out the pork. Mushrooms are a good substitute if you don't like meat. If you start with vegan kimchi, you can even make the stew vegan.
Soondubu jjigae is often served with a raw egg to be cracked in to the boiling hot stew at the table. The egg adds richness to the stew, but you don't need to add an egg if you don't want to. It's a matter of preference.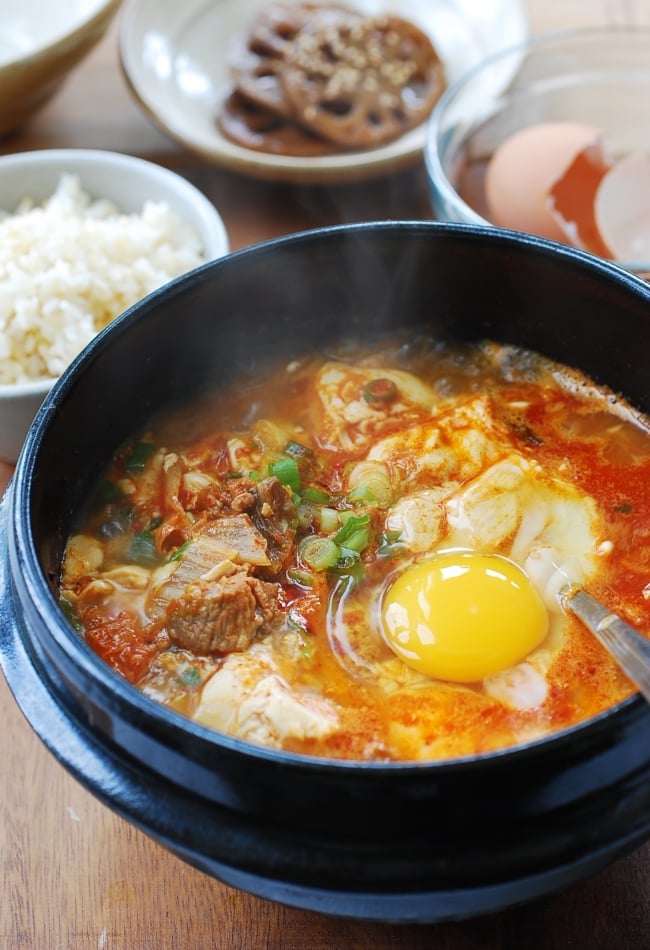 I always keep a package or two of soondubu in the fridge, and whip up this bubbling pot of flavorful jjigae when I need to create something warm and comforting quickly.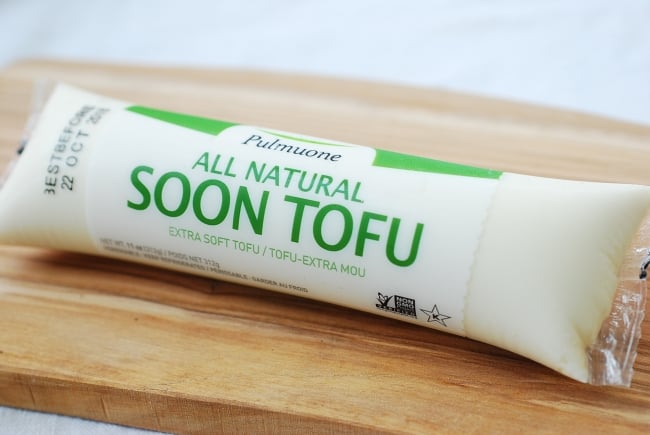 More soondubu jjigae recipe:
Haemul soondubu jjigae (seafood soft tofu stew)
Deulkkae soondubu jjigae (soft tofu stew with perilla seeds) – vegan
Have you tried this Korean tofu stew recipe? Please rate the recipe below by either clicking the stars or with a comment! And make sure to share your creations by tagging me on Instagram! I'll also be very happy to see you on Pinterest, Twitter, Facebook, and Instagram.
Watch how to make it
Ingredients
1

package

12 ounces sundubu (extra soft/silken tofu)

1/3

cup

thinly sliced kimchi

3

ounces

pork or beef

1 to 3

teaspoons

red chili pepper flakes

gochugaru- add more for a spicier stew

1

teaspoon

minced garlic

1

tablespoon

sesame oil

use a little more if using more gochugaru

1

cup

water or anchovy broth

See note

2 to 3

tablespoons

juice from kimchi

1/2

teaspoon

saewujeot (salted shrimp) or salt to taste

pinch

black pepper

1

scallion, finely chopped

1

egg - optional
Instructions
Cut the meat and kimchi into small thin strips. Add the kimchi, meat, red chili pepper flakes, garlic and sesame oil to a small pot, and place it over medium heat.

Stir-fry until the meat is almost cooked, 3 - 4 minutes.

Pour in water (or broth) and the juice from the kimchi. Bring it to a boil, and continue to boil for 3 - 4 minutes. Skim off the scum.

Add the soft tofu in big chunks. Stir in the salted shrimp or salt to taste (start with 1/4 teaspoon) and black pepper. Cook for 4 -5 minutes. Add the chopped scallion just before removing the pot from the heat. If desired, crack an egg into the stew to serve while it's still boiling hot.
Notes
Water is fine for this stew, but use anchovy broth for an extra layer of flavor.