Got some old kimchi? Make ssambap (rice rolls)! A little extra effort to wrap the rice in tangy, crunch kimchi is well worth the effort!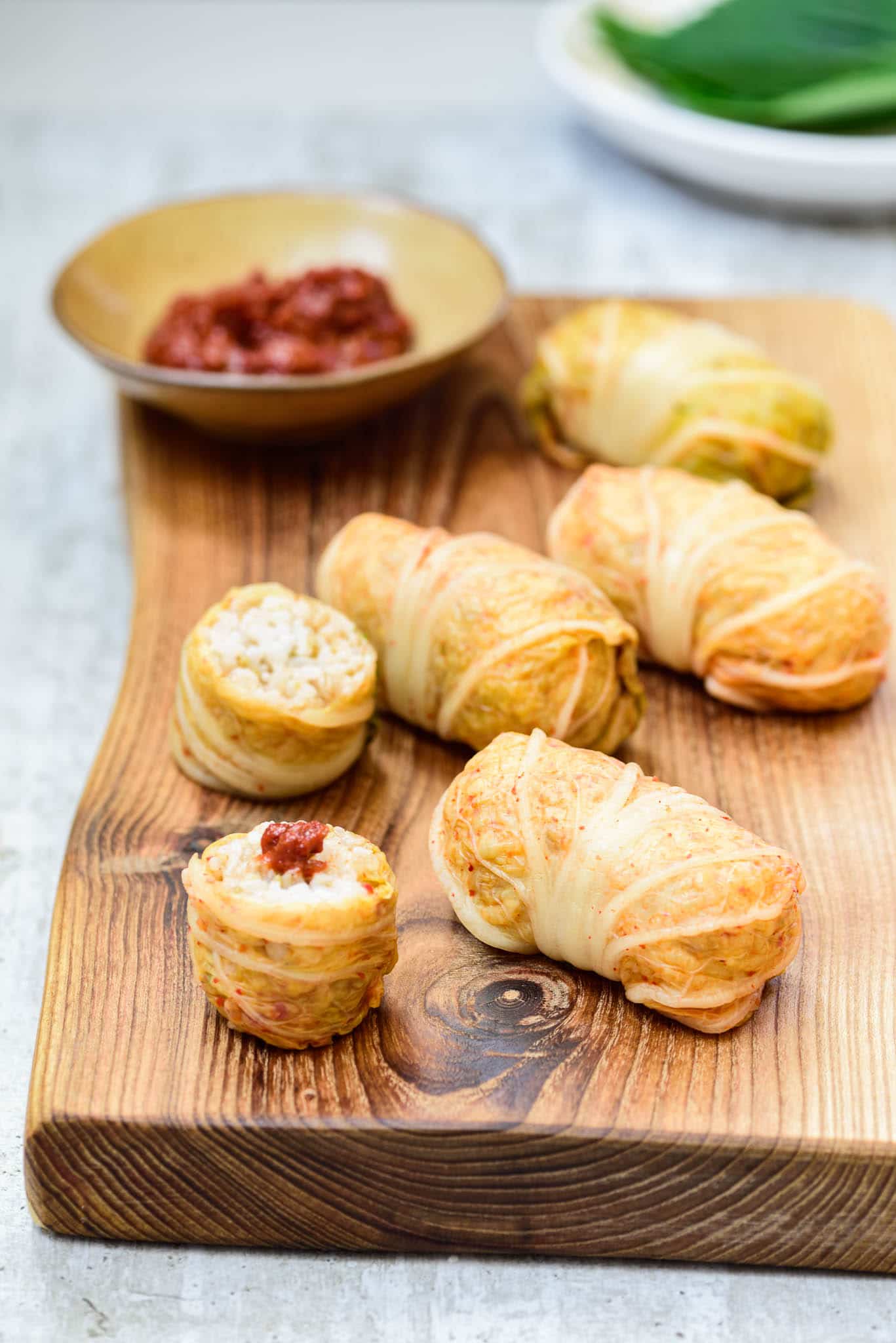 As you probably know, Koreans make wraps (ssam 쌈) with all kinds of fresh and cooked leafy vegetables — lettuce, perilla leaves, zucchini leaves and cabbages, to name a few. Kimchi is no exception! When pogi kimchi reaches its tangy, sour stage, it's very tasty as a wrap for meat, rice and other fillings.
What is ssambap?
Ssambap (쌈밥) is rice wrapped in a leafy vegetable. Sometimes, rice and vegetables are served separately with ssamjang on the side. Other times, rice is served pre-wrapped.
A little extra effort to wrap the rice in tangy, crunch kimchi turns the ordinary rice into something much more interesting and delicious. It's a little extra love that makes all the difference. These are portable so ideal for lunch boxes or picnic food.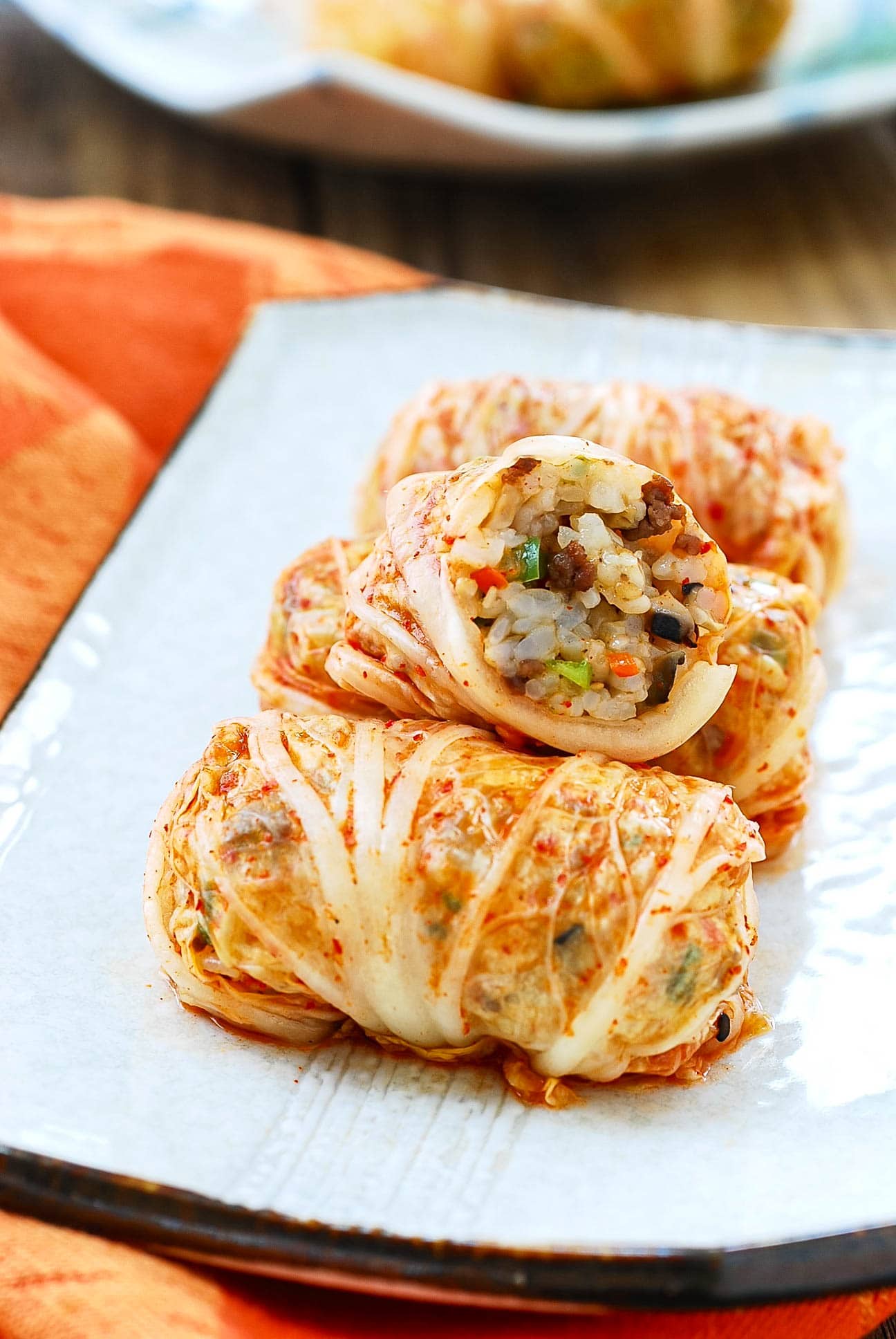 To use kimchi as a wrap, simply squeeze out the liquid from the kimchi. You can also rinse in water first and then squeeze for a milder taste, especially if your kimchi is very sour. Growing up, we had kimchi wraps quite often in springtime with the kimchi made in late fall.
You can serve kimchi separately so each person can make his/her own wraps at the table.
The rice can be in any form. The first photo is made with rice that's simply seasoned with salt and sesame oil. The recipe shows ssambap made with fried rice. Sometimes, I enjoy kimchi wraps with plain rice and a dollop of ssamjang or gochujang.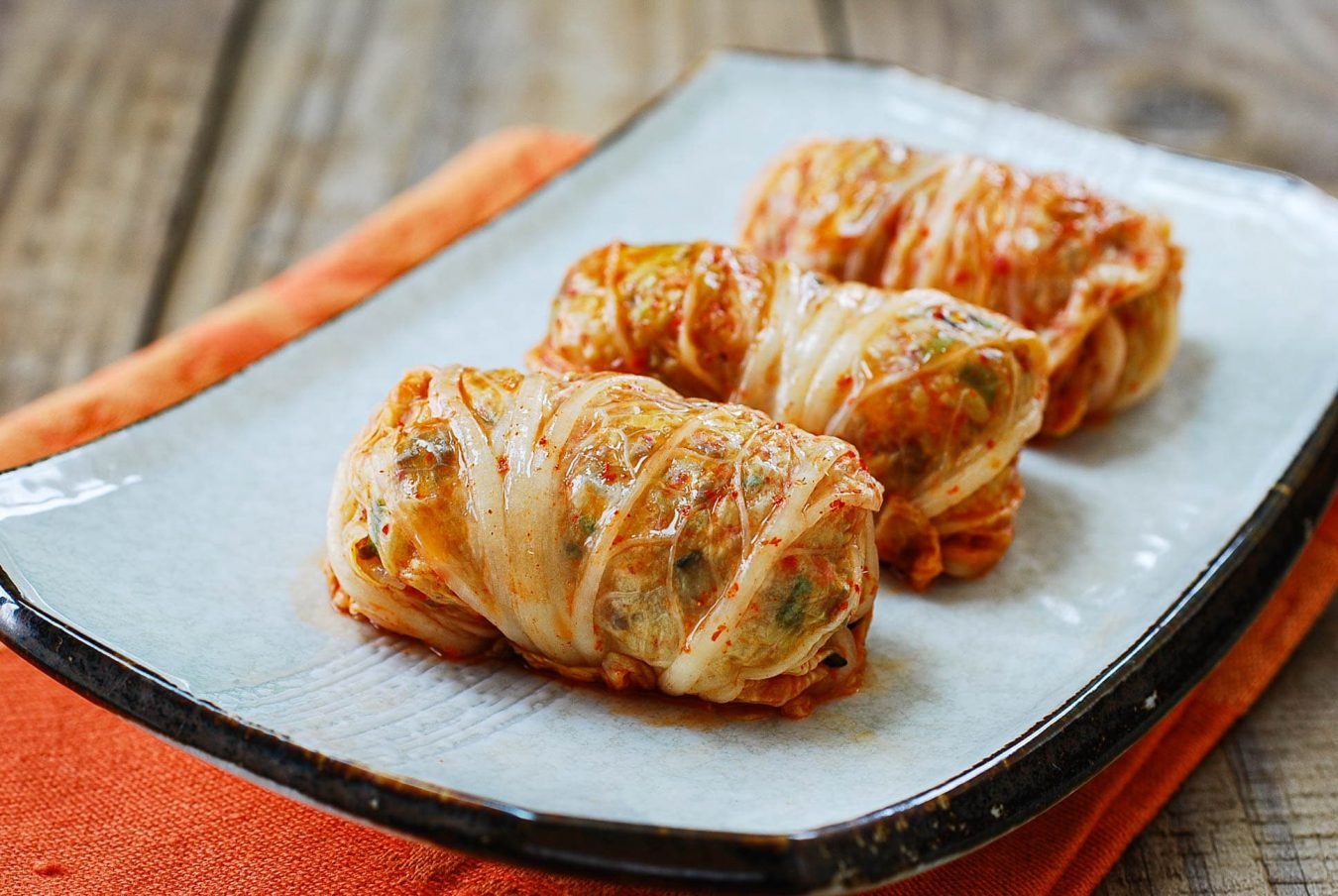 For more Korean cooking inspirations, follow along on YouTube, Pinterest, Twitter, Facebook, and Instagram.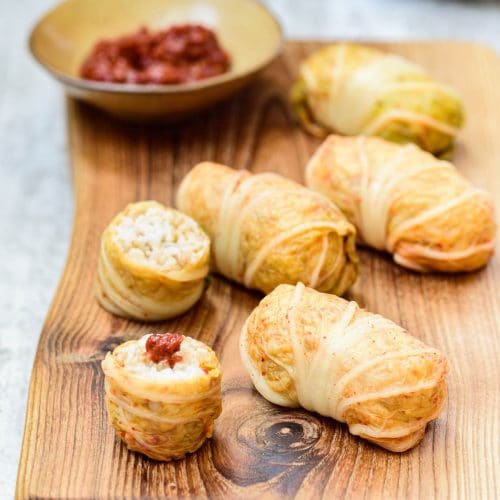 Ingredients
For the fried rice
1/4

medium onion

1/2

small carrot

1/4

small green bell pepper

2 to 3

mushroom caps

3

ounces

ground beef

oil to stir fry

2

cups

cooked rice

1

tablespoon

soy sauce

1

tablespoon

sesame oil

1

teaspoon

sesame seeds

salt and pepper to taste
Instructions
For the kimchi
Squeeze out the liquid from the kimchi, and cut off the thick white part. Alternatively, rinse the kimchi leaves in cold water and squeeze out the liquid.
For the fried rice (or simply season the rice with salt and sesame oil to taste)
Finely chop the vegetables.

Heat a lightly oiled pan over medium heat. Cook the ground beef, breaking up into small pieces, until it turns brown, about 2 minutes. Add a tablespoon of the oil and the vegetables. Cook until the vegetables are soft, about 2 minutes.

Add the rice and soy sauce. Stir-fry until all the ingredients are evenly distributed, and the clumped up rice is broken up, 2 to 3 minutes. Lightly season with salt and pepper (remember kimchi is salty). Stir in the sesame oil and seeds at the end.

When the fried rice is cool enough to handle, make small rolls by pressing between your palms. The size of the rolls should depend on the size of your kimchi.
To assemble
Place a kimchi leaf on a cutting board. Lay a rice ball near the cut part of the kimchi. Wrap the kimchi around the rice roll, folding in the sides. Roll up all the way. Repeat until all the rice or kimchi is used up.
This recipe was originally posted in April 2014. I've updated it here with new photos, more information, and a recipe card.