You can make this Korean-style mapo tofu recipe with a few basic ingredients in less than 30 minutes. Enjoy soft tofu infused with intense savory and spicy Korean flavors.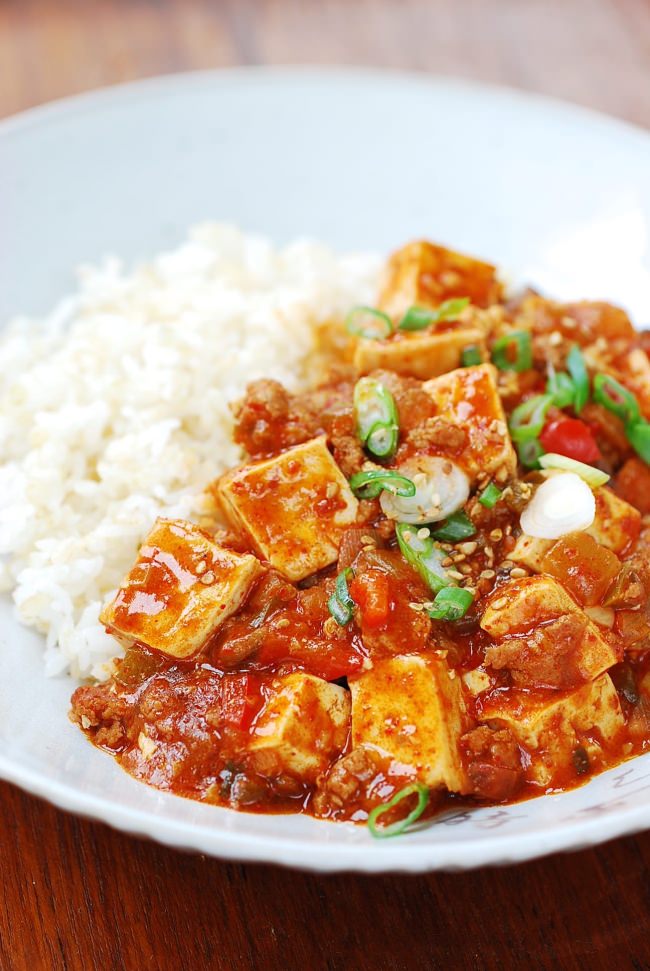 Mapo tofu is a popular Chinese dish in which small tofu cubes are braised in a spicy chili bean paste-based sauce. It originated from the Sichuan province that's known to have cuisine with bold flavors — pungency and spiciness. Mapo tofu is also a popular menu item at Chinese restaurants in Korea. It's called mapa dubu (마파 두부) in Korean.
The authentic Chinese mapo tofu typically calls for doubanjiang (dubanjang, 두반장, in Korean), which is a spicy, salty fermented bean paste and Sichuan peppercorns (aka Chinese coriander). However, these ingredients are not staples in Korean kitchens.
To recreate this dish at home, Koreans often use a combination of Korean fermented soybean paste (doenjang, 된장), red chili pepper flakes (gochugaru, 고추가루), and red chili pepper paste (gochujang, 고추장). It works deliciously!
This certainly is not the dish you get from your local Sichuan restaurant, but it has all the elements of the dish – soft tofu infused with intense savory and spicy flavors!
How to make Korean-style mapo tofu
Start with stir-frying the aromatic vegetables and some gochugaru in hot oil. By adding the gochugaru at this stage, you'll create the effect of using chili oil. You can still use chili oil, if available. To give the sauce more heat, you can add some dried hot peppers to the oil, use more gochugaru, or throw in some fresh hot chili peppers instead of the bell peppers I used in this recipe.
Pork is the classic meat for this dish, but you can use beef if you'd like, or omit the meat to make a vegetarian dish.
I prefer to use soft tofu, (not extra soft/silken) which is labeled as 찌게용 (for jjigae) if you buy Korean tofu packages, but the firm one, 부침용 (for pan frying) is okay too if you'd like a firmer texture.
If you like Korean flavors and tofu, you will love this dish! I bet you can whip this up in less than 30 minutes, making it suitable for a weeknight meal.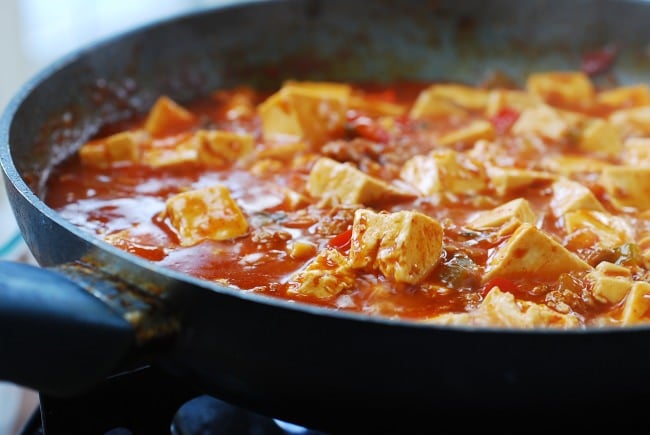 For more Korean cooking inspirations, follow along on YouTube, Pinterest, Twitter, Facebook, and Instagram.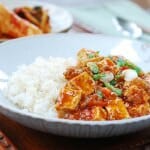 Ingredients
1

package tofu

14 to 16 ounces

4

ounces

ground pork

or beef

1/2

medium onion

finely diced

2

scallions

finely chopped

1

tablespoon

minced garlic

1/4

green bell pepper

or 1 green chili pepper, finely diced

1/4

red bell pepper

or 1 red chili pepper, finely diced
Seasoning
2

tablespoons

cooking oil or chili oil

1

tablespoon

gochugaru

고추가루, Korean red chili pepper flakes

2

tablespoons

soy sauce

1

tablespoon

doenjang

된장, Korean fermented soybean paste

1/2

tablespoon

gochujang

고추장, Korean red chili pepper paste

1

teaspoon

sugar

or add one more teaspoon for a sweeter taste

2

teaspoons

sesame oil

1

tablespoon

starch

mixed with 2 tablespoons water to make starch slurry