If you like kimchi jjigae (stew), try this kimchi jjim (braised kimchi). Slow cooked with a small amount of liquid and fatty pork, braised kimchi is tender and packed with flavors.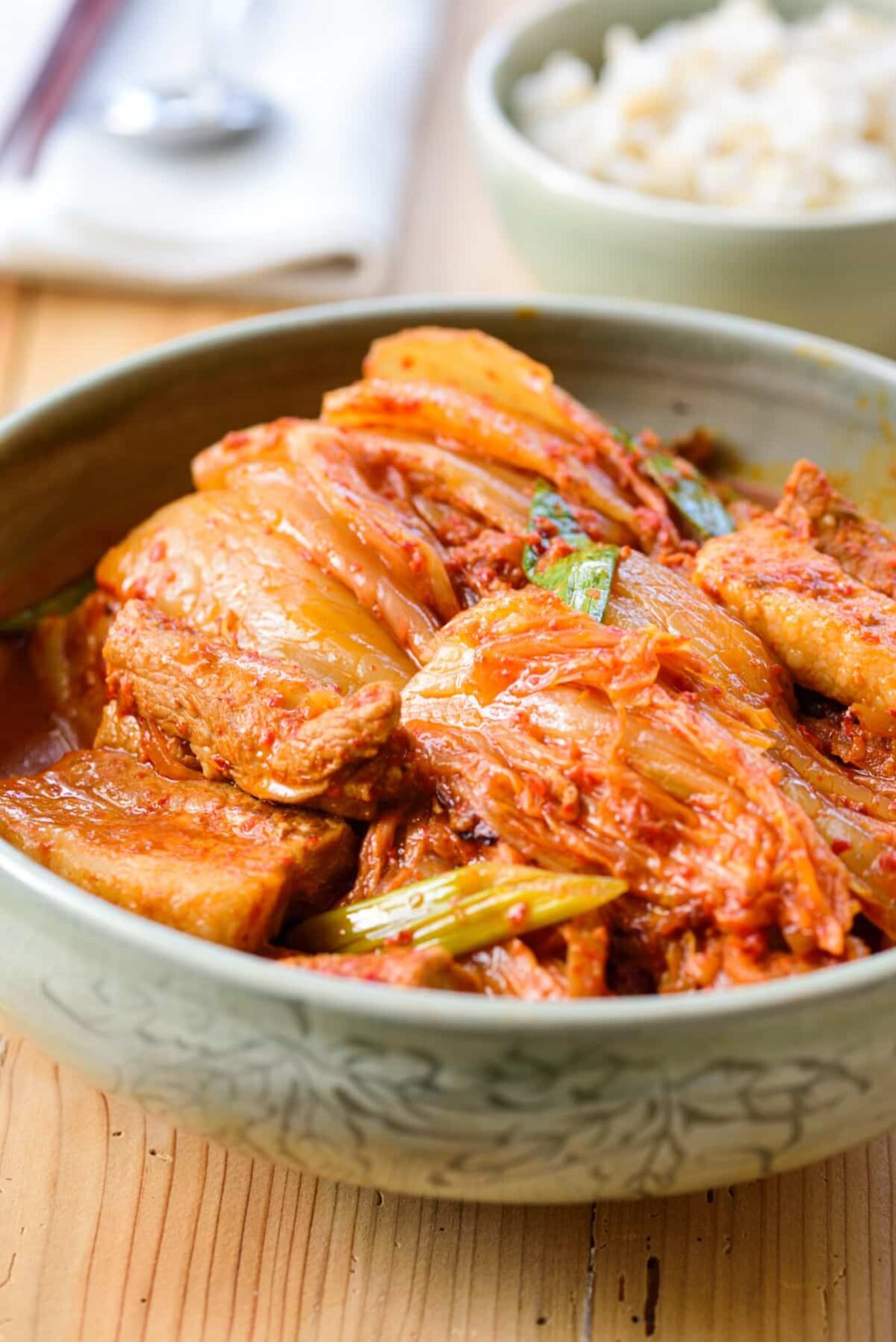 Kimchi jjim (or kimchijjim, 김치찜) is a braised kimchi dish. It's typically made with pork, but you can use other meat if you like. In Korea, kimchi jjim made with mackerel is also popular. Because the kimchi is slow braised, this recipe uses less liquid than the amount used for
kimchi jjigae (stew)
. The resulting dish is drier than kimchi stew but with deliciously concentrated flavors!
Aged kimchi
Every year in late fall, I make enough kimchi to last through the winter and spring. By this point, the kimchi has aged and is very sour with intense flavor, making it perfect for stews or soups! Another favorite dish made with aged kimchi is kimchi jjim (김치찜), braised kimchi.
In Korea, mukeunji (묵은지), which is traditional poggi kimchi that has aged over at least a six-month period, is commonly used for this dish. The flavor of that old kimchi is quite intense. Your favorite Korean restaurants might have a dish or two made with mukeunji, such as mukeunji jjim (braised with pork, usually) and mukeunji godeungeo jorim (braised kimchi with mackerel).
Don't worry! Your kimchi doesn't need to be 6 months old for you to make this dish. However, it's best to use well fermented kimchi that has turned sour. The older the better! If you don't have homemdade kimchi, your Korean market may carry commercially made poggi kimchi.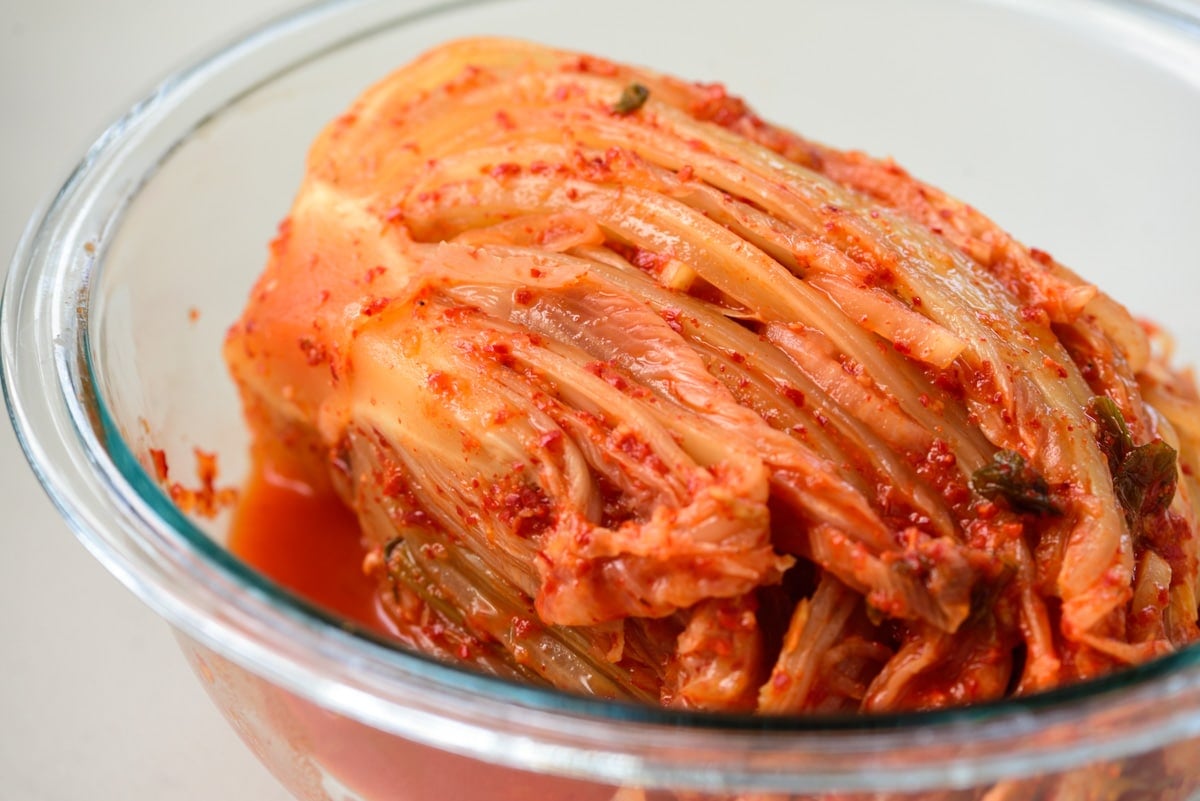 The meat
As I always say, kimchi and fatty pork is a match made in heaven. Fatty pork is most favored for kimchi jjigae in Korea. Not surprisingly, pork ribs are common and delicious in kimchi stew. Pre-boil the ribs until fairly tender, 20 to 30 minutes, and then cook with kimchi. If you don't like pork, use beef.
Tips for making good kimchi jjim
Old, sour kimchi is best for this dish.
Use the water used to rinse rice (ssalddeumul, 쌀뜨물) for the braising liquid. It's commonly used for Korean stews. Use the water from the second or third round of rinsing. The rice water thickens the broth slightly and enhances the flavor of the braised kimchi. Otherwise Anchovy broth, chicken broth, milky bone broth or vegetable broth will also be great for this dish.
If juice from kimchi is available, it will add lots of flavor to the broth.
You can cut kimchi into small pieces before cooking, but in Korea it's commonly made with the quarter cabbage intact as shown in the photo below and cut at the table.
If the kimchi is overly sour to your taste, add a little bit of sugar to the stew to balance out the sour taste. It rounds up the flavor nicely, but it's not absolutely necessary if you don't want to use sugar.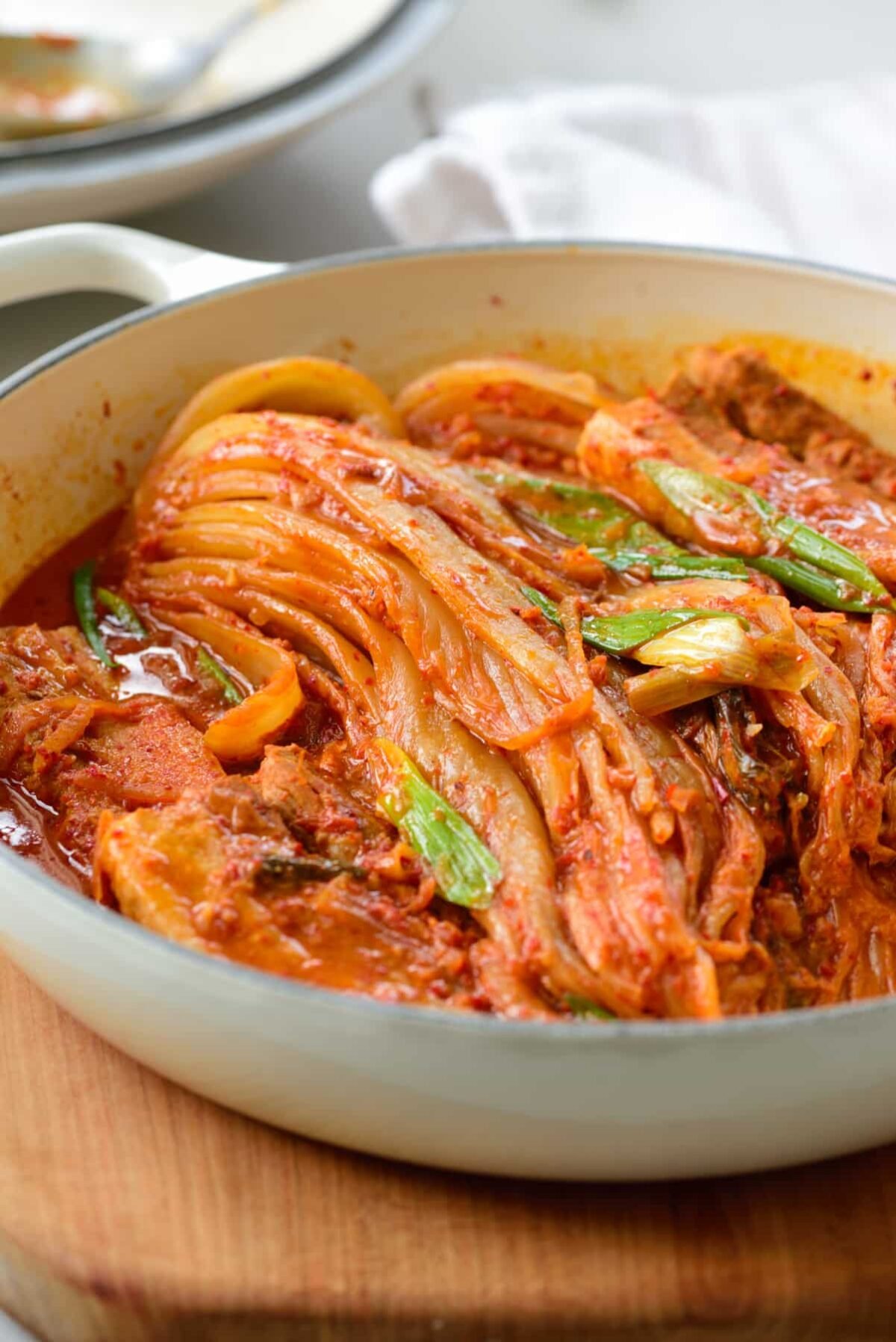 More recipes with old kimchi
For more Korean cooking inspirations, follow along on YouTube, Pinterest, Twitter, Facebook, and Instagram.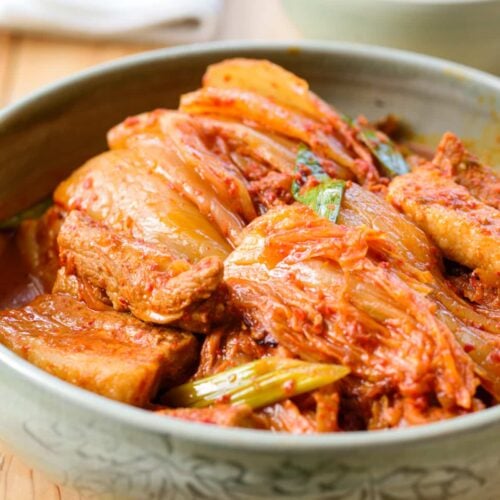 Ingredients
6

ounces

pork belly or shoulder (or beef chuck or brisket)

1

teaspoon

grated ginger

1

tablespoon

minced garlic

1.5

pounds

kimchi (1 quarter of the whole napa cabbage)

You can use more or less kimchi. Simply adjust the water amounts.

1/2

cup

juice from kimchi

1.5

cups

water (or anchovy broth)

If making rice, use the water used to rinse rice (ssalddeumul, 쌀뜨물) instead of plain water.

1

to 2 teaspoons

gochugaru (Korean red chili pepper flakes)

1

or 2 scallions, roughly chopped

1

teaspoon

sugar

You can omit if you like. (see note)
Instructions
Cut the pork meat into large chunks (about 1/2-inch thick). In a pot, preferably with a thick bottom, combine the meat with the ginger and garlic.

Cut the kimchi crosswise into 2 or 3 sections or use the whole quarter cabbage kimchi intact.

Add to the pot with the meat. Add the kimchi juice, water(or broth), and gochugaru. Bring it to a boil over medium high heat. Reduce the heat to medium low. Simmer, covered, until the kimchi and meat are tender, about 40 minutes. If the liquid is evaporating too quickly, add more water (or broth) or reduce the heat.

Stir in the scallions and sugar, 5 minutes before turning the heat off. Serve with cooked rice.
Notes
A little bit of sugar to the stew balances out the sour taste of kimchi. It rounds up the flavor nicely, but it's not absolutely necessary if you don't want to use sugar.
This kimchi jjim recipe was originally posted in March 2013. I've updated here with new photos, more information, and minor improvements to the recipe.