You can make these restaurant favorite cold noodle dishes at home. Learn how to make two types of naengmyeon dishes – spicy and with broth.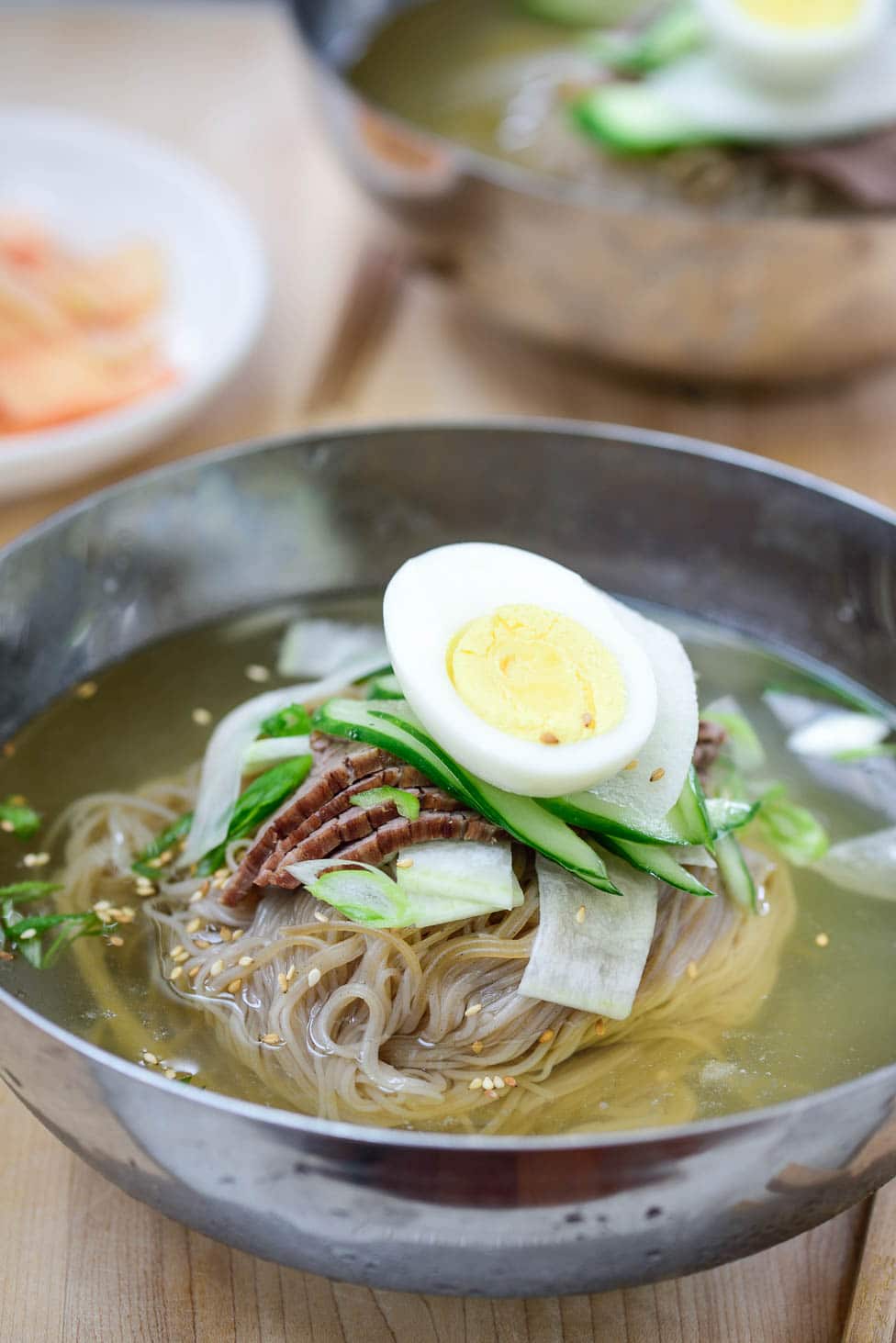 What's your favorite food for hot summer days? In Korea, cold noodles are extremely popular in the summer. Among many varieties of cold noodle dishes, naengmyeon (냉면) is at the top in popularity ranking! There are many restaurants specializing in this dish in Korea, and I always visit some of them every time I visit Korea. Here, I'll show you how I make these noodles at home.
What is naengmyeon?
Literally translated into cold noodles, naengmyeon is a cold noodle dish of thin, chewy noodles that are made with buckwheat and potato or sweet potato starch.
There are two main types of naengmyeon dishes depending on how it's prepared – mul naengmyeon (물냉면) and bibim naengmyeon (비빔냉면).
For mul naengmyeon, the noodles are served in a clear, refreshing broth that's typically made with beef broth and/or dongchimi (동치미, radish water kimchi) broth. Mul means water, referring to the broth in this dish.
If the noodles are mixed in a red, spicy sauce, it's called bibim naengmyeon.
Mul naengmyeon is commonly known as Pyongyang naengmyeon (평양냉면) in Korea while bibim naengmyeon is known as Hamhung (함흥냉면) naengmyeon. These names come from Pyongyang and Hamhung, which are North Korean cities. These cold noodles became popular in South Korea after the Korean war by the people who fled the North during the war.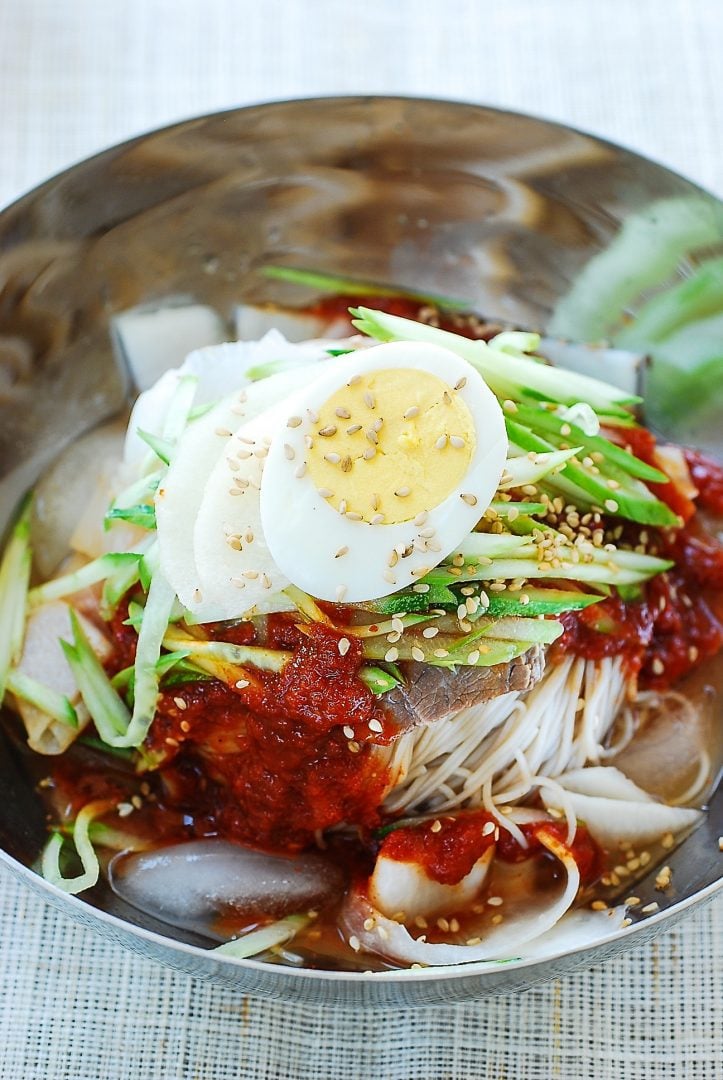 The noodles
Pyongyang naengmyeon noodles are made much more buckwheat than starch, and traditionally enjoyed in icy cold dongchimi broth in the winter. Hamhung naengmyeon noodles are made mostly with potato or sweet potato starch, so they are thinner and chewier.
Various types of naengmyeon noodles are sold commercially – dried, refrigerated, and frozen.
Some packages include pouches of pre-made broth or spicy sauce, which are pretty popular in Korea for quick, convenient meals. They tend to be more expensive, so if you'll be making naengmyeon from scratch, only buy noodles.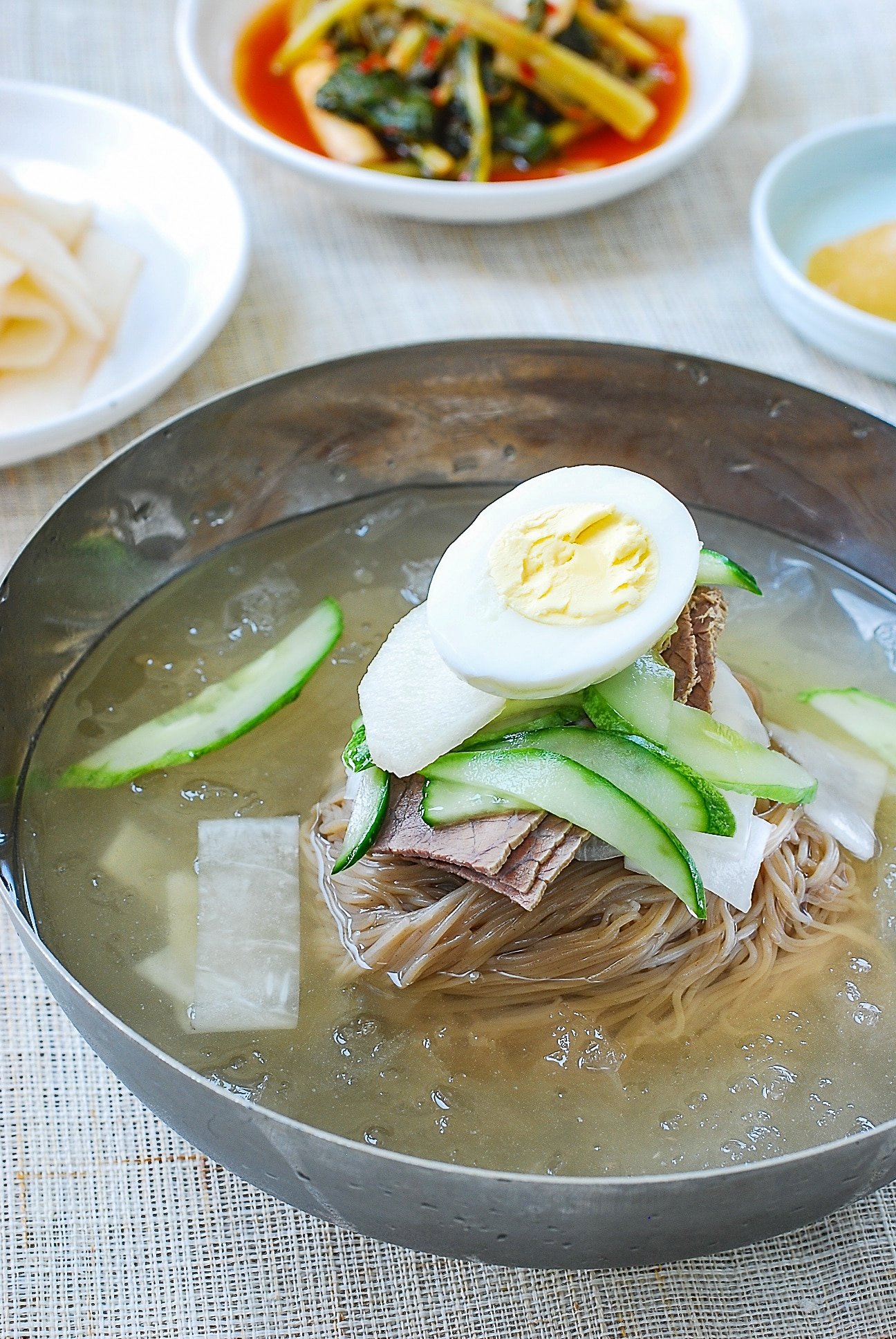 How to make mul naengmyeon
To make mul naengmyeon, you will need to prepare the broth ahead of time and chill. It's best to use a combination of beef broth and dongchimi broth. You can make quick dongchimi (aka summer dongchimi) a few days ahead of time or purchase dongchimi sold in the kimchi section of Korean markets.
Otherwise, simply use beef broth. I usually make a large batch of beef broth and freeze it to make naengmyeon when my craving hits. I sometimes add a little bit of juice from kimchi to the naengmyeon broth to give it a little kick.
Another item you want to make ahead is naengmyeon kimchi, also known as mu chojeorim (무초저림). It's basically simple sweet and sour radish pickles that are typically included in both types of naengmyeon. It should be made at least a few hours before using it. You can also use well fermented kimchi (thinly sliced) or yeolmu (young radish) kimchi instead.
How to make bibim naengmyeon
Bibim naengmyeon is much simpler since you don't have to make the broth. Some people still add a little bit of broth as well as meat to bibim naengmyeon, but it's not necessary. The spicy sauce is easy to put together. You can easily double the sauce for more servings or later use. The sauce will keep well in the fridge for weeks.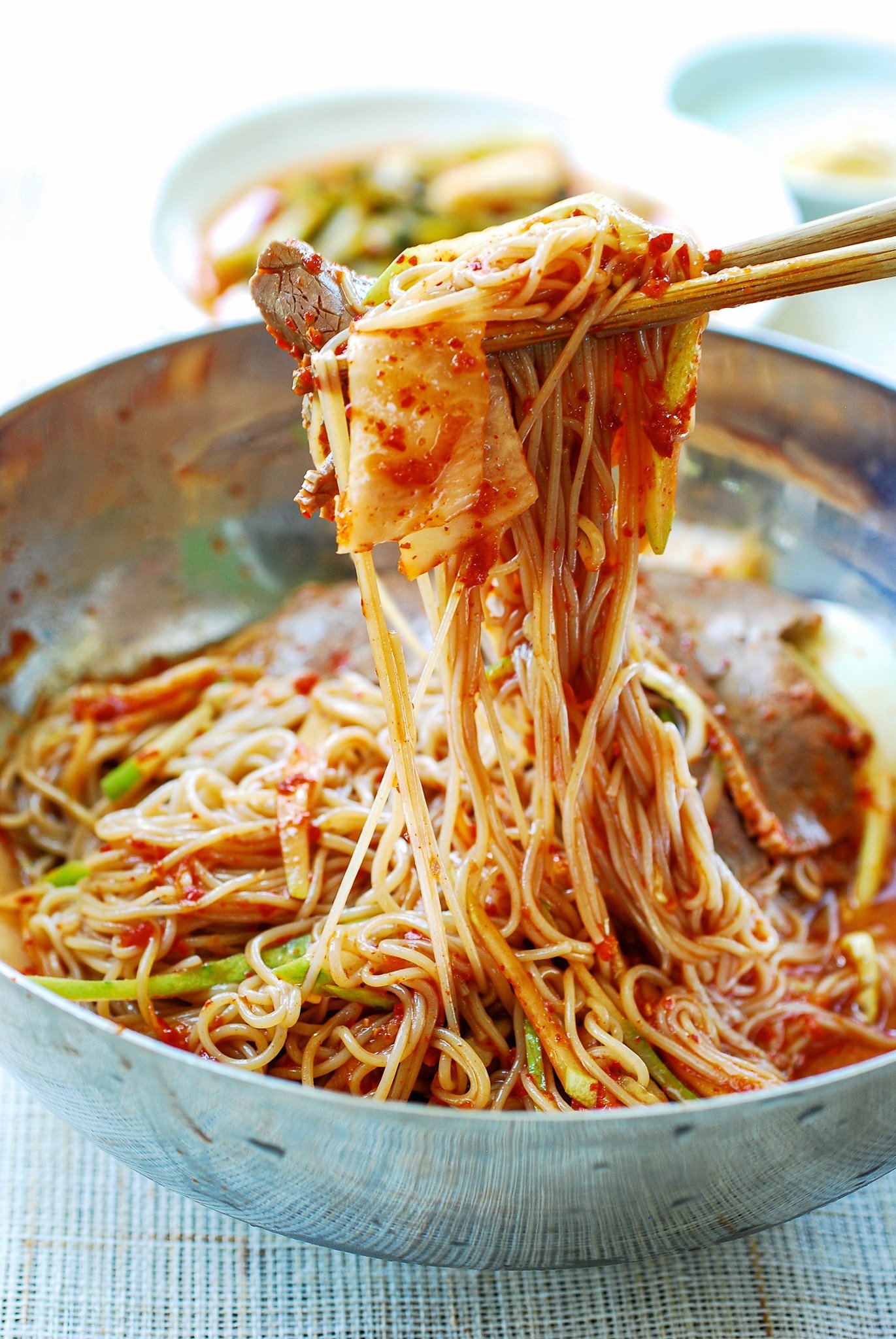 For more Korean cooking inspirations, follow along on YouTube, Pinterest, Twitter, Facebook, and Instagram.
Ingredients
For sweet and sour radish (8 servings)
1

pound

Korean radish

mu

3

tablespoons

vinegar

2

tablespoons

sugar

1

teaspoon

salt
For beef broth (makes about 10 cups - 4 servings)
1/2

pound

230 grams beef brisket (양지머리)

6

ounces

Korean radish, mu (무)

1/2

medium onion

6

cloves

of garlic

3

thin ginger slices

about 1 inch round

2

large scallion white parts

1/2

teaspoon

peppercorns

2

tablespoons

soup soy sauce

1

teaspoon

sugar

salt to taste
For optional dongchimi broth
See my quick dongchimi recipe.
For noodles - either type of naengmyeon (2 servings)
2

servings of naengmyeon noodles

1

boiled egg

cut into halves

1/2

Korean cucumber

or 1 kirby cucumber

2

thin half-moon shape slices of a Korean pear - optional

Vinegar

Hot mustard paste
For bibim naengmyeon sauce (2 servings)
4

tablespoons

finely ground gochugaru

4

tablespoons

beef broth

or water

3

tablespoons

grated Korean pear or apple

2

tablespoons

sugar

1

tablespoon

corn syrup

or use more sugar

2

teaspoons

minced garlic

1

tablespoon

soy sauce

1

teaspoon

salt

sesame oil to drizzle over the noodles
Instructions
Sweet and sour radish
Clean the radish by scrubbing with a brush and/or scratching off the stubborn impurities with a knife. Cut the radish crosswise into 2 to 3 inch pieces if long. Place cut side down and slice lengthwise as thin as you can. Gather the slices and cut into about 3/4-inch strips. You can use a mandoline to thinly slice, if available.
Bibim naengmyeon
See mul naengmyeon above for cooking noodles and preparing the toppings. For bibim naengmyeon, slice or julienne the cucumber and do not salt.

Place the noodles in the middle of the serving bowl, and drizzle 1 teaspoon of sesame oil over the noodles. Top with the pickled radish, cucumber slices, pear slices, sliced beef if available, and the egg half. Drop in a few ice cubes so the dish can stay cool while eating. You can add 1/4 cup of beef broth, if available, to the bottom of the bowl. The sauce can be served on top or separately. Serve with vinegar and hot mustard on the side.
Notes
1. You can also use the leftover radish as a side dish. The radish will keep well for a couple of weeks. It may become soft after that.
2. Chill the bowls in the freezer before using to help keep the noodles and broth cold while eating.