This soup is a variation of kongnamul guk (soybean sprout soup) that's made with kimchi. It's easy and refreshingly delicious with a nice spicy kick!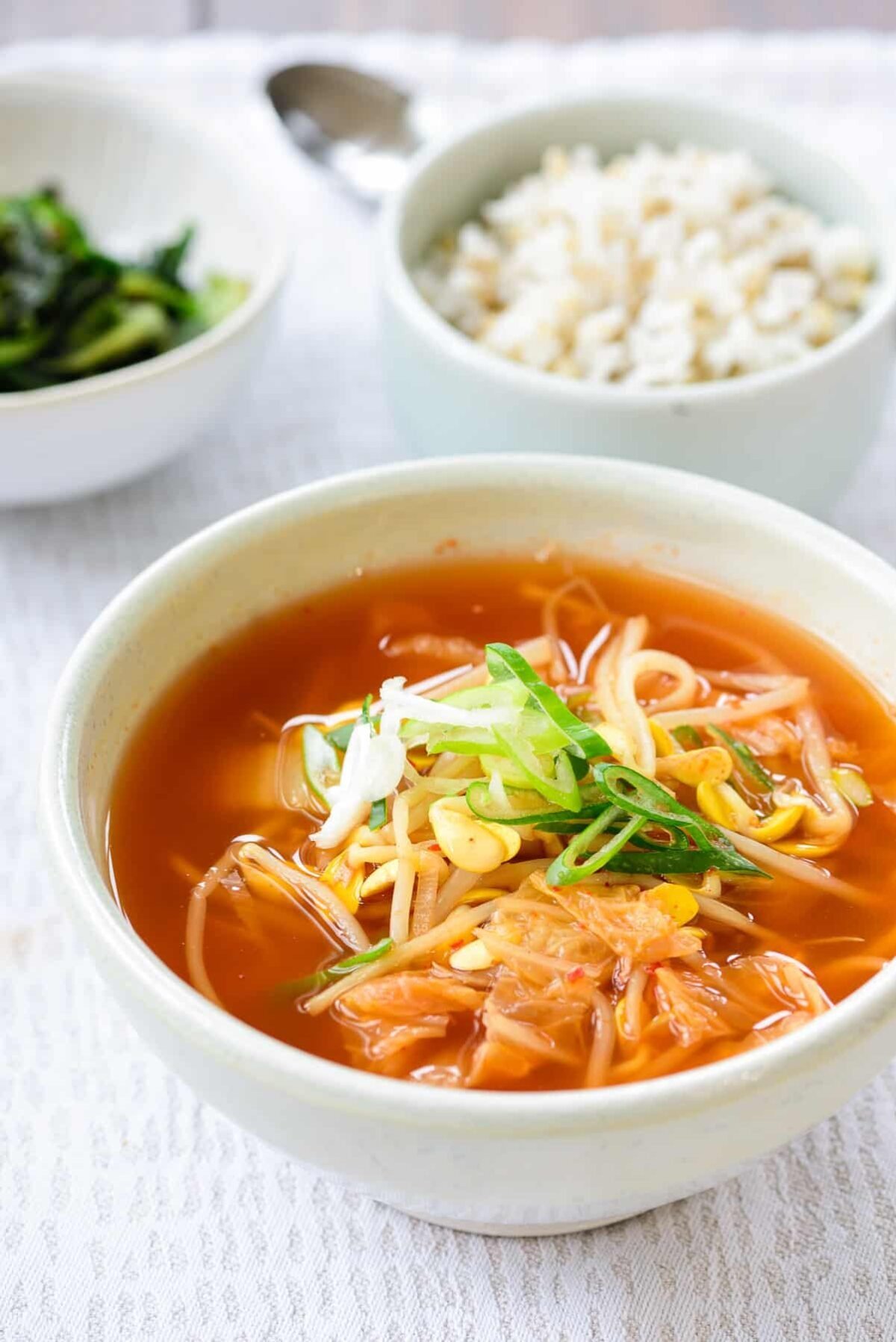 Kimchi kognamul guk (김치 콩나물국) is a common every day soup in Korean homes. It's a variation of kongnamul guk which is made with kongnamul (soybean sprouts), a staple Korean vegetable.
The addition of kimchi takes the soup to another level with a spicy kick that's good enough to clear your sinuses. When my kids were growing up, I made this soup for them when they had a cold, just like my mother did when I was growing up. It's my daughter's favorite soup when she feels under the weather. Nothing beats it on cold days!
Serve it separately, or over the rice to make gukbap (국밥), a soup with rice in it.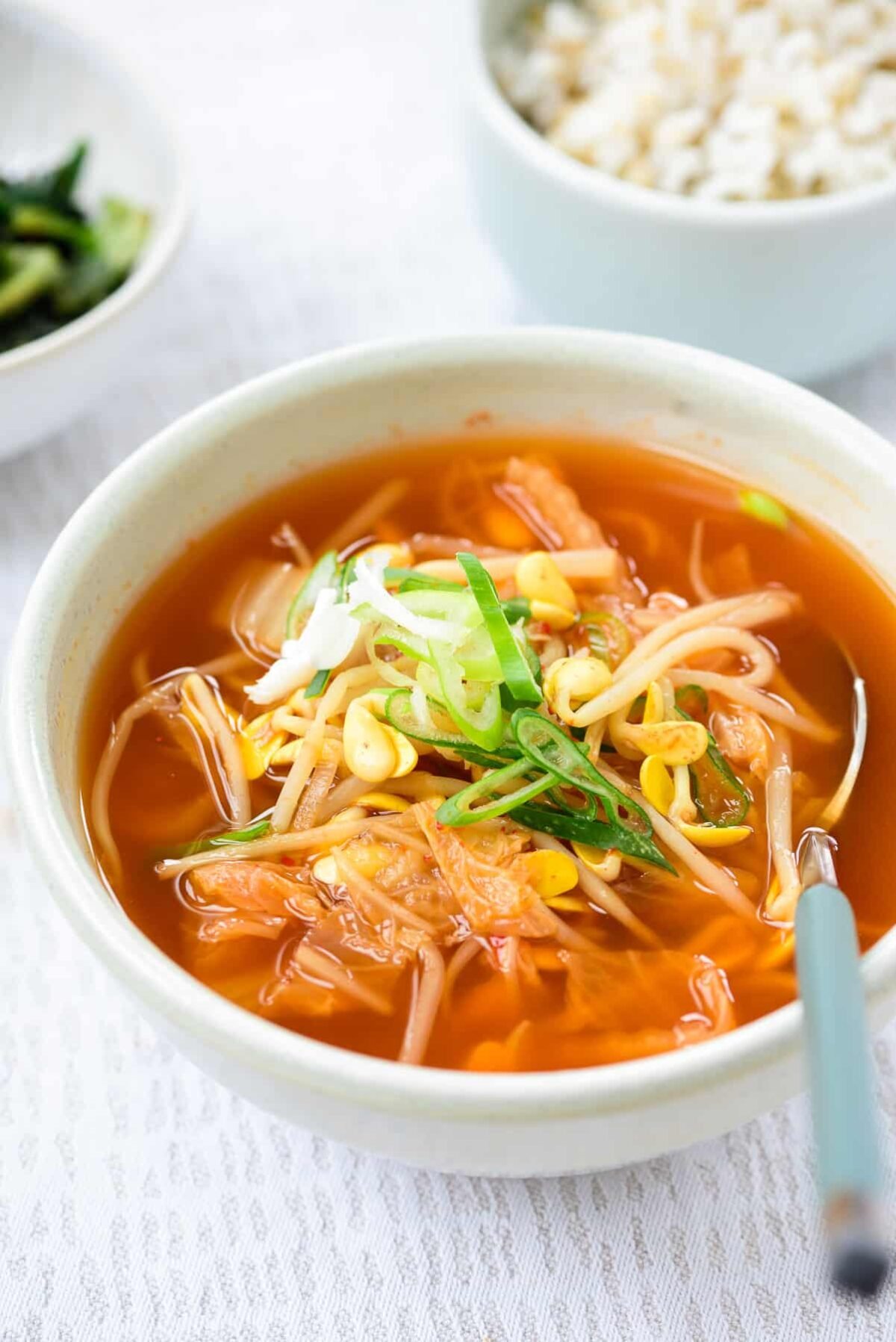 Soup base
As with kongnamul guk, this soup is best with an anchovy broth base. You can use beef broth instead, if you want. To make beef broth, simply sauté thinly sliced, bite sized beef until all the pieces turn brown. Pour in 8 cups of water and bring it to a boil. Reduce the heat to medium high and continue to boil, covered, for 10 minutes. See my muguk recipe for reference.
Kimchi
This soup will taste best with old sour kimchi. The juice from the kimchi adds so much flavor to the broth, so don't skip it if available.
Kongnamul (soybean sprouts)
Kongnamul is high in B vitamins, vitamin C and protein, which is why Kongnamul guk is a popular home remedy for common colds and hangovers in Korea.
Depending on the condition of your kongnamul, you can snip off the roots for cleaner appearance, but it's necessary. The roots have nutrients too. I usually trim off the bad looking/brownish ones.
Do not overcook soybean sprouts to retain their crunchy texture. In general, you can cook them either covered or uncovered. If cooking covered, do not open the lid while they are being cooked, or the raw bean smell will linger even after cooked.
Seasoning
The kimchi and its juice adds saltiness, so you just need a little bit of additional seasoning, depending on the saltiness of your kimchi. I used a little bit of soup soy sauce (guk ganjang, 국간장) to season the soup in this recipe. If you don't have Korean soup soy sauce, you can use fish sauce or simply season with salt. I sometimes use saeujeot (새우젖, salted and fermented shrimp) to season this soup. It works really well with this type of soup.
We like it extra spicy with gochugaru. You can always omit it or adjust to your preference.
More Korean soup recipes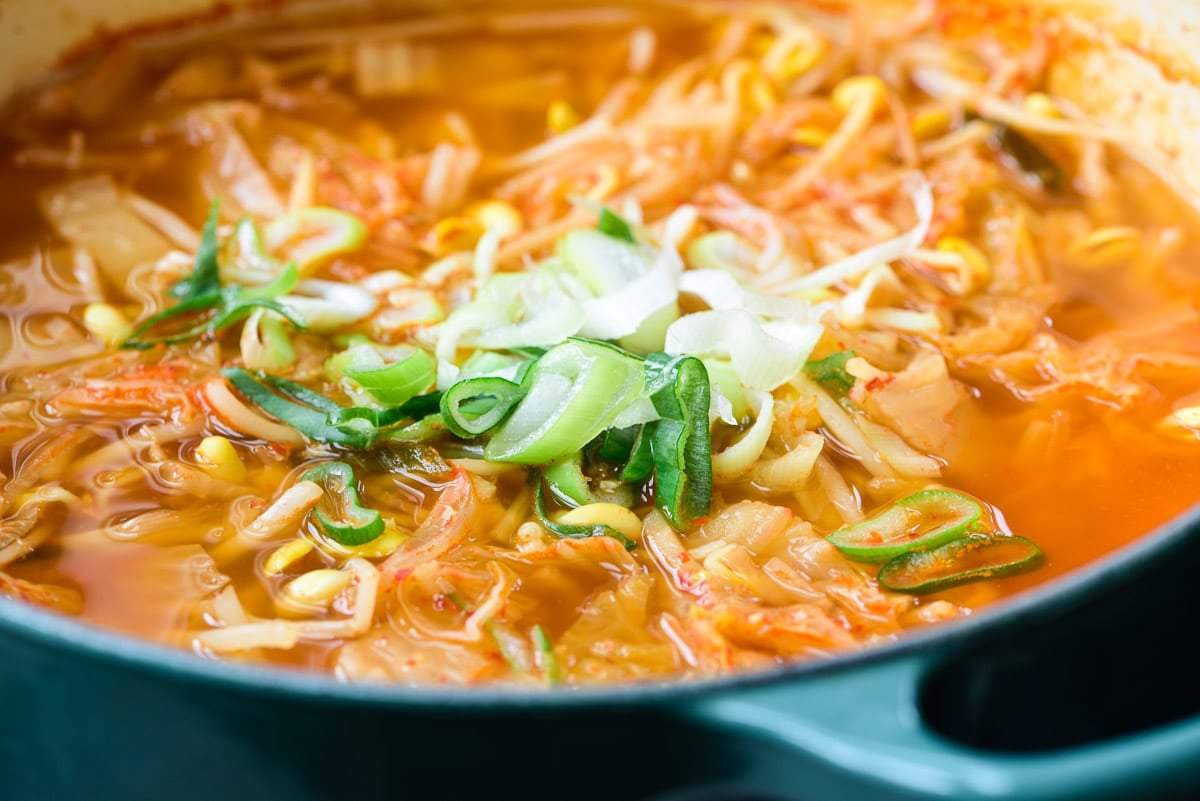 For more Korean cooking inspirations, follow along on YouTube, Pinterest, Twitter, Facebook, and Instagram.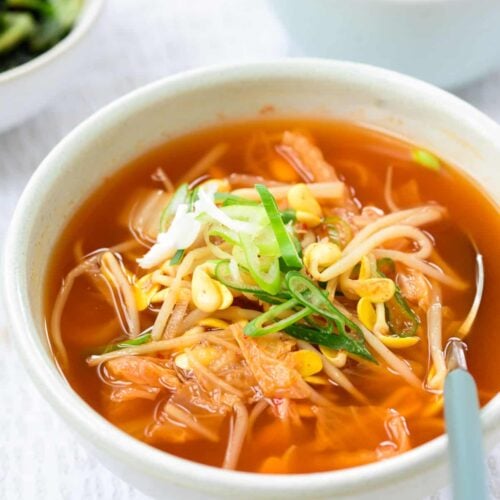 Kimchi Kongnamul Guk (Soybean Sprout Soup with Kimchi)
Soup
Print Recipe
Ingredients
6

cups

anchovy stock

See the recipe (I or II).

10

ounces

soybean sprouts (kongnamul)

8

ounces

fully fermented kimchi

1/4

cup

juice from kimchi, if available

1

teaspoon

gochugaru (red chili pepper flakes) - use less or more to taste

2

teaspoons

soup soy sauce (guk ganjang)

or 1 teaspoon saeujeot - salted shrimp

1

teaspoon

minced garlic

1

scallion

roughly chopped

salt and pepper to taste
Instructions
Make anchovy broth with 8 cups of water. See the recipe.

Rinse the soybean sprouts a couple of times, discarding any skins that are floating. Slice the kimchi into about 1/2-inch thick strips.

Add the sliced kimchi, kimchi juice, gochugaru, and the soup soy sauce (or saeujeot, salted shrimp) to the anchovy broth. Bring it to a boil. Cook over medium high heat until the kimchi turns translucent, about 5 minutes.

Add the bean sprouts and garlic. Cook, covered, for 3 - 4 minutes. Do not open the lid while the bean sprouts are being cooked, or the raw bean smell will linger even after cooked. Once the bean sprouts are cooked, adjust the seasoning, if needed, by adding salt and pepper.

Add the scallions and boil for another minute. Serve separately with a bowl of rice, or serve it over the rice in a bowl.
Notes
Kimchi kongnamul guk keeps well in the fridge for 3 to 4 days. If frozen, the texture of soybean sprouts may get stringy or tough.
This recipe was originally posted in January 2013. I've updated it here with new photos, more information and minor changes to the recipe.