Omurice is fried rice wrapped in egg omelette. It's a fusion dish that combines Asian fried rice with Western omelette and ketchup.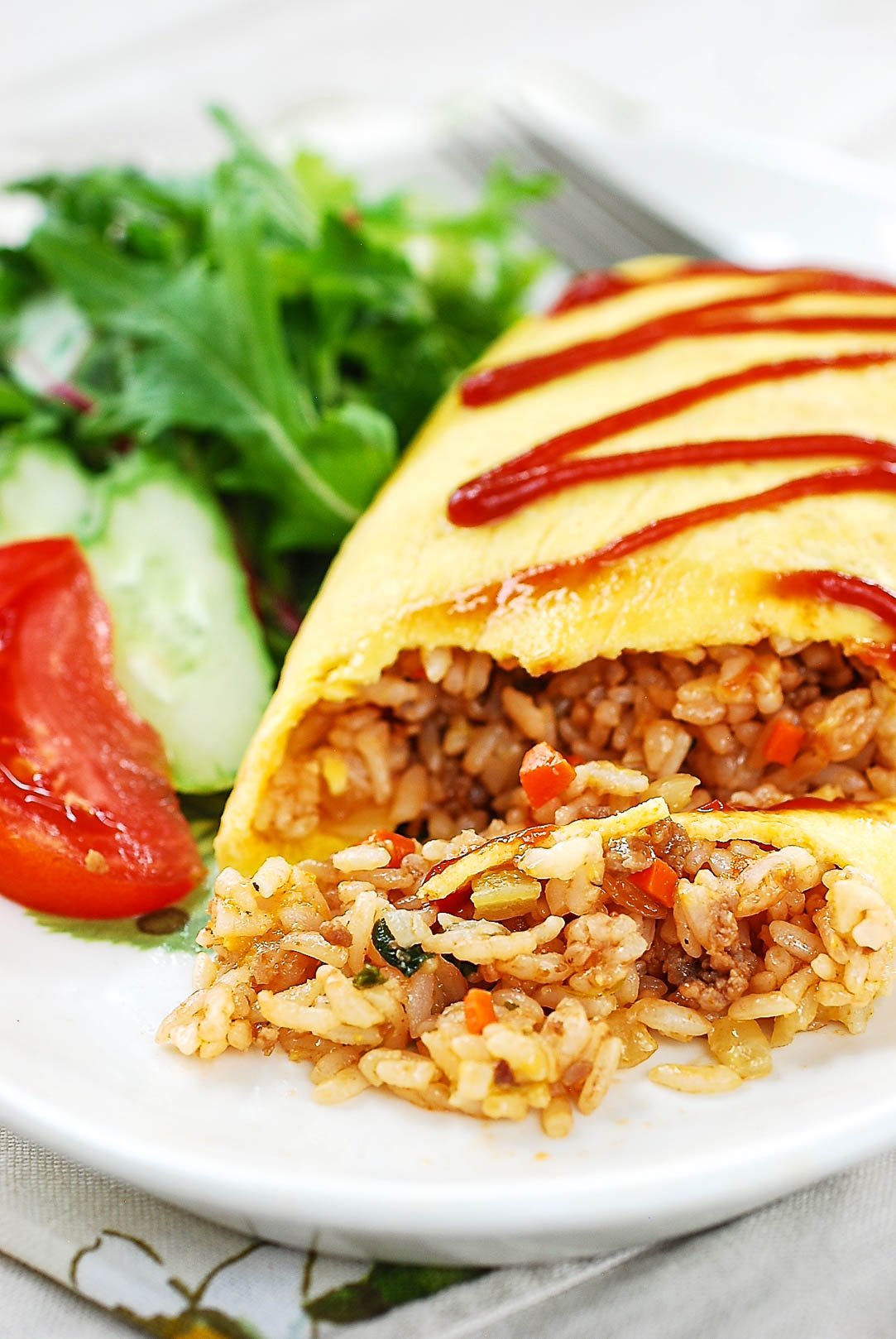 This omelette rice, called omurice (오므라이스), started in Japan and spread to other Asian countries, including Korea. It's a fusion dish that combines Asian fried rice with Western omelette and ketchup.
In the 1970's, 80's, and 90's, omurice was a popular menu item in Western-style cafes in Korea. Today, omurice is commonly found at fast or snack food type restaurants. A few years ago, omurice gained spiked popularity after appearing in a Korean drama called Rooftop Prince (옥탑방 왕세자).
Flavored with sweet and tangy ketchup, omurice is especially popular among children. Growing up, ketchup was an exotic condiment we all loved! So, this ketchup fried rice wrapped in an egg omelette always was a special treat.
How to make omurice
As is the case with any fried rice, use day old rice if available. If you need to make fresh rice, make it slightly drier by using a little less water than usual. It also helps if you rinse the rice well by vigorously swishing around with your hand. This washes off the starch on the surface of the rice, so the cooked rice won't be as sticky.
If you don't favor ketchup in fried rice, it can be omitted. The fried rice will still be delicious inside the soft egg omelette. Likewise, you can increase or decrease the amount of ketchup to your liking.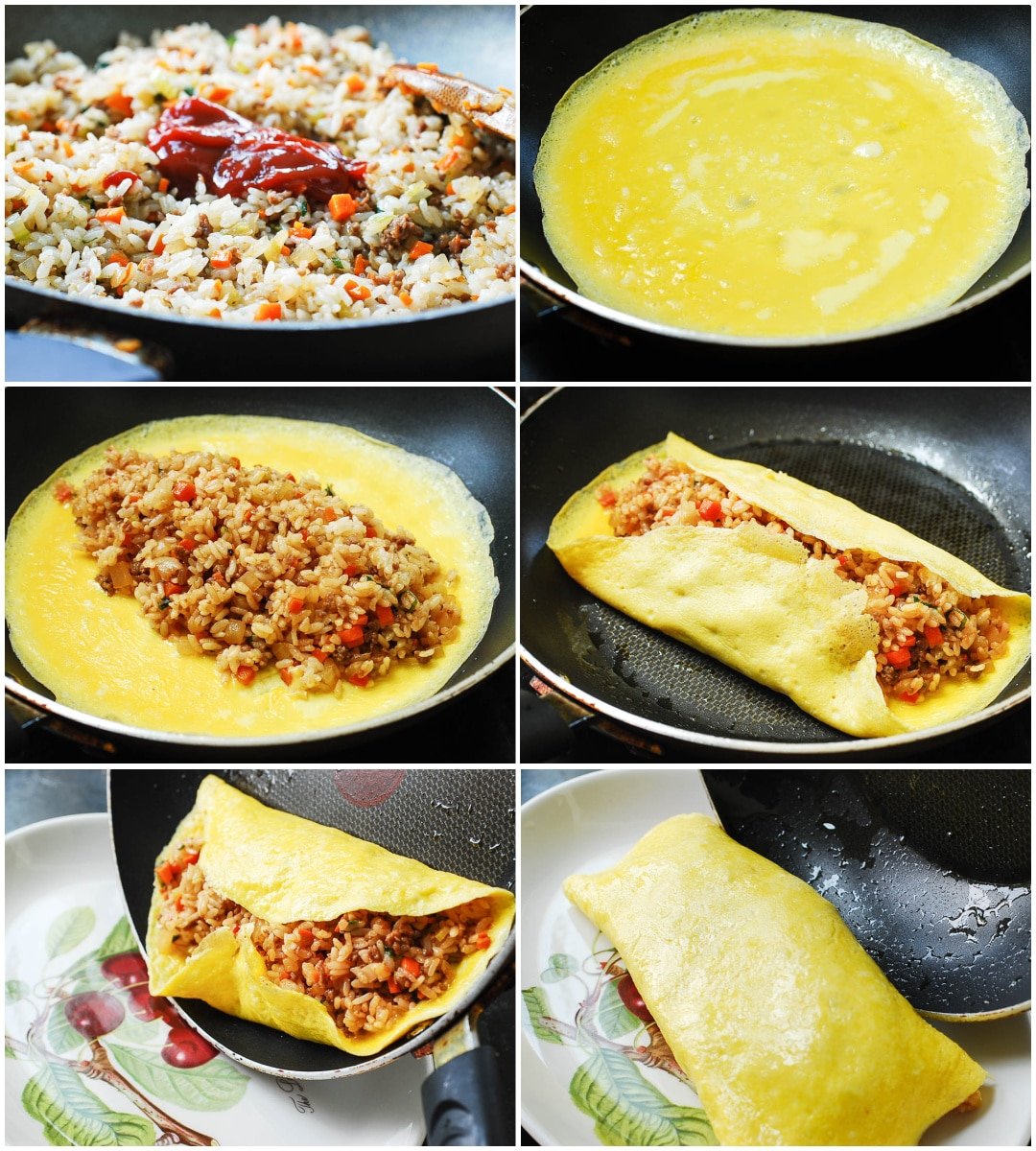 Japanese omurice is typically made with chicken, but Koreans commonly use beef, pork or ham as well. Shrimp is another good option. For vegetables, I used carrot, onion, and scallion. You can also add a couple spoonfuls of chopped celery, zucchini, or mushrooms.
I used 2 eggs per serving for this recipe, but you can use 3 if you want a thick omelette covering your rice. You can also add a little bit of heavy cream or milk for a softer omelette, but I didn't include it in this recipe.
If you are interested in trying more omelette recipes, consider the following: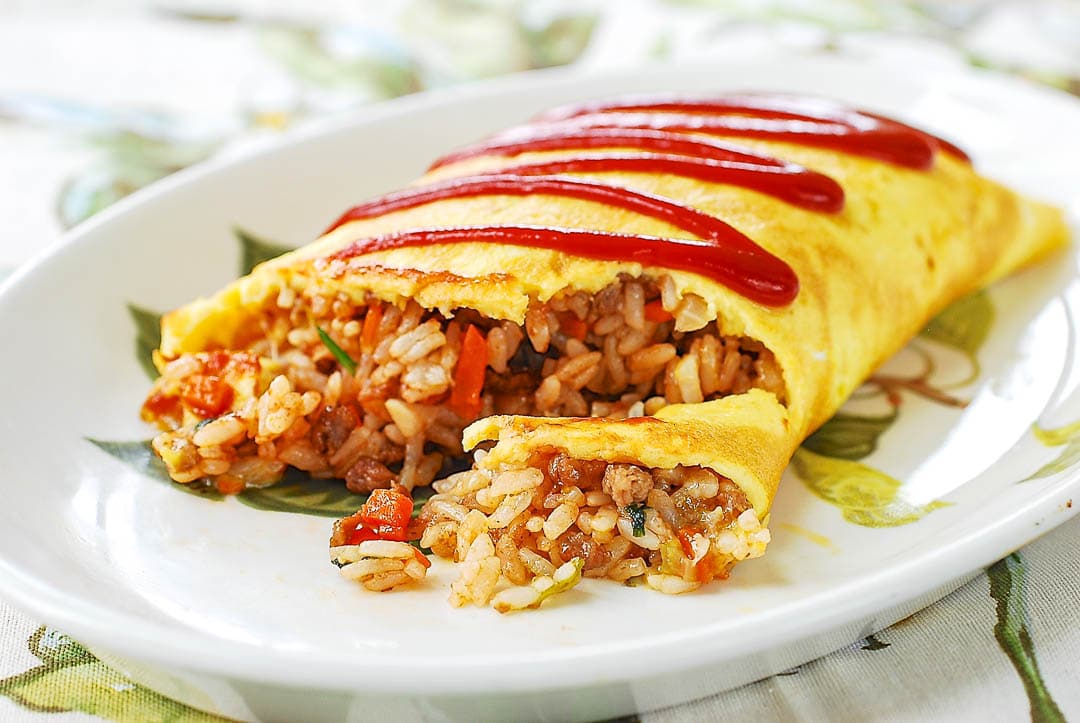 For more Korean cooking inspirations, follow along on YouTube, Pinterest, Twitter, Facebook, and Instagram.
Ingredients
1/2

medium onion

finely chopped

1

scallion

finely chopped

1

small carrot

finely chopped

4

ounces

beef

or pork, chicken or shrimp, ground or finely chopped

1

tablespoon

soy sauce

1-1/2

tablespoon

ketchup

adjust to taste, and more for decoration

salt and pepper

Oil for pan frying

2

servings of cooked rice

4

eggs
Notes
If the rice is a bit too hard after being in the fridge, heat it up in the microwave to soften it a little.